I'm Lisa. Mum of two boys, Clark 5 and Elliot 2. Wife to Chris (aka the husbeast) who's age i won't mention.
We're a family of 4 hence the name "The Family Ticket"………Oh yeah we also have a cat called Panthro. Pretty irrelevant as we don't take him on outings but i felt guilty leaving him out.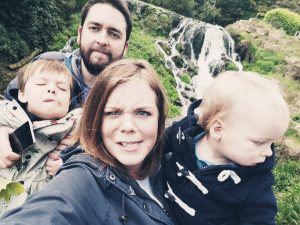 How it all began
I decided to start this blog because 1. I'm a bit of a jobless bum 2. I get about a bit (no pun intended) 3. I'm incredibly opinionated, Critical yet full of praise where praise is due (The only things i sugar coat in life are my doughnuts and that's a lot of sugar coating) and 4. I was getting asked a lot by friends and family where to go in their spare time with or without kids so rather than clog my Facebook feed et voila.
So if you're anything like me. You fear being cooped up indoors with your own children for long periods of time before they turn feral and you start considering whether the blue cross take children. Then this might just be the blog for you.
Follow me (on social media not in real life)
If you like my blog feel free to comment and follow me on Facebook and other social media (once i get my head around all the techy bits) on the other hand if you don't like my blog (which may be likely if easily offended) then hey there's not a lot i can do. I struggle to please my own kids half of the time as it is let alone anyone else!