When we decided to visit Urban Battlefields in Milton Keynes. I had no idea just how much we would have. I kid you not when I say you need to give this place a try. Parents and kids loved it so don't just let them have all the fun. join in honestly you wont regret it.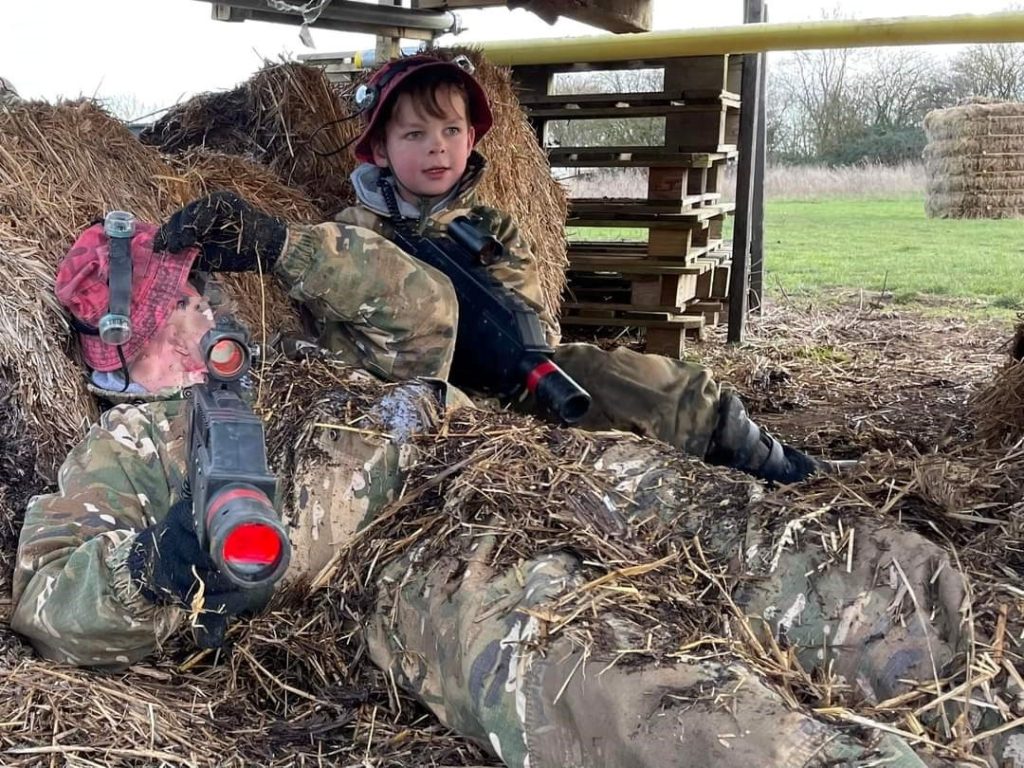 Urban Battlefields Milton Keynes
OK so you'll end up looking like a cross between a massive twat and a bird watcher after getting kitted up by them. There is an option not to wear their overalls but im glad we wore them, we ended up rolling round on the floor a lot.
You'll soon forget what you look like as you laser the shit out of your kids, other kids and your other halves. In fact I found it very therapeutic. Just envision all those times the kids woke at 5am full of beans or refused to eat after cooking a perfectly good meal.. don't get me started on the reasons to want to shoot the husbeast!
How Urban Battlefields works
When/if you book there will be a few time sots available. bear in mind when you book you will be playing with randoms. Its 2 teams reds vs blues. we split our group up because were competitive like that. You will be kitted out with everything you need and given a locker for your personal belongings.
There are 3 games in total to play. The first game was painful. Capture the flag well, they captured the flag while the only thing my lard arse was catching was a stitch
. It was by far the hardest of the 3 games the other 2 were team elimination and capture the flag. I think team elimination was my favourite.
In-between games you'll get a short break and trust me you'll need it. I used it mostly to take off some layers where I sweated my balls off. Dress light trust me! During the breaks you will provided with squash for free and you can help yourself to tea and coffees where you get changed at the start.
Urban Battlefields stats:
Distance from Bicester: 27mins
Sat nav: Coates Grounds,Thornton Lane,Milton Keynes,Buckinghamshire, MK17 0RF for sat nav
What 3 Words: ///deaf.squirts.believer Click to load
Wheelchair friendly: No
Pushchair Friendly: No
Equipment upkeep: 10/10
Cleanliness: 10/10
Facilities: All you need while you're there
Age range: Ages 6 and up
Safety: 7/10 Just use common sense
Fun factor: 10/10 We will be going back again
Dog friendly: Nope its not Jon Wicks.
Cost: £22pp
To Book: urbanbattlefields.com
More days out: Click HERE
Few More Bits And Bobs
Urban Battlefields is not the cheapest at £22 per head but you know me I don't lie its absolutely worth and I bet some of you are those tools that'll pay £10 for a bottle of prime. So if its too much for you then that's OK there's lots of other things to do that are cheaper.
What I loved was that Elliot could join in at age 6 where most other places are normally 8 plus. If you want your 6 or 7 year old to play the catch is you will have to play with them or at least a participating adult. This was a godsend because otherwise we wouldn't have realised how much we loved it ourselves
The staff were absolutely brilliant. Friendly, funny and helpful which this day is a massive change. I've found since covid most businesses charge more, do less and not even care about that.
It's held outside on fields with several obstacles which is way better than any indoor ones we've done. The staff will be taking photos and oh my god brace yourself for some absolute corkers. I was crying with laughter at some of them so enjoy.