Just before the summer holidays Me and Elliot were invited along to try out DJ's Play park in Hemel Hempstead. When I first saw Hemel Hempstead I was ready to say jog on. (In a much more professional manner.) Until i saw that it's actually not that far away and still within my Hour radius. So off we went to another fucking soft play.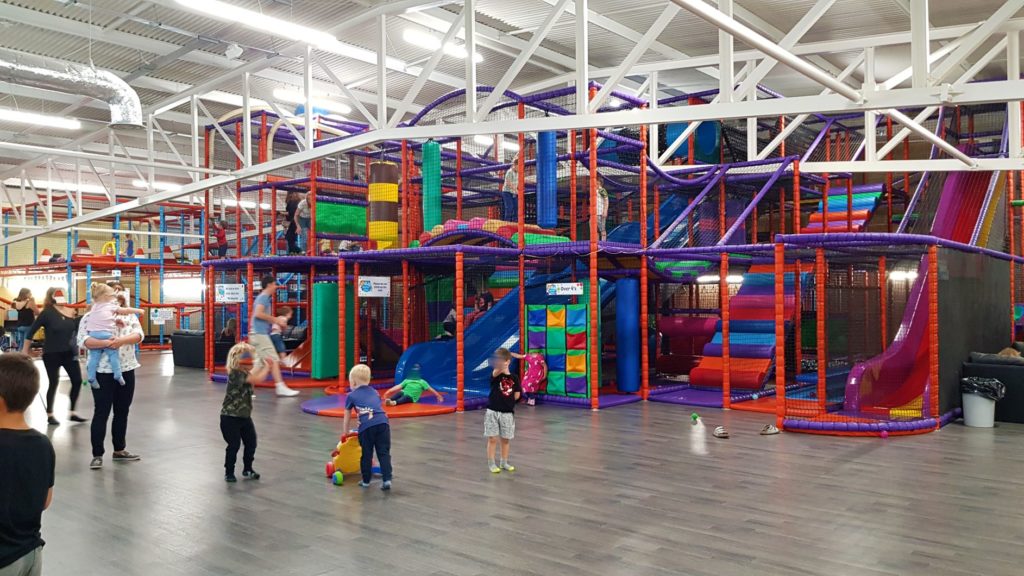 DJ's Play park
Now I've never driven through Hemel Hempstead before and I'm still a fairly new driver. So there i am navigating my way to this soft play and something doesn't look right on my sat nav. I'm in Hemel at this point so i decided to try the ancient art of looking at a road sign. Look up and nearly shit myself. It's a roundabout with roundabouts on it. Didn't look like a road sign to me. Looked more like a bloody picture of a fidget spinner.
Turns out that roundabout or whatever its called has been nicknamed the magic roundabout. The only Magic i came across was making it out alive without staining my car seat. Whoever designed that roundabout must have been pissed. Why would that ever, ever be a good idea.?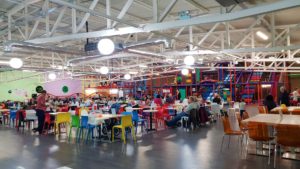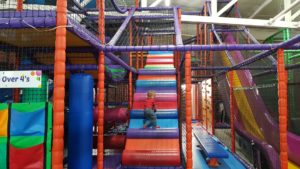 Finally made it out alive and headed onward with our journey which wasn't much further. Would have been a lot quicker if I'd have followed directions and not missed the one way signs. Meaning i had to circle around twice before figuring it out. Hint: Go left when you're facing the shops as if you're going away from the soft play.
Just round the back and the side you'll have plenty of free parking space and you'll be able to see DJ's Play Park on the end. If you're lucky like me you'll get stuck behind a school group heading out and hear their teacher refer to the police as the "po po". Things weren't looking good to start with.
Heading Into DJ's Play Park
We headed into the soft play and you're immediately in a big foyer place. The soft play is actually up the stairs but threat not if you have mobility issues or have a pram there is a lift.
There was a bit of a queue when we arrived and some guy was kicking off about something or other. I'm deaf as shit so i couldn't really hear what it was all about i was just getting a bit pissed off that he was holding everyone up.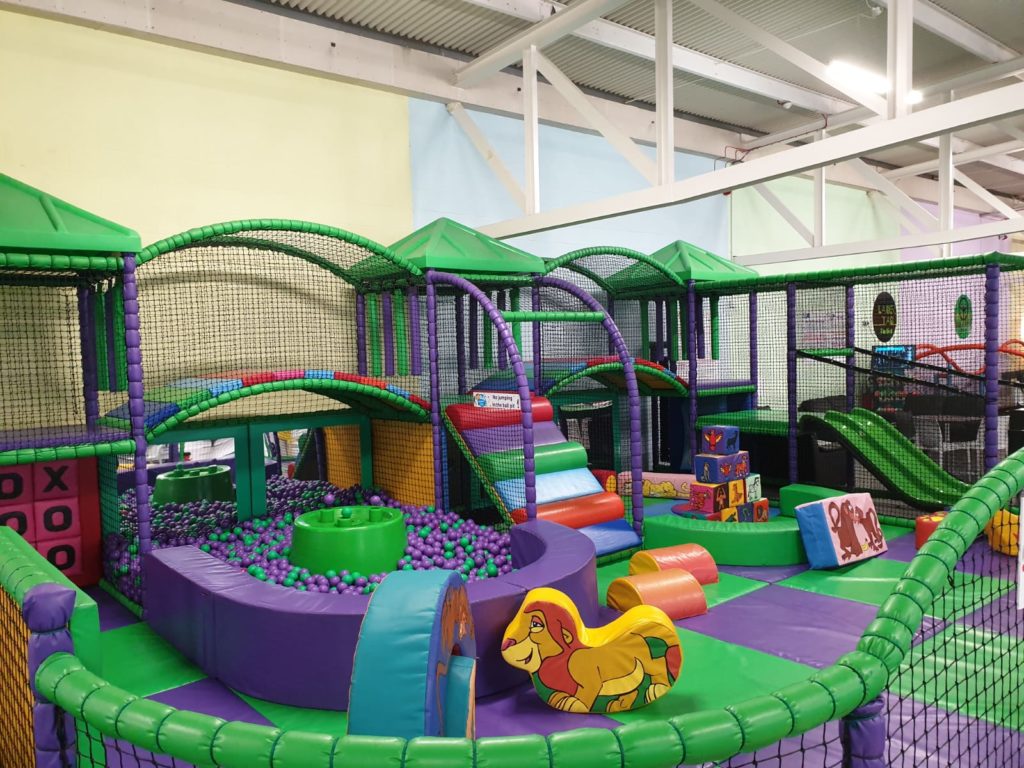 We finally got through what seemed like the entrance to a prison. They clearly take their safety pretty seriously. Never mind the kids escaping I doubt I'd be able to get out after a gin or 2 either.
As we rounded the corner we could finally see the soft play. The space is absolutely massive. I'm talking the size of my arse big. Don't get me wrong this place is by no means on par with the riverside hub but there was still a shit load to do and the place looked clean.
Let The Games Begin
Elliot was already undressing himself while still running head first for the largest play area. I had to hold him back so we could find a seat. There's loads of tables and i didn't find it too hard finding a spare one but then it was midweek during term time. God knows what its like on weekends.
With all new places I head in with the kids to start off with to make sure that 1. they cant kill themselves 2. They cant turn something onto a weapon to kill someone else and 3. Make sure they cant escape so i can leave them to play while i scroll through Facebook and occasionally look up to check they're OK. I can confirm that DJ's play park passed the test.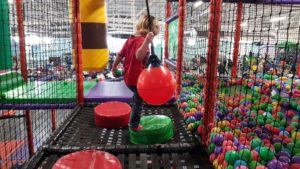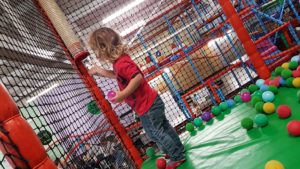 On my route round the bigger area i did discover a drop slide that Elliot apparently had no fear of. A really and i mean really fast wavy 4 lane slide that i didn't have a fear of until i went on it for the first time and lastly a room filled with balls and sucky tubes. (Sounds so wrong) but it was seriously cool. Elliot spent a lot of his time laying on the floor underneath a bucket waiting for it to fill up to fill up and drop all the balls on his head (I swear I'm not talking about T-bagging)
So Elliot was off playing in the larger area and as it was around lunch time i decided to order some food. We didn't order a lot just some chips. There is a lot more variety than that and the prices looked fairly reasonable too. Like with most soft plays you cant take in your own food so bear this in mind before rocking up with your happy meals and milkshakes.
What Is There At DJ's Play Park ?
The Soft play is for all ages and tastes. There was an under 2s area which we for obvious reasons couldn't go in. It looked pretty good for younger ones too and was totally separate from the older kids areas which i thought was great. Really stopped the older kids from going in which can sometimes be an issue in other soft plays.
There was an under 4's area which again was separate. I did find that older kids played in this area too which to be honest was no bother. I think when kids are over the age of 2 they tend to play in each others spaces anyway. Elliot didn't really use this area that was actually designed for his age despite the little Tikes area up the top and still having slides etc. He was much more interested in the bigger kids zone.
Under the 4+ area was the go karts. Thankfully Elliot didn't moan too much about going on them because although it wasn't expensive it was still an added cost and if you have more that one child this could soon add up. I know if I'd had the eldest with me he wouldn't have stopped asking.
Elliots 2nd favorite area was the role play street. Now its no Warwick play village but for a soft play it was pretty cool and Elliot loved it. We played shops for a while and he was running round in his fireman's outfit putting out fires (that he probably started anyway). There were lots of different shops to go in with props and even a huge pit of giant Lego to build walls and towers with. Over and over and over again.
DJ's Play Park Stats:
Distance from Bicester: 54 mins
Sat nav: Jarman Way, Hemel Hempstead HP2 4JS Click to load sat nav
Wheelchair friendly: Yes
Equipment upkeep: 10/10
Cleanliness: 9/10
Facilities: Everything you need
Age range: All ages or until kids get bored of soft plays (does that ever happen though)
Safety: 8/10
Fun factor: 10/10
Dog friendly: No
Pushchair Friendly: Yes
Bikes and Scooters: Nope
Public transport: There are busses which stop close by but from Bicester via train and bus i personally wouldn't bother.
Conclusion
There area few things i haven't gotten round to mentioning about DJ's play park like the food being good and the sports pitch which the older ones loved. They also do party packages, they have regular Sen sessions and even an after school half price offer too.
Even though we were invited I think I've been as honest as i normally am. Its a nice clean soft play and Elliot had an awesome time. If we lived closer then i can imagine us going there a fair bit.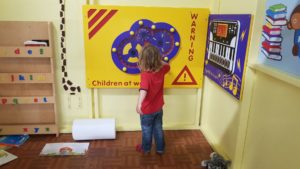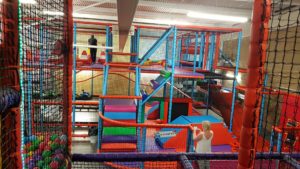 Its not the cheapest when you look at the costing however your time isn't limited like other soft plays and THEY DON'T CHARGE ADULTS whoop whoop. Makes my shit itch when places charge adults. Its not like we enjoy going to these places. Why make us suffer more for the privilege??
If we were ever in the area again then i would no doubt be taking the kids here again. Its right next to loads of restaurants and even XC which is a huge indoor skate park and climbing centre. Its not too far from the snow centre either so you really can make a whole day of it while you're in the area.
AOB
For other indoor days out and soft plays near you check out this section HERE
Have a look at DJ's play park website HERE for more info and for their other soft play centres