We walked past Robotazia on one of our recent visits to Milton keynes (One of our favourite places to visit). It was then I remembered on of my followers on Facebook had also mentioned it to me too.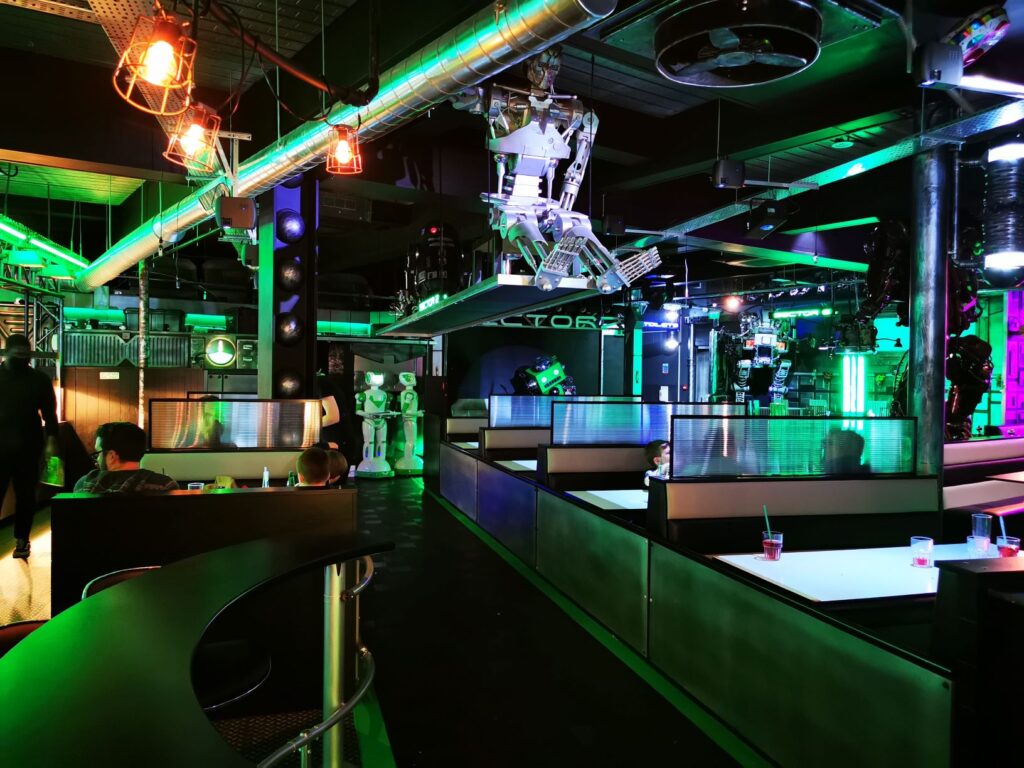 Robotazia Milton Keynes 
Unfortunately when we first walked past the restaurant we had a peek in and it looked rammed. So we decided to bugger off home and re book for one day after school. Well come Thursday I'd done fuck all shopping, Had shit all in the house for dinner and decided to book last min.
We managed to book in with no issues. We had to pay £5 deposit per head which comes off the bill at the end. The best place to park and the cheapest is the snozone. If you park at the furthest end almost opposite the sky diving tower thing then you'll only have to cross over the road and you're basically there.
There shit loads to do in this area too. You've got the indoor golf, the art gallery and even a pretty impressive dessert place round the corner. Although I've never been in because basically my arse is getting out of control.
So we rocked up and from the off the kids were excited. Even the outside is pretty impressive. Its like something out of total recall minus the mutant hooker with the 3 tits (if you have no idea what I'm talking about shame on you)
Inside Robotazia
We headed in and were shown to our seats. We had a booth opposite the bar. Our waitress told us we can get up take photos as long as one of us went with the kids. This was fine because the kids are pretty crap at taking photos anyway haha.
There's no doubt in my mind when I say that Robotazia is one of the quirkiest and most impressive looking eateries we've ever been in. Robots everywhere you look. They haven't done a half arsed job. They have committed fully to the decor and its paid off.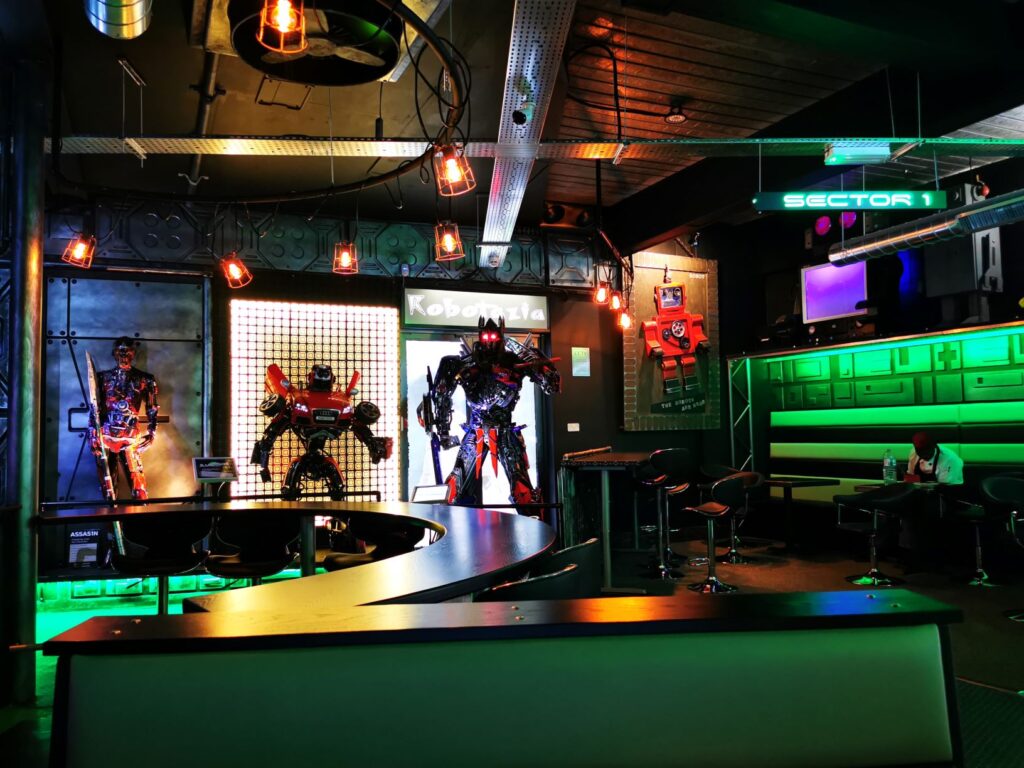 As we sat down even the table had little robot animations projected onto them. Mazes and all. We took a walk round and took shit loads of photos, had a chat wit one robot and I saw Matilda the robot from robot wars!! fricking loved watching that as a kid so that was a highlight for me.
Once we'd had a look round and taken some photo's we sat down to gander at the menu. Its a pretty small menu and if I'm honest a pretty small choice. However there were one or 2 things I didn't mind the sound of. The kids had loads of choice and that's what really mattered.
Food At Robotazia 
So the food turned up and Clark ordered the pizza and said that it was even better than dominos. Clarks pretty much an expert on pizza too. its his favourite food. Though the domino's round us is pretty wank so it doesn't take a lot to beat. Elliot Ordered the chicken nuggets (he alwaysssss orders the nuggets). Husbeast ordered pizza and I went for the beef curry.
Elliot wasn't too fussed by his nuggets the husbeast wasn't too fussed with his pizza (edible though) and the beef curry was basically a lie. It wasn't beef curry at all. It was beef stew with a bit of curry powder shoved in. Very, very fatty and pretty disappointing. For £15 I personally thought it was a bit of a piss take too.
The husband hit the nail on the head and compared the food to an all inclusive 3* hotel in Turkey. In fact the food I was served even came out of a buffet cart too. I know I'm whinging a bit but I'm not one to beat around the bush.
The desserts were huge cakes. They tasted like giant versions of the small sponge squares you get in the all inclusive buffet on holiday too. Think they must have originated from costco or similar. I couldn't quite make out the label on the plastic containers they'd been left in.
Robot Service
The highlight was getting our food delivered by our robot. They're so similar to human service staff too because our robot even went to the wrong table at first hahaha.
The robot comes along the middle of the booths and comes to the table (make sure the kids sit on the inside of the table. We ended up with Josh and he was a delight haha. The kids squealed with delight as he came up with our food.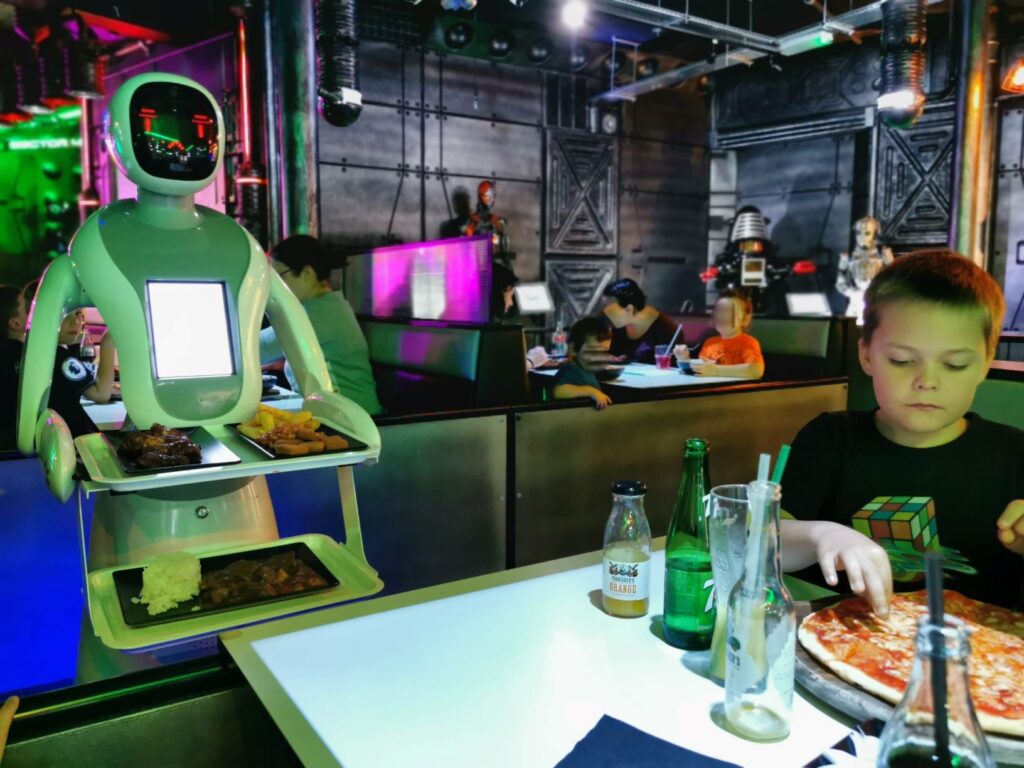 We had a human waitress too to help him. Basically you grab the food off the robots tray and then stroke its hand (in a none creepy way) once you're done. It sounds naff but it was actually really cool for us.
Be prepared to be stared at by everyone else in the restaurant every time a robot comes up to you. Even more so if you're celebrating a birthday because the robot sings, the staff sing and even the customers will sing. Think Frankie's and Benny's crossed with short circuit (another film you need to watch if you haven't)
Robotazia Stats:
Distance from Bicester: 35 mins
Sat nav: 14, Savoy Crescent, Lower Twelfth St, MK9 3PU Click to load sat nav  
Wheelchair friendly: Yes
Equipment upkeep: 10/10
Cleanliness: 10/10
Service: 8/10
Food quality: 5/10
Menu Choice: 4/10
Food Value: 7/10
Fun factor: 10/10
Dog friendly: No
Pushchair Friendly: Yes
Overall experience: 8/10 Would have been 10 if food choice and quality were better
Conclusion 
Apart from the let down on the food front mostly from the adult point of view. The kids had the best time and has declared Robotazia as their favourite place to eat ever. I can see why too because we would still go back.
Robotazia is the quirkiest eaterie we have been in for some time in the area. There's no competition as far as I'm aware. Maybe they don't need to do better but I can tell you now that if they put more effort into their food I'd be saying it was one of my favourite places to eat purely because of how engrossed the kids were.
If you haven't been then you 100% need to take the kids. They will have an amazing time and they wont even whinge. Ok I cant guarantee that last statement but mine didn't and they whinge a shit load normally.
AOB 
Have a look at their website HERE
I've done a few other foodie places you can check out HERE
If you fancy buying me a cuppa to show your support/appreciation you can do HERE