***EDIT*** Please check with the environmental agency before visiting as there have been reports of pollution in the Evenlode River.
Second day of the school summer holidays, Elliots with the Childminder and it was just a mummy and Clark day. Something which we haven't had for a long time. What a great way to spend it at Evenlode River paddling in the shallows.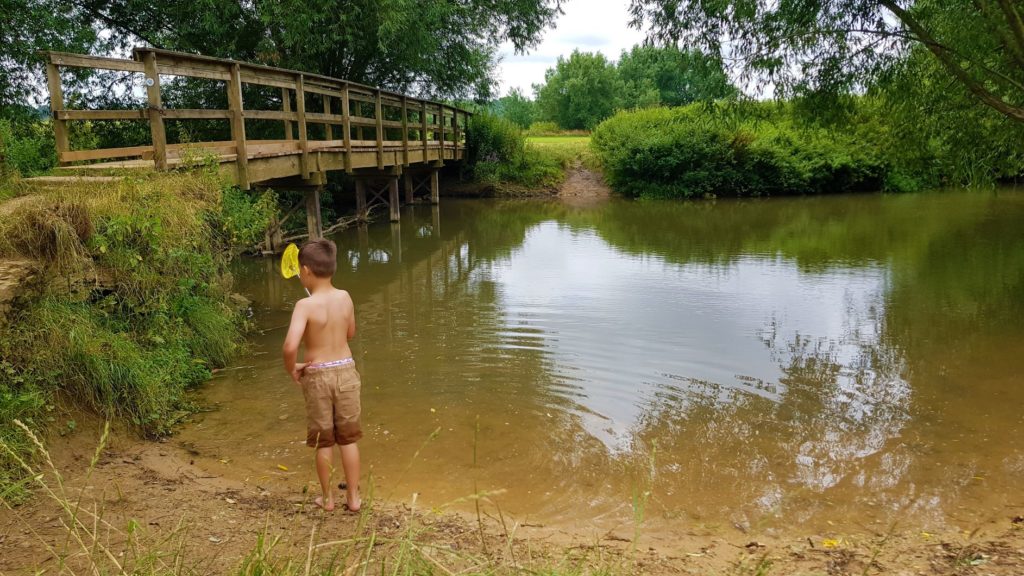 It was so incredibly peaceful and we only had to share the space with one other family. Lovely Family they were too. 5 boys and they all let Clark join in and even let him borrow a fishing net. Kids can be so nice at times. It's lovely when they share with total strangers. It really made Clark's day too.
How To Get To The Evenlode River Paddling Spot ?
Right so to get to the spot where you can paddle involves a bit of walking. Not too much that the kids will start moaning anyway. Unfortunately the path we took really isn't buggy or wheelchair friendly I'm afraid. If you have a baby carrier then you should use it that's for sure.
Now I've never been to Stonesfield before. Its a stunning village but as with all stunning villages parking is an absolute bitch. I finally found some road side to abandon the car which looked like it wasn't going to block the way or get fucked up by a bin lorry. Just be courteous when you do park please.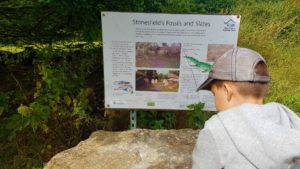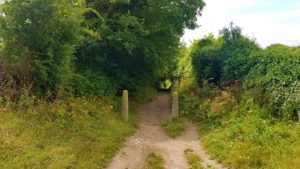 We parked as close to brook lane as possible and then just walked down it. Just straight down the bridle path and keep on going. Its actually a really pretty walk with a cool information bit about fossils and slate etc. The views are lovely be warned though its a little bit steep and the old steps can be a bit slippy with all the stones.
If you keep on this path you wont miss it. I think there's another route down but I'll leave that to you to explore. Once you get to the bottom and out of the trees you will see it open up before you. Stunning spot right next to the bridge. Possibly one of the best paddling spots we've found to date too.
Evenlode River Paddling
We found a lovely spot to plonk ourselves and though I'd left the towel and bucket in the car Clark was soon tearing off his shoes ready to go in. At this point the other boys who were way more prepared than us had gone in too.
The mother came up to Clark and offered him a spare fishing net so he could have a go at catching the little minnows too. Obviously Clark didn't stand a chance bless him. If we had to rely on him to hunt for our food we'd be fucked. He had an amazing time though and wants to go back to fish again as soon as i buy him his own net.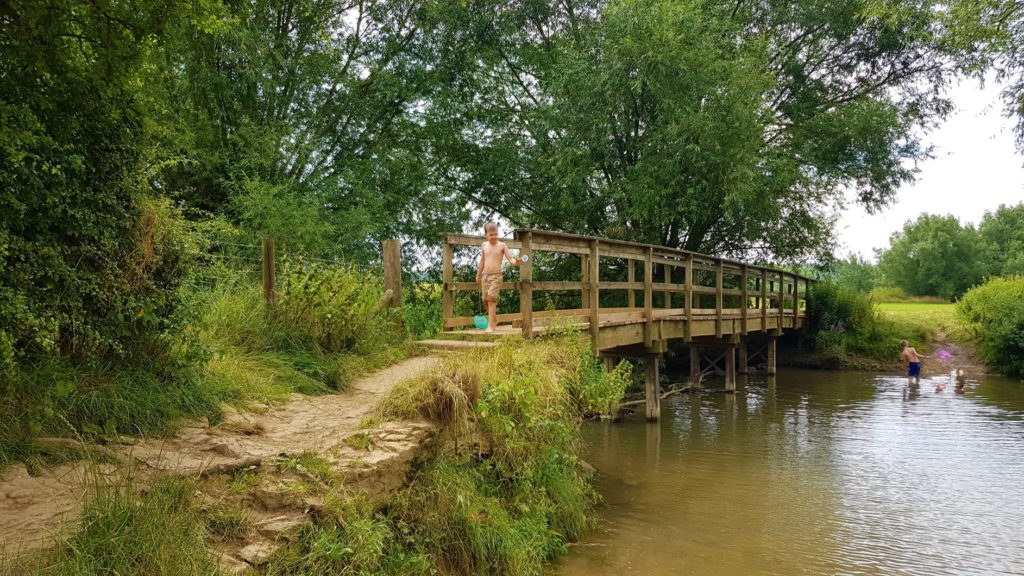 Clark's pretty tall for his age but there were a couple of the boys a bit shorter than Clark who comfortably walked the whole way across the river to the other side. I would have had no worries if Clark had also wanted to do this but he was a little skeptical and chose to go over the bridge to explore the other side instead. I wouldn't have let Elliot (3) go in too far on his own though.
The other family must have been locals and use the area well. It wasn't long before they pulled out a crabbing net and declared that they were going to catch some crayfish. They walked to a little spot along the river (the path side) not far from the bridge at all to take it in turns. We never did find out if they caught any because it was way past lunch time for us and Clark was getting hangry.
Evenlode River Paddling Stats:
Distance from Bicester: 28 mins
Sat nav: Brook Ln, Stonesfield, Witney OX29 8PR Click to load sat nav
Wheelchair friendly: No
Equipment upkeep: N/A The bridge looks in good nick though
Cleanliness: 10/10
Facilities: Dont expect toilets or a cafe. Take a potty and a picnic
Age range: All ages
Safety: 5/10
Fun factor: 10/10
Dog friendly: yes
Pushchair Friendly: No
Bikes and Scooters: No
Public transport: From Kidlington Jump on the 7 gold to old Woodstock and get off at hill rise. Then jump on the S3 gold to chipping Norton and jump off at Prospect place. Then its about a 10-15 min walk from there. In total it'll take you about an hour. Add an extra 20 mins if you're coming on the train from Bicester.
Conclusion
What a perfect spontaneous morning spent at Evenlode River paddling with Clark. Now that we have found the spot i know we will be back lots. Next time with Elliot and a lot more prepared too.
I would recommend you take nets, Buckets, swimwear, a towel and a picnic too. I wish we had been more prepared because we could easily have spent hours there chilling out.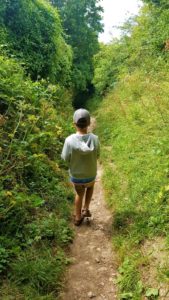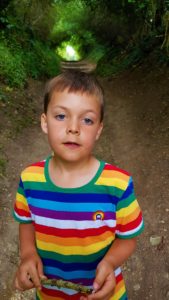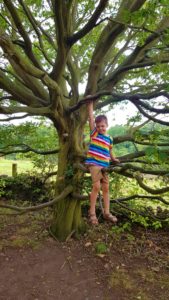 Theres lots of space in the fields and some really cool looking hills to roll down. Some lovely areas to go for a walk and explore some more. I really want to try my hand at catching a crayfish so i'll need to dig out the crabbing net from the garage.
I would 100% recommend anyone able to visit here to paddle to do so. Its such a lovely natural way to play and whats even better is its 100% free. You cant beat that in my eyes.
AOB
For more Days out in your area check out the Map >>HERE<<
If you know of any places that we should pay a visit then I'm always grateful of the recommendation so please do drop me a message on the FB page >>HERE<<