Sun was out which meant only one thing for it…… Bennett's Splash Park. I decided to take Elliot during the week while all the older kids were still at school. Thankfully not only did it pay off because it was quiet but i was also surprised to see an brand spanking new adventure play park too. All free no less, didn't even have to pay for parking. Now that's what i call a Brucie bonus.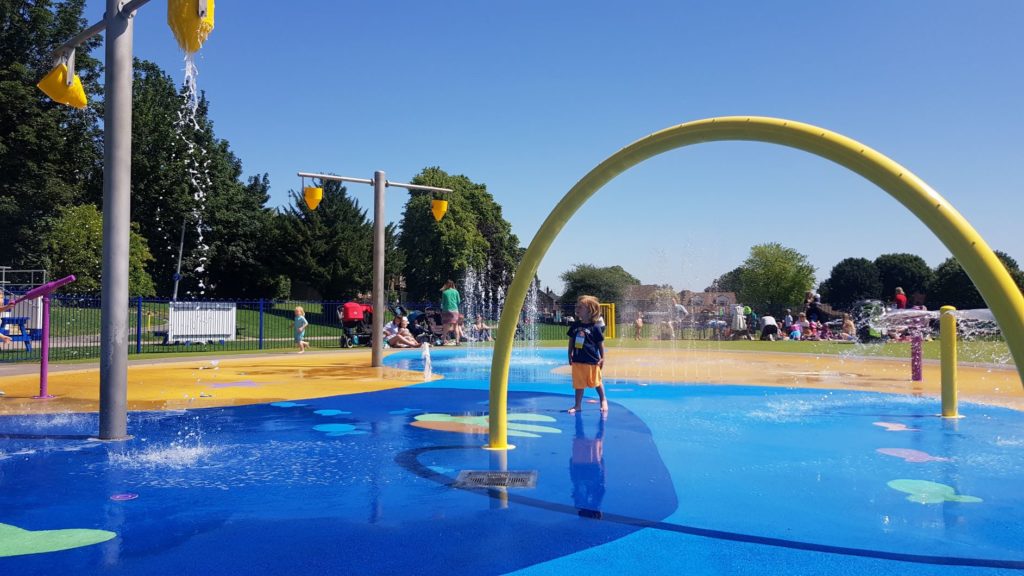 Where is Bennett's Splash Park?
The drive was a bit of a mission for us. Not difficult but around 50 mins drive from us in Bicester. However i knew the ones closer would have been busy and quite frankly i wanted to try somewhere new.
So Bennett's Splash Park & Splashside Café is in Dunstable. Its in a huge field among housing but is set back from the roads.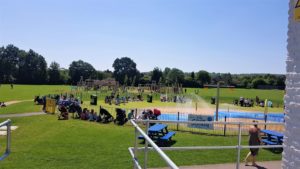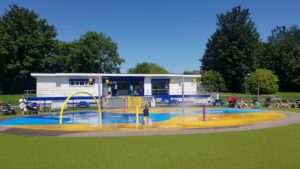 I got lucky and managed to find a parking space on the road next to the splash park. It was 4 hrs free which suited us fine. Although when we go again with Clark in the holidays i will probably park in the car park near by (Ashton Square car park i think its called) because we could easily spend the whole day there.
Got Elliot out of the car and packed the pram with all our bits. Rounded the corner and this is when we got our first proper look of Bennett's park. Its fucking massive. 2 play parks!!! a shit load of space to run, A splash park, a cafe and some toilets too. What more could you need on a sunny day?
Bennett's Splash Park
Like a right twat i had my phone sat nav on the go for the journey. This is because i can no longer trust the in car sat nav any more. I'd had enough of the bastard sending me down bridle paths and farms. Got there and realised the phone wasn't plugged in at the other end. Now i had to use 19% of battery wisely so i could get enough photos for the review.
I knew that once Elliot was in the splash park i wouldn't be able to get him out again. I needed to get a photo of the magnificent new park. If parks could give me a lob on then this one would be up there with some of the others doing a good job of it.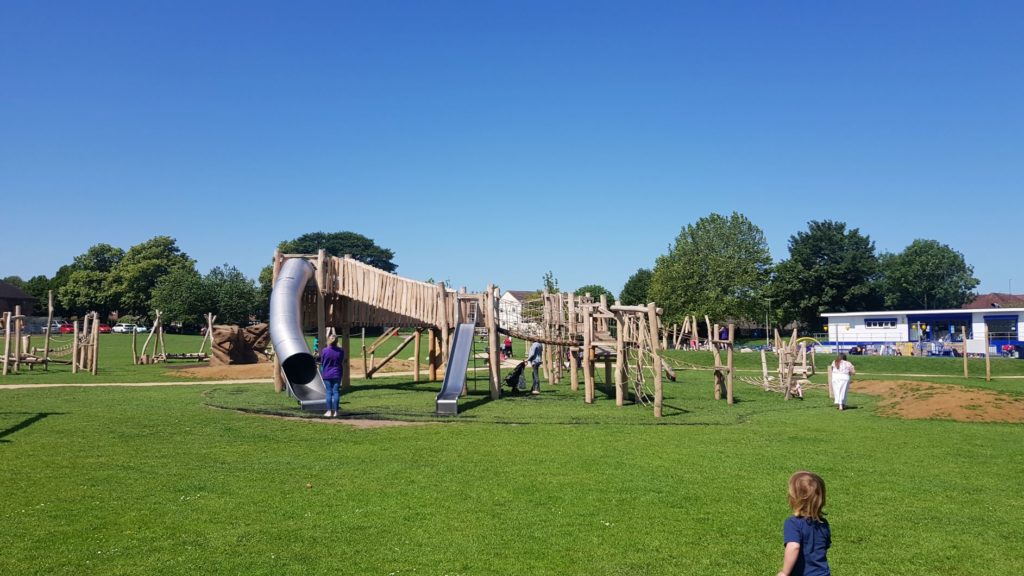 We didn't go in the older park which also looked good. I just didn't have the battery for them all. I got a quick photo as i pegging it after Elliot though. Not great but it will have to do.
Got to the park, Elliot up on the frame (Its bloody high up) and then i noticed him squeezing his bits. Erghhh ffs he half wet himself fml. There he was stuck at the top squeezing his winky trying not to let the rest out why some little girl in front twatted about. Had to climb my arse up there and fire lift him down to peg it to the toilet before he pissed down my back.
Bennett's Splash Park Cafe And Toilets
Luckily the toilets were in running distance for a chubby mum with her toddler slung over her shoulder. We made it, total disaster averted. Now that we were in the toilets though i decided to get him changed into his swim shorts anyway.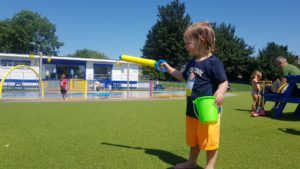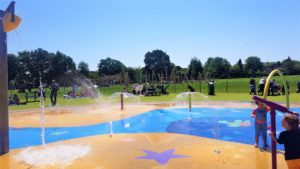 The toilets are joined to the cafe on the side. We didn't get a chance to use the cafe but it looked really lovely and the toilets were spotless. The whole area and building looked really new and clean. Impressed so far.
Splash Park Time
I couldn't contain Elliot any longer. He was so desperate to get in the water. We headed in and found a spot near the railings. There are a few benches but they had already been claimed which was not bother for me. The floor was lovely and soft anyway.
I did manage to take the pram in because it was so quiet but next time i'd probably leave it on the outside. I can tell that if its busy prams will probably be an issue and take up a fair bit of space. Obviously if you have a little baby it cant be helped but we didn't really need ours i was being a lazy shit and couldn't be arsed to carry all the bits Elliot wanted to bring.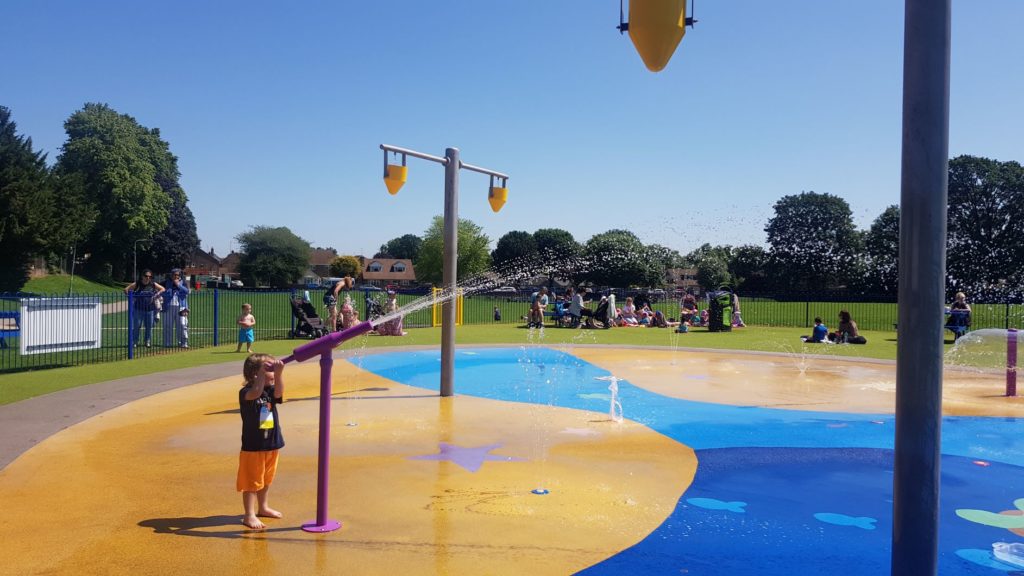 The splash park isn't huge but its full of everything a child needs from a splash park. Elliot was in heaven. Every single jet and piece of equipment was working. Some on a timer but all worked which is a rare thing with some of the older splash parks. I got to sit back and just watch him living his best life. It was lovely and i didn't have to worry because my eyes were on him at all times as well as the fence surrounding the splash park too i felt he was pretty safe.
Little tip for if you visit a splash park. Take toys, we always take water pistols and a bucket. A few of the other children soon realised Elliot had toys so came round to share and play. again it was lovely seeing all the children playing together so nicely. Its amazing how he can share with kids hes never met but will throw a shit fit if his brother touches one of his toys.
So Much Fun To Be Had
We must have been in the splash park for a good couple of hours. I was trying to catch some sun on my pasty skin bu ti think i was just reflecting the sun and throwing glare into the eyes of the children as they were playing.
It wasn't as warm as i thought it was going to be. The wind was chilly and it was staring to make Elliot really shiver. I had hardly any battery left now and i needed to get some photos of the adventure play area.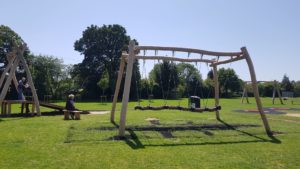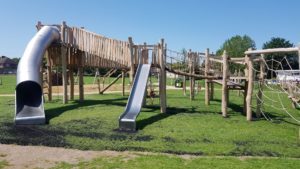 Thankfully like a beacon of light up rocked an ice cream van. All my previous attempts at getting Elliot dry had failed. Now i had a bargaining chip and luckily i had some cash with me too. All dried and changed we got an ice cream each. Not overpriced either which was a shock to the system.
Elliot however couldn't be arsed with his because i told him he couldn't play in the park until he finished his ice cream. Little bugger ran off to the bin and fucking chucked in practically a full ice cream, cone and all. I'd have bloody eaten that, Not easy maintaining this style of body without a frequent intake of cake and ice cream.
Bennett's Adventure Play Park
The play park is a worthy visit on its own, It's bloody lovely. Maybe not great for the really younger one's. Elliot just about managed with a little bit of help on the main frame. I would say the other park might be better suited for the younger ones though.
If your child's a climber then they'll be heaven here. The slides are bloody fast, Elliot came out faster than they scan the items in Aldi. Even though they were metal and it was hot. One of the slides was a tunnel slide so it didn't turn into a thigh melter.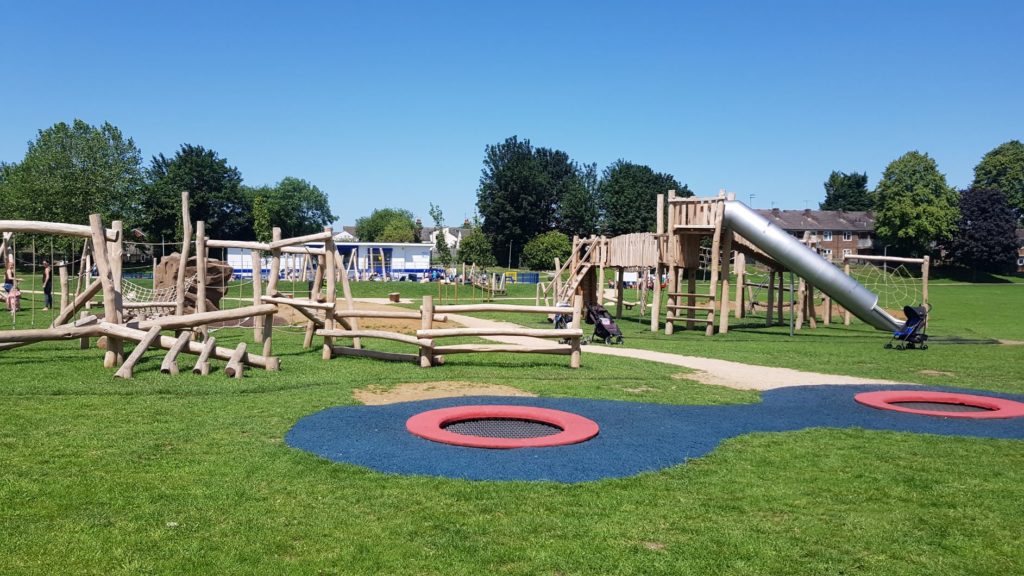 There was a double zip wire which was a tad slow but great for slightly younger kids just starting out on their zip wire journey. Elliot loved the trampolines (Clark will love this when he visits).
My favourite was the huge rope snake swing thing. Elliot wasn't to keen but i forced him on just so i could have a go. There was a really impressive balance course too along with loads of other bits that i just cant be bothered to write down because I've waffled on too much already. Hopefully the photos will give you a better idea.
Bennett's Splash Park & Splashside Café Stats
Distance from Bicester: 55 mins
Sat nav: Bennett's Splash Park & Splashside Café, Bennett's Recreation Ground, Dunstable LU6 3DE Click to load sat nav
Wheelchair friendly: yes
Equipment upkeep: 10/10
Cleanliness: 10/10
Facilities: Cafe, Toilets and parking close by
Age range: all ages
Safety: 9/10
Fun factor: 10/10
Dog friendly: Not in the park's but ok in the surrounding fields
Pushchair Friendly: Yes
Bikes and Scooters: Yes
Conclusion
We had an amazing day at the new Bennett's Splash Park and adventure play park. Its probably got to be the best totally free day out that we've had in a long time.
I'm excited to take Clark in the holidays however i do worry about how busy it will be. I think its a great destination place to visit and you could easily spend a full day here.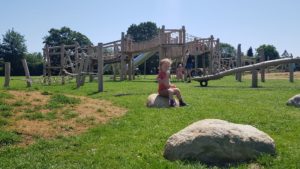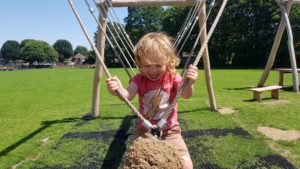 The play park is amazing too. I think next time we will have to try out the cafe too as an extra treat. Although mine still prefer to have a picnic anyway.
I know it can be a bit of a drive if you're in the Bicester area but i shit you not when i say it was 100% worth the drive. I did it in a school day too so still had time to pick the eldest up.
AOB
Here's the website i found with a bit more information for you CLICK ME
I'm going to be adding more splash parks to the list so keep your eyes peeled.
If you'd like to visit more of the parks we have then check out the play park map HERE