Here's a prime example of a fortunate wrong turn. We were actually looking for another park but my sense of direction is so crap we ended up at this little or should i say not so little Beaut. Which i later discovered was in Bucking Park so I've called it Buckingham Park Playground.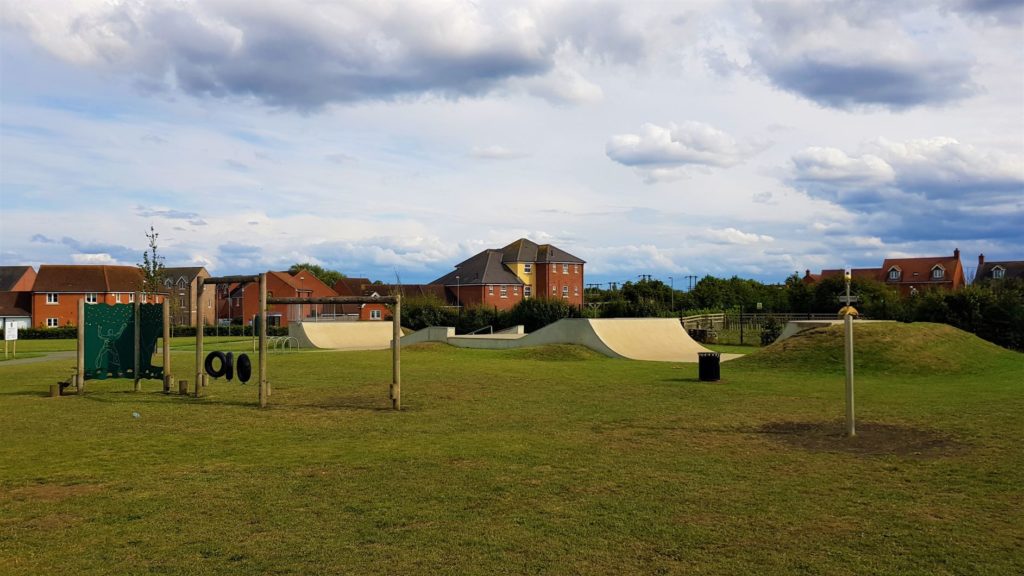 Buckingham Park Playground
I'm guessing there's better places to park but as i had no idea where the hell i was i decided to park the car on the side of the road. There's plenty of space but I'm pretty sure there's a community center behind the playground which may have better parking.
The space is pretty huge and perfect for scooters and bikes because of all the paths around. You will still need to keep an eye on the kids though. Its not fenced it and we all know how kids love to make us shit ourselves on a daily basis by doing something dangerous.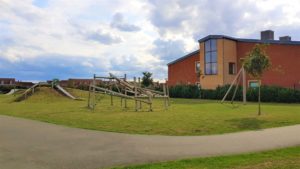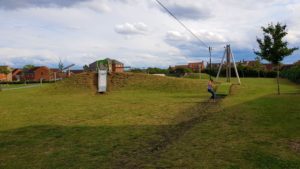 There loads of equipment for all ages and tastes. Its almost like its split up. So on one side you have the older kids equipment. You'll find a climbing frame, larger slide, Balance course and zip wire. Little tip if you're a fatty don't attempt the zip wire you'll end up grounded like i did.
Clark loved the slide. its one of those built into a hill with easy to use steps that even younger ones can use too. There is one of those spinny stick things on this side too. Personally i think they're a bit shit and would much rather see a roundabout but hey i guess it was a bit cheaper.
Buckingham Park Playground For Younger Kids
In the middle grass section is where you'll find most of the equipment for younger kids. You've got the smaller version of the slide i mentioned earlier. A double seesaw springy face twatter which is actually a pretty good alternative for solo kids. Saved me having to go on the seesaw with him anyway.
Swings are over here too you've got the witches hat, Baby swings and normal swings over on this side. Bit of a Indiana Jones gauntlet for toddlers if you ask me haha. Again you have a solo spinner only this time you can sit the child in. Again not my favourite bit of equipment but i guess its better than nothing.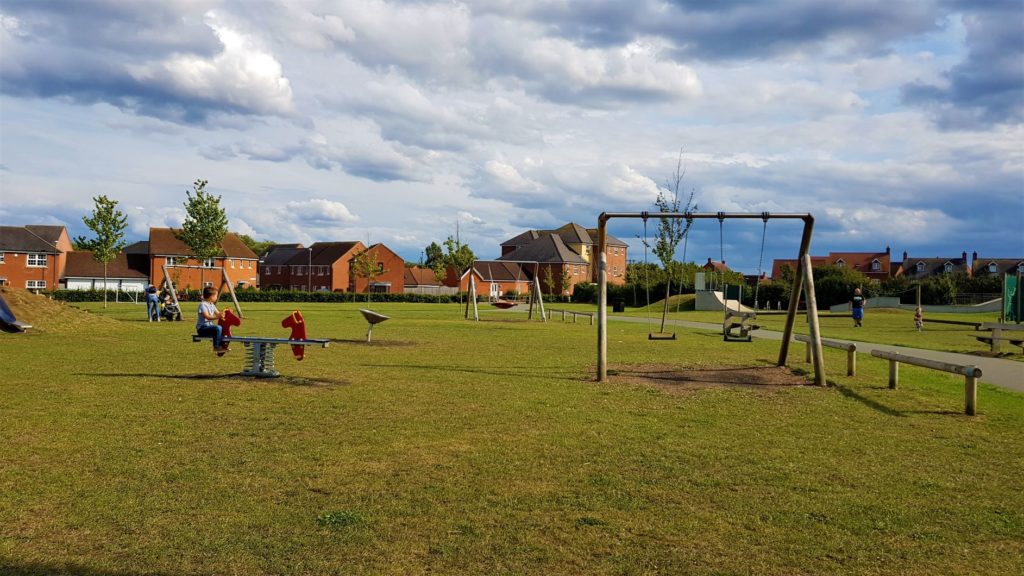 Next to this area is a large field with football goals in so make sure you bring your balls and all. Although do be careful if you have the sporting ability of my family. One spanner kick like mine and the balls in the middle of the road.
So that's younger kids and primary aged kids sorted. What is there for secondary school kids/teenagers? Oh only a pretty cool skate park at the back. It was completely empty when we visited so Clark had a little play running up and down the slopes. I didn't see what the rules were because i know some of them don't like scooters on them so you might need to check first.
Buckingham Park Playground Stats:
Distance from Bicester: 27 mins
Sat nav: Colonel Grantham Ave, Aylesbury HP19 9AP Click to load sat nav
Wheelchair friendly: Yes
Equipment upkeep: 10/10
Cleanliness: 8/10
Facilities: Shop close by and toilets in the medical centre is needed.
Age range: All ages
Safety: 8/10
Fun factor: 8/10
Dog friendly: Not in the play area
Pushchair Friendly: Yes
Bikes and Scooters: Yes very much so
Public transport: From Aylesbury jump on the Numbe 6 Water rider to Watermead and get off at berryfields medical centre. It'll take you about 20 mins from centre of Aylesbury.
Conclusion
Buckingham park playground is a brilliant new park that really does cater for all ages. It was super quiet when we went but even if it was busier i doubt it would feel like it because of all the space around.
Its not one of my favourites in fact one of the things i'm not too keen on is how spread out it is but then that's just my personal taste on parks.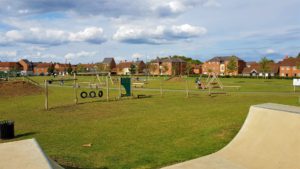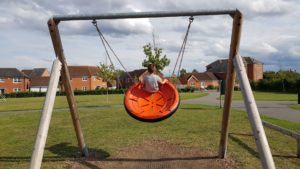 If we lived in the area it would be a great park to visit especially for bikes, scooter and skateboards. I could imagine the boys racing round the tracks for hours.
Not sure if there are any pubs near by (i swear I'm not an alcoholic) but there is a shop and a doctors next door. A doctors next to a play park is a brilliant bonus when you have accident prone kids like mine anyway.
AOB
I'm always on the lookout for new play parks to review so if you know of any good ones please do message me. Its easier to message me on the Facebook page HERE
If you'd like to check out more play parks near you then have a look at the Play Parks map HERE