Not raining? Only 1 thing for it. Charlbury play park review. Boy what a great park this is too. I swear some of the best parks are found over this way. Luckily after my Finstock park review someone tipped me off about This bad boy. Some serious park crawls can be had here.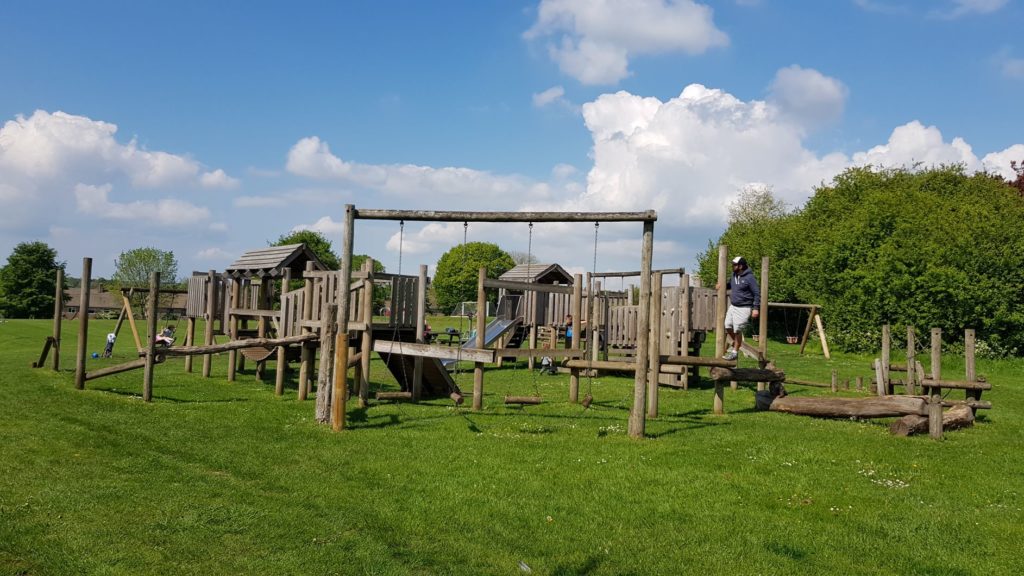 Charlbury Play Park Review
So like Finstock, Charlbury is just over the half hour away mark (from Bicester) may seem a bit of a trek just for a play park right. Normally i might be inclined to agree but after visiting this area a fair few times over the last couple of weeks I'm confident you can fill up a whole day over this way.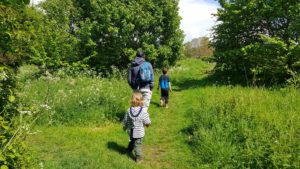 Charlbury village itself is bloody cute. Its they type of village I'd love to live in. Its got more than 1 pub so even if one's shit you have a choice. Oh and did i mention their play park is pretty shit hot too?
Not going to lie it was a bit of a bitch to find but we got there in the end. Although I'm sure there's an easier way to get there and park up. Just remember its set back from the road so its not easy to see.
Why Is Charlbury play park so good?
I'll start off with its size (sounds like an opening for a dirty joke if ever i saw one) Charlbury play park is pretty big. Its set at the back of some football pitches. The whole area seems really safe and set back away from any roads too.
It took Elliot to spot it because it was a fair distance away but Clark spotted it from the off and he was legging it towards the Swings. Elliot soon cottoned on and pegged it too.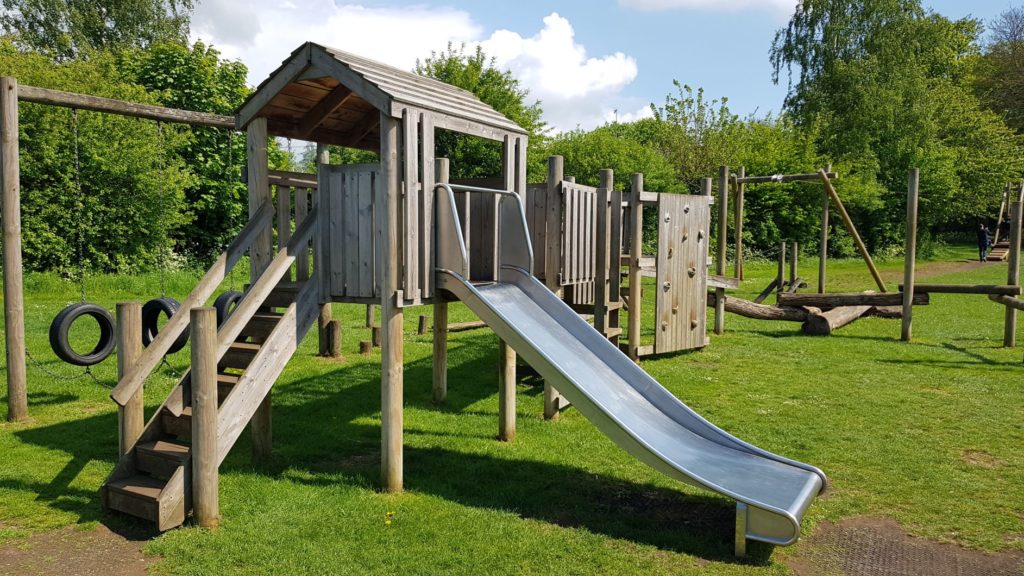 They didn't really know where to start. Clark decided to jump on the swings while they were empty. Elliot had buggered off somewhere with daddy. This gave me time to scope out the area and the people in the park.
Am i the only one that makes sure their aren't any skank's drinking/smoking pot in the parks before letting the kids really settle in?
Charlbury play park equipment
I'll start off with the toddler frame. Its a really simple yet lovely solid wooden frame with a balance beam, and a slope/ bridge leading up to the slide. A really safe piece of equipment for a toddler… well as safe as anything designed for a toddler can be anyway.
Almost next to the toddler frame is where you'll find the tractor. As far a huge wooden tractors go this one is pretty cool and the kids had a great time driving the Tractor using the moving steering wheel (import for us a wheel that moves) over me. So basically my kids were imaginarily running over my dead body over an over again while they giggled in glee. I should rename them Stewie and Lucifer.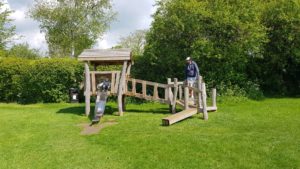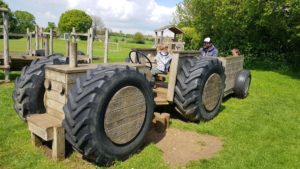 Another frame that was next to these two was a really cool balancing frame. In fact this whole park should be named the balancing park. Maybe that's why i loved it so much. The balancing frame was like a mini version of ninja warrior only minus all the impossible shit and needing super human strength. Its got some great bits to it that we haven't seen in other parks too.
OK so moving onto the main frame. Its slap bang in the centre of the park. Shining like a new tub of slime that's just been tipped all over your front room carpet. Only the park was a welcomed sight (unlike the fucking slime all over my carpet)
Charlbury's big frame
Its a magnificent beast. It has everything you need or at least everything your child needs. Elliot was pretty confident with most of it too. We did have to closely supervise him in parts though which was fine because by now we were all playing the floor is Lava. Tried to change it to the floor is Gin but the kids looked at me like a tit when i started trying to swim in it.
The big frame has a slide, a wobbly bridge, climbing wall (totally got my fat are stuck when trying to go over the top) loads of natural climbing bits that even Daddy was pissing about on. I kept trying to film him hoping to catch him when he finally stacked it (unluckily he didn't this time).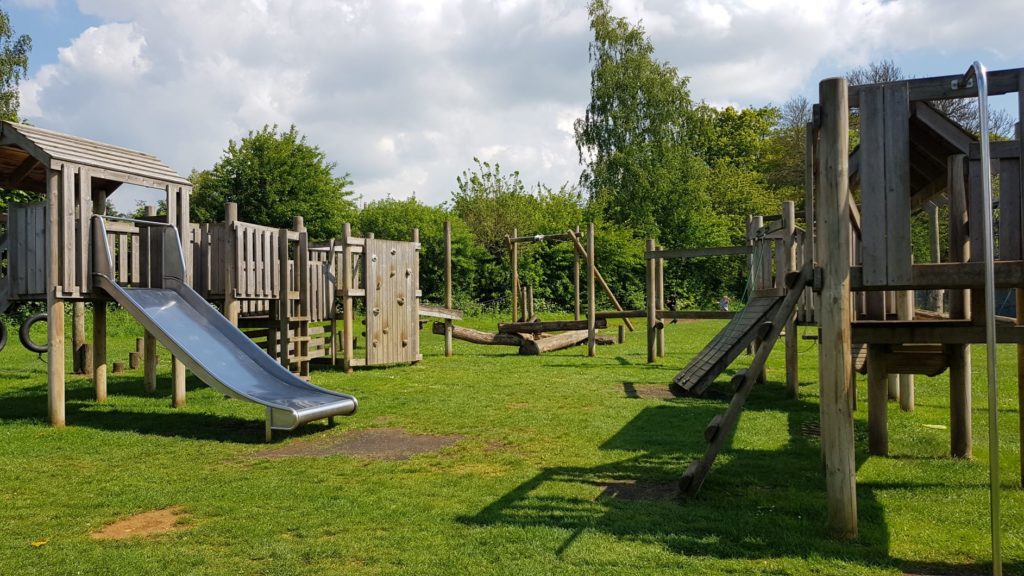 There was also a really, really high firemans pole. The reason i say high is because the kids asked me to go down it after them. Easy i thought, got to the top FUCK RIGHT OFF. Next time you're in a play park with a firemans pole (not a toddler one) go to the top and jump down. Fuck me i had to talk myself into it. I couldn't believe how high it was. Kids and husband at the bottom mocking me too (twats). Now i know how all those bungee jumpers and base jumpers feel. Finally i did it and bloody hell i thought id have to clean the pole afterwards for peeing my pants in fear. Seriously try before you mock and don't forget the baby wipes in case!
What else is there?
So i haven't named all the equipment and i wont go into it all in detail but ill list it all here, Well at least all that i can remember anyway. We have a Zip wire, swings, basketball courts, swings for all ages including a cargo net swing, a stand on balancing seesaw, Lots of benches (perfect for a picnic) and another balancing part next to the main frame.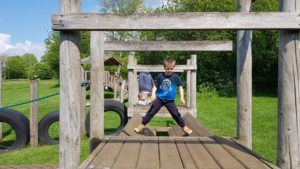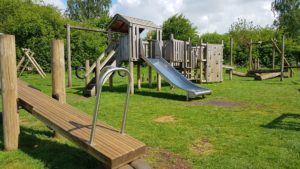 Charlbury play park is spaced out across a pretty big area. The play park was right next to the cafe. Oh yeah didn't i mention there was also a cafe??. Oh yes a cafe serving hot drinks, cold drinks, cakes and snacks just inside the community centre which also had outdoor seating so you can sit and watch the kids while they play.
Now although we didn't go in the cafe i would hedge my bets on there being toilets inside the community centre. Whoop got to love an all rounder and Charlbury play park has certainly given us that.
Charlbury play park stats:

Distance from Bicester: 34 mins
Sat nav: 1 Enstone Rd, Charlbury, Chipping Norton OX7 3QR Click to load sat nav
Wheelchair friendly: Yes but can be uneven
Equipment upkeep: 10/10
Cleanliness: 10/10
Facilities: Car park, toilets when community centre is open and a cafe (the community centre)
Age range: All ages
Safety: 8/10
Fun factor: 10/10
Dog friendly: Yes but on a lead
Pushchair Friendly: Across grass in part but mostly
Bikes and Scooters: bikes but not scooters
Conclusion
The sat nav will take you to the coop where i think you'll get a better place to parking maybe.
The boys all loved Charlbury park and i could see why. We spent a good deal of time here and they kicked up a bit of a stink when it was time to go. Luckily i convinced them with the promise of Finstock park which is just down the roadish.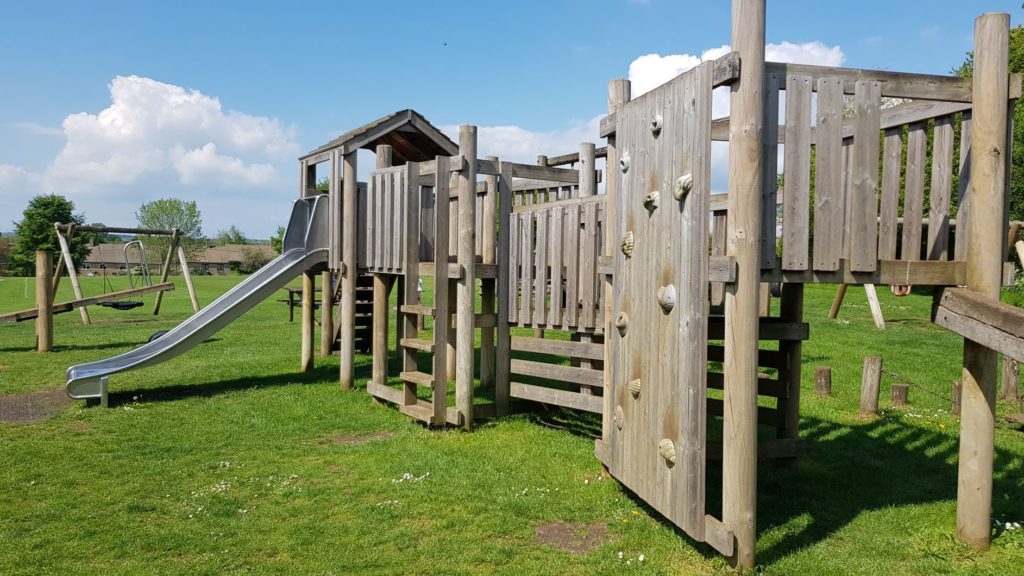 This would be visited almost daily if we lived closer. It will be added to my ever expanding list of great parks. It will be visited as much as we can over the summer and i urge you to do the same. Charlbury play park really is awesome as far as parks go. It has everything you will need to sit and chill for a decent amount of time.
We'd love to go back and explore more of Charlbury and when i say explore i mean go to the pubs haha. I reckon theres a load of great walks too. I do know that you can walk to the old shed too (amazing cafe click link for the review)
AOB
Check out more of the Family ticket free park reviews HERE
Please feel free to contact me on Facebook to let me know of more places to review HERE