I must admit I've been looking out for the Deddington play park to be finished for a while. However I'd heard mixed reviews so i guess that's one of the reasons i didn't rush to it.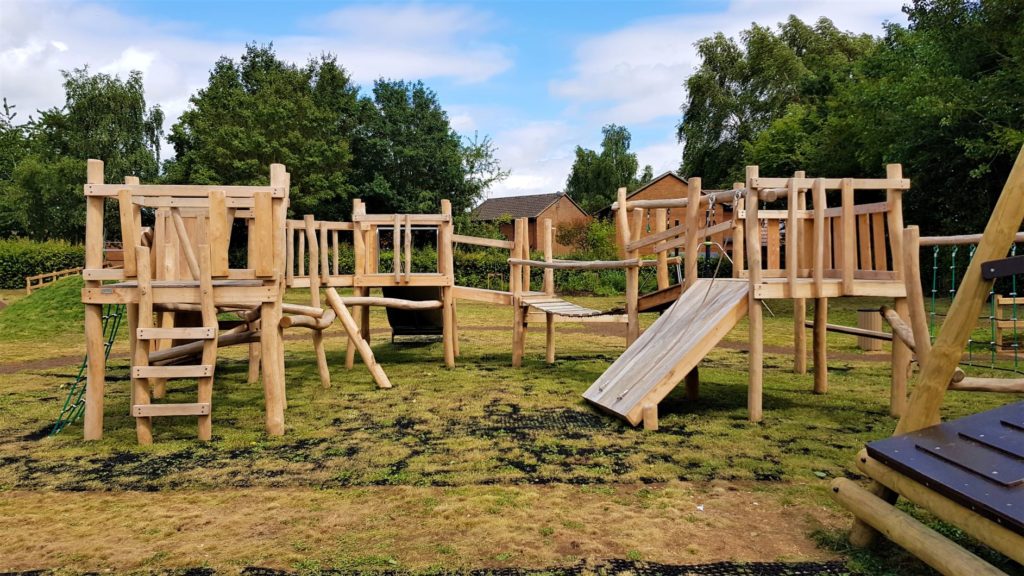 After popping out on Saturday we were nearby so it made sense to pop in on the way back. Honestly I'm so glad we did. When its complete its going to be fantastic for all ages.
Deddington Play Park
Now I've never been to the windmill centre before so i was pretty shocked at how big the area was. There was even a cricket match on when we turned up.
There's a fair bit of parking too but i can imagine it fills up pretty quick especially if there's an event going on. On Saturday the Community centre building was shut. I'm not really sure what the situation is on toilets but there might be some in the changing rooms.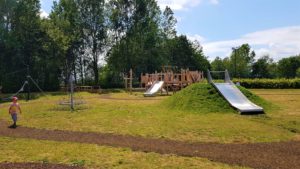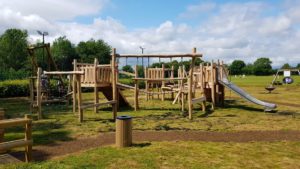 When you first park up don't be alarmed at their old play park. The boys still had a little go but you can tell why they needed a new one that's for sure. The gate alone makes the sound of a thousand screaming seagulls every time it opens.
The new play park is just by the community centre. You cant miss it…ok maybe you can but just look harder. Once you see it you can tell just how new it really is. The wood looks like it hasn't even been treated yet (though i think it has. This isn't a bad point). The ground looks pretty barren at the moment where the grass hasn't grown over the safety matting yet.
Deddington Play park is Unfinished
One of the first things that occurred to me was that it isn't very toddler friendly. Then i saw the fenced off area that was in the building stages still. You can clearly see through the fence that this area once its finished will be for the toddlers. I could spot a brand new virgin springy face twatter too.
I'm not sure when it's due to be finished but i was expecting it all to be finished when we arrived after they had their grand opening. There was still enough for little ones to so anyway so it wasn't the end of the world.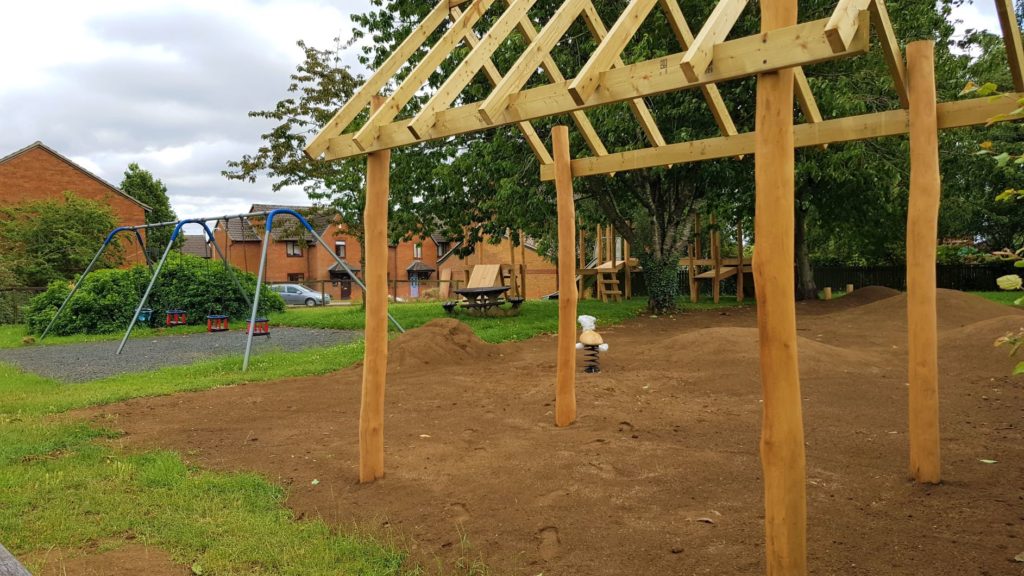 Clark and Elliot didn't notice anyway they were off straight onto the trampoline. I probably should buy them a trampoline for the back garden. It'd keep them happy for hours…..although there would be no room left for anything else.
The main attraction in Deddington Play park would probably be their lovely looking climbing frame. Weirdly it was one of the last things the kids went on today. Although when they finally got on it was hard to get them off.
What Equipment Is At Deddington Play Park?
There's a zip wire in the park that runs the full length. For a new zip wire ill be honest its pretty shit. Even Clark commented on how slow it was which is a shame as we normally love a zip wire.
There are 3 roundabouts the first being a nice large one with 2 seats which is perfect for the smaller ones and really easy to push. The second one is more of a single one like a little cup (you'll know what i mean when you see it) and the 3rd is a cargo cone spinner (totally made that up. Again you'll know what i mean when you see it)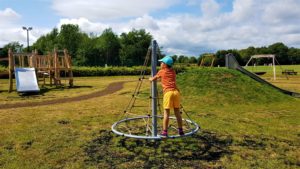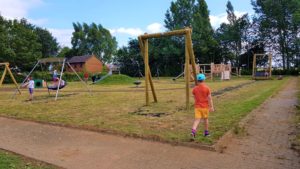 There are 2 slides. One of which is attached to the climbing frame and the other one is a cool mound slide with really easy access for the little ones.
There's also a big disc swing, 2 normal swings, a telly tubby tunnel and some weird arse balancing thing up the back. I've seen them in a few parks and if i don't really know if they're supposed to be for the kids or if they're a piece of gym equipment.
Nice Surprise
At the back you will see a little wooden walkway heading into the trees. Now this i wasn't expecting. Its a lovely little woodland trail with a little assault course running the full length. It was such a nice surprise and the flooring was all wood chip too.
Be careful of the roller. Shit me its impossible none of us could do it straight away it took us ages. Poor Elliot was spinning it round with his hands, Leaned on it and as it span he lost his hands and twatted his mouth on the roller. Little bit of blood later and he was fine again.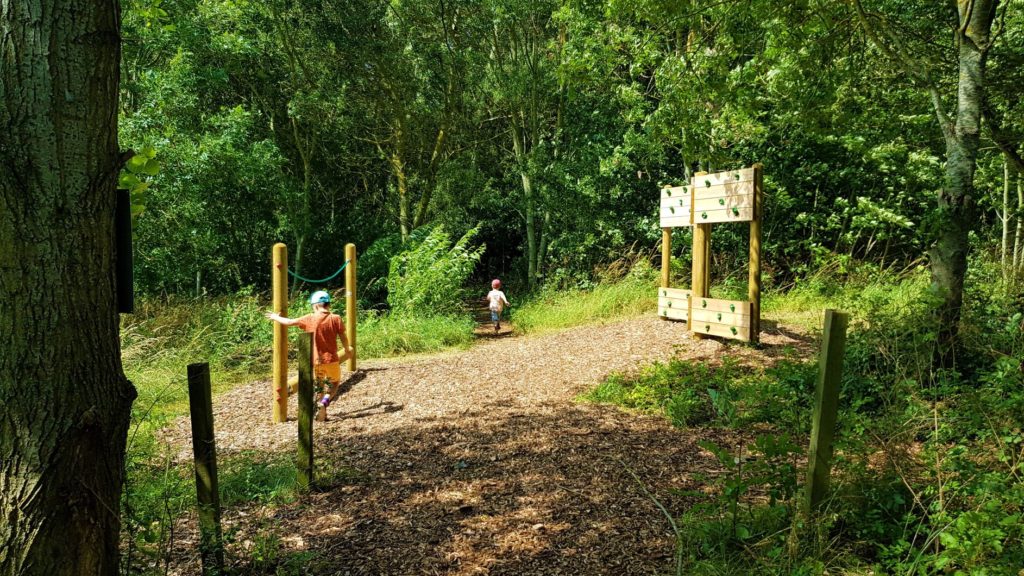 The woodland walk is part of the path for dogs so this is ideal for you with fur babies and kids. This way you wont have to tie the dogs up while the kids play. (though they aren't allowed into the main play areas).
The woodland walk offer's a nice bit of shade from the sun (If there is any) with some nice views for good measure too. There isn't any shade in the play park and there's only 1 bench that i could see. Whether this will change or not i don't know. There is enough floor space though but remember to take a picnic rug.
What Else Is At The Windmill Centre?
As i mentioned earlier there was a cricket match on when we visited meaning the fields were out of action. There is plenty of space though if there isn't a match on.
We did see another assault course which ran the circumference of the cricket pitch. There was nothing to say we couldn't use it but knowing my luck and sporting skills either me or one of the kids would have taken a cricket ball to the face so we passed this time. From a distance it looked good fun though.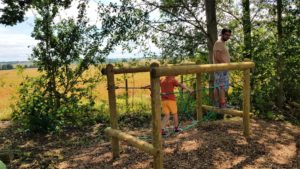 Now i believe there's a little cafe. I'm hoping someone will clarify this for me because nothing other than the sports facilities were open on the Sunday.
Its a cracking place for sports with loads of courts too which i assume some of which you will have to book. The area seems fairly ok for bikes and scooters in places to although still not the best. I personally wouldn't bother.
Deddington Play Park Stats:
Distance from Bicester: 21 mins
Sat nav: Hempton Rd, Deddington, Banbury OX15 0QH Click to load sat nav
Wheelchair friendly: yes
Equipment upkeep: 10/10
Cleanliness: 10/10
Facilities: Not 100% sure about cafe and toilets
Age range: All ages (when its finished)
Safety: 8/10
Fun factor: 10/10
Dog friendly: yes
Pushchair Friendly: Yes
Bikes and Scooters: yes
Public transport:
From Kidlington: Bus (S4) from Kidlington, to Deddington, Market Place Post approx 35 mins then walk the rest.
From Banbury: Bus from Banbury Town Centre (S4) , Calthorpe to Deddington, Library Approx 20 mins then walk the rest.
Conclusion
Me, the kids and the husbeast were really impressed with Deddington Play park. I think the Windmill centre is great. We still thought this even though it was clearly unfinished. I can imagine how much better it'll be once its all done.
I think my favourite bit was the lovely hidden woodland walk. The fact you can take dogs too is an added bonus for people and well worth the visit.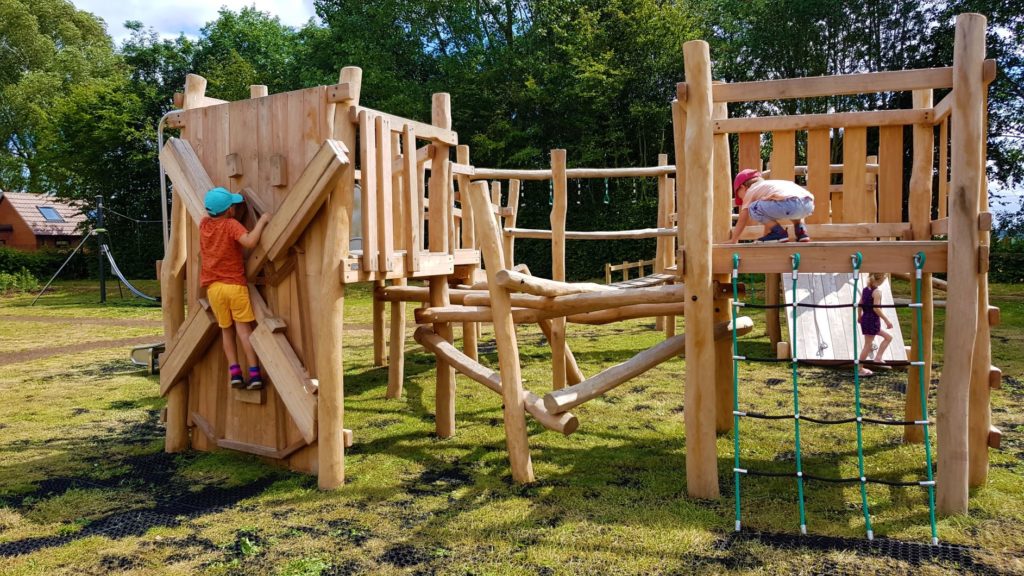 I can imagine we'll be using this park a fair bit when we're out that way in future and i'll be keeping my eyes peeled for when its completed so i can update the review.
Even as it is now I'd recommend the park. So if you can give it a go and let me know what you think. I know a few of you weren't impressed. Maybe i'm getting soft in my old age.
AOB
For more play parks in your area check out the play park map >>HERE<<
If you want more information about the windmill centre you can see their website >>HERE<<