Only went and bloody found it!! When I say me what i actually mean is my husband found it. HETHE PLAY PARK!! it was like one of those moments when you hear the answer to a question you couldn't remember until someone said it out loud. I took the kids the other day and drove round in circles trying to find it and all along it was a stone's throw from where we were before i gave up.
Hethe Play Park
Anyhow its a pretty cool timber park with yep you guessed it….a zip wire (a fast one at that) The smaller climbing frame for the younger ones is a Tractor! Unfortunately (or fortunately for us) Elliot was sleeping in the car so he missed out. This meant I couldn't guinea pig the safety side for a 2 year old but i can guess he would have found a way to damage himself.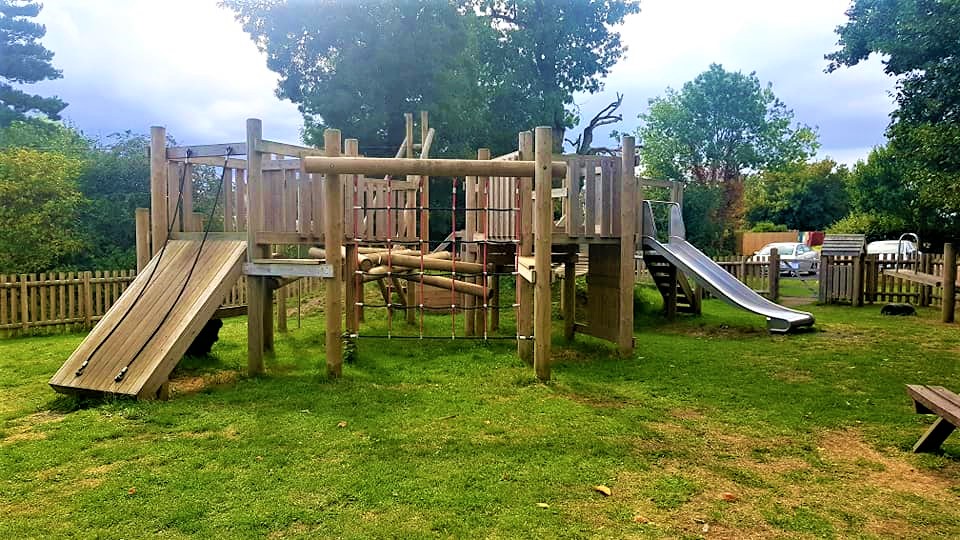 The big climbing frame is a proper climbing frame the kids really do get to try out their balancing and climbing skills on this! There is a safer way up to the slide bit too for when the younger kids inevitably want to laugh in the face of danger and try the bigger stuff. It also has huge tires for the kids to climb over and through.
It has the usual other bits too. Swings, roundabout and seesaw thing plus a few other bits. The place was dead maybe because it had been raining or maybe because its easy to find or even see from the road?
Lovely Hethe Park
It does however have a fair bit of parking and is situated next to a playing field so bring a ball or kite too 🙂 I loved the fact that this park is fully enclosed there is zero escape for the little Houdini's I'll be honest it took me a while to figure out the gate latch to get in (i had one too many last night)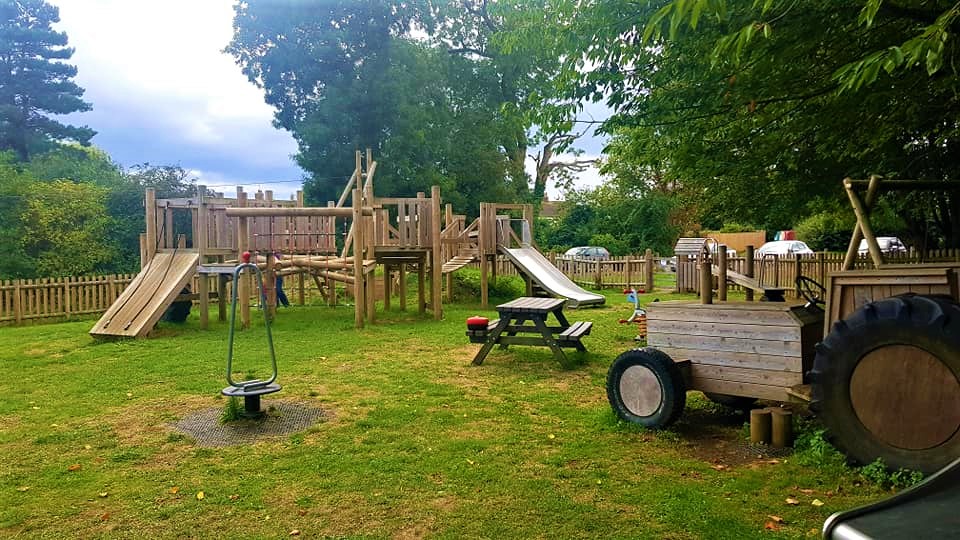 Now there are no toilets or other facilities but (this is the bit that really got me) it's practically in the muddy ducks back garden!!!! Right where i bloody parked looking for it!! So if you fancied a snack or a drink why not pop in. We had a look inside and its absolutely lovely looking! We plan to head back for some food at some point especially now we know where the park is. Love an excuse to visit a pub 🙂
Hethe Play Park stats:
Distance from Bicester: 15 minutes
Sat nav: Hardwick Road, Hethe, OX27 8EY Click for directions
Accessibility: 4/10 possibly busses but won't be easy
Wheelchair friendly: possibly but not a lot of room to manoeuvre
Equipment upkeep: 10/10
Cleanliness: 10/10
Facilities: 6/10 Only because pub is so close
Age range: All ages
Safety: 8/10 love the caged in feature
Fun factor: 8/10
Conclusion
Another great free park that i would recommend a drive out too.
Let me know if you've been or if you've eaten in the pub. Follow the signs for the village hall its their car park you'll be using.
For more free parks in the area check HERE