After a great morning spent at Science Oxford we decided to head over to Sandford for some lunch and to watch the boats. I've also been meaning to try out Sandford Play Park for a while too so this was a perfect opportunity.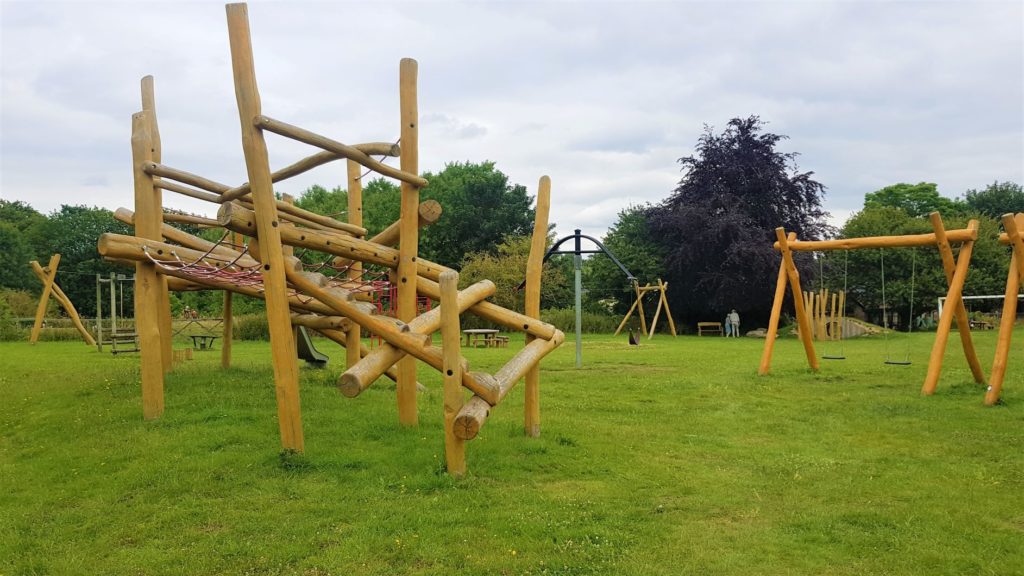 We found a spot on the side of the road and walked up to the gate at the far end. This road is posh and you will get looked at. Luckily i was wearing my best Primarni and my knock of Ray Bans (aka raymond banks) that i got from the looky looky man in Gran Canaria so i fit right in.
Sandford Play Park
I've been eyeing up Sandford play park for some time now. But because we hadn't been back to the kings arms for some time (Because the last time was so shit). I hadn't got around to it. Today we were giving the Kings arms another chance and we wanted to tire the kids out some more so they didn't have the energy to swan dive into the Canal while we were eating.
You can see the play park from the road and its a beautiful looking thing set in a big field surrounded by a huge fence so fairly safe. One thing i didn't notice previously is that it has a cafe and shop. Now i didn't investigate (Probably should have) but I'm guessing/hoping there's also a toilet in there somewhere too.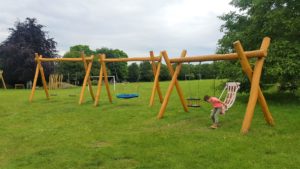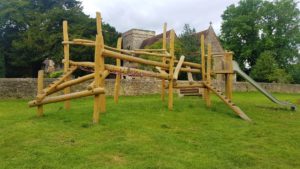 Even though it was a Saturday the main play area was dead (just how i like it). The smaller children's area which was outside the cafe (Amazing right) was a little bit busier.
The play park is a really good play park for all ages and is in a lovely setting with the church right next door and the river (or is it the canal) not far away either which makes for a cracking walk (which we did in the end)
Whats Sandford Play Park Like?
So the whole play area is pretty spread out across the field with the older kids area right next to the Church. The Majority of the play park is that lovely timber structure i do so love.
The Main climbing frame is one of those huge climbing structures which looks like a big fuck off game of pick up sticks with nets, ropes and a big metal slide on the end. The slide isn't easily accessible for smaller ones but there is another slide by the smaller kids bit anyway. Not that smaller kids will be happy with that when they can see a bigger slide anyway.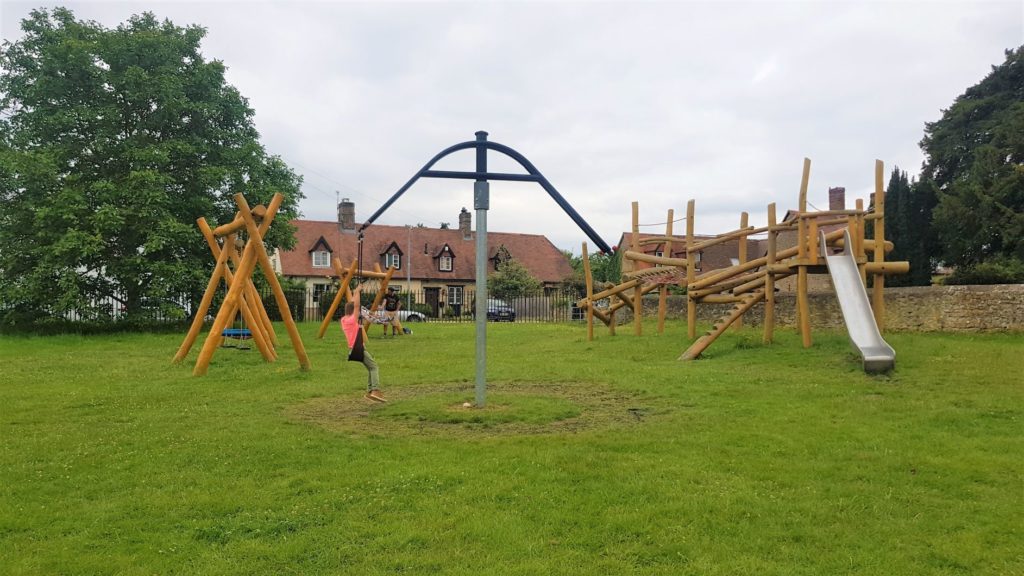 There's loads of swings up this end too. One of the big ones that just looks like a deck chair, baby swing, 2 normal swings and a big cargo net swing too. Me and the husbeast have to play rock, paper, scissors and whoever loses has to push Elliot over and over and over again until our arms cant take any more.
There is one more swing…. thing not sure if it even is a swing but its cool and they loved it. Its a big pole with a swing one side and a handle on the other end then the whole things just spins round. I think the idea is for the adults (Or crazily tall child) to hold the handles and swing round too. This didn't work out well for me because I'm a short arse and i have the upper body strength of a new born baby.
More Equipment In The Play Park
Next to the giant swing thing is another climbing frame. This ones an old style fairly simple frame. Its pretty easy to climb up which Elliot found out. Its bloody high though so my arse was clenching when Elliot just kept going. I had to bribe the bugger down with a biscuit in the end.
There's a really odd bit of play equipment there too which i haven't seen before. I can only best describe it as a half rotating surf wobble board. I'm guessing its the older kids version of a springy face twatter?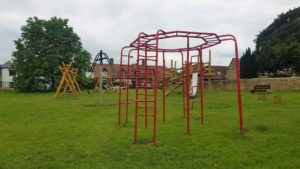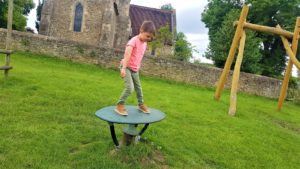 Parks still dead i know what. I'll have a go on the Zip wire……Don't worry i filmed it. Video recording and off i go. About a quarter of the way through i realise my mistake. I'm too much of a fat bastard. I put the wire under so much strain i didn't even get halfway before the fucker grounded me. Hahaha maybe god was watching me from the church and was trying to send me a sign. STOP EATING CAKE YOU FAT FUCK. This zip wire is not for fatties!
There's a few benches scattered around too which is perfect for a picnic if you didn't fancy the cafe. I'd like to go back again and try the cafe out because it looked fairly busy which is always a good sign.
Sandford Play Park Toddler Area
About half way down the field you will see there's a load of giant logs stuck in the ground. I've seen these in a few places and honestly. I don't have a bloody clue what they're supposed to be for. Maybe its just a bit of anything. They look good though.
Next to the logs is the tunnel. Looks like a hobbit house. Maybe a nice little area for a game of chase. If kids still play that these days.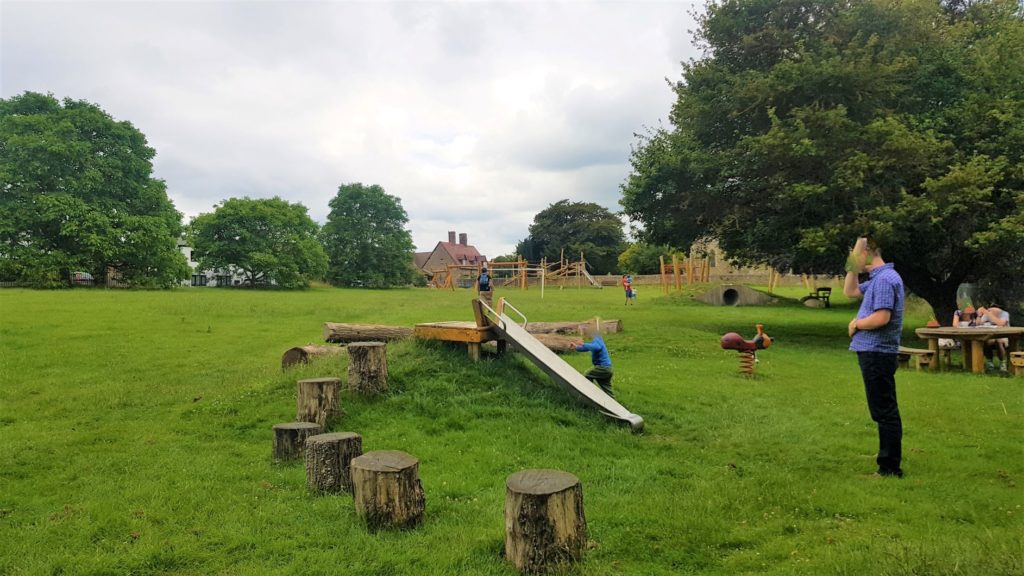 Now i didn't get many photos of the toddler area because there were a few families there and i didn't want them to think i was some kind of predator. There is a little slide and its perfect for toddlers Elliot (3) was probably a little too old for it.
There was a nice wooden springy face twatter (i find it makes a nicer noise when the kids twat their heads on the wooden ones) and a few balance beams and tree stumps. That's about it for the toddler area. May sound rubbish but its a perfect space for them to play safely while you have a nice coffee and cake in the cafe which I've found out is called Sandford Talking shop.
Sandford Talking Shop & Cafe
Halfway through writing the review i thought I'd check times on the cafe and when i stumbled across their website i feel like i just have to give them a little bit more attention. I'm gutted i didn't go in now. The shop and cafe alone makes me want to go back anyway for its very own review.
The cafe and shop are so many things its actually really hard to explain. Its a community project and relys on volunteers. They do lots of eco green work, use local produce where they can and even has a volunteer bike mechanic.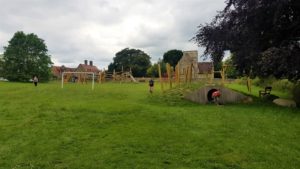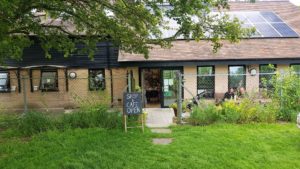 Each month on the third Wednesday Their volunteers cook up a feast from Oxford Food Bank food that otherwise would have gone to waste. They
are open from 1pm to 2.30pm for you to come along and enjoy great food, freshly made that morning by our volunteers.
​
All available on a pay as you feel basis!
They're open Monday – Friday 9.30am – 5pm then on Saturdays from 9am – 12pm. It just seems really bloody good. The fact that they can keep it going like that based on volunteers is amazing too. They also have their own car park and the cafe backs onto the park. Bonus.
Sandford Play Park Stats:
Distance from Bicester: 26 mins
Sat nav: Village Hall, Henley Rd, Sandford-on-Thames, Oxford OX4 4YN Click to load sat nav
Wheelchair friendly: Yes outside a bit uneven
Equipment upkeep: 10/10
Cleanliness: 10/10
Facilities: Cafe, Toilets and parking
Age range: All ages
Safety: 8/10
Fun factor: 10/10
Dog friendly: Not sure really (Sorry)
Pushchair Friendly: Yes
Bikes and Scooters: Not really
Conclusion
The boys had a great time at Sandford Play park. Sandford on Thames itself is a lovely area. After the parks we walked up to the Kings arms which is on the Lock so its perfect for a drink or even just a walk up to the locks to see the boats. Its a busy locks so lots to see especially in summer.
The food at the Kings arms is very hit and miss if I'm honest but the location always brings us back. Little tip if you do go for a walk. Take bread for the ducks, swans and geese.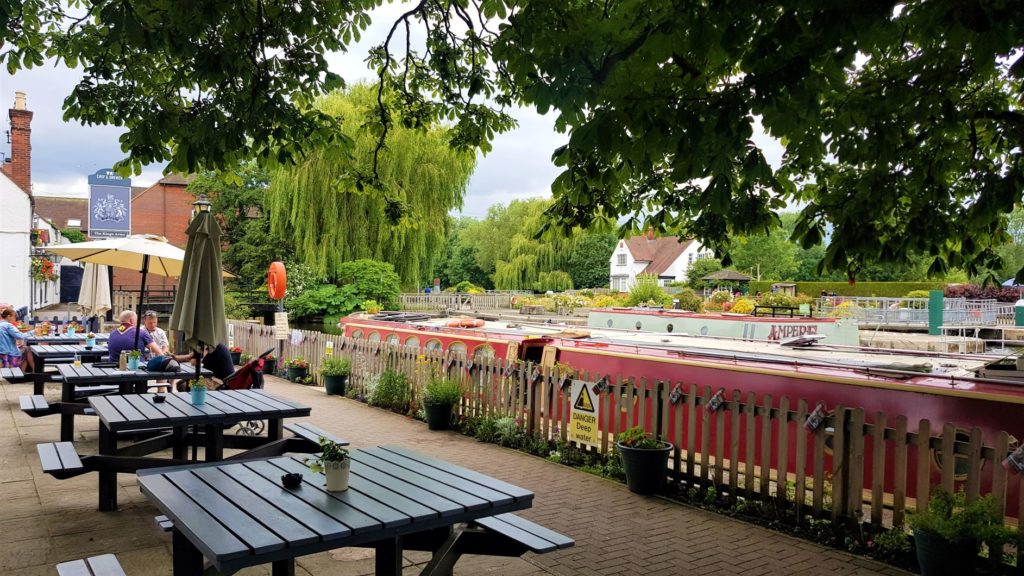 I will 100% be heading back to the park soon. We need to try that cafe out. Its rare that you find good cafes and play parks so close let alone in their back gardens.
Although the toddler area is small it really is prefect for new walkers to try and gain their confidence. The bigger area is brilliant and has a lot to keep the older kids entertained for a while. Take a ball too if you fancy as there are some goal posts too.
AOB
As always pleas do let me know of any where you think i should review. You can do this by contacting me on the family tickets face book page HERE
If you would like to see some of the other play parks we have reviewed check out the map HERE
For more Information on the Talking shop & Cafe their website is HERE