Was i the only one that didn't know that Oxford had a science museum especially for kids. Well if you didn't you do now because on Saturday i took the kids to the Science Oxford Centre in Headington and my god didn't we all have a great time.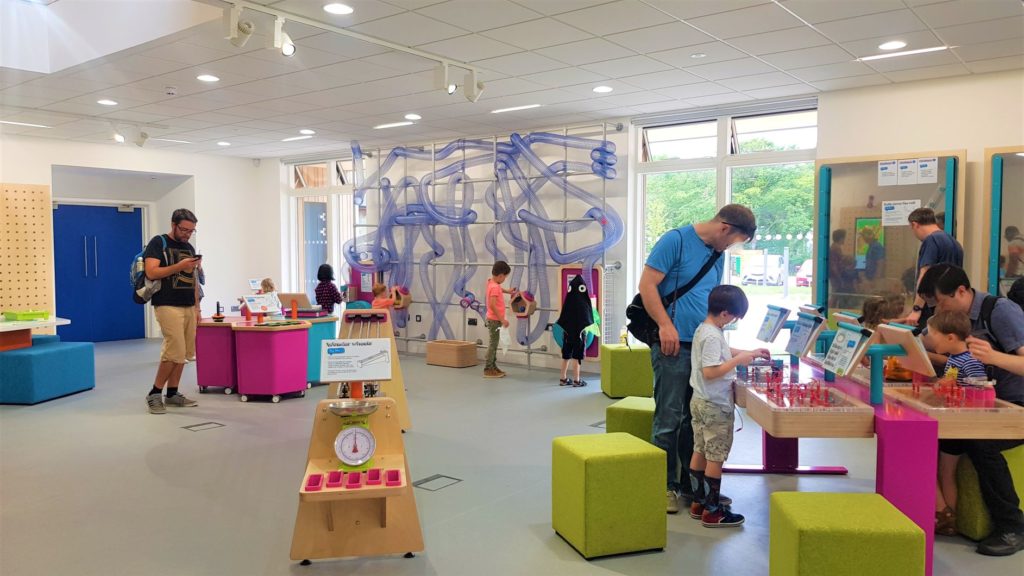 The only down side is that's its not open to the public very often and when the tickets get released you'll want to be quick because i shit you not. Its not just your kids that'll have fun at Science Oxford.
What Is Science Oxford?
The Science Oxford centre itself is a brand new experience for primary ages children, families and adults. Personally i think its great for confident walkers too.
There are twenty hands on exhibits in their Exploration zone where the kids will get to explore, create and discover.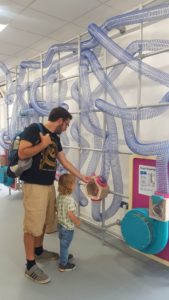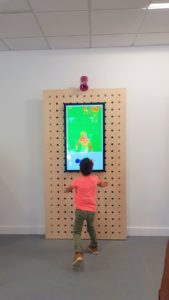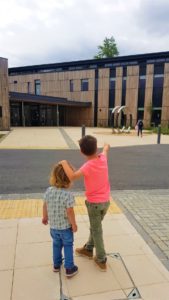 Not only do they have the Exploration zone but also a 15 acre wildspace of woodlands, ponds and meadows with 3 different woodland trails.
Who even knew there was that much green space in Headington anyway. At the moment they are only open on special event days but the are looking to be opening more regular as of September so i will have to keep my eyes open for that.
Arriving At Science Oxford
We booked in on their family open day and booked in for a 10am -12pm slot. It may not seem like a long time but it was perfect for us. We could have possibly stayed longer if we'd done the woodland trails too but the kids were getting hungry.
We rocked up in the car. Not very environmentally friendly but with kids like mine taking public transport wouldn't have been safe for my mental state.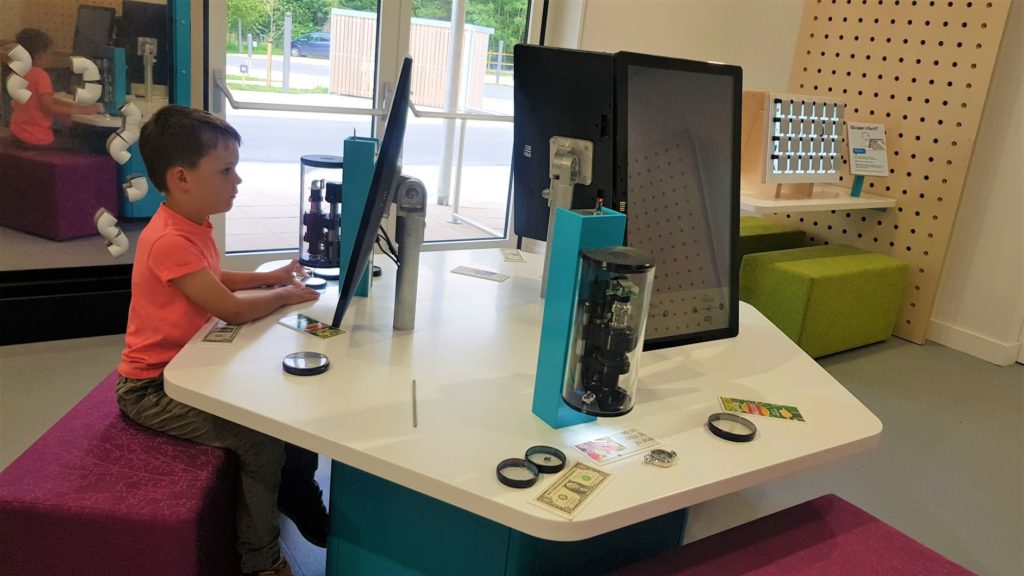 If you don't drive or don't want too you will be happy to know that you can bus in or do the park and ride if you prefer.
There was a fairly decent sized car park and when we arrived 10 mins before our session i started to worry that it was going to be shit. After all we were totally winging it and i had no idea what was really going on. The car park was dead and we had nothing to lose so off we trotted.
Science Is Cool
A few more people had started to turn up at this point so i at least knew i got the date right. The kids first bit of fun was the revolving door to get in. Haha simple things but at least they were having fun.
We were greeted in the foyer and shown to the Exploration Zone (quick toilet stop first) and shitting hell. As soon as we walked into the room never mind the kids MY eyes lit up. Thank fuck we had hit gold. I knew straight away it wasn't going to be a shit wasted morning. Boom the kids were off. Opposite directions of course me with Elliot and the husbeast with Clark…. to start at least.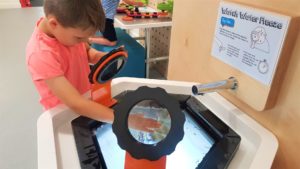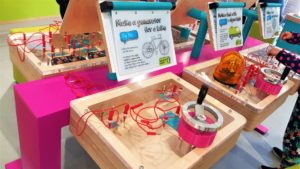 The room was pretty quiet when we turned up. Maybe 3 or 4 families max. It was perfect. The first thing that caught Elliots eye was the huge ball maze on the back wall. If anyone's seen Blippi on Youtube then you'll understand why me and Elliot were practically peeing ourselves with excitement.
Its basically a huge maze of clear pipes that blows air round so when you stick the balls in (not to be confused with sticking your balls in!!!) or the colourful material you can watch them flying through the pipes and getting spat out at different points. This right here is a toddlers dream.
Science Oxford Exploration Zone
The kids were having the best time. It had started to fill up a bit more now but not once did it feel overcrowded and if something was in use then we could just go off and try something else. We never had to queue.
I think Clarks favourite part was making his own flying contraption for the huge wind table that sent all the paper shooting up to the ceiling. Elliot had a go too and he was screeching in delight….maybe a bit too high pitched at times. You could see all the adults (me included) Flinch every time.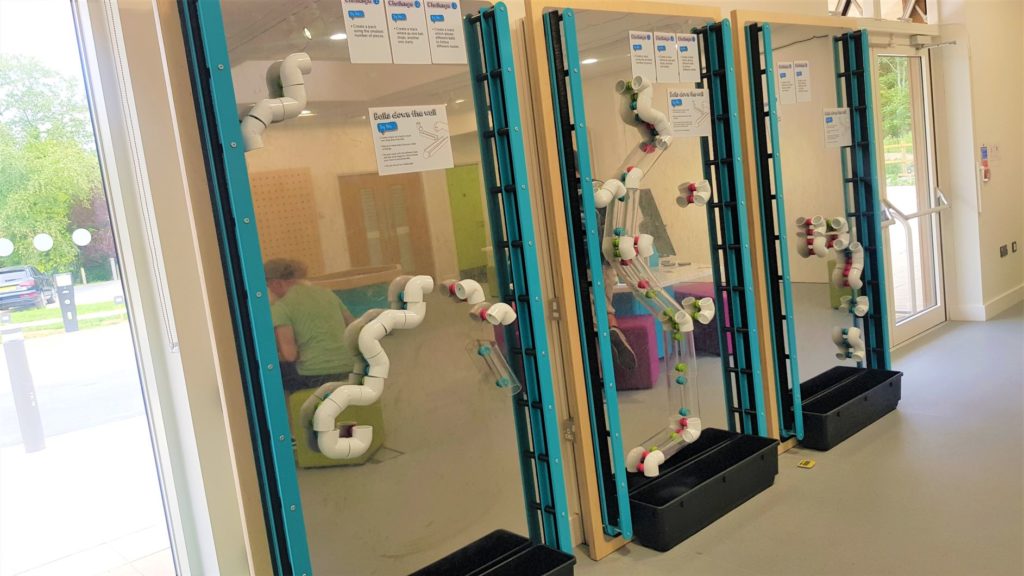 The big magnetic marble run was maybe one of my favourite bits. It reminded me of the one at the look out discovery center and the one at the MAD museum.
We had a look at some things up close under the microscopes, had a game of guess who using rocks and shells. There was even an area where you could watch water freeze before your eyes and see all the different ice crystals up close (very pretty). It was all going well until Elliot had a run in with some posh ginger kid.
Teach Your Kids To Be Kind!!
Now i know kids can be dicks at times. I'd be talking through my arse if i pretended my 2 were always well behaved. That's why we as parents need to teach our kids not to be absolute shit heads even if you do shit out £20 notes in your mansion.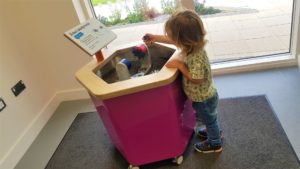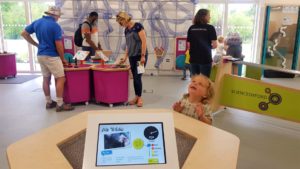 Clark and another little boy were playing with the magnetic sand sculpture and Elliot being only 2 wanted to join in. Plenty of room or so i thought. However every time Elliot put his hand in this little kid would bat it away again. Meh shit happens We'll get over it. The kid (Around 5) carried on only as time went on he decided to grab Elliot's hand an squeezed it. Elliot was getting pissed off now and I'm hoping he doesn't turn round and twat him.
Sharing Is Caring
I'm trying to give the kid some space to sort it out or at least for his parent of guardian to step in and tell him to stop being a little shite. This didn't happen and it was getting a bit too much now and i didn't want it to turn to fisty cuffs. So i took Elliot away to play on the wonder wheels which was now empty.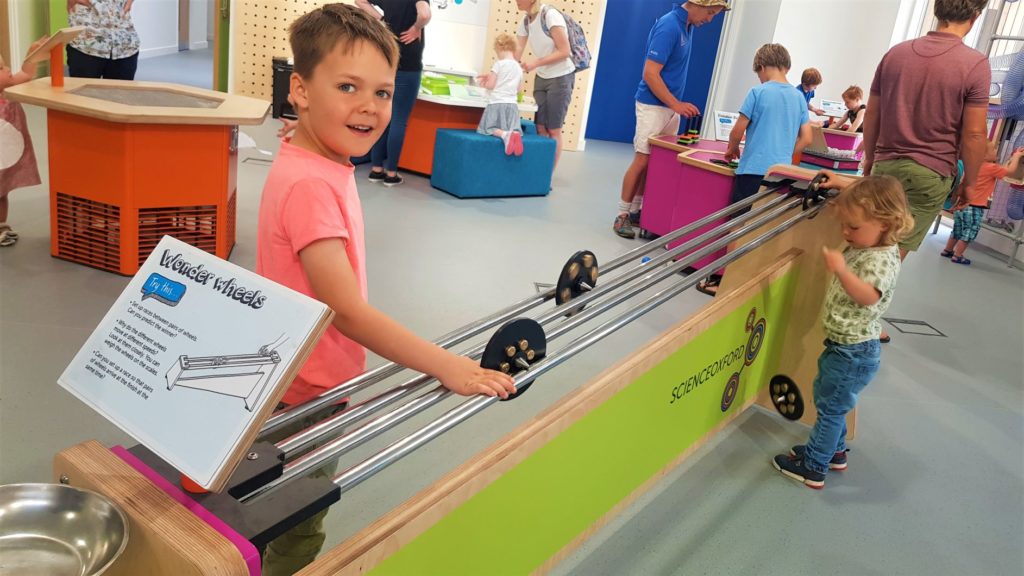 Next min old spawn of Satan rocks up and slams one of the wheels onto Elliot's fingers and tells him to go away. Elliot is now silent crying and I'm now massively fucked off. Parent doing absolutely fuck all so now i had to deal with him. I explained to him that h had hurt Elliot and that wasn't very kind. Little fucker just shrugged and said there was no room. Then i told him as Elliot was here first if he wasn't prepared to share then he should go and use something else. Aka FUCK off you little prick before i drop kick you out the door.
Moving Swiftly On
For the rest of our time there we avoided the little bugger and the kids had a great time. There was so much to do. They could make their own circuit boards, use the magnetic gear table using cogs, Try and solve the puzzles (which i couldn't) and even balance the wheels on the huge spinning disc it really was amazing.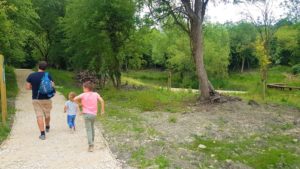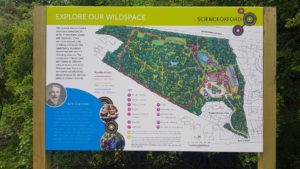 The staff in particular the woman that was in the exploration zone was amazing with he boys. She sat down and helped Clark make his flying contraptions and explained how it all worked. She was having races with Elliot on the Wheel runner and generally talking and engaging with all the other kids in the room.
Wild Space
We decided to head outside to have a look at their wildspace. There are 3 different trails to chose from and we did neither. It was getting close to lunch time and the kids were getting cranky.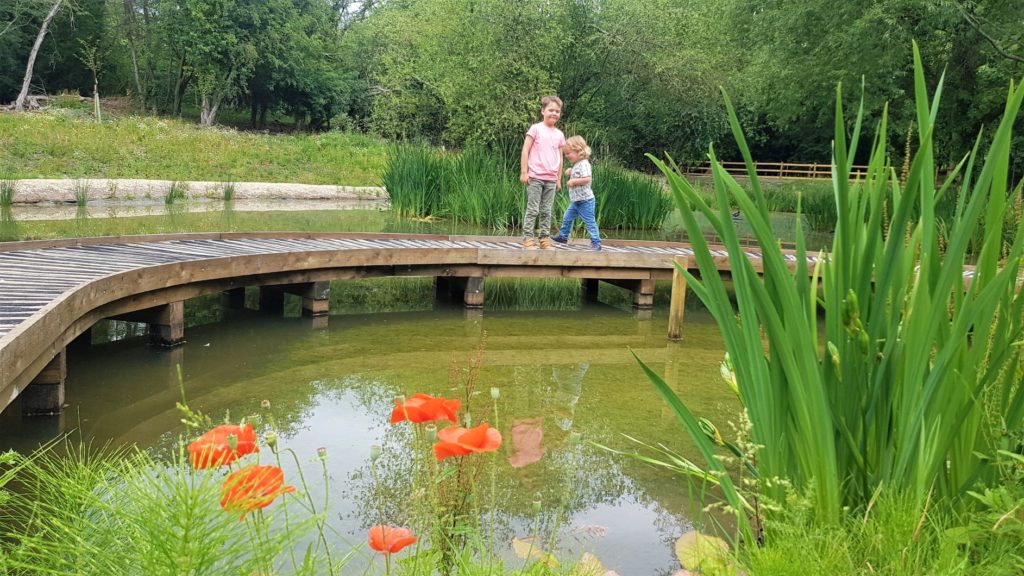 We decided to stay round the pond areas which we were warned about because of the kids and deep water. We had a walk round and they were nice. Same loads of dragonfly's including a species I've never seen before. I could have stayed and watched them for hours.
The paths around the pond area are pretty uneven so do watch your step as you go. I think once the plants become really established it'll look a lot nicer. You can tell its all really new but has bags of potential.
Back Inside For One Last Play
After a little walk outside we headed back into the Exploration zone for one last play before we headed for lunch.
The boys had a go of some of their favourites and then we had the task of trying to bribe Elliot out of the massive room of science fun which wasn't easy. The promise of food finally did the trick.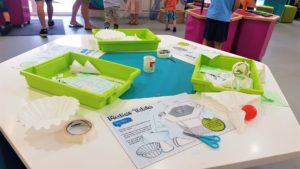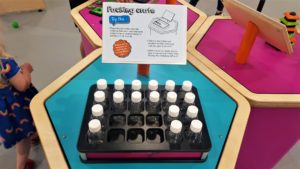 There is a cafe in the foyer but it was shut when we visited and I'm not sure what the deal is. Maybe its only for certain days.
Overall the kids and us had an amazing time. It was £20 well spent in my opinion.
Oxford Science Centre Stats:
Distance from Bicester: 29 mins
Sat nav: Stansfeld Park, Quarry Road, Headington, OX38SB Click to load sat nav
Wheelchair friendly: Yes outside a bit uneven
Equipment upkeep: 10/10
Cleanliness: 10/10
Facilities: Not sure about the cafe yet so don't rely on food and drinks
Age range: says from primary age plus I'd say age 2/3 plus
Safety: 8/10
Fun factor: 10/10
Dog friendly: No
Pushchair Friendly: Yes
Bikes and Scooters: No
Conclusion
Apart from the hiccup in the middle with the posh kid and his shitty parents we had a fantastic time at Science Oxford. We will definitely be going back in future especially to try out some of the woodland trails.
Hopefully the cafe and the Oxford Science centre will open more frequently but for now make sure you book your spaces because they cant take walk ins.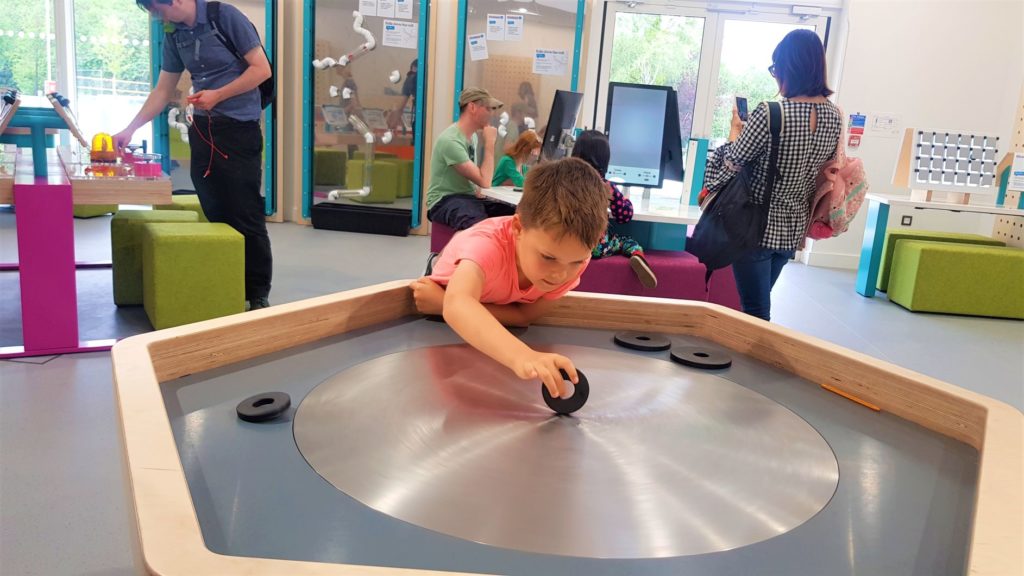 I personally cant see anyone being disappointed the inside isn't huge but what they do have is fantastic and it kept the kids entertained the whole time. They didn't moan!!! way heyyy.
I really think that if you can go you should give this totally unique (to Oxford anyway) place a go. They do have lots of other events/workshops in various location's too including Cogges manor farm which i would love to try out too.
AOB
For more information and booking then have a look at their website HERE
Don't forget to check out the Family tickets map of everything for your next day out HERE