This is it. I'm going out on a limb here and say that the look out discovery centre is my favourite day out with the kids.
There i said it. No regrets… other than we haven't been back for a while. Its a bit of a drive but 100% it.
There is no reason for you to take your kids here and not enjoy it. If you find a reason to moan you're just full of shit.
Not only is it amazing levels of fun for the kids, Interactive, Fairly cheap and generally amazing. Its educational too. Top parenting brownie points here. I find it difficult to get the kids to love educational things this much.
What is the Look out discovery centre?
The lookout discovery centre is basically a science museum for kids. When i say kids that includes young ages too. You will find something even for newborns here.
Its not as big as London's science museum but you know what. Its a shit load better for kids. Why? because the kids can actually get to play on the equipment. Every time we have been the equipment has all been working too. That shit is hardly ever heard of.
Don't get me wrong, Like with all kids places on the weekend it'll still be rammed. This place is worth letting your kids skip a day of school for (probably learn more too).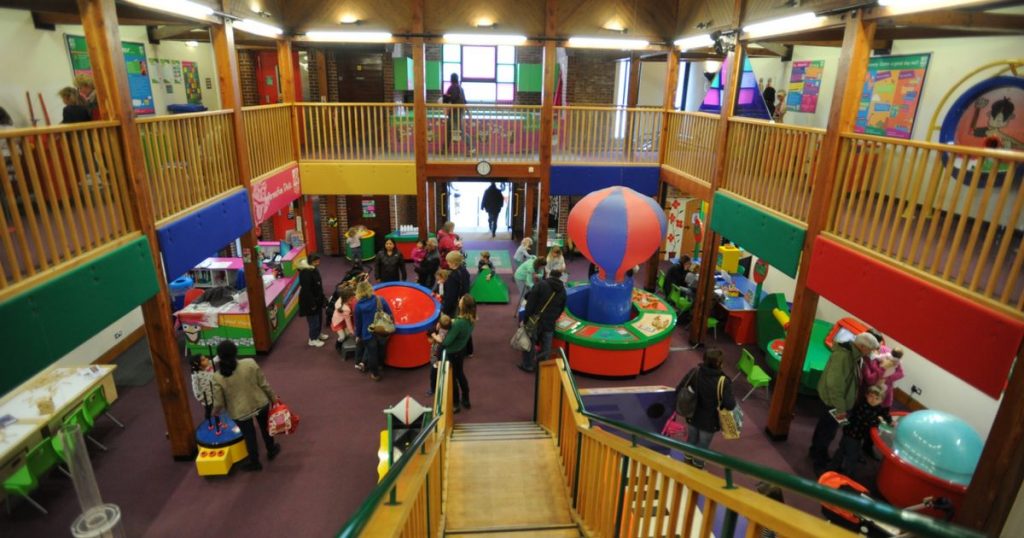 Another absolute bonus is that the lookout discovery is set in amongst a huge forest too. This is very popular for bikers. The lycra kind not the leather chaps wearing kind. That's not even all. Its pretty much opposite one of the best (probably the only) aqua parks within an hours drive CORAL REEF!!!
You have no excuse not to visit…. unless you cant drive. then you're on your own that's not a taxi fare i'd want to pay.
Whats so good about the look out discovery centre?
Whys it so good you ask? well i'll kick off with the indoor water river area.
An absolute hands down, nothing compares, could spend all day there favourite with my boys. Its a huge running river indoors with jets, bubbles, boats, bridges, dams and obstacles for the kids to get their hands into. Got a short one? no problem they have stools to help the smaller ones reach in :). They also provide waterproof aprons to attempt to keep them dry. Take a change of clothes. Water and kids mix so well you cant keep them dry there's no point in stopping the fun just to keep them dry.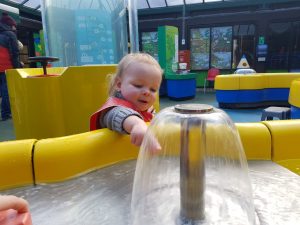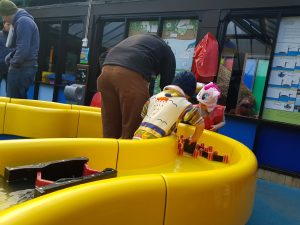 In this area you will find lots of other experiments too. From the tornado, Tunnels, Rubbing and drumming for vibrations.
The Look out Discovery centre Building site
Opposite the water area as i call it. You will have no doubt clocked the building site. Calm your tits i mean a children's building site. They can dress with their hard hats and high vis jackets, Zoom round on diggers transporting bricks to build walls. Climb up into the house and do some wiring, Collect the roof tiles that are being sent up on a pulley from those below and then lay the roof tiles. Its amazing and really gets the kids working together as a team.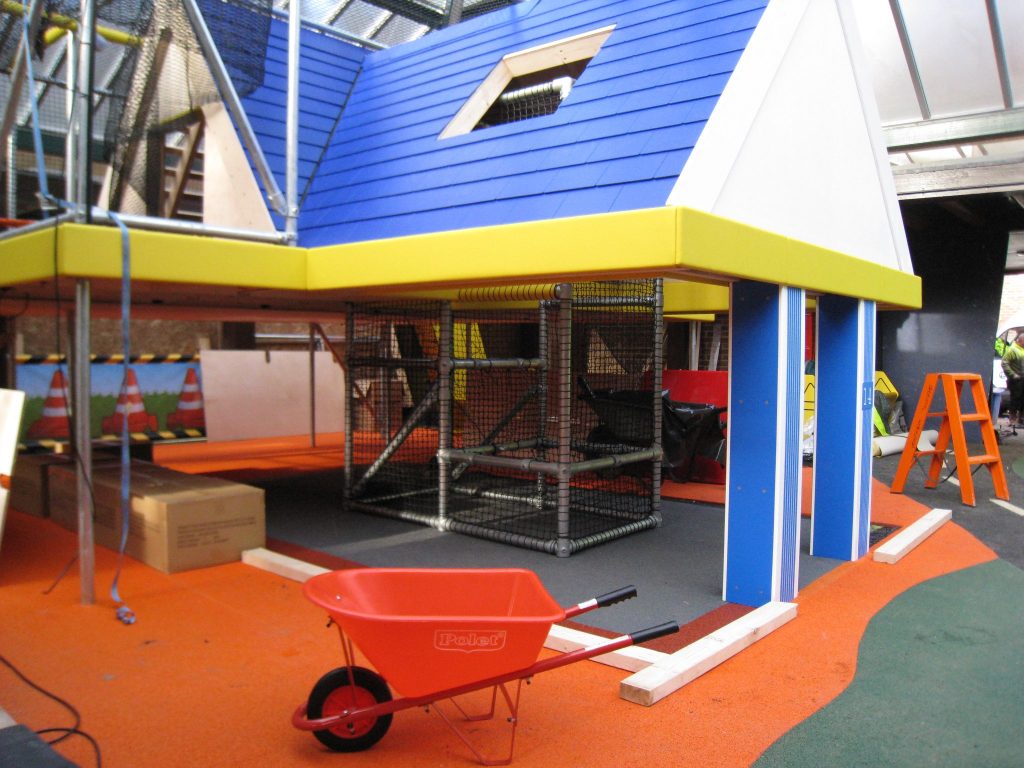 In the main room you have an upstairs and a downstairs full of lots of interactive experiments and play equipment. From hot air balloon's floating up to a giant walk on keyboard, A role play shop to floating ad flying things.
The kids and probably mine and my husbands favourite part would be the huge magnetic ball run wall upstairs. Here you can use the parts to move round and make a path to help the ball get from the top all the way down through tubes, Gates and little turnstiles. It really got Clark's brain working. Great problem solving activity.
Room of lights
Next ill move onto the light room. This will be great for the younger ones. We all know most babies like to watch lights. In here you have a light responsive dance floor. Jump on the lights and they play different tunes. There are other settings too so you can play games of chase etc.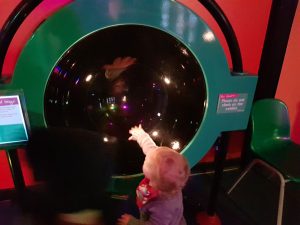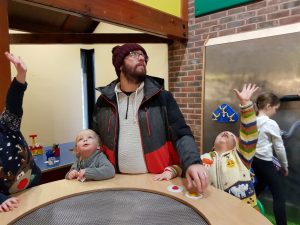 You'll find a huge dark room to walk into that shoots a flash of light and takes a shadow photo on the wall. There's also the usual plasma balls that kids love because it makes them look like they have super powers…..maybe that's just a me thing i always pretended to be storm from X-men with lighting shooting from my hands.
I'm Trying to keep this short but i'm failing i could rant on about this place for ages and still miss out loads of great bits.
Cafe at the look out discovery centre
You have the option of using the cafe (Not very big) for lunch or there are loads of picnic spots indoors and outdoors. You will also find a really cool gift shop. I always end up buying something.
Now the cafe is a bit meh if I'm going to be honest. I mean it'll do the job but its not one that we would use again. We've been disappointed a few times with the food from there. They do hot drinks though so will happily pay for a tea.
So that's the inside and although I've gone on I've tried to keep it brief. There is so much more and when you go you get to discover all the coolness for yourselves.
Awesome play park
So anyway that's so not it either. Outside you have an awesomely immense play park! I'm talking about dogs bollocks again but it is. With a forest for its backdrop and lots of sections for different ages. They have everything you're child could need. Trampolines, Swings, Pirate ships and a big fuck off castle too. The play area as far as I'm aware can be used by anyone so you don't need to pay to get into the lookout discovery centre to enjoy it.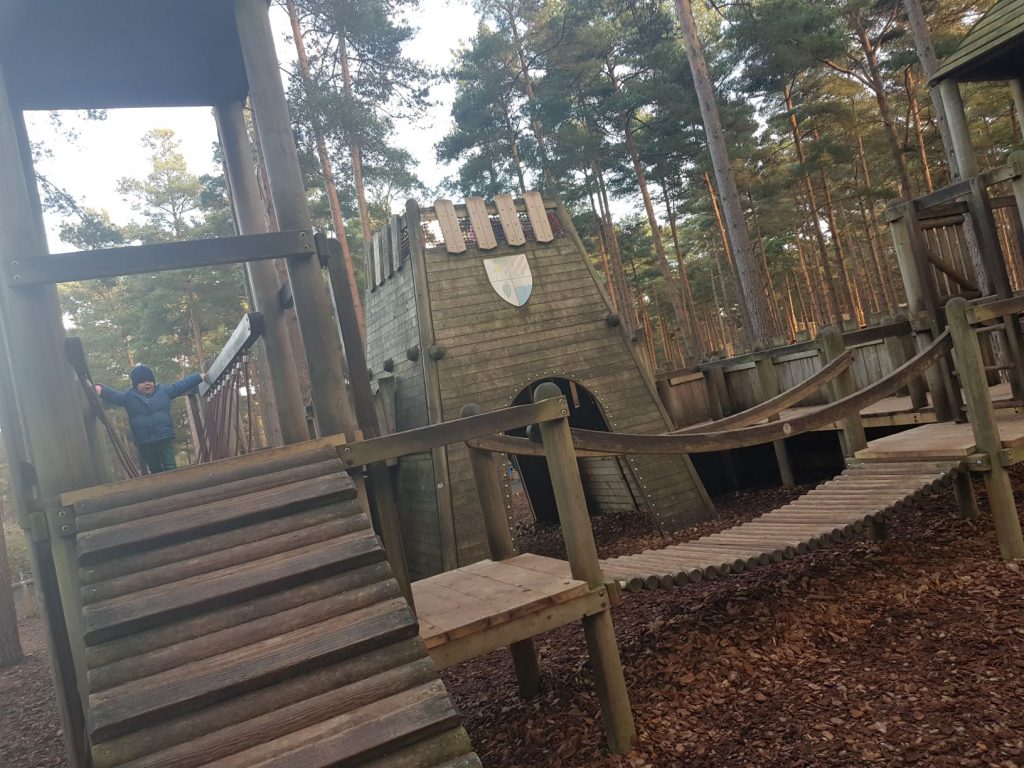 Wondering why its called the lookout discovery centre? maybe its got something to do with the huge lookout tower. This is not for the unfit. Lots of steps to get to the top but once you get there you can "lookout" over the forest. Great views.
Now if all that doesn't knacker your kids out i don't know what will. Not once have we been where the kids stay awake on the way home. As soon as their heads touch the car seats boom they're out for the count.
The Look out Discovery Centre Stats:
Distance from Bicester: 1 hr 12mins
Sat nav: Nine Mile Ride, Bracknell RG12 7QW Click address to load navigation.
Wheelchair friendly: Yes
Equipment upkeep: 10/10
Cleanliness: 10/10
Facilities: 10/10
Age range: All ages
Safety: 9/10
Fun factor: 10/10
Dog friendly: No
Prices: Parking = £4 all day/ £2 for 4 hours.
Entry: Under 4's and visitors with disibilities are free. Adults £7.60 Children (4-15) £5.20
Conclusion
If you are going to take my advice on anything it'll be to come here. I know it'll be busy at peak times so if there is a way you can get there during term time do it. If you have preschool kids then go!!! bear in mind you will still have school groups during the week but we never had an issue.
This is my favourite place to take the kids. If the family ticket did awards The look out discovery centre would be getting one.
Sod it you can even make a full weekend of it. Grab and air bnb and the next day you could visit coral reef Bracknell too
AOB
Have a look at their website HERE and plan your visit asap. Have a look at their toddler days too along with their regular events.
For more indoor days have a look at my rainy day guide HERE although i would say that the look out discovery centre is great even when its sunny.