Wow, wow and another wow. The Childrens play village in Warwick is shit hot. If you don't take your kids here you need reporting to the authorities for Child cruelty.
I can confidently say that there is not a single child that couldn't find something to enjoy at the Childrens play village. This is now my favourite place. Elliot loved it so much he had a total melt down when it came to leaving.
Easy Drive
The drive is easy and that's coming from me. Straight down the M40. Its along a strange arse end of no where road though. Hold on its a bumpy single track road. Lots of space to park once you arrive though.
There are 3 sessions a day and pre booking is a must. I was lucky and booked on the morning we went which was a Tuesday. We went to the 12.30pm session and we took the last spot.
When we first arrived at the Childrens play village we were checked in and then sent into the cafe to grab a table and take our shoes off. You can see the play village as soon as you walk in. You can also see the play village from the cafe. All the kids could hardly contain themselves (in fairness neither could i)
Plenty of room
It was so refreshing to be able to actually get a table and leave our things somewhere. I'm used to going to busy soft plays and struggling to find a table that isn't full of someones belongings with no where to sit. Here they let in the right amount of people to ensure we all had a table each.
Now if you have older kids you could quite happily sit in the cafe and watch them. In fact i did this briefly with Elliot too. I honestly felt that secure in there.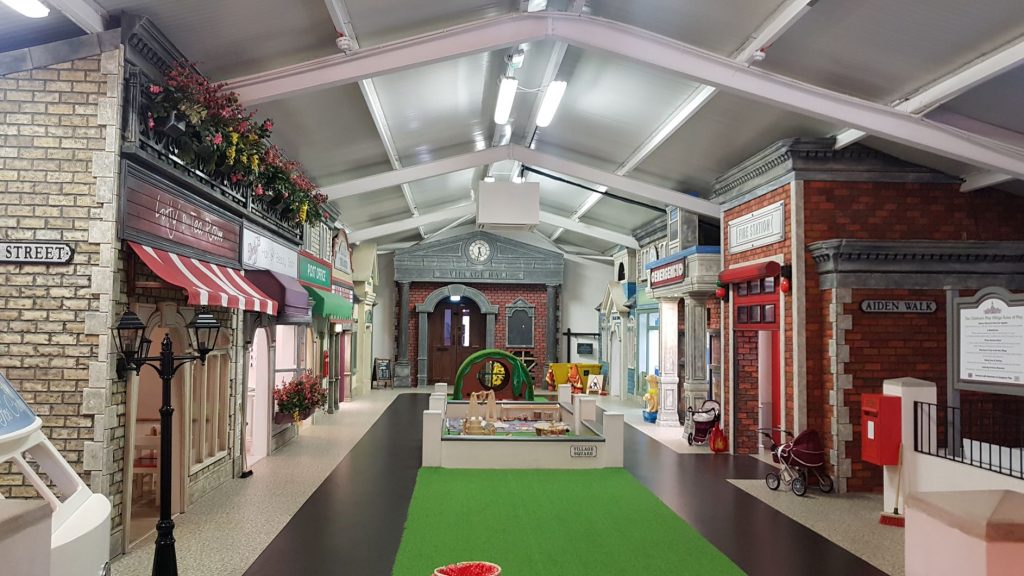 Once everyone had booked in they let us into the village and ushered us over to the lawn (fake grass) at this point i was starting to wonder what all this was about. Not a boring safety talk as i first predicted. Nope it was a lovely little introduction, Fun, songs and dancing. The kids loved it….Elliot stood staring which ill take as a positive. Think caravan park kids entertainment on a low scale.
Play time
Once the introduction was over the kids were off. Elliot headed straight over to the cafe. It was so bloody cute. To be honest i'd rather sit in here and have a wooden cake than revisit some of the places we've eaten recently.
Elliots favourite would have to be the fire station with the fire engine front. He loved dressing up and sitting behind the wheel. There were two steering wheels which was great for arguments sake.
One thing i did notice was the lack of bickering from the children. There really is so much to see and do there was absolutely no point in the argument. If something was busy off they went somewhere quieter until it was quieter.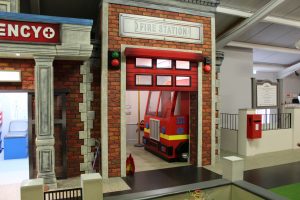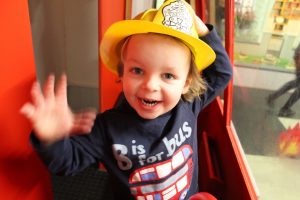 If your kids love dress up they will be in heaven. There are so many dressing up outfits. The theater seemed to be a firm favourite with the girls dressing up as princesses while dancing on stage.
Elliot seemed to like the hairdressing salon too (it was pretty impressive too) they can do nails (not real) do the models hair and even be the receptionist. Elliot found the scissors and ran off chasing the other kids. Trying to explain to him not to run with scissors while older kids were trying to explain "its ok they aren't real scissors" was like talking to a brick wall.
Something for everyone
There are so many little places to visit there really are too many to talk about. My absolute favourite was the village shop. It was ram packed with loads of really cool food. I do think they're setting the kids up for disappointment in the real world though. You just don't get such amazing variety and fresh food in village shops anymore hahaha.
If you have none walkers and babies they have a lovely fenced in area in the centre of the village and its full of lovely toys. It really is perfect you can watch your older child without having to worry about what to do with your younger child. Also no extra cost for under 6mth olds and adults go free too!!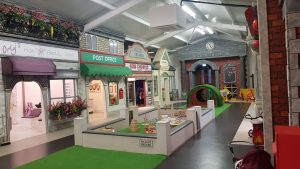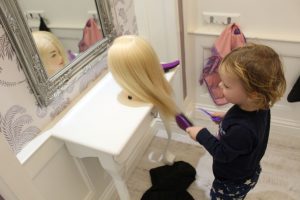 Each session is 2.5 hours and its run so well. The staff are constantly going around the village and resetting where they can without being intrusive. They even get involved with play. One of the staff was a client in the hairdressers too. The kids were transfixed and so happy that an adult was getting involved. All i can say is thank god those scissors really were fake. Elliot really isn't cut out for for a customer service role.
I left Elliot to play with another little boy that he'd seemed to make friends with while i went to order some food and drinks.
Cafe
What a brilliant menu. Its like they've cut out all the faffy bollocks of a pretentious kids menu and gave us a list of food that children (or at least mine) will eat. I struggled to chose because it was all so good and bloody cheap too.
I settled for beans in a pot (they must know kids hate food touching) with toast and slices of cheese. Elliot demolished it all. I had beans on toast too (thanks fat club) and it was as good as beans on toast could be.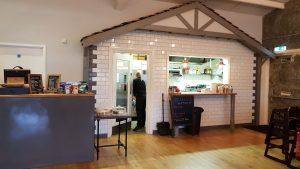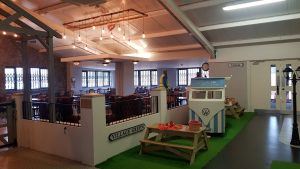 The cafe is lovely looking, very clean and the service was fast and friendly. They had lots of staff working which is why this place is run so well.
There was so much more play and more music and dancing from the staff too. Not that they needed to because the kids were just so entertained.
Small but packs a punch
At first i was a bit dubious because its not huge. However it wasn't overly busy. I felt 100% comfortable at all times and the attention to detail was phenomenal. It is as close to a replica village as you'll get.
The staff and owners have done an amazing job with this place. You can see how much they all care and take pride in there work.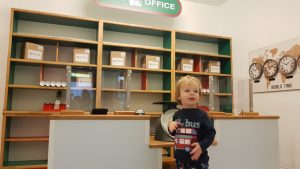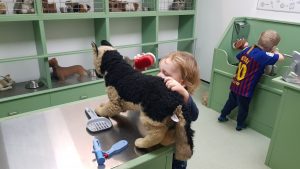 I sound like i'm kissing some serious arse here but none of them knew me or knew that i was coming. I haven't been asked to do a review of here i just wanted to try it out and i was genuinely this impressed.
I'm crazily jealous that we have nothing similar in Bicester where we live. If we did i'd move in and claim squatter rights. I cant remember the last time i went to a post office with no queues, Visited a doctors without having to wait 3 weeks for an appointment or been on a school run without being late.
Children's Play Village Stats:
Distance from Bicester: 40mins
Sat nav: Unamed Road, via, Hampton Rd, Budbrooke CV35 8HA this sat nav wont take there. Check out their website. My phone sat nav took me there when i popped the name into google maps.
Wheelchair friendly: Yes
Equipment upkeep: 10/10
Cleanliness: 10/10
Facilities: 10/10
Age range: Not sure what age age kids stop role playing
Safety: 10/10 no escaping out of the gate unnoticed!
Fun factor: 10/10 for the kids
Dog friendly: Nope
Conclusion.
Elliot was not happy to be leaving at all. We will be going back very soon with Clark in tow hes going to absolutely love it here too. Please please take your kids here if you can. Lets get their imaginations running away with them.
This place and all the staff need an award!
For booking and more info check out the Children's play village website HERE
For more indoor activities check out my rainy days page HERE
More Photos: