On Tuesday it was absolutely peeing it down. Only one thing for it……Soft play. This week it was the turn of Rugrats and Halfpint's in Banbury. I couldn't be bothered to travel too far so this seemed to be the best option. I'll admit i wasn't expecting great things.
It was just me and Elliot until Shellend (Shelly my only friend) decided to tag along. Brilliant adults with no kids always have so much more enthusiasm for these places. Most parent's dread soft play.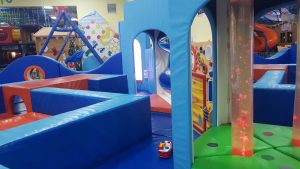 Really quiet
We rocked up at about 2pm. I was expecting it to be rammed because of the weather. However it was dead. This sent more alarm bells ringing. Have i brought my son to a drug den that operates as a soft play in disguise?
Apparently not. It was cheap £6 for the 3 of us with no time limit during the week Whoop. Oh to get in the front door there's a button you need to press top right. Don't stand there like a tit pulling and pushing the door like i did.
The place is like fort knox. No kids are escaping that building unless they're freakishly tall.
To the right as you walk in you have the under 3's section. Its like a giant marble run lay flat. Its a lovely soft little area (perfect for all the face twatting that little kids do) There are also lots of sensory equipment too. Lights, tunnels, more lights, an interactive board and a little trampoline (Which Shelly loved)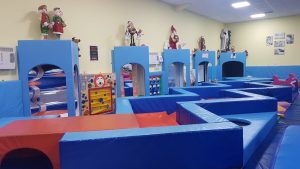 Equipment
The only slight moan about this area was that a few pieces of equipment wasn't working but Elliot didn't mind. There was still lots more to crack on with.
Now it was time for the big boy. The main area for older kids (aka Shelly and me). We pretty much had the whole place to ourselves. Off we shot after Elliot. Now this soft play isn't as easy to navigate around for the Horizontally challenged (Fat) as some of the others. However i just about managed to get round it all. By the time i was finished i reckon i'd lost a few Lbs. I swear my jeans are a bit baggier round the arse today.
Watch out for the vertical drop orange tube slides. My balls were way to small to attempt that one and i wouldn't let Elliot go on them either. However Shelly big nuts did and it shit her up a bit. If id have gone on I'd have probably gotten stuck. Would have been like the scene where Augustus Gloop gets stuck in the chocolate pipe after falling in the chocolate river (Willy Wonka).
Me and Elliot stuck the the blue slides. There are lots of slides in this soft play much to Elliot's delight. However watch out for the red one. I had to go down that bastard side ways because my arse wouldn't fit. If you're self conscious about your weight don't come here you'll leave with more issues than you went in with. Me i don't care, cakes my friend. Talking of cake.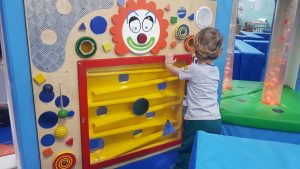 Cafe
The cafe. Again quiet so we didn't have to queue. Its a nice looking little cafe with a fair selection of snacks. The food sounded good but we didn't eat proper food. Nope we had muffins and they were pretty good and very reasonably priced too. There's lots of tables to sit at while you eat too although i can imagine at peak times you'll have to fight for a space.
There's a big ball tit (ball pit in Elliot talk) with the usual air blowy things. We were a bit disappointed that the sucky tube thing wasn't working. but this was a nice area again for the younger kids. It even had a see saw.
There's a mini trampoline park next to the big soft play frame. We all had a great time laughing at Shelly and Elliot stacking it. You can too if you watch the video below.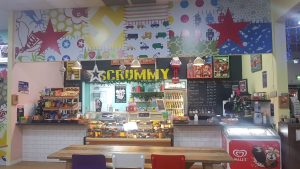 Rugrats and Halfpints Stats:
Distance from Bicester: 30min's
Sat nav: Beaumont Rd, Banbury OX16 1QY
Wheelchair friendly: Yes but not the soft play
Equipment upkeep: 5/10
Cleanliness: 7/10
Facilities: 8/10
Age range: All ages
Safety: 6/10 Those orange slides are scary
Fun factor: 10/10 for the kids
Dog friendly: Nope
Conclusion
Overall i was impressed with this soft play. Don't get me wrong it's no Sprouts barn or Riverside hub but for a smaller soft play it was spot on. I loved how quiet it was (mostly because i hate other peoples kids 😉 ) It was fairly clean and the staff were nice. The toilets were well equip and oddly smelt really bloody nice.
The only downside was the upkeep of some of the equipment. It needs a bit of TLC to get everything working again. That being said the equipment is sturdy. It took an adult (Shelly) swinging on their dangle balls while singing wrecking ball by Miley Cyrus. Yep it was as bad as it sounds.
I would recommend it here and i think with a group of you it would be a great place to meet up and spend a few hours while the kids played. We would go back again over the soft play in Bicester avenue because its slightly bigger and has more to do. I hated the old Wyvale one until the last visit where it seems to have improved. I hear its getting a refurb next year too. Bloody hope so Bicester could do with a decent soft play.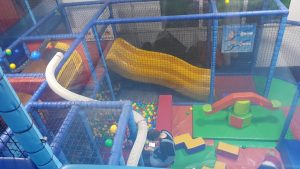 Links
Here's there website for the factual information should you need it HERE
Looking for more ideas when it pissing it down? Have a look in my Rainy day section HERE
You can watch the video here too: