Do your kids like soft play? Stupid question! Well here i have the best soft play I've ever been to! No exaggeration this place is the bees knees the doggiest of bollocks. The riverside hub, Northampton.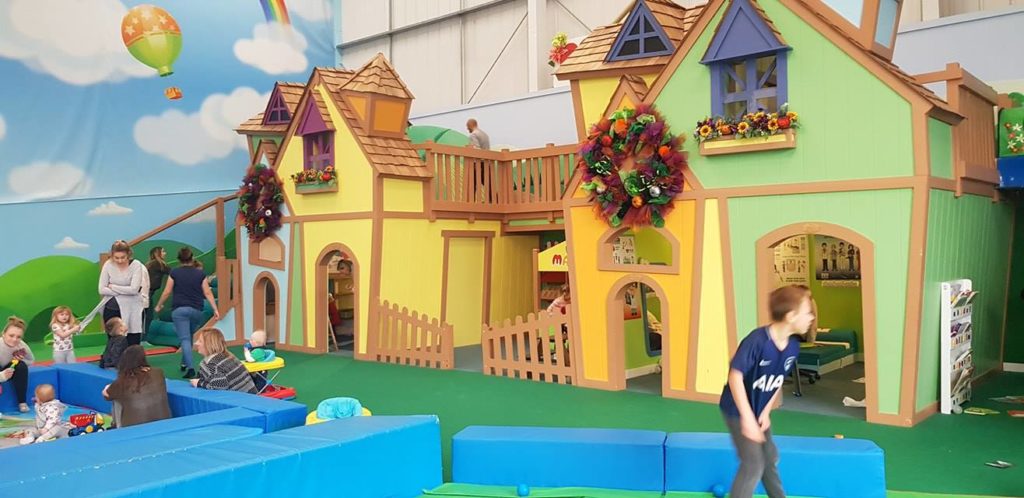 It's around 50 mins away from Bicester. A bit far I know but my god it was worth it. It's set at the arse end of an industrial estate hidden in the corner behind a car sales room (new car anyone) parking for us was ok. Busy but we managed to get in. However I can imagine this would be a bit of a bitch on the weekends.
First impressions of Riverside Hub
As soon as I stepped foot in the door I got a little bit giddy. Sod the kids I wanted to go on everything. I needed some exercise after skipping the mornings spin class because my legs were still hurting from body pump on Monday! I've been having to use my arms to lower myself onto the toilet my legs hurt so bad!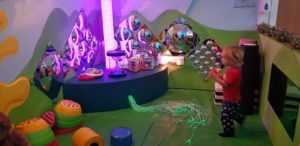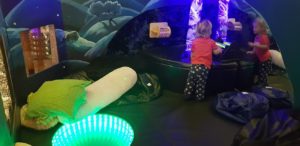 The hub is massive! No exaggeration there is something for every age not just a few crappy bits for babies either. They have a huge sensory area with lights, feely stuff and interactive bits. Some of the rooms looked so relaxing I wanted to curl up and take a kip but Elliot rightly so had other ideas. He was so happy exploring everything
SEN'S sessions at Riverside hub
If you have a SENs child/children the riverside hub is perfect for them. They even have special sessions just for sens children. In one of the sensory rooms they even have fish! (Real ones) the whole place is covered in that 2 way sequins material, you know the ones where you stroke a cushion and it has a hidden message underneath saying fuck off or something. They even had dancing light fountains in tubes!
Toddler village
The toddler area is epic! Ball tit (Elliots way of saying ball pit) slides that actually go fast and a little village. They have a kids kitchen (not just an Ikea one shoved into the corner) but this has everything like a real kitchen to be honest it looked better than my kitchen at home. A doctors surgery without a ridiculous 2 month wait time just for an appointment 😉 it has a wow toys section for the kids to play with their toys etc and even a book corner. Elliots favorite was the rotating barrel thing where he lay down for as long as possible before tipping him upside down. Whats great about this area too is its all fenced in. They cant escape (unless someone leaves the gate open)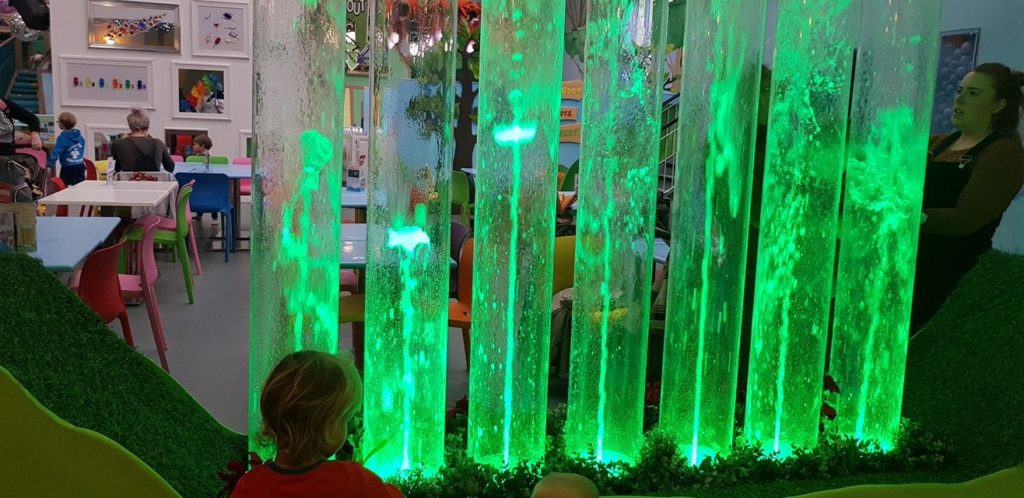 Huge
The place has a huge rock climbing tree (wasn't in use when we went) in the middle, a huge craft studio a carousel (tip: go on the plane) a laser tag and even go karts (young ones can go on with an adult) all free…well included in the price. The hub was busy but we didn't have to queue for anything.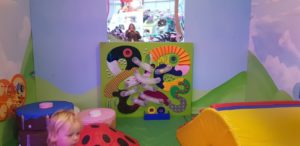 Right along the back wall you have the biggest soft play I've ever seen. Think snakes and ladders and sprouts barn then add some more.
War room
Mine and Elliots favorite part of the riverside hub was the war room as I call it. Hundreds of foam balls in a room with air cannons to aim at other kids heads! I got one little turd right on the noggin. It was ok he laughed and in my defense it was in retaliation to him firing one straight into my face at point blank range! The adults were having just as much fun here too. (Tip the button is on the top of the handle. Some kids had to show me) there are more cannons above too you feed balls into a chute that sends the ammo up to them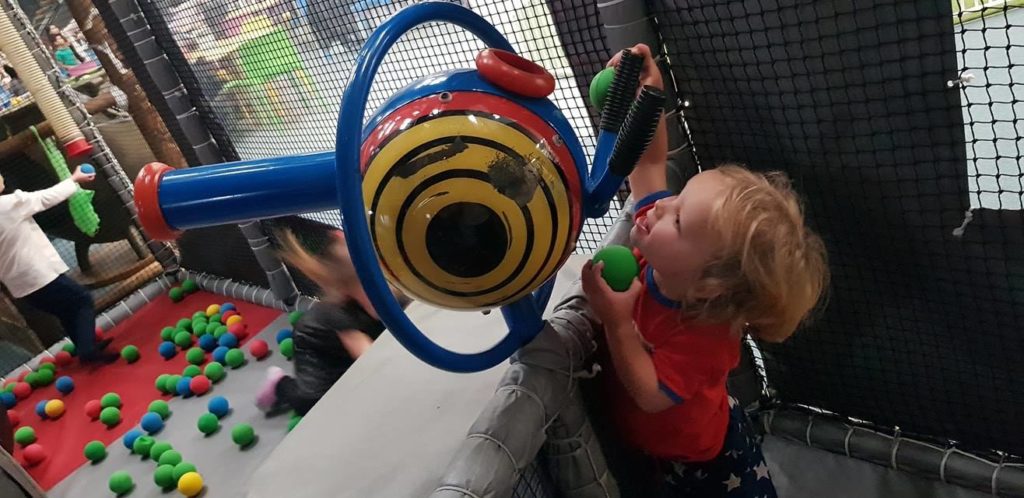 World theme
This whole soft play area is also great because young ones and adults can fit in too. It's world themed so the have London/uk downstairs to Spain on another floor which is a huge maze. They even have Egypt which has a concealed room by shifting tombs out of the way. We went in here but some kid had filled his nappy and my god it smelt like death so we didn't stay in here for long.
Some areas have the see through flooring which always shits me up because I panic it won't take my weight but fair play it did! When you get to the top you can see just how high up you are. Don't look if you're scared of heights!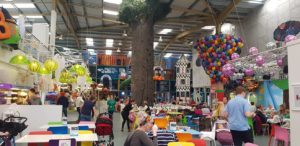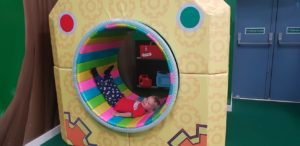 The only time I lost Elliot in here was when the skinny bugger went through the car wash roller things and I needed to take another route because my fat arse couldn't fit through.
All the kids were playing nicely that I saw. There was so much to do there was no need for them to argue or be dicks about anything.
Riverside hub Service
All the staff were happy and helpful the huge tannoy system was used every so often to help lost kids find their parents. To be honest the kids shouldn't be able to get too lost as most areas are gated especially the in and out gates.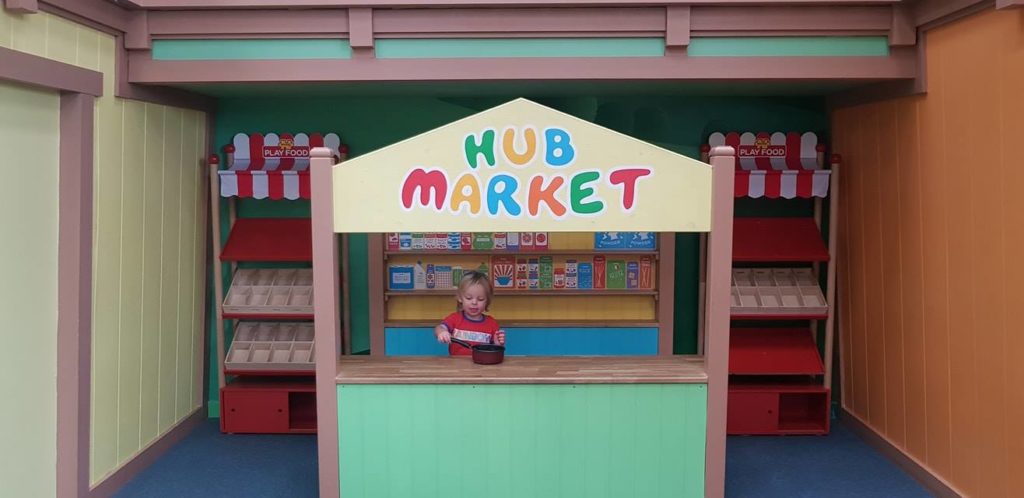 Now you can't take your own food (They say for allergy reasons we all know its not) but the food seemed reasonable and looked good. I didn't eat but Elliot had a kids sandwich meal deal for £3.75 which I thought was really cheap! Good luck finding a table though. Just like at the swimming pool during lesson times everyone dumps their shut on a table and fucks off making it near on impossible to sit anywhere. I plonked myself and Elliot down on a table in the end even though it had stuff on there. No one came to the table the whole time we ate.
Lockers
There are teeny tiny lockers around which I managed to fit a bag and coats in. It was £1 returnable. Remember your locker though ours didn't have numbers!
The upstairs had mire rooms which I think was for private parties. If we lived closer my children would be having all future parties in here! The rooms looked amazing and the even have their own private entrance into the soft play tower.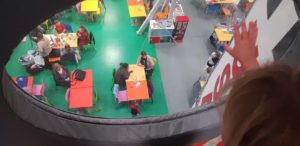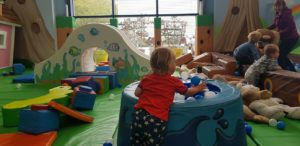 I know i'll have missed out loads of bits but please do not withhold this soft play from your kids. It'd be borderline cruel. I hate soft plays with a passion but this one I loved. However I can imagine on weekends its pure hell. It obviously gets busy as there is a 2.5 hour limit on the weekends. We spent 3 hours in there and could have stayed longer. We didn't do everything as I needed to get back for the school run.
Cost
There is a £5 joining fee (can do online before visit to save time) and I personally think the prices are 100% worth it. Now I know if you have a big family it could get pricey especially during holidays and weekends. For us during the week it was cheap. I'd much rather pay for this place than a theme park where you spend more and queue for half the day.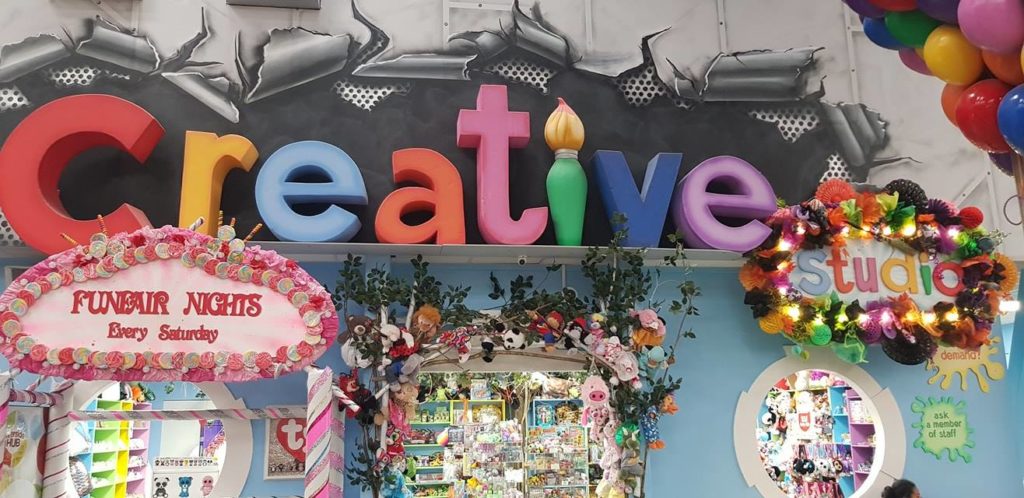 I can imagine that this is what partyman world in Kassam was supposed to be like but that place is a lot of shit. Filthy and dangerous (unless it's had a refurb in the last year)
Riverside hub stats:
Distance from Bicester: 50mins
Sat nav: Riverside hub, 7 Carousel Way, Riverside Park, Northampton NN3 9HG
Wheelchair friendly: yes
Equipment upkeep: 8/10 couple of bits broken
Cleanliness: 9/10
Facilities: 10/10
Age range: All ages
Safety: 7/10 all kids end up hurt despite the venues efforts. 10/10 for effort though.
Fun factor: 10/10
Dog friendly:No!
Conclusion
Go here you will not regret it and your kids will love you for it! We 100% will be back I can't wait to see Clark's face when he sees this place. One thing i would say is. I Pitty the people on clean down and reset.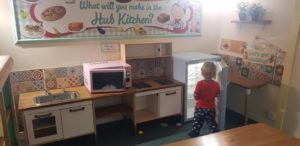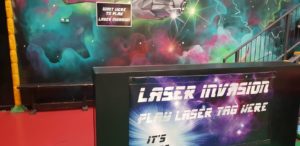 AOB
For their website please click HERE
For more Indoor fun try HERE

Please follow and like us: