The Lovely Keely invited me and Elliot over to the brand new Clip 'n Climb Bicester last week. Myself and Elliot we're super excited to climb some walls (that weren't in our own home).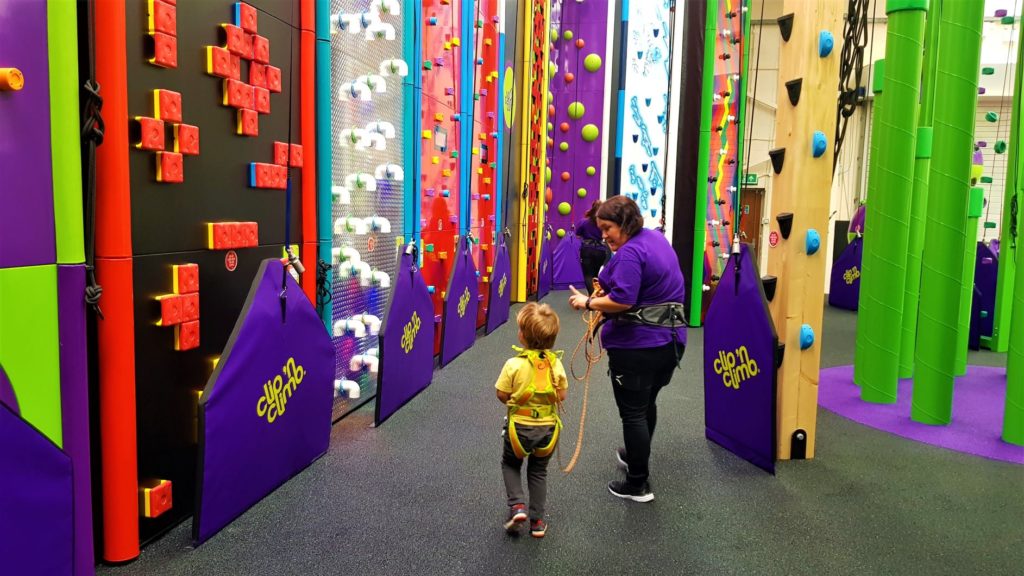 We've been keeping a close eye on the progress so its been really nice to see how far and how fast its come along. The difference is amazing too.
Clip 'N Climb Bicester
So many people wonder where the hell it is. Myself included. The first time i visited they were doing work on the new housing and i nearly crashed into a bloody crane trying to get passed. Then I thought I'd gone the wrong way anyway. Basically if you know Bicester It's behind the Kia garage opposite Aldi. Down the road that runs off the roundabout alongside the new builds (hope that makes sense. I'm shit with directions).
There is parking there but not a huge amount so if you can walk there then do. It's pretty central. It's pretty easy for me to get to so we will be walking in future. Lord knows I need the exercise.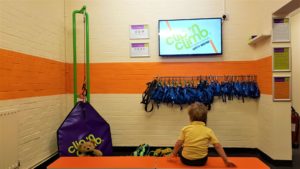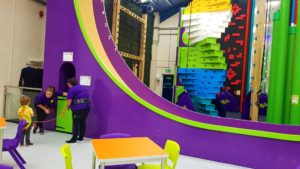 We were greeted by super happy friendly faces in the reception. One we even recognised from a baby group we used to go to which was lovely. I knew instantly that they were going to be brilliant with Elliot.
Had to go and get Elliot changed as we'd come straight form nursery. Then we headed over to the briefing room. This is where you'll watch the safety video and get kitted up with your harness. I was shocked that they managed to get Elliot to sit and watch it.
Getting Kitted Up At Clip 'N Climb Bicester
I had no intentions of climbing. In fact i was a bit worried the auto billet (the thing that lowers you) would hold me weight haha. However the lovely Rachel and Beth convinced me to pop one on anyway even if I didn't have a go. So me and Elliot were ready to go (After a little safety quiz so make sure you listen)
Then we headed into the climbing room. OMG!!!! Now I've never been into a climbing centre before. I had seen a few bits when I had a little peek before it all went up but nothing could prepare me for this. Its impressive to say the least. So colourful. Its like the Willy Wonka's chocolate factory of the climbing world. When i used to think of climbing walls I'd imagine ugly grey looking rocks. This was the total opposite.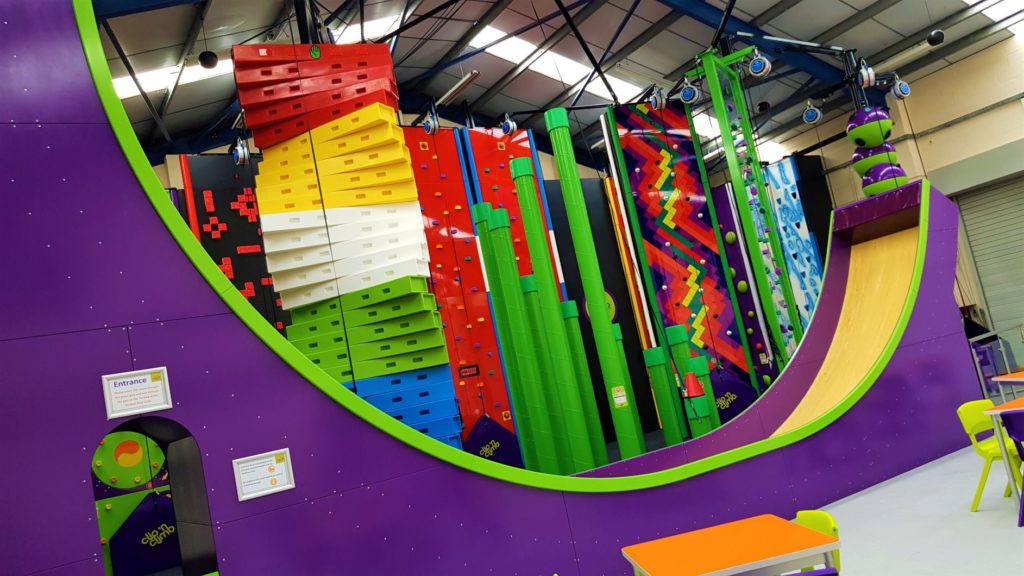 Elliot was in awe smile on his face an raring to go. I took one look at the drop slide and thought "fuck that" I cant even do the ones In some of the kids soft plays there's shit all chance I will ever do that! There are height restrictions/ age restrictions for the slide so make sure you check it out before you go. Its also an extra cost (not a lot).
What i did like is how they used the drop slide and a barrier/ gateway into the climbing arena. You have to walk through a little tunnel/doorway under the slide to get to the climbing walls. That's when the fun began.
Getting Our Climb On
It was funny watching Elliot get attached to the auto billet. It has a bit of pull on it so he was wobbling about like a drunk In Mccafferty's on a Saturday night. (way cuter though). He was already having fun and he hadn't even started the climbing yet.
Elliot is 3 for anyone that doesn't know. 3 yr olds are only permitted to climb during the Rhyme and climb sessions on a Tuesday and Friday morning for -4 yr olds. Its going to be great with each session based on a story.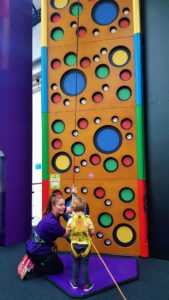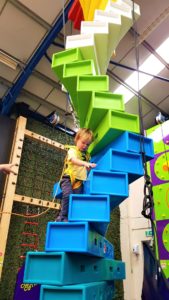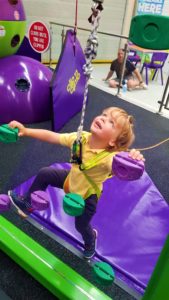 Rachel and Beth were with Elliot the whole time and helped him get to grips with the harness, mats, auto billet and to remember the safety. Seeing all this made me realise just why they aren't allowed to climb any time. Elliot would have caused havoc.
Up he went on the first wall. Then he found out how the auto billet worked. Then it became a game hahaha. He would climb up a bit of the wall just to launch himself off. He loved it and i have a feeling all the kids will at first. its going to take a few visits before the novelty of that wears off.
Trying Out Some Of The Walls
Rachel and Beth had the patience of saints and reassured me that all kids do this. He did do some different walls and he loved it. He especially loved climbing up to reach the teddy that they hid. Each time he climbed and got it they'd put it a little higher to get him used to the climbing.
Then I couldn't resist. I had a go. To me it felt like I'd climbed to the frickin top. In reality I don't think i made it passed a quarter of the way. The first time I had to let go and trust the system to make sure I didn't plummet to the ground like a sack of shit was scary.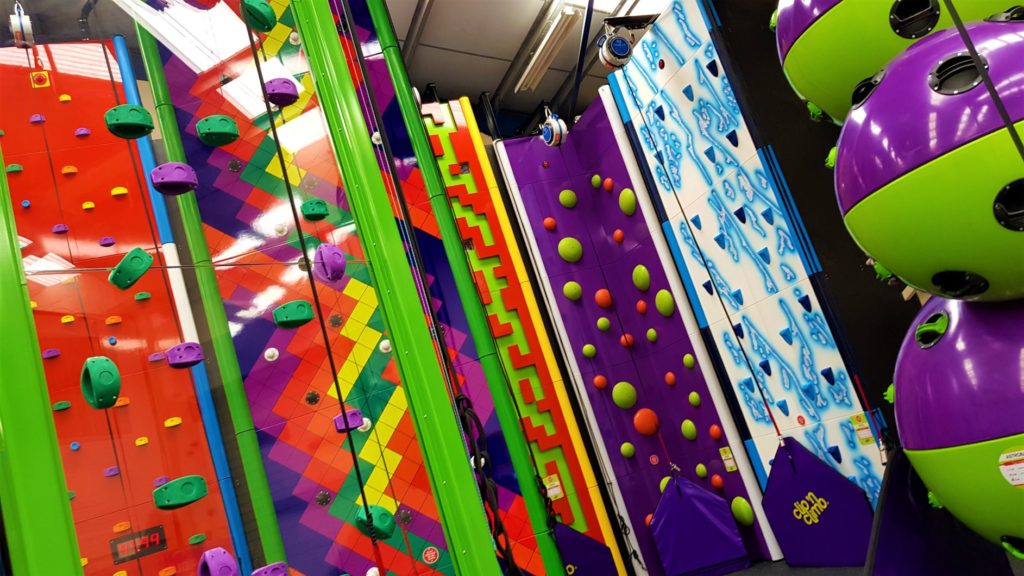 It worked i didn't die and the 1st time was way worse than every other time. You'll love it too. My particular favourite was the see through wall so Elliot was climbing one side and i was climbing the other.
The stairway to heaven looks impossible should be called the stairway to immanent doom. Elliot on the other hand probably liked that one the best. There are so many different walls and there are buttons to press and races to the top while being timed etc. Its fantastic. Me I'm happy with the getting off the floor stage for now. It's hard work but fun work.
More Information about Clip 'N Climb Bicester
In the climbing centre there is a small cafe. They aren't doing hot food but then they don't need to. There's hot drinks, snakes and CAKE!!!. They're well kitted out for babies too with highchairs and a baby change in the toilets (unisex toilets btw so men have no excuse)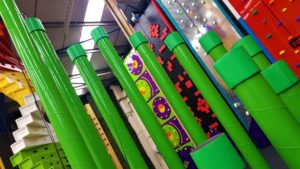 There are party rooms which I'm super excited about because this is something we would definitely look into for the boys future birthday parties. There will also be a coffee n climb session for the elderly , Rhyme n climb session i mentioned before and then the fit n climb. An exercise class! that's going to hurt!!!
Then they have the standard climb which is all other times. it's £12.50 for 55 mins of climbing. You will need to get there early to allow for the briefing. They say to allow 90 min in total. If you're not climbing then you're welcome to watch from the cafe.
Clip 'N Climb Bicester Stats:
Distance from Bicester: 0 mins
Sat nav: 3 Bessemer Cl, Bicester Click to load sat nav
Wheelchair friendly: For access yes
Equipment upkeep:10/10
Cleanliness: 10/10
Facilities: All you need
Age range: From 2yrs and up
Safety: 9/10
Fun factor: 10/10
Dog friendly: No
Pushchair Friendly: Yes for access
Bikes and Scooters: No
Public transport: Walkable from Bicester town centre
Conclusion
We had an amazing time. No two ways about it Bicester clip 'n climb is amazing. I'm planning on taking Elliot out of nursery once a month so we can to the rhyme n climb because he been none stop asking about when he can climb next.
I need to also get the eldest there. I think he will be a bit more reserved about the climbing so it'll be good for just the two of us to go and take out time. Once he gains the confidence he too will love it.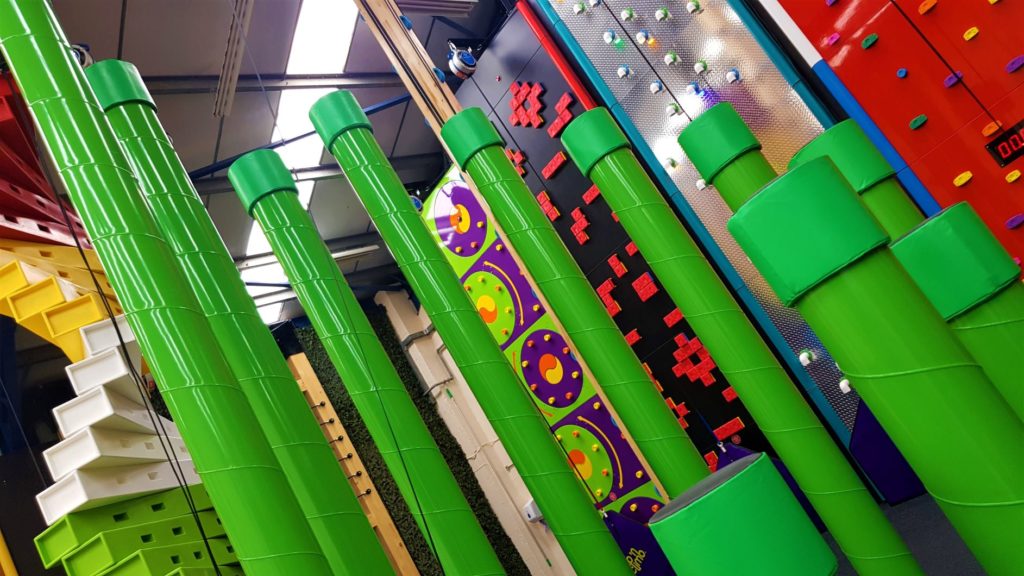 I'm so happy that something like this has come to Bicester and i can see s using it as often as we can.
I'd highly recommend anyone try it out but get in their quick because lots of sessions have already fully booked up.
AOB
To get more info and to book your spot you can find their website HERE
For more ideas for indoor activities check out the map HERE