We decided to pop to the Stockwood discovery centre near Luton on Fathers day before our meal. Its was only 15 mins away from the Fancott pub and we didn't fancy sitting indoors all morning with the nutters.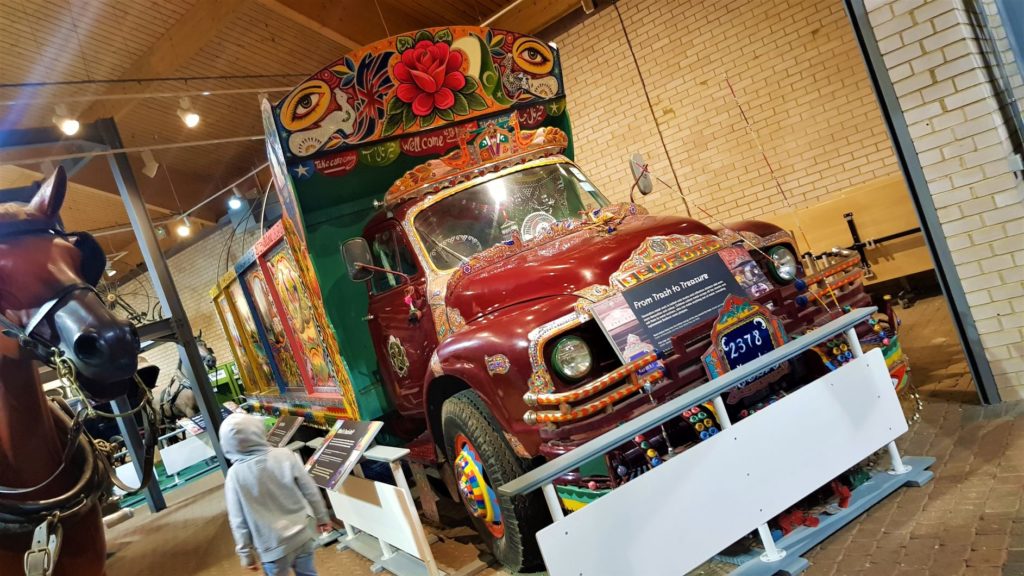 By the time we arrived at the Stockwood discovery centre we only had around an hour so bear with me there's probably loads that i'll have missed.
What Is The Stockwood discovery centre?
Stockwood discovery centre is basically a museum. Its not your typical big indoor museum though. Its also has extensive gardens too. Best bit of it all? ITS FREE. Yep and free parking too. I must say fro what you get its a great day out for the kids.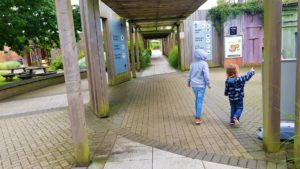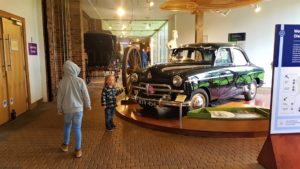 If I'm going to be honest the boys were't massively interested in a great deal of the indoor displays. The vehicles were pretty good but i think the indoor museum part is better for older kids. In fact its perfect for a visit if your child is learning about certain parts in history. Definitely somewhere we'd come back too once Clark starts learning a bit more.
Stockwood Discovery Centre
As soon as we rocked up it started to piss it down again which wasn't a problem because it just meant that we'd start off looking round the indoor bits instead.
The discovery hall looks pretty new and this area is in my opinion the most interesting area for younger kids. Its where all the old carriages and are. They're all stacked up pretty high round the outsides. There are loads of carriages and i mean there's only so many carriages a kid wants to see before they all start to look pretty similar. I guess the same could be said for me too.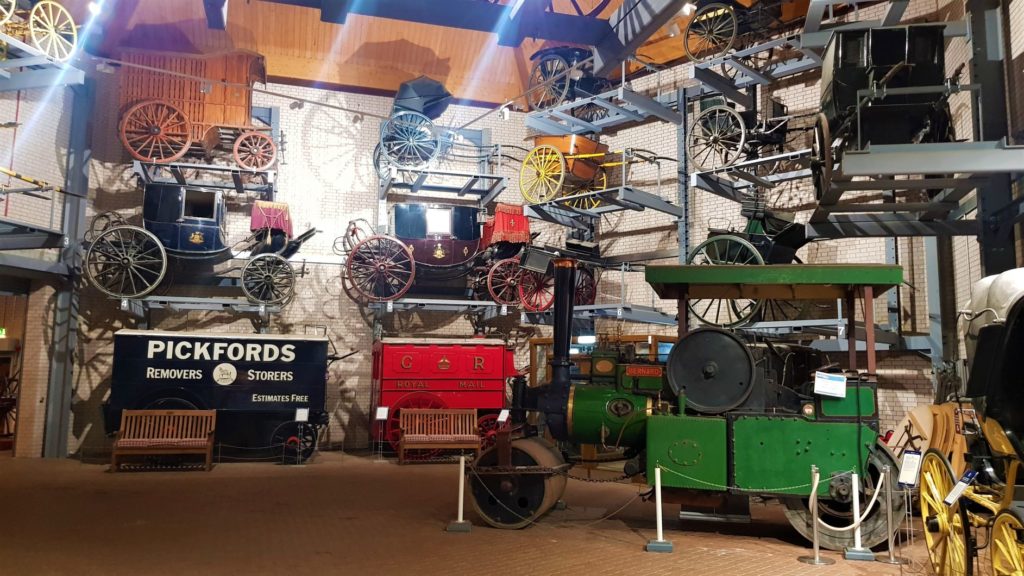 There was a really cool van which was bright and colorful that the kids loved. Mostly because it had hundreds of bells around the bottom that the kids loved running their hands along. My kids favourite things are touching stuff that they aren't supposed to and making noise.
You can climb into 1 or 2 of the carriages but other than that its pretty much full of signs saying do not touch. As i'm sure you're aware asking a 2 year old not to touch something is like asking me not to eat cake…..Not going to happen.
Stockwood Discovery Centre Gardens
Once we saw that the rain had eased off we thought it best to just take our chances outside. So far Clark wasnt overly impressed. Hes at the age of preferring the interactive museums and so far we had only come across a few interactive parts. The garden saved it for us.
Despite the weather the gardens were lovely. They're also pretty huge too and fairly easy to get lost in.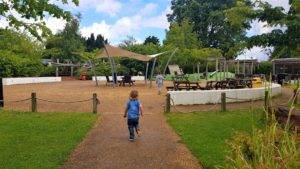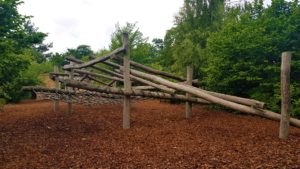 We managed to go through some gate and stumble across the play park. Thank the Lord. The play park itself isn't spectacular buts its a nice open area all the same and the kids loved it. We probably would have stayed a bit longer if Elliot hadn't have become so engrossed in the slide that he forgot to ask to go to the toilet and peed all over himself.
Now we had to run round trying to find somewhere to Change Elliot that was slightly secluded so he wasn't flashing his winky all over the place. That kid loves to helicopter when hes naked.
More of the Gardens
After we mopped up all the piss we had another mooch round the gardens. There are loads of lovely area and the kids had a great time running round them. We even found the Bee gallery which is a huge greenhouse with beehives and bee friendly flowers. You cant go in (for obvious reasons) but was nice to see all the same.
There are loads of different style gardens from period gardens, wildlife gardens to a lovely sensory garden with musical instruments for the kids to play with.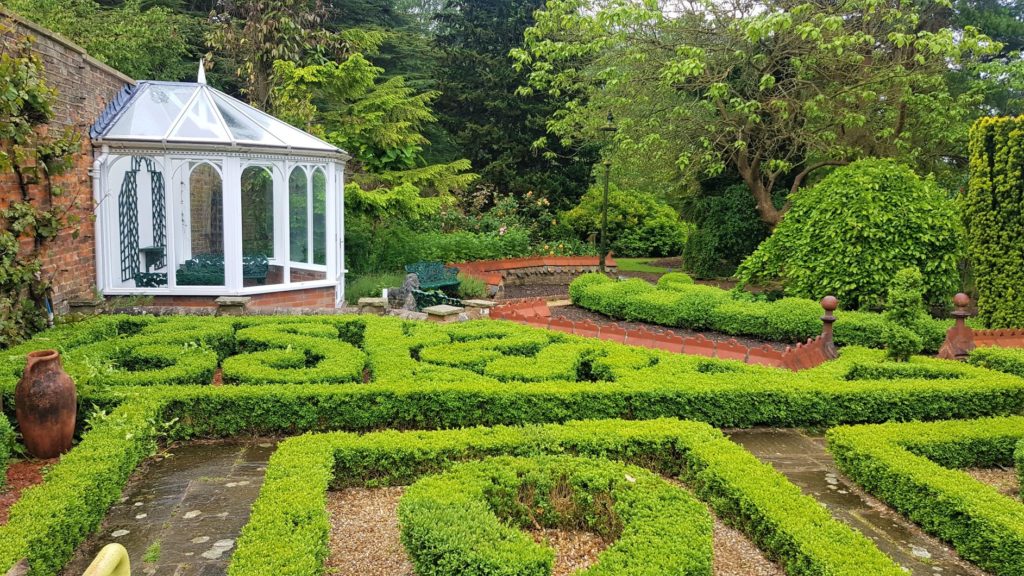 At this point it had started to piss it down again so we pegged it trying to look for some shelter. Thankfully we found the greenhouses so holed up there and waited for the rain to stop.
Luckily that wasn't too long so we headed over to the Discovery galleries just in case it started again. (Which it did)
Discovery Galleries
The discovery galleries are right at the back of the gardens. These are more indoor spaces and frankly a bit harder to keep the kids interested in.
Not going to sugar coat it. I'm not a history person really and i found it all pretty boring too so it was hard for me to fake interest for the sake of the kids.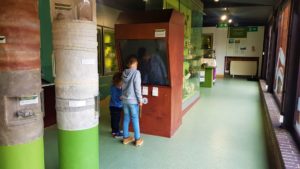 As i said earlier though if your child is learning about Romans and Anglo Saxons then you should take them here it will probably benefit their learning.
Don't get me wrong it wasn't all boring there were some interesting bits and the husband seemed to like it all. Maybe you and your family will have a more interesting time in the museum than we did.
Time to Head Out
After the discovery galleries it was time to start heading out anyway to head for our lunch.
We headed back into another section of the gardens and realised just how big the area was. Its a shame we didn't have more time as we'd love to explore a bit more of the gardens.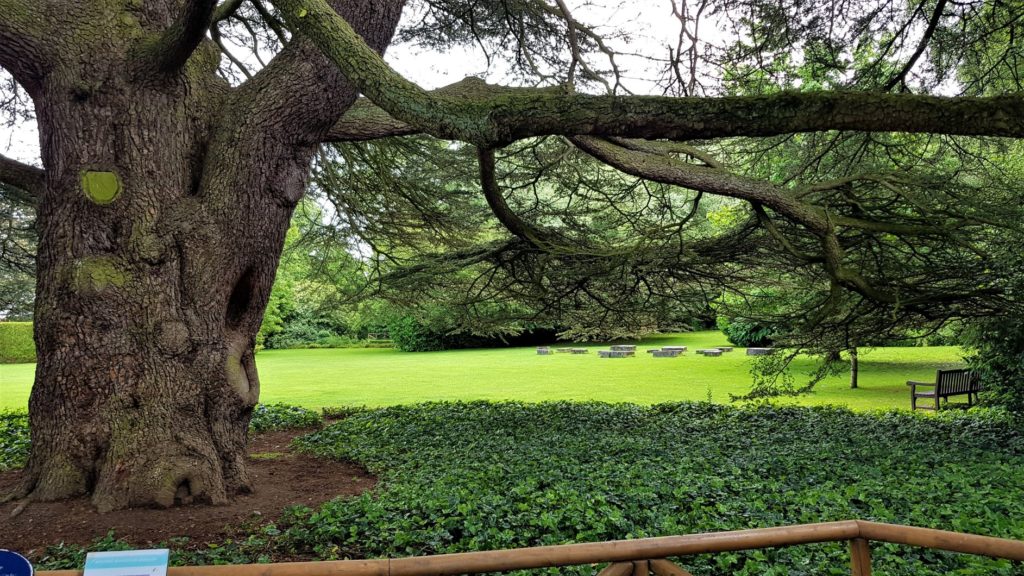 If you're hungry there's plenty of places for a picnic. Not only that there was a garden cafe which looked really nice too. If we didn't have lunch booked we'd have popped in for a drink and a snack.
To head out you need to go through the visitor shop. I swear i need a straight jacket for Elliot for shops like these. Though i doubt that would even stop him.
Stockwood Discovery Centre Stats:
Distance from Bicester: 1hr 5 mins
Sat nav: Stockwood Discovery Centre, Stockwood Park Golf Club, London Rd, Luton LU1 4LX. Click to load sat nav
Wheelchair friendly: Yes
Equipment upkeep: 7/10 (few bit not working)
Cleanliness: 10/10
Facilities: Everything you need
Age range: all ages for the gardens but museum maybe better for older kids
Safety: 9/10
Fun factor: 7/10
Dog friendly: No
Pushchair Friendly: Yes
Conclusion
Stockwood Discovery Centre is a really lovely place and if we lived closer i could imagine that we would pop there fairly often especially if the weather was nice.
Although its a free day out make sure you take plenty of change. They have loads of those money donation stations. I would call them boxes but they are'nt. They're huge bloody things that the kids flock too so they can watch the money spin in circles. Must have cost us around £10 in change which to be honest wasn't too bad for a free day. Just wish i'd taken smaller change.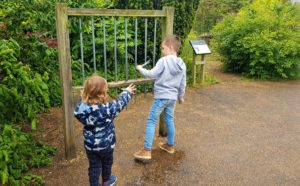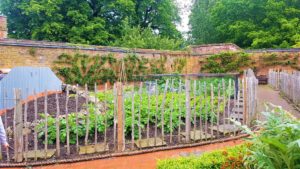 The kids had a great day and i think that was also due to the lunch venue and the train ride afterwards too. So i'd recommend that if you're going to visit on a weekend that maybe you can pop the the Fancott pub afterwards too. They have a play area and a miniature train in their back garden too.
Its a bit of a drive if you're heading from Bicester so if you do want to visit I'd recommend waiting for some nicer weather. However if you're waiting for nicer weather I'd also recommend moving to a different country haha.
AOB
You can have a look at the Stockwood discovery centre website HERE for more information
If you'd like to check out some of the other museums we've reviewed you can do so HERE