Holy mother of museums, Thinktank Birmingham is fecking awesome. I shit you not we absolutely loved every second of it. To be fair even the drive into the centre of Birmingham on a Thursday morning wasn't too much of a ball ache either.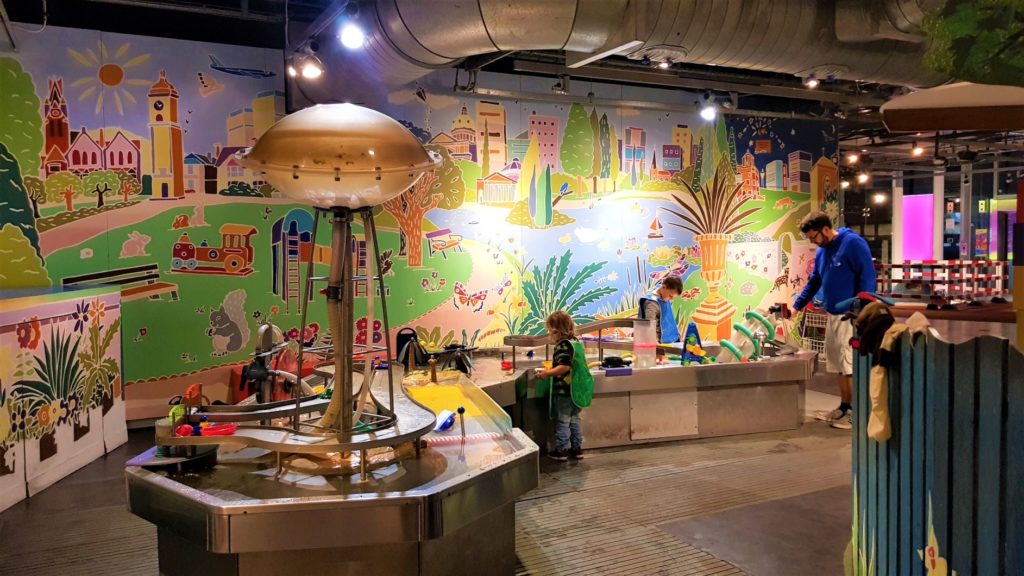 We bunked Clark off school for the day just so we could visit Thinktank Birmingham on a weekday during term time. I'm so glad we did too the place was so quiet apart from a few school groups.
Thinktank Birmingham
Thinktank Birmingham is basically a huge science museum. I absolutely love science museums especially when they're quiet too. I love it when you can combine a day out with the kids and education. It makes me feel like I'm doing something right….. even if i ironically took my child out of education for the day to visit.
We decided to travel by car. Yes i know its not great for the carbon footprint but having my 2 psychotic kids running round on a train is no good for my mental health or the well being of other commuters. I prefer the strapped into car seat so they can't move method. Its actually pretty easy to drive to and the multistory car park is practically next door to the Museum and doesn't cost shit loads either.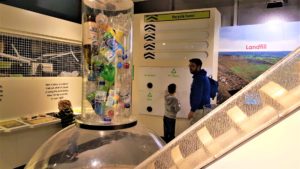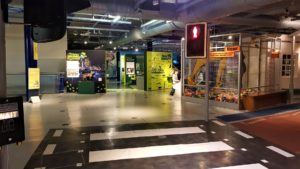 Talking of costs i personally thought it was great value. Under 3's are free and for the me, the husbeast and Clark it cost us £29 which i though was a bargain. I was expecting to pay more but the put down and adult and toddler entry for me and Clark which was £15 (Mon- Friday only)so we saved a fiver.
Now if you have your head screwed on then you can get in a load cheaper. If you go via train or bus then you can get 241 entry. Book online and you can save a quid per ticket. Or if you have a Tesco clubcard (Is there a parent out there that doesn't) then you can use your club card points. Free day out if you're clever.
Whats At The Thinktank Birmingham?
Basically there are 5 sections to the museum, 4 floors and a garden. I kid you not when i say that this place is bloody massive.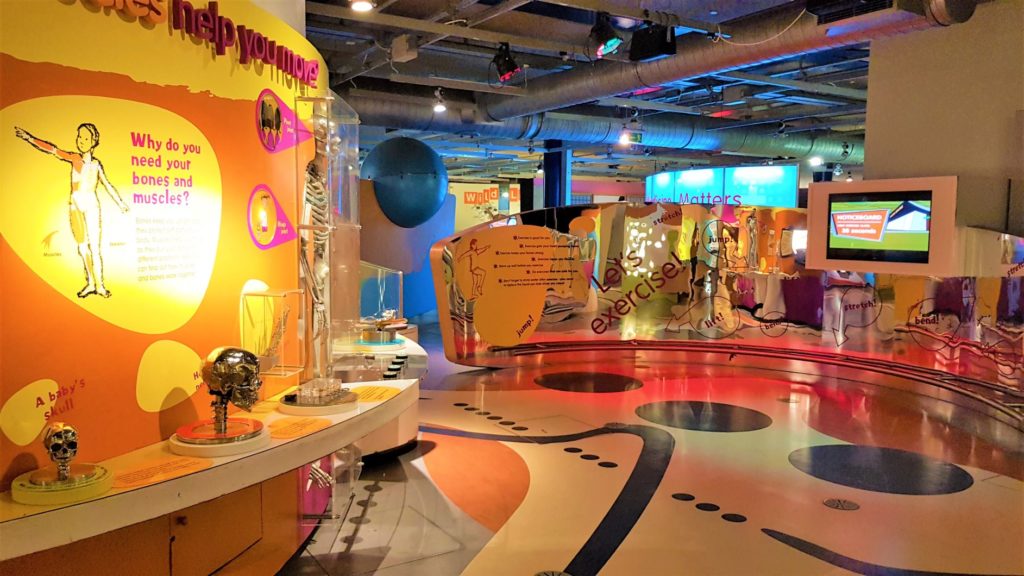 Level 2
We entered on level 2 and the kids eyes lit up as soon as they realised what type of museum it was that we were taking them too. Through the doors and they were off. They headed straight for the crane and ball pit.
This floor is in the kids opinion one of the best floors. There's a street and road which Clark would go ape shit and shout at us if we walked in the middle of the road despite the lack of traffic. If your kids like traffic lights and waiting for the green man then you're in luck here.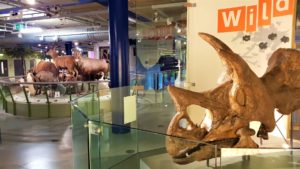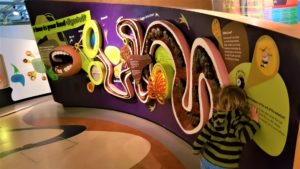 On one side of the imaginary road is the recycling centre which if i'm honest has seen better days. Most of the displays were not working. Probably fucked from thousands of tiny hands bashing the shit out of all the buttons. Luckily the conveyor belt with the rubbish on was working. They get to pick up the rubbish and post it through the correct recycling areas. The kids loved it and we struggled to drag them away.
We dragged them away onto the other side of the road to have a look around the wildlife exhibits which was great. The area called things about me was fantastic Clark found a huge display about the intestines filled with turds and toilet sounds so he was in heaven. Elliot found an area where he could squirt blood (seriously worry about that child). There is just too much to type about it was amazing the kids were well and truly amazed already.
Thinktank Birminghams Kids City
While we were still on level 2 we could hear loads of school kids playing behind the huge wall saying kid city so we avoided that until the husbeast came over and told us the school group had left. Boom now was our chance to head over to Kids City.
Sod the kids faces you should have seen mine. We rounded the corner and entered kids heaven. Indoor water play. Boats, watering cans, dams, water wheels and lots of other gadgets. Kids grabbed an apron and dove right in. Not literally although seeing the state of them afterwards you'd have thought they had.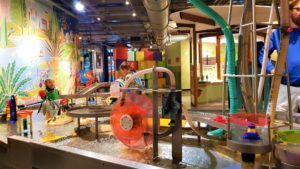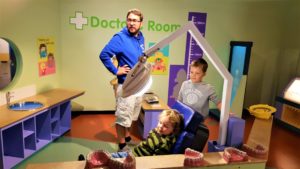 The kids were totally engulfed we had the whole area to ourselves it was bliss. Benches along the side for parents to take a seat while they let the kids play too. While the kids were playing i took the chance to have a look round the kids city and get some photos.
Its awesome its basically another area like warwick play village only with different areas and being honest its seen better days. However it was still fab and once the kids came to investigate they had a great time pretending to pull my teeth out, fixing the pipework in the road, shopping and making their own animations.
Level 1
It was time to make our escape when the next school group entered the kids city. This was perfect timing to move onto the next level though. We headed down the steps to level 2 next. Again we had the whole level to ourselves.
Level 1 is a bit more educational so maybe better for older kids but the sit in airplane was a huge hit with Elliot. He even got dressed up in some pilot gear too. Caused a bit of a shit fit when Clark tried to have a go.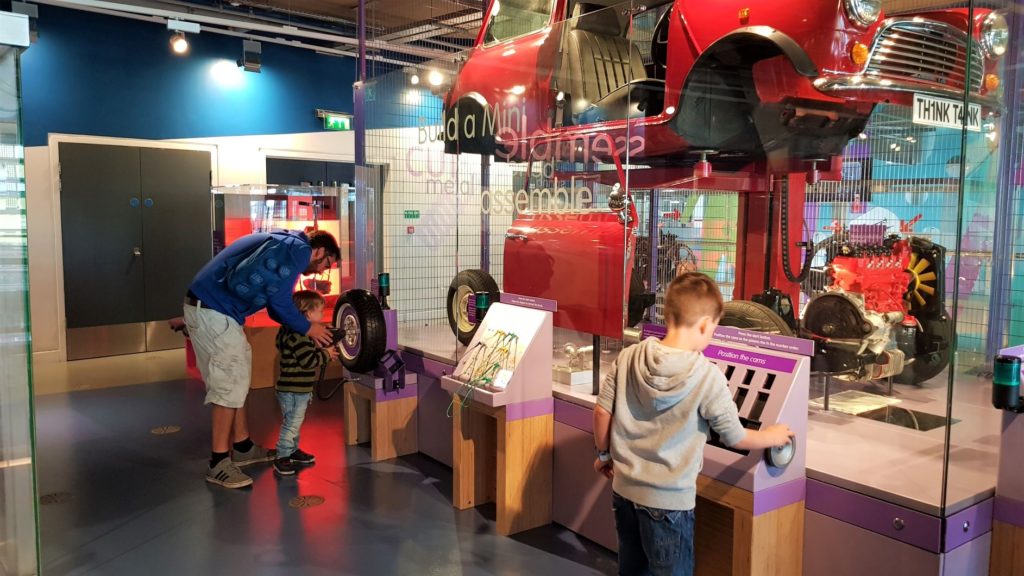 There was still loads of interactive areas, buttons to press levers to pull but again it was a bit hit and miss as to what was going to work or not. Weirdly it didn't put us off. Maybe because there was still loads that did work.
The kids favourite are on level 1 had to be the mini. They could make circuts, build areas and fix parts. They loved changing the tyre. Elliot again had a shit fit when it came to having to share the drill (That he was using as a gun at the time) poor Clark. Maybe one day we wont have to peel Elliot off the floor after hes thrown himself there grasping onto whatever it is were asking him to share. That kids has a death grip if ever he decides to go for my throat I'm fucked.
Level 0
It was time to move down again so off we went to Level 0. This floor was impressive for me.
The good thing about Thinktank Birmingham is that you can see all the floors from any floor. Its great to look down to level 0 from the other floors. You can see the spitfires suspended in the air, See all the huge mechanical engines whirring round and get an even better view of the impressive stream train.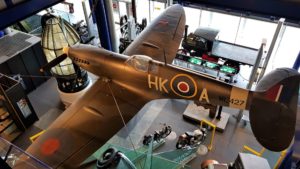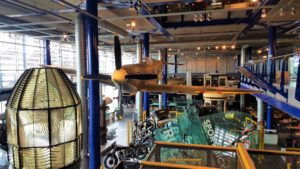 The kids loved waiting for the huge water bucket to tip and empty its contents into the tank that they're stood in front of. We didn't really know that's what happened so when we were stood by and it happened for the first time i proper shat myself. Its loud!! the kids squealed in delight.
There were lots of other transport vehicles on this level too along with robots and other cool sections. We had been in Thinktank Birmingham for a couple of hours already and lunch had crept up on us.
Signal Box Cafe At Thinktank Birmingham
Today we couldn't be arsed with a picnic. You will be happy to know though that there is a picnic area for anyone that can be arsed though.
We however decided to brave the cafe. The cafe is on level zero right next to the huge steam engine and other vehicles. Its a great venue and you can even smell the oil from the machinery in the air (not in an off putting way though)
We found a seat easily enough because we were the only ones in there. We got the boys one of those lunch box deals which is pretty standard practice for places like these. Only £5 each and a good range of items so the kids were happy.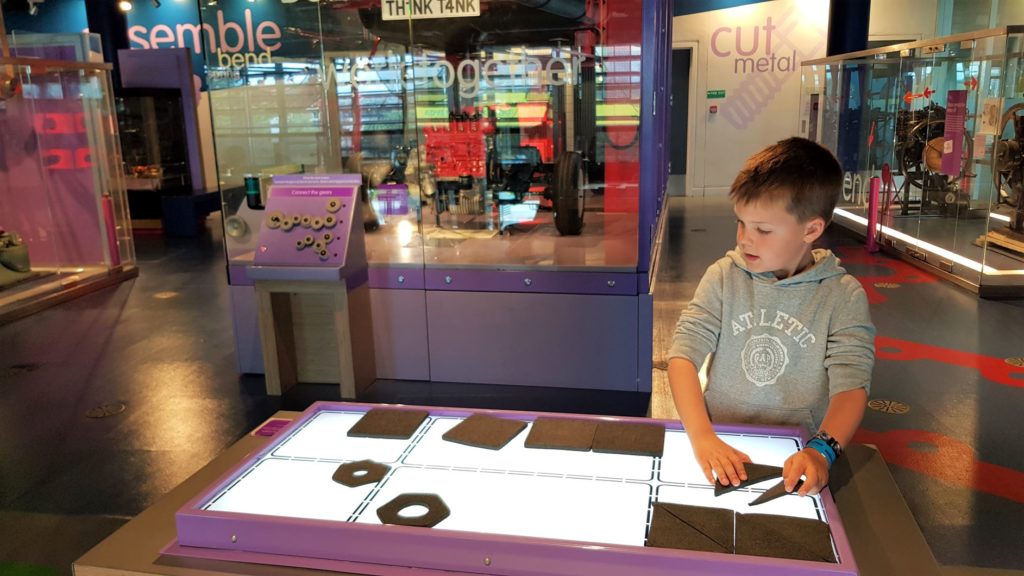 Me and the husbeast decided to order something hot from the menu. Brave decision on our part were nutritiously critical in cafes like these they can never get it right. the prices were actually really good value. Not overpriced at all.
Food arrived in good time and you know what apart from the chips which were a bit on the soggy side the food wasn't just ok it was actually really good. I had chicken goujons and the husbeast had a burger. So possibly for the first time ever I'd recommend you give it a try.
Minibrum Level 3
Food was demolished and we were raring to go. We could also now see that the science garden was empty so we headed to the doors to venture outside. This is when we realised you cant get outside from level 0 you need to go out the exit and walk round. This is to keep the environment safe for the exhibits.
Instead we decided to head up to level 3 which is the new area. Kids city and Warwick play village move over. Minibrum is here and its fucking ace. Again we timed it perfectly so that we had the whole floor to ourselves.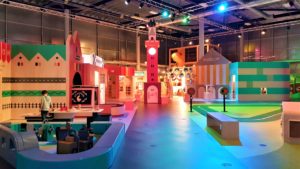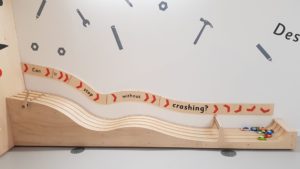 This is an area the kids can have even more fun. Building sites with huge tunnel slide causing Elliots hair to stand on end. Race track, Fashion village, cafe, shop you name it they have it in here. Probably the best floor in my opinion.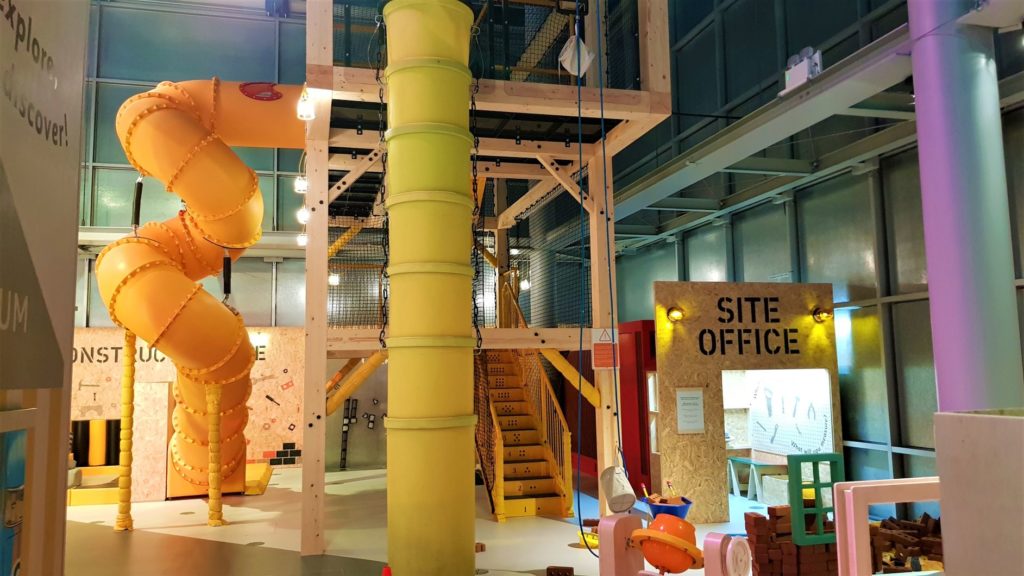 I had a great time building a house and wincing the bricks up and down the chute…Until Elliot came over and kicked my house down. We had a great time in the hairdressers and the shop. The boys had a race and then raced cars, made ice creams, dressed up, built houses and generally had an amazing time.
Science Garden
We all had an amazing time playing in Mini brum. On the same level there is the new Planetarium too which you pay extra for but we chose not to do because our kids cant sit still for 2 seconds .
We instead headed down to the Science garden. Now this is the only time we had to share a space during our whole visit so that's not bad going for us. 2 school groups in their already but we headed in anyway.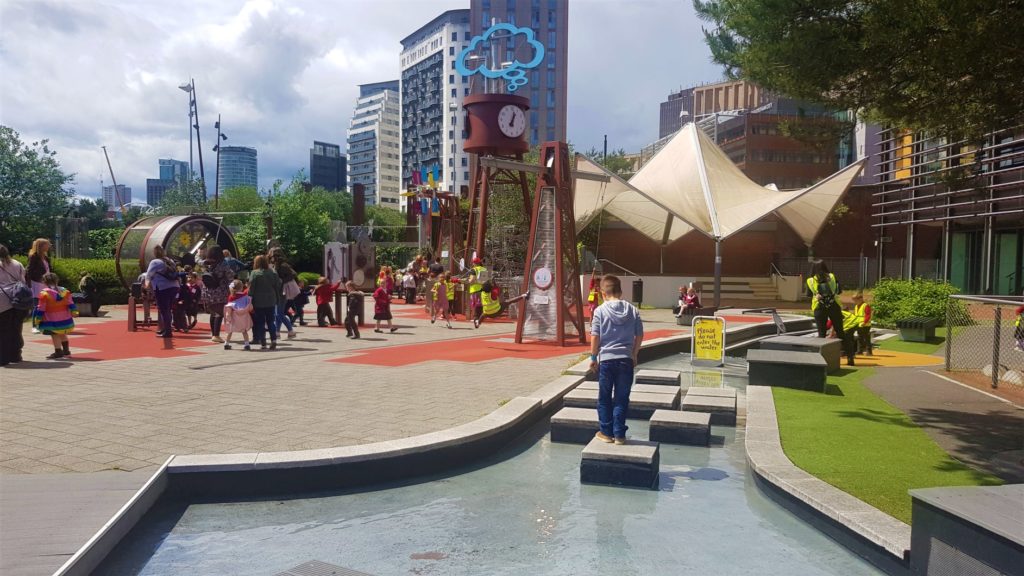 Thinktank Birmingham has again given us an amazing space. The science museum is magnificent. Water play, stepping stones and all sorts of gadgets. I did have to stop Elliot from diving into the river head first!
We got to try out wheelchairs and different floorings which was brilliant and a great way to show Clark what disabled people can sometimes encounter. A seat where you strap yourself in and pull yourself up, a giant hamster wheel and a giant terminus where all the kids worked together to see the explosion of dancing balls from the 8ft machine. Everything in that garden did something.
Wrapping up
The schools had left the garden and it was us alone again briefly before the other school group came in. The boys luckily got to try everything too which was lucky because it had just started to piss it down.
We headed back inside and let the kids have another play in kid city, the water play indoors and the recycling plant before we dragged them away. We wanted to get on the road and clear of Birmingham before the shit storm of traffic engulfed us.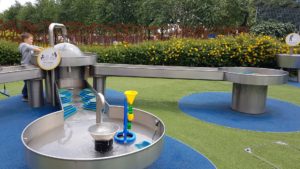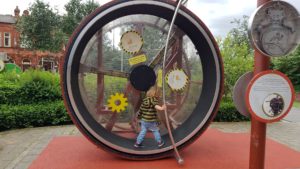 The boys watched all the trains going by from the windows for a bit too and we also stumbled across an art exhibition that the boys went into before we back out slowly before they realised that the art instillation was a huge crack den with needles hanging from the ceiling and blood splattered all over the place (Art is fucked up). They just saw the pretty lights and thought it was an extension of the museum. We were so very wrong we backed out before they destroyed some poor uni students life's work.
Off we fucked back to the car park after an absolutely fantastic day. Probably the best day out we've had this year too.
Thinktank Birmingham stats:
Distance from Bicester: 1hr 15 mins
Sat nav: Millennium Point, Curzon St, Birmingham B4 7XG Click to load sat nav
Wheelchair friendly: Yes very good access to all areas
Equipment upkeep: 6/10
Cleanliness: 10/10
Facilities: Everything you need
Age range: All ages
Safety: 10/10
Fun factor: 10/10 would give more if i could!!
Dog friendly: No
Pushchair Friendly: Yes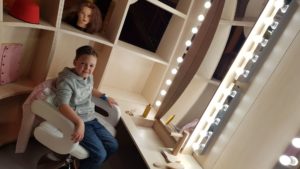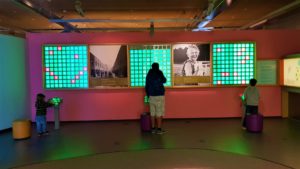 Conclusion
Thinktank Birmingham has to be the best science museum we've taken the kids to date. Its even better than the lookout discovery centre and i wasn't sure if that would be possible as we love that place. Its gone into my top 10 days out we genuinely loved it that much. Obviously I'm basing this on a weekday, term time visit. I have no idea if its like walking into a war zone on the weekend or not.
We really want to go back again to try out the Planetarium. We will probably wait until Elliot's a little less of a douche before we try it though.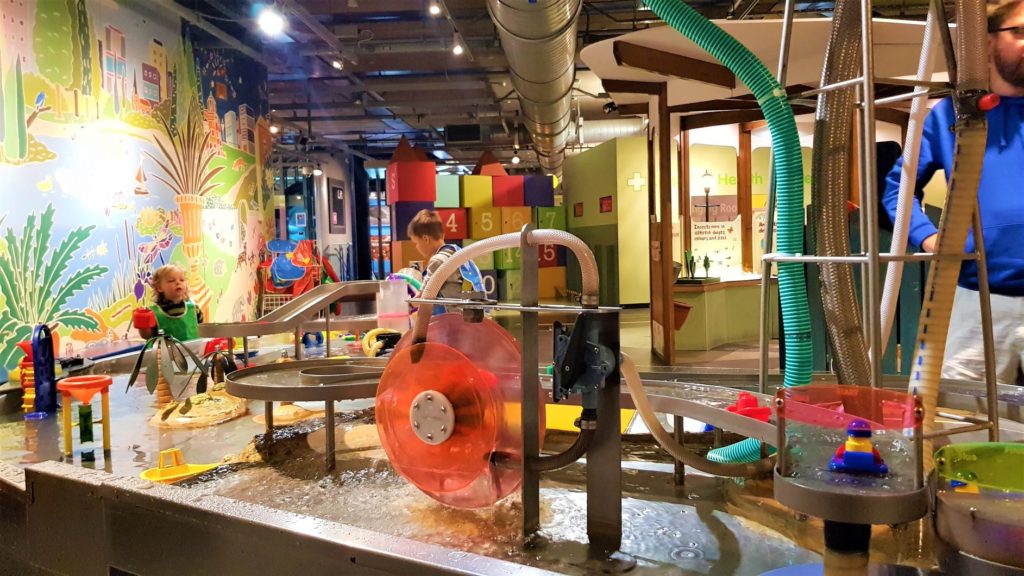 I cant recommend this place enough. I would genuinely be shocked if someone tells me that they had a shit time when they visited.
There's even a free play park outside near the Science garden that we didn't get a chance to try out. Not only that if you live local or are visiting Birmingham for the day to do something else you can head over to the Science garden for free after 3pm. How amazing is that.
AOB
You can check out their website HERE
For more museums we've visited check HERE