Another shit weather day out for you all. This one is brilliant especially now the weather has tuned on us and makes us feel like hibernating. Stratford Butterfly Farm is a t-shirt in the winter type of day out. Without the danger of frost bite on your nips.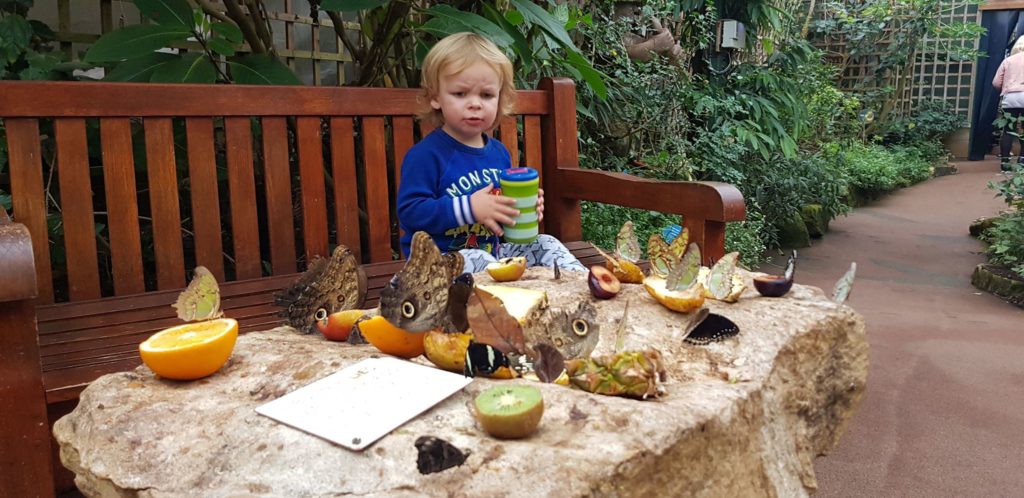 Stratford Butterfly Farm
This place is an easy drive even for me! maybe not for the person who drove there car into the Tesco petrol station the other day. Although it's definitely something i would do. I've christened our car "The bin tipper" better a bin than a person i suppose. Anyway its straight down the M40 when you find it don't do a me and drive into the staff parking. You'll have to park in one of the pay and display car parks next to it. Its about £1 per hour.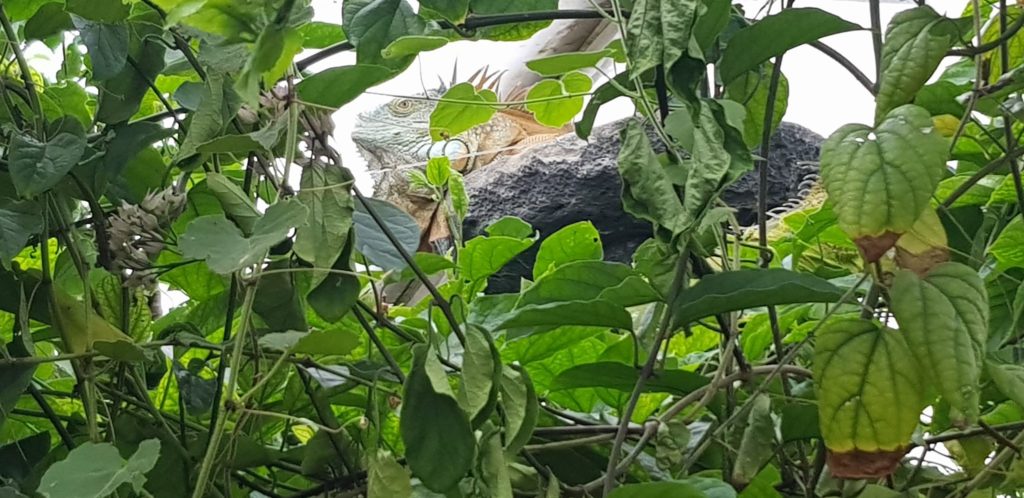 Even the entrance to this place is impressive, You go through their garden up to the main doors. I can Imagine in the warmer months this is a lovely place to sit and have your picnic too. Talking of picnics you will need to take some form of food. They unfortunately don't have a cafe in there which is a shame. You can however grab yourself a bottled drink from the gift shop if you're feeling Parched.
Cost For Stratford Butterfly Farm
Its bloody cheap to get in especially for whats in there. Well it was for me as i didn't have to pay for Elliot as he was under 3. Its £7.95 for an adult with options of family tickets too.
There's a little cloakroom to the left as you go in which is where we hung our coats. You wont want to take your coats in as you'll feel like you're having a hot flush or starting the menopause which could be a strange feeling for the men out there.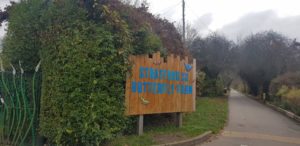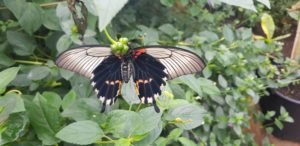 I'm going to say this right now. If you have a fear of flying things don't be a knob, Don't come here. The staff spend what seemed like the majority of their time picking up the butterfly off the floor to stop them from getting squished. Without having to pick your lard arse up after finding you rocking in a corner because you've had a panic attack and realised what a bad idea this was! If you're one of those annoying twats that scream and flap your arms when a bug comes near you because you think it makes you look endearing. Again shit off, stay at home you'll just end up looking like a jumper in a washing machine and you'll just piss everyone else off.
Flying zone In Stratford Butterfly Farm
Elliot did pretty well in all honesty. I think kids always do better when they can run around exploring. This is definitely something they can do here. Do however be caution of butterflies on the floor! Unfortunately Elliot found out the hard way after stepping on one. Luckily (not sure if lucky the right word to use here) it wasn't Elliot that dealt the initial blow. It was already a goner he just helped squish it a bit more. He did pick it up and put it on a flower though. This shocked me as i was starting to think he Genuinely was the spawn of Satan.
Whatever you do don't tell your kids to look up! its a bloody butterfly graveyard up there. If they get above the netting they're obviously fucked. Poor fluttery buggers.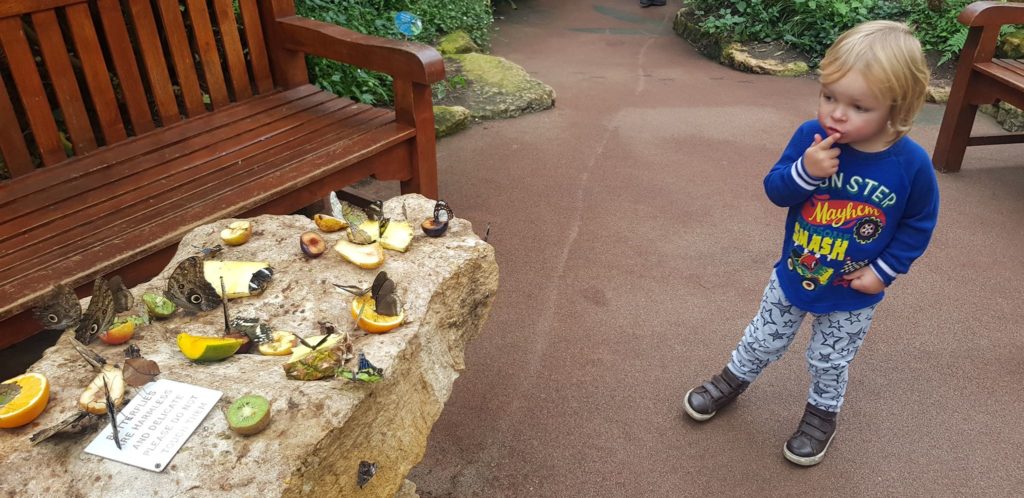 We must have walked around the farm about 10 times. Its not the biggest but you will see something new every single time you walk round. Elliot was obsessed with thinking the butterflies were going to bite him. How do you explain to a 2 year old that quite happily pisses our cat off until he gets bitten, that a butterfly is harmless?? i blame the mother.
Friendly Staff
The staff are sooo lovely, helpful and informative. If you have any questions do ask them. They answered my question of how many butterflies they have (over 2000 by the way) they also had a crack at explaining to Elliot that he wasn't going to get mauled in a butterfly attack.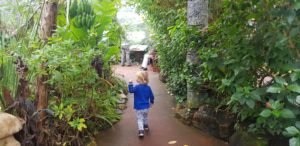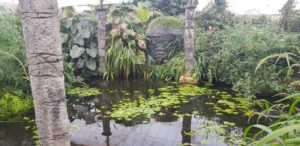 You will need to keep hold of the kids near the water areas which are stunning by the way. I think this was Elliot's favourite areas. He liked to run over the bridge over, and over and over again! the waterfall was impressive and the pond was lovely. The fish in there are bloody huge! i thought the carp in the Jubilee lake in Langford were big. These monsters piss all over them. Little tip, Take some 20p coins for the fish food. We loved throwing the food in. Although i'm sure Elliot was more trying to hit them in their eyes to see if he could drown a fish.
Favourite room
My favorite place was the ant room. They have separate rooms coming off the flight zone which are filled with bugs and reptiles which was an added bonus we weren't expecting. We went into another room which had more tanks with spiders in and millipedes. Then i saw 3 open tanks! fuck that i thought has some human eating spider escaped and is on the prowl for its next prey! probably me i'm not exactly easily camouflaged at the best of times but i was wearing a bright pink top in a dark room. I was fucked!
Then I looked up and noticed there was a maze of ropes leading into these 3 tanks (OK i realise it sounds like i'm describing some kind of sex/torture dungeon but bear with me) i was starting to panic a bit but i noticed i was the only person that had developed a panic sweat about a possible escaped huntsman spider.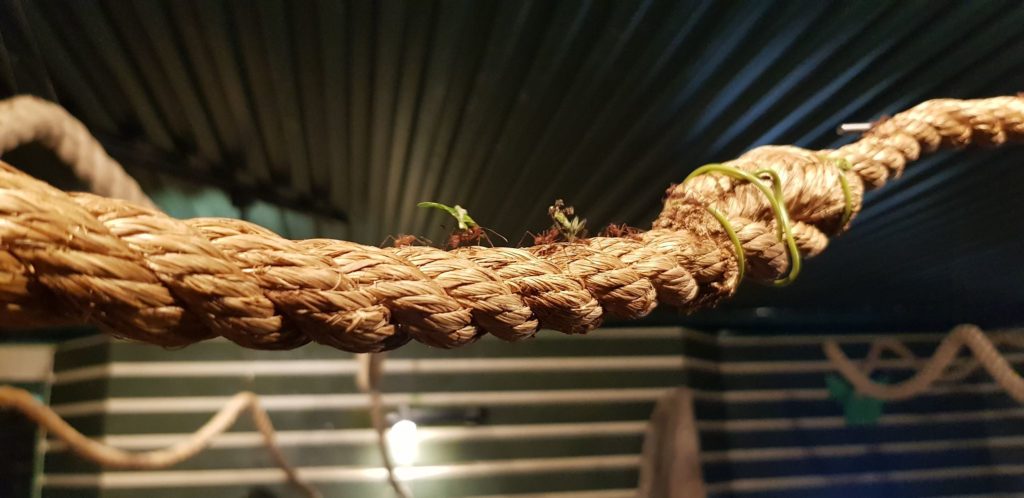 I grabbed Elliot and held him close. I held him tight ready to throw him into the path of the immanent spider attack. This may seem harsh but i cant help that my survival instincts kicked in. Plus i have full faith that he could wrestle a full grown grizzly bear to the ground in a choke hold, so a huntsman should be a walk in the park for him.
Then i saw the ropes moving! seriously where the fuck have i brought us! I'm one of those thick women you see run up the stairs in horror films. The ones you scream at for running into a trap. Yep that's me. I didn't run, nope i looked closer!
Leaf Cutter Ants
ANTS, shit loads of ants! thousands of them marching back and forth between the tanks! its genius!!! i was amazed. Leaf cutting ants carrying their load into different tanks!! How bloody cool is that. I couldn't stop watching them. I've always been fascinated with ants the way that they can carry 10-50 times their body weight is amazing. If i tried to carry the weight of one of my arse cheeks i'd probably end up with a hernia or something.

TIPS:
When you walk round you'll see lots of fruit for the butterflies to feed on. Have quick reactions especially when you hear oooo nana (Banana in Elliot language) from behind. It probably means you kid thinks you've brought them to a buffet!
Needless to say you're not supposed to touch the butterfly, but if they land on you don't panic they'll leave eventually. Like the one that hitched a ride on my tit for a min or so….probably thought i was a bus (similar size)
Keep an eye out for the Iguanas they're HUGE!
The shops resonably priced. Don't get the stretch frog though! they don't stretch they just snap!!!!
Take 20p coins for the fish food.
Wear purple if you want them to land on you.
Stratford Butterfly farm stats:
Distance from Bicester: 50min
Sat nav: Swan's Nest Lane, Stratford-upon-Avon CV37 7LS. Click for Sat Nav
Wheelchair friendly: Yes
Equipment upkeep: 9/10
Cleanliness: 10/10 good job butterflies don't shit like birds
Facilities: 7/10 I really think it needs a cafe.
Age range: All ages
Safety: 8/10 Water areas could be a hazard
Fun factor: 10/10
Dog friendly: No
Conclusion
There is so much you can explore and learn here. When we went there was 1 school group and we didn't even notice them. We even got to see a butterfly hatch from its Chrysalis which is a 1st for me. I love it when i find a place that entertains the kids as much as it entertains me. This place definitely did that.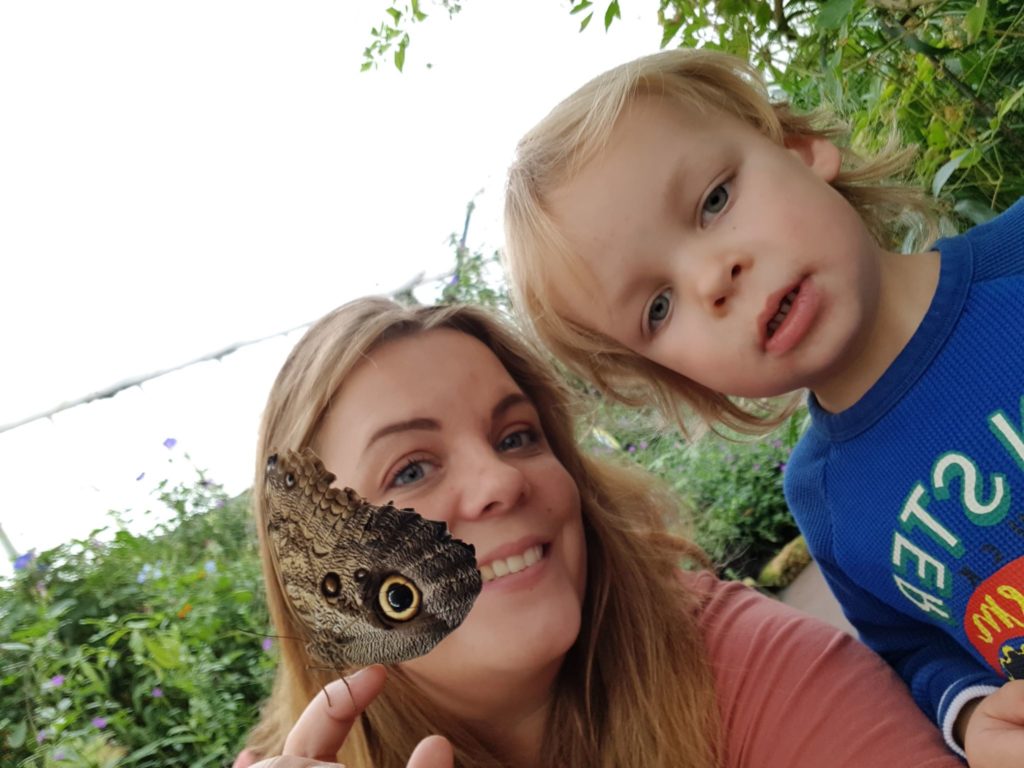 We will be going back with Clark one day. Its in the centre of Stratford too so you can feed the swans (they eat bread by the way and this is allowed so shit off with your packet of frozen peas!) watch the boats go by in the locks and even take a walk along the river. I found out today that if i'd have gone along the river i'd have come across a play park and a splash area! OK maybe not perfect for this weather but one for the summer months when the rains a bit warmer!
Links
Click HERE for Stratford Butterfly farm website and factual information.
Click HERE to see more sweary reviews for other shitty weather days out.
You can find the video below along with some photos of the day.