Yesterday i decided that i needed to really Knacker Elliot out in the attempt to make him sleep in later than 5.10 am. So after baby group we buggered off to Lets go Bonkers soft play in Carterton.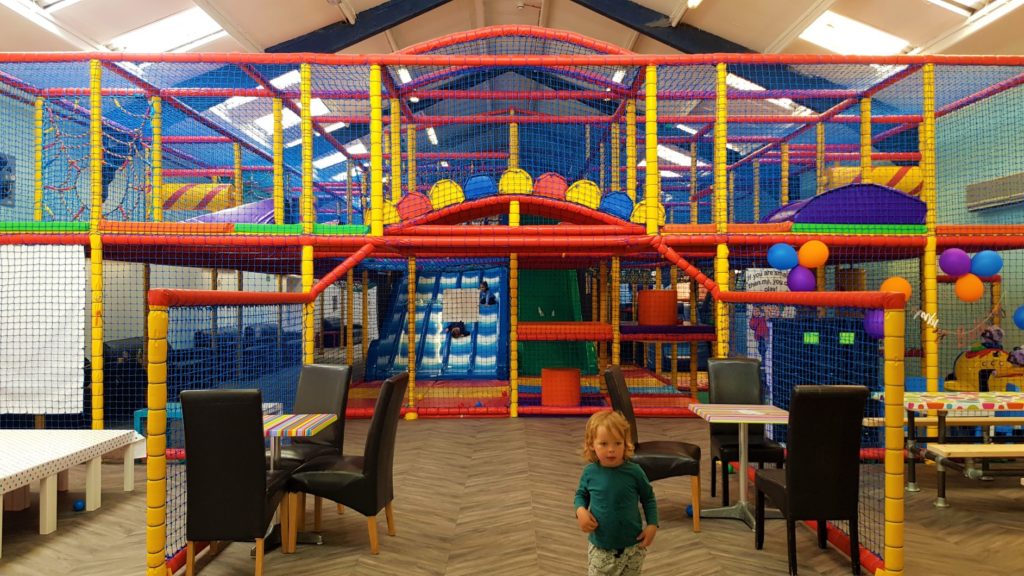 I'll admit it was a bit of a mission for a soft play but when you're trying to get a kid to sleep better you'll do anything short of Calpol the shit out of them at bed time (don't do that btw its very bad)
Lets Go Bonkers Soft Play
The soft play is in the industrial estate and right next to the army barracks or whatever it is. From the car park you can see the planes taking off which was really cool in itself. When you park up just make sure you don't crash into the wall. Loads of dents in the metal where others had haha.
I'd seen photos of the soft play on Facebook so i was expecting it to be pretty small. How wrong was i the place is massive. I'm talking the size of my arse massive too.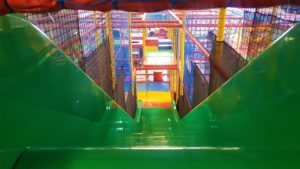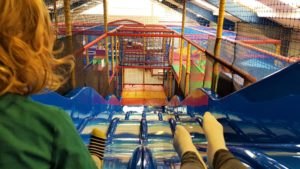 Other than the photos i hadn't really done any research prior to my visit. So i just rocked up not really sure what to expect. I do know it used to be called Darcy Bears and apparently it used to be a shit hole.
We went into the reception and was greeted by a really lovely lady who took our money and chatted to us about whats in there. The reception areas pretty big too and has a table with Duplo and Lego for the kids to play with while you wait.
Whats In Lets Go Bonkers Soft Play?
For myself and Elliot to get into the soft play it cost us £7.45 which if I'm being honest i thought was a bit steep for what i was expecting. Which was a small room with a small soft play at the end. They do have loads of offers on at certain times and days so have a look into it before you go and I'm sure you'll find cheaper.
Went through the gates and saw before my eyes a huge fuck off soft play. Now the soft play you see first is the over 5's. Lets be honest no one listens to that shit anyway and the place was dead. For me the money was staring to be a distant issue. I've found a quiet soft play. For me that's as good as discovering that Unicorns are real.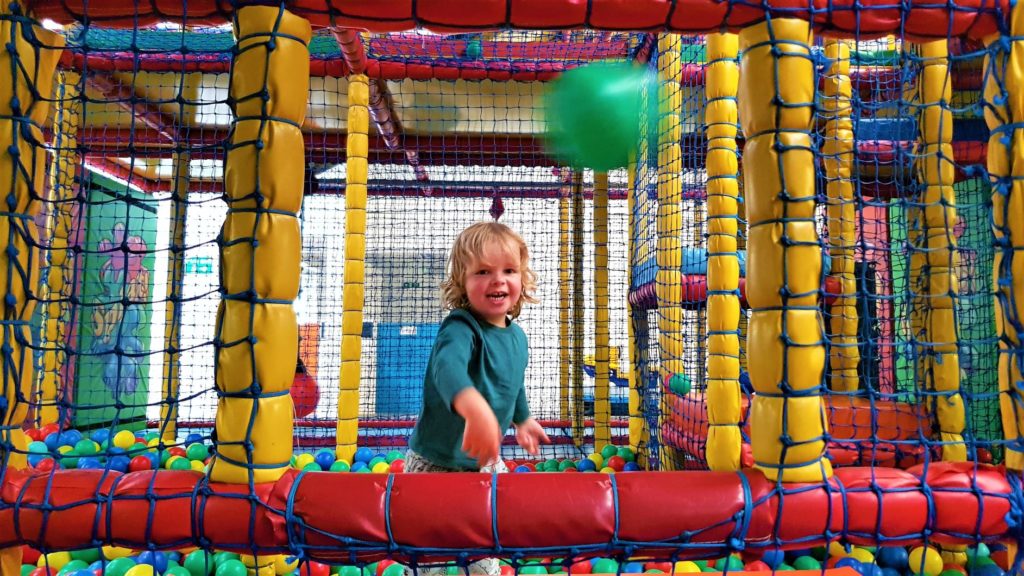 There are sofas lining the wall along side the soft play itself. Beyond that you have the cafe at the far end. There are shit loads of tables and chairs. I'm used to turning up and having to use my hawk eye to find somewhere to sit normally. Not today. we were spoilt for choice.
In a separate room round the corner is the under 5s area. Again loads more tables and a decent size with loads for the kids to do. The under 5s area is also gated which i love. These new owners obviously know that under 5's bolt it at every chance.
Over 5's Soft Play Area
I finally decided on a table opposite the bigger soft play. Elliot had no intentions on starting off small. Go big or go home I'm sure he was thinking. More like go big or i'll scream the fucking place down.
The over 5s soft play as i said earlier is massive, a huge structure. It's old style so you're not going to find anything fancy here. Just a good old skool soft play where the kids go can go nuts. You can definitely tell its old and in a fair few areas its pretty worn too. However its still great fun and importantly. It was clean. Got to love it when a place cleans their equipment.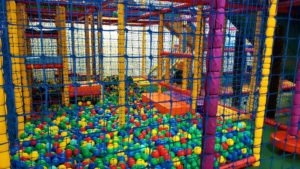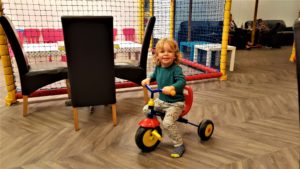 I had to go in with Elliot to start off with so i could scope out the area and make sure there wasn't anything he could impale himself on of launch himself off. After a good scout round we were all good. Elliot could play and i could sit on my arse and scroll through Facebook for a bit.
The soft play isn't as easy for adults to get in and navigate round like some of the newer style ones so be prepared for a sore neck and a twatted head if you're in there with your kids. One plus side is they have a ball pit! whoop. Sounds strange but lots of the new style soft plays don't have ball pits. Probably due to cleaning up too much baby Vom.
The Cafe
Elliot was busy playing in the ball pit and going down the crazily fast Green slide. (blue wavy one was a bit slow and shit needs waxing haha) I was debating whether to get food or not because so far all Elliot had eaten for lunch was a packet of crisps.
The menu looked pretty good to be honest. Decent choice and not too pricey either so i sided with the lets feed my child a little bit more. We didn't go for anything extravagant just some chips and a chicken wrap for us to share.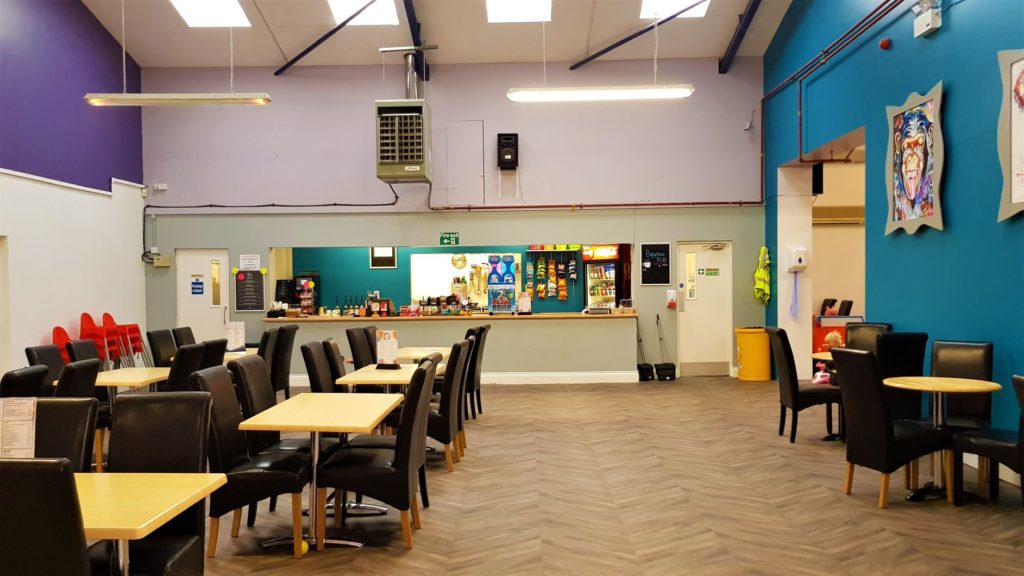 I knew it was going to be near on impossible to get him to eat while he was busy playing. The food arrived and all looked good. They'd even toasted the wrap which i always love.
Elliot was munching on the chips in between play and i started on the wrap. Started off pretty nice but then i realised the Chicken was actually pretty grim. It just tasted old, tough and luke warm. I decided not to finish the wrap, I didn't fancy a bout of the shits if the food wasn't right. (not saying it wasn't btw I'm just fussy) Chips were good though and i'd try again but just not Chicken.
The Under 5's Area
After food and more playing in the over 5's section Elliot had round himself a trike to whizz round on. The floors at Lets go Bonkers soft play are brilliant and new by the looks of it. As it was so quiet he was fine going around and there were a couple of other kids doing the same too.
We did eventually wonder into the under 5s area and i must say its still a pretty good area. It has lots of baby toys too and under 1s are free so this could be a great place for new mum's to meet up for a coffee and a play.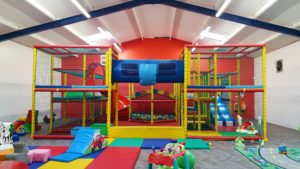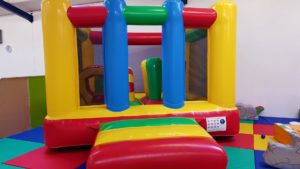 In this area they also had a lovely bouncy castle and a house with some kitchens in there too. This part looks fairly new as parts were unfinished but still a nice little area.
The soft play part itself has a cool red spiral slide and a tunnel that Elliot loved playing with. One thing i did notice when i wandered in though is the carpet has come up in areas and probably needs securing down before someone trips on it. Not that it'd hurt too much anyway because you're in a soft play.
Lets Go Bonkers Soft play Stats:

Distance from Bicester: 40 mins
Sat nav: Unit 1, South Industrial Estate, Black Bourton Rd, Carterton OX18 3EZ. Click to load sat nav
Wheelchair friendly: Yes
Equipment upkeep: 6/10
Cleanliness: 10/10
Facilities: Everything you need
Age range: All ages
Safety: 8/10
Fun factor: 10/10
Dog friendly: No
Pushchair Friendly: Yes
Conclusion
I really liked Lets go bonkers soft play in Carterton. Yes its not the newest style soft play and i know it can be a bit pricey but we had a great time.
Loved the fact that it wasn't crowded with loads of other screaming kids (as well as my own). I loved the fact i could sit down and feel comfortable that my child was safe.
The food wasn't the greatest but are they ever in places like these? i would give the food a second chance though and on the bright side i don't have the shits today so it was probably me being fussy.
We will definitely be going back again. I'd much rather drive the 40 mins here than sit in an over crowded soft play because it's new. Kids don't care what they look like really as long as they can go nuts which is something they can definitely do here.
AOB
Apparently they have a laser storm area too which can be booked out. I think its basically laser quest but you need to have a minimum number of guests. Could be great for parties which they also cater for too if you're looking for ideas.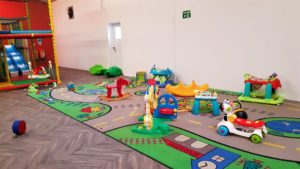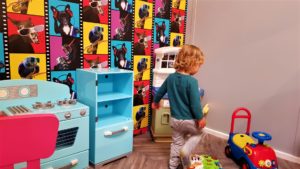 If You're in the area already and fancied doing something else before or after your visit then killkenny lane country park and crocodiles of the world are just round the corner too.
Have a look at their website HERE for more details and a full price list/Discounts.
If you're after more soft plays near you then check out the other HERE