Consider how crap West Lodge Farm Parks website is. I was truly shocked at just how awesome this farm park really was.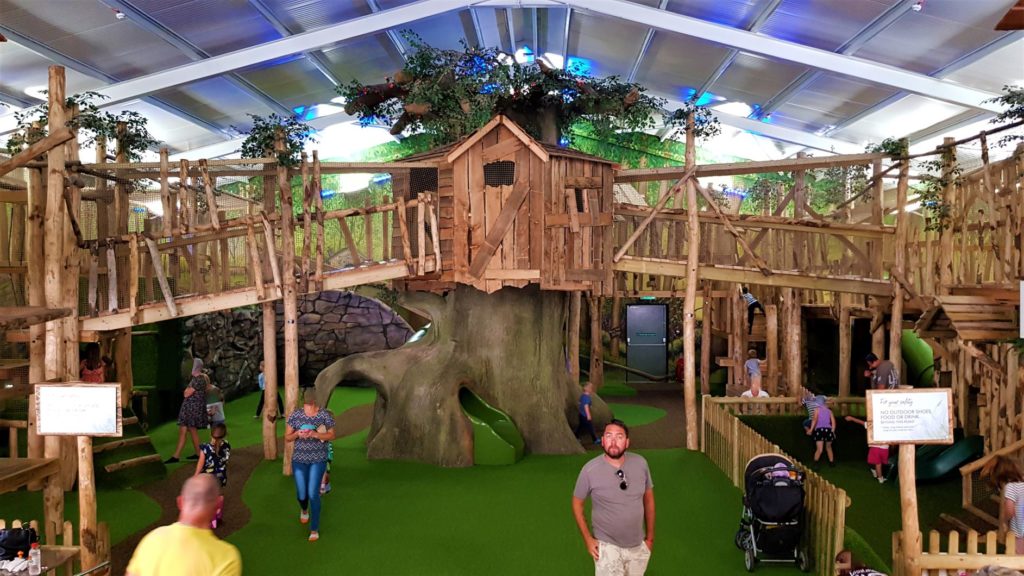 Its a bit of a mission If like me you live in Bicester but we were meeting family and this bad boy was as good as halfway as we could get. We had 4 kids with us and we needed something fun and boy did West Lodge Farm Park Deliver.
West Lodge Farm Park
If you don't drive then unfortunately you're out of luck with this place. Its in the arse end of nowhere. Even driving it was a total bitch getting there with several roads closed making out journey even longer. It is worth it though so do soldier on.
We arrived just after it had opened and we had no trouble parking. In fact it was fairly quiet. Maybe everyone suffered blown tyres from the craters on the drive on the way in. Its a farm what do you expect.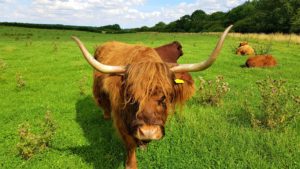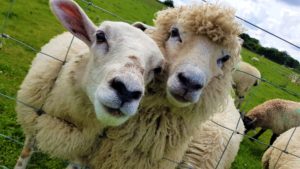 We'd timed it pretty well and the others turned up a few minutes after we did. We rushed in because i was desperate for a pee and my bladders about as strong as my abs.
There was luckily no queue so we paid up which was £29 for all 4 of us with 4 bags of animal feed which in my opinion is a bargain. Much cheaper than some of the other farm parks we've visited. Probably a lot better than them too.
West Lodge Farm Park's Play Areas
Like most farm parks there's a mix of animals and play. I must admit that these guys have pretty much nailed the ratio of play vs farm animals. Nothing is too garish or in your face and even though you can pay for extra activities we didn't bother and nor did we notice. On the plus side though if you chose to you don't have to sell a kidney to do so.
The first thing the kids did was head straight to the outdoor play area. Cant say i blamed them either. Its pretty big and bloody awesome looking. There's so much for them to do in there and we'd only just begun.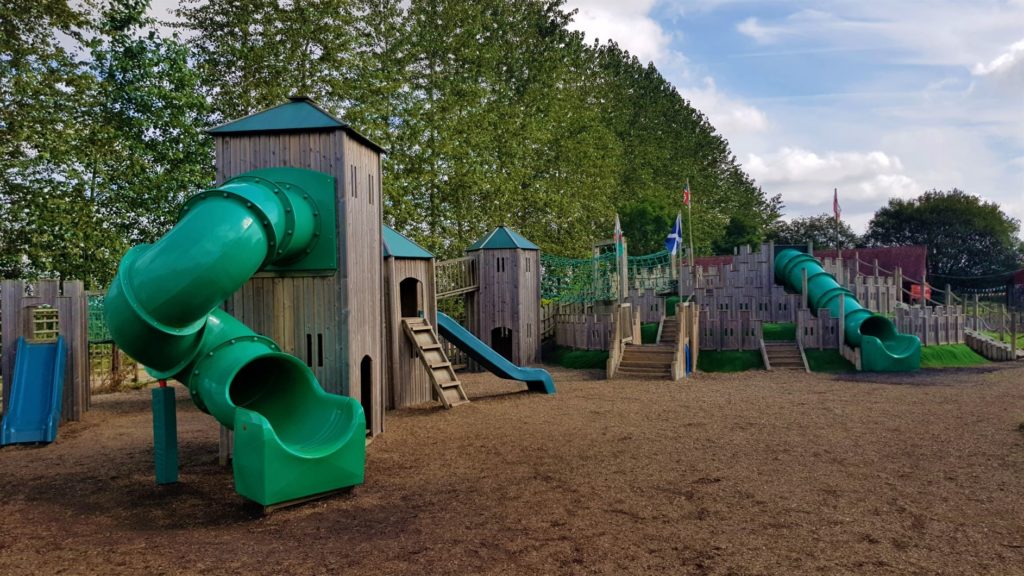 The outdoor play area is brilliant for all ages. It has a sand pit with toys, a tractor ride on area, An old tractor, the usual swings, spinny things, springy face twatters and then their piece de resistance. The huge castle play fort i shit you not when i say Its awesome.
Not only is it awesome its pretty damn safe too. I had no issues leaving Elliot to play. he whizzed round it with no problems at all. All the bridges were pretty secure. Most of the steps were easily navigated. If your child is too small for some areas there's a really easy area at the back still with a great tunnel slide. Talking of slides, There are 4 all together. 1 tunnel, 1 spiral tunnel a toddler slide and a normal bigger slide too.
Farm Animals At West Lodge Farm Park
After realising that it wasn't going to rain and in fact it was bloody hot (wearing black ffs) we stripped the kids of their jumpers and sun creamed the little buggers up. It seemed like none of the adults had managed any breakfast and i was getting hangry. They didn't start serving lunch until 11.30 am so we thought we'd kill the half hour before lunch feeding the animals.
There's a cuddle barn where you can do all the animal handling (at set times) and feed some of the thousands of goats on the farm. I did notice you can also buy guinea pigs and chickens here too. Husbeast wasn't having any of it though.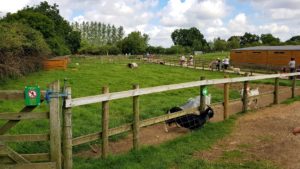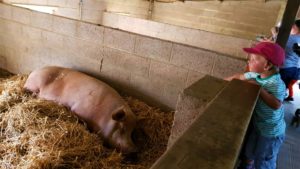 The boys got to brush a pony in the bigger barn….along with about 50 other kids. Luckily the kids were much more gentle with the ponies hair than what they are with mine. Feels like they're scalping me when they brush mine.
We headed outside to see the birds (ones with feathers) and the turkeys cracked me up. They're so bloody ugly but in a funny cute way…..bit like my husband. Little note though. Don't feed them the animal feed they nearly pecked a whole through my hand. I was forced to do it by Elliot though and he found it highly amusing when it hurt (kids got issues)
Dinner Time For The Humans
It was time to feed the rabble so we headed over to the restaurant. They put us on 2 tables of 4 next to each other. All the kids on one all the adults on the other. We did eventually have to take the knife off Elliot because he was wielding it a bit too vigorously and it would only be a matter of time before he stabbed his brother up.
Service to start was great very attentive (even if one lady get extremely confused over a request for 4 spoons). The menus got a good selection of food and its not totally overpriced. We could have taken a picnic because there are loads of areas for indoor and outdoor picnicking. However i still haven't been shopping since we got back off holiday and we had fuck all in the house. I stupidly left half a melon in the fridge while we were away too. That wasn't a pretty site on the return and i ended up chucking everything away in case it had moldy melon juice on it.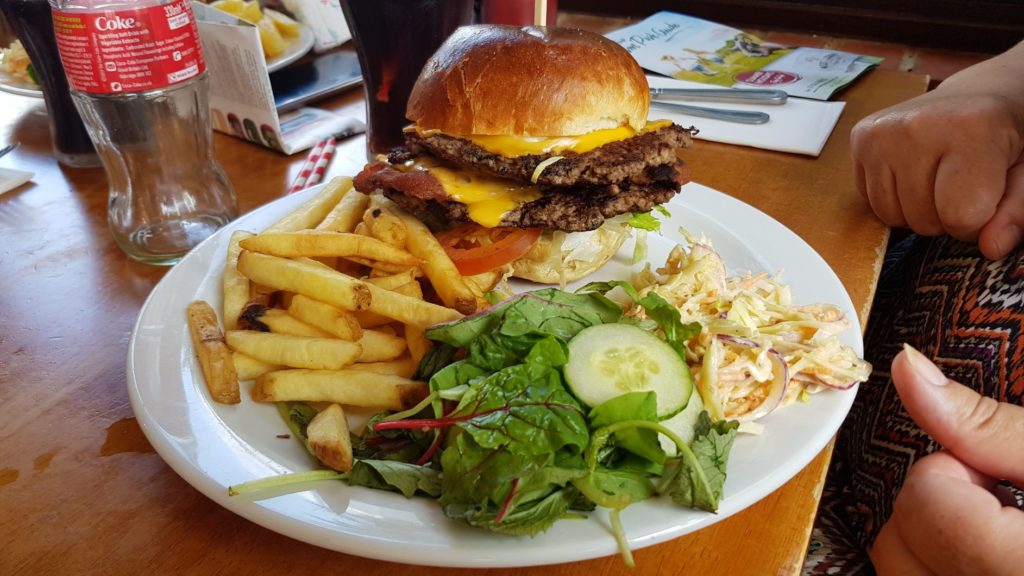 Food arrived was pretty good. Nothing special but nothing to complain about. The chips on my toastie were shit but that's down to personal preference nothing else. Every liked their food even the kids (chicken nuggets, chips and beans for 4). If you do eat here get the cider coated pigs in blankets they're bloody awesome!!!
By the time it came to paying up and leaving table service had gone out the window. They were too busy but we didn't mind. The kids were getting restless and off we went in search of the indoor adventure barn.
West Lodge Farm Park's Adventure Barn
Now brace yourselves. If you thought the outdoor area looked good wait until you see this bad boy. The Adventure play barn is without doubt the best indoor play area i have ever seen at a farm park. In fact its on par with Stanwick and wellington country parks play areas. I fell in love as soon as i saw it.
The kids shoes were off and launched at our heads before we could give them their stay calm and be safe pep talk. Don't blame them. We'd found a table upstairs as the downstairs was full (not a lot of seating) and to be honest it was better. The upstairs rooms even hair their own entrances to the play area!!!!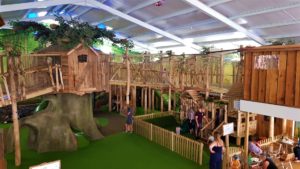 Now the frame which shall call the tree fort is massive. It fills the whole barn and it looks magnificent. Its all solid wood with natural materials and a few plastic slides (decent ones though). I had a walk round so i could check that it was safe (and also because i wanted to play too) and everything was perfect for our kids ages. Elliot again was fine. Just a few drops here and there but anything really high up was all netted in and secured. It was perfect. The only complaint was this one solid wood beam that every single child (not just our own) twatted their heads on and fuck me didn't you know about it. You could hear the donk followed swiftly by the screams.
There is also a super cute area for smaller ones which is equally as cool with an interactive pond and fish. Its a projection don't panic put the arm bands and fishing nets back in the garage. There's a lovely little slide and the whole area in there like the rest is covered in lovely safety flooring which is lovely and soft.
What Else Is There To Do ?
I could go on about the Adventure play barn but i need to crack on and I'm sure you'll be able to tell how awesome it is from the photos. We needed to round the kids up which involved us having to go in and chase down the little gits. Clark was dripping with sweat after he'd been running round like a blue arsed fly.
We bribed them out with the promise of a barrel ride in the end. Whats a barrel ride you say? Why its a bunch of barrels converted into seats that's pulled along in a chain of other barrels by a tractor of course. Yes its free and if your children are over 2 they can go on it alone. Which is just as well because i doubt my fat arse would have fit in one alone never mind sat next to a child.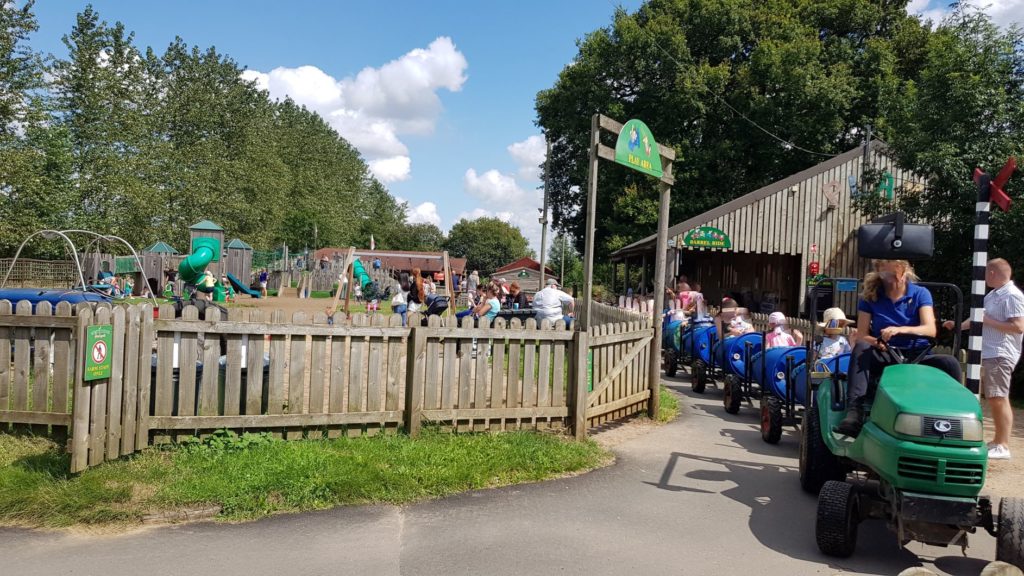 It circles round the outdoor play area twice and all the kids loved it. It even goes through a swamp. We nearly lost Elliot at one point. That child just refuses to sit down he needs strapping into everything.
Next up was the ice cream shop £2.50 a cone and the ice cream was nice. Thankfully we got in when the queue was smaller because the spoon lady was no flash i can tell you that now. By the time we'd finished up there queue was out the door.
Maze And Trails
Next up was the maze. Oh we do love a good maze and we always let Clark take the lead. Unlike his mother he has a pretty good sense of direction. Its actually a really good maze and you cant really get very lost in it. Once we'd been round once with the kids we could let them go in and around by themselves. There's only one way in and one way out so unless they climb over the fences there's nowhere for them to go really. The maze is also themed and this time it was based on the story "A squash and a squeeze"
After the maze we decided to try out one of the nature trails. These vary in size and we decided to go for the daisy dawdle route. I cant comment on the others but this route was great. Don't get me wrong if it was just us as our family the kids would have moaned none stop but because we had the cousins with us they did really well.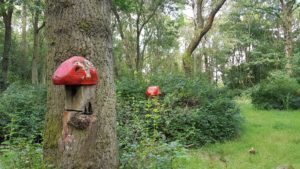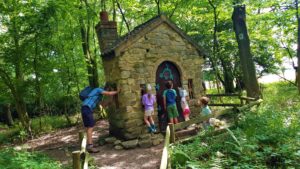 This route is not for anyone with mobility issues or prams. Its through the woods and down a pretty steep gully. Its really pretty cool because once you reach this point you've hit the fairy glen. Yep that's right time for some fairy and fairy door spotting along with some wooden toadstools. A great way to keep the kids going until they reach the Witches house.
The witches house is also pretty cool. Peer into the windows and they're lined with mirrors so you can see other people (you'll know what i mean when you see it). Elliot was pretty pissed off that the witch didn't answer the door and Clark wasn't happy the house wasn't made of sweets. After the house we continued the route round the forest but if you wanted to cut it short just head back the way you came.
West Lodge Farm Park stats:
Distance from Bicester: 1 hr 20mins
Sat nav: Back Lane, Desborough, Kettering NN14 2SH Click to load sat nav
Wheelchair friendly: Yes apart from the nature trail
Equipment upkeep: 10/10
Cleanliness: 8/10
Facilities: Everything you need
Age range: All ages
Safety: 8/10
Fun factor: 10/10
Dog friendly: YES!!!!…at least i saw a fair few on leads best call and double check.
Pushchair Friendly: Yes apart from the nature trail
Bikes and Scooters: Nope
Public transport: Unfortunately not
Conclusion
We all had a brilliant full day at West Lodge farm park and we were all shocked at how good it really was after seeing their website. We had to go and do the indoor play again before we left too.
One thing we did note was just how quiet it was in comparison to other farm parks we've been too as well which was another bonus.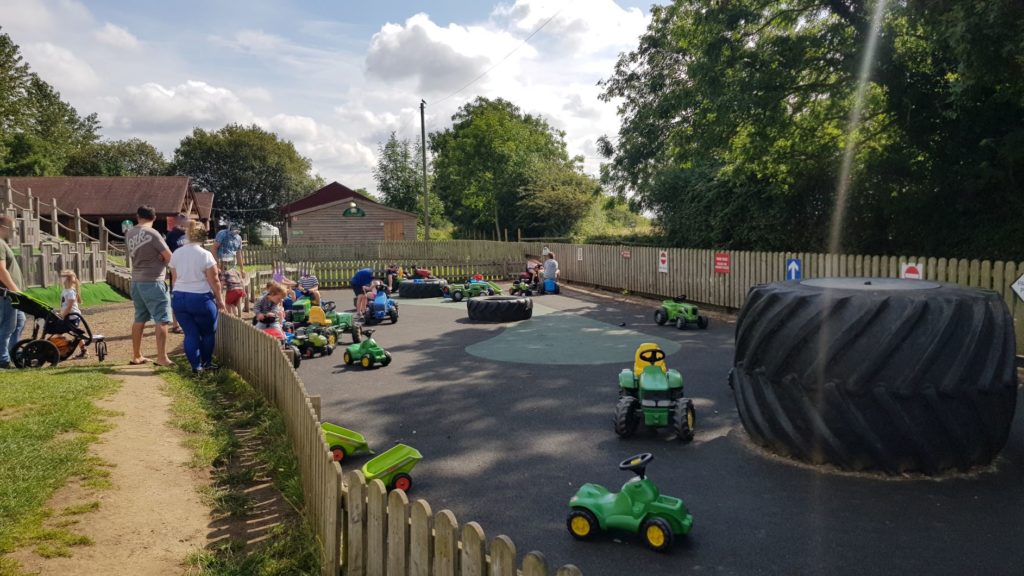 Its gone into my top 3 farm parks now and i only wish we lived a little closer because we'd be forking out for an annual pass. Sod it I's have probably put Elliot into the West Lodge Farm Nursery that's next door too.
If you don't mind the drive then i would 100% recommend that anyone should take their kids here. We'll be going back again without a doubt. Plus we missed the pig racing. Shame they only had the one race all day.
AOB
If you'd like to see their website then have a look HERE
For more Farm park reviews by the family ticket then click HERE