I Get that you've all probably been here before, but i haven't reviewed this place yet and i can't ignore Cotswold Wildlife Park can I.
If you haven't been why the hell not? You don't even need kids to enjoy it here. In Fact i sometimes wonder if i'd enjoy it more without them.
As far as Zoos' go this has to be in my top 3. I know it's not massive and i know it's not got all the animals but whatever it is that they do i and the kids love it. To make it even better its one of the cheaper zoo's we've been to too.
We went on boxing day and I'm so happy we did. It was nice and quiet absolutely no skanks at all. Just a nice family day. Fuck it you can even bring your dog to this one if you want to. Although we did witness a dog jump over the enclosure and get in with the prairie dog's. Luckily no dog's were harmed and the owners we're mortified. Haha Dog's are dick's.
Penguins
We always start and end our day with the penguins. It's Clark's happy place he loves watching them. It has to be the closest I've ever come to a penguin, while at Costwold wildlife park. They're so close it's so bloody tempting to just pick one up and give it a cuddle. I'm sure it'd gouge my eye out if i tried though. Clark and Elliot love watching them shit. Yep hilarious apparently.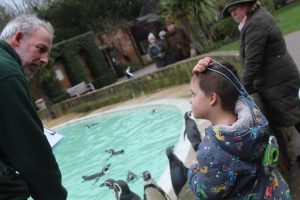 We even got to meet their keeper on the way out. We were one of a few other's there at the time so Clark got to speak to the keeper and ask lots of questions about the penguins. The guy was lovely and so helpful. Did you know that because the water in their enclosure is fresh water the penguins have to be fed salt tablets twice a week? Neither did i. Its like a Penguins version of multivitamins.
Big Animals
My favourite has to be the Giraffes . Again one of the best enclosures with regards to how close you can get to them. I could watch these lanky bastards all day.
The lions were the most active I've ever seen them during this visit too. The male kept on bogging me out. I'm sure he was eyeing me up. He could sense that i was slow and plump. Easy prey. Thank fuck for the thick glass. With a Christmas dinner under my belt and a fucked up ankle a sloth could have chased me down.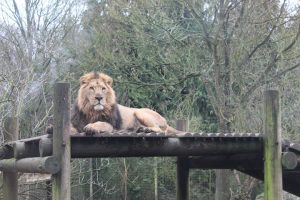 Talking of sloth's. I saw him!!!!! whoop. Of all the times I've ever been I've never seen him. Like at the Living rain forest i was starting to think these sloths had died years ago and they were just taking the piss.
We did the big animal walk first. I'm not going to go into detail about all the animals. You either already know or you need to find out for yourselves.
Play park
It was the turn of the park. Now this park is the Lions bollocks. In fact this park is even more like the tree houses from Robin Hood Prince of Thieves than the park at Stankwick lakes probably because it's in the trees.
There is something for all ages, ability and balls (The drop slide needs big balls). There is even a baby zip wire for under 5's. I've never seen one in any other park before and it's genius. It means we as parent's or carer's don't have to hold onto the younger one's and run. Which always end's in either a stitch in your ribs or stitches on your's or the toddlers face. Elliot bloody loved it.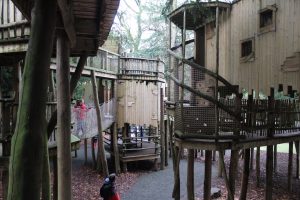 The tree slide is steep as hell to get up. Annoyingly easy for toddlers to climb up but just as easy for them to fall straight back down again and break their face. Keep an eye on the younger one's. That being said its an impressive looking slide and the kids love it.
Cafe
After playing robin hood we headed over to the cafe. Now i don't know how this happened but Cotswold Wildlife Park was dead when we walked round. We started to wonder where everyone was. It's ok we found them! Every fucker in the park was in the cafe at the exact same time as us. Not once have i been to this cafe and its been quiet. This is why we always take a picnic.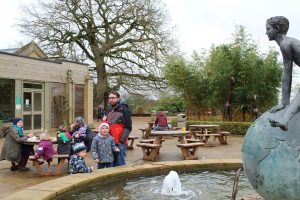 The boy's wanted a hot chocolate though… So did I. In all fairness it tasted lovely too considering it was a push a button job. As with most places like this with cafe's, it's not cheap. Another reason to take a picnic. There are plenty of benches scattered about which is great if it's not pissing it down.
After we'd downed our Hot Chocolates it was time to do the reptile house bits. Not my Favourite area's. Not because I'm scared of Spiders and reptiles it's because it fucking stinks. The Siamang section is the worst. OMG that shit hits the back of your throat. There is no escaping that stench. It smells worst than the Hubeast the morning after a session on the beer.
Train
I quickly hobbled through that sections and off we went to the train. The train is £1 each and free for under 3's. Take change but if you forget you can always buy tickets from the pasty kiosk by the main entrance on card. ( They do great sausage rolls and cheese and onion pasty's too)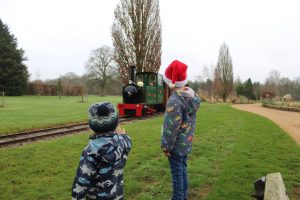 The train is fab. Its such a lovely little journey and the kids always love it. I'd say Clark likes it just as much as the penguins. It does get busy but its not a huge wait in between rides. Pick your time wisely and you wont have to wait very long at all.
Wrapping up
By this point we'd pretty much done the full loop. We just had the Penguins to say goodbye too, The Madagascar walk though with the lemurs and the gift shop left.
The walk though is a really lovely way to get up close to the cow's as Elliot called them at one point (that child's going places). We had to stop when there was a traffic jam of people watching 2 of the Lemurs licking a guys shoe's. Thoroughly enjoyable it was too.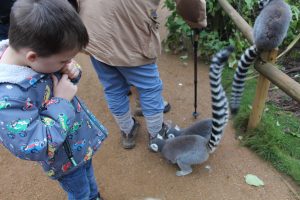 We weren't originally going to go to the gift shop as it was the day after Christmas. However the guilt was still there in the back of my mind over Elliot having clearly more Christmas Present's than Clark. So i said he could go and get a penguin teddy.
Walked in an B'Jesus it looked like the shop had been ransacked! there was fuck all left on the shelves. Luckily we managed to grab 1 of the 3 penguin soft toys left in the building. Thank fuck it was a small one and not a human sized one too. I asked Clark what he would like to call it. After some deliberation he settled on Ruby Jane….WTF! No idea where that came from. Ah well as long as he's happy i guess.
Back in the car and off home we went. Both kids were asleep withing minutes. I lasted about 15 mins before i nodded off. Its ok i wasn't driving.
Cotswold Wildlife Park Stats:
Distance from Bicester: 35mins
Sat nav: Bradwell Grove, Burford OX18 4JP
Wheelchair friendly: Yes
Equipment upkeep: 10/10
Cleanliness: 9/10
Facilities: 10/10 Toilets everywhere
Age range: All ages
Safety: 7/10 you cant ignore the possibility of an escaped lion no matter how slim the chance.
Fun factor: 10/10
Dog friendly: Yes but not in the Animal houses.
Conclusion
We have never been to Cotswold Wildlife Park and come away thinking what a shit day that was. In Fact we always come sway feeling like we've had a great day. The boy's love it and there is so much for everyone to do (There is a farm section too but we skipped it today as my Cankle was starting to play up. Fuck you Stanwick lakes) I honestly don't think many people will say they don't like it here either. If you do you're dead to me.
Links & Photo's
https://www.cotswoldwildlifepark.co.uk/
For more animal fun check out some other idea's HERE
Photos
My photo's aren't as informative this time around. I received a new Camera for Christmas and had to delete most of the photo's because they turned out shit. Looks like i wont be training to be a wedding photographer any time soon. Unless the bride and groom are Fugly and you need photo's of them with no heads.