Here comes what I think may divide a lot of you. I know how many people love this place and there absolutely no dispute that the flowers are pretty and the staff work hard.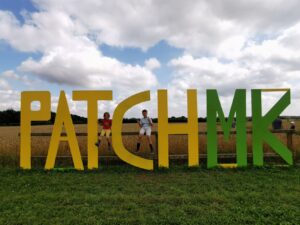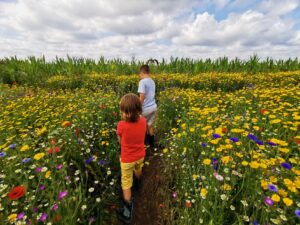 The Patch MK
Main Points
Seasonal opening
Review based on the sunflower fields
Stunning photo opportunity
Better suited for toddlers
Bloody Expensive
Pre booking required
When I say expensive I mean for 3 of us it cost just over £16 then when you get into the patch you buy food (understandable) but then you start adding up the rest. The barrel rides at £2.50 a pop and then the sunflowers at £2 a pop. All in all we spent about £40 and £16 of that is to well ermm walk round a field.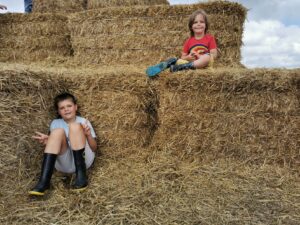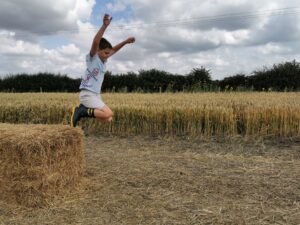 What's At The Patch MK?
For your money there's the hay bale mountain to fight to the top of and attempt to photograph your child with no one else's kid in the photo. Also you have the den making section, A couple of tractors to climb on and the slides. Other than that it's just an expensive photo opportunity very pretty one though.
The food was lovely and I was drooling over the pulled pork rolls but fat club and all that ergh. Majority of the staff were lovely and smiley too.
I personally think the patch is better suited for toddlers if I'm being honest. Although a stunning setting I can't help feeling a little bit disappointed and poorer. Yes you could go and spend nothing but kids and whining normally means money especially when you're not allowed to take your own picnic.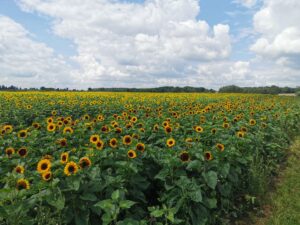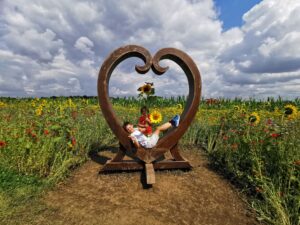 The Patch MK Stats:
Distance from Bicester:
25 mins
Sat nav: The Patch MK, Mount Mill Farm, Milton Keynes MK19 6DG
Click to load sat nav
Wheelchair friendly:
Yes but could be difficult after heavy rain
Equipment upkeep:
10/10
Cleanliness:
10/10 I'd say for toddlers
Facilities:
Toilets at bottom, car park and, café
Age range:
All ages but personally I'd say better for toddlers
Safety:
9/10
Fun factor:
6/10
Dog friendly:
No
Pushchair Friendly:
Yes again could be a bit hard going if its muddy
Bikes and Scooters:
No
Value for money :
£££££ Very expensive for what it is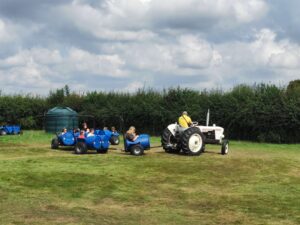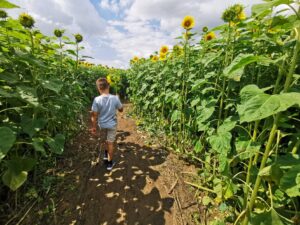 Conclusion
I know there's lots more days out I could have spent that money on and got a full day out or even a full day out with £40 spent. I think that at the £2 per stem they were charging when we visited they could have at the least thrown in 1 per family for free. It may have sweetened the £16 entry we paid
Seems like most places are now charging more but not really doing much more. Going to blame that on the stupid bloody virus for that one.