It's been a while since we've visited a farm park so after seeing a Facebook advert for Cotswold farm park i thought we'd give it a go. Just goes to show that Facebook adverts do work.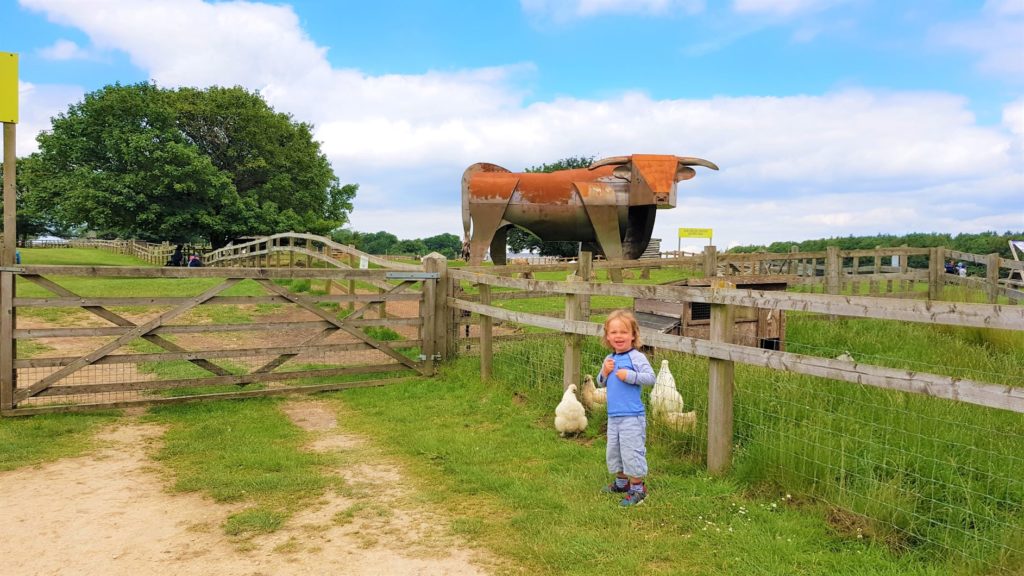 We visited on a Tuesday during term time when Clark was at school. Why a Tuesday? well because i hate crowds and there was a toddler Tuesday offer which meant it only cost us £9 for the day. Bargain!!
A little About Cotswold Farm Park
For us in Bicester the dive was a bit of a mission. (just over an hour) Luckily it was a pretty one through the Cotswolds and it was well worth the drive in the end. Do watch out for all the posh wankers in their porsche's and 4×4's that believe rules of the road don't apply to them because they have a butler and an Au-pair in their mansion. Elliot graced me with a nap on the way so when i saw a huge poppy field i could pull over and take a sneaky photo without him screaming " OUT, OUT".
I've been meaning to head to Cotswold farm park ever since Clark was supposed to go for a school trip. I paid up but then last min pulled out because it was really windy. I had visions of the coach being overturned in the high winds. Needless to say I'm not that kind of mum anymore and I'd drop kick him out the door if it meant a days peace and quiet.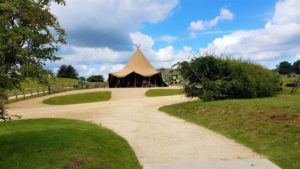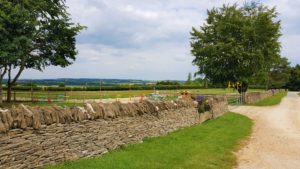 Not only is this place a farm park you can also camp here too. We've not braved that yet but maybe of interest for any seasoned campers out their with kids.
Apparently its also the home of Adam Henson. Not going to lie i don't have a shitting clue who that is. Although i picked up a few snippets of information on the Tractor safari.
Entry Into Cotswold Farm Park
Once we arrived (after my sat nav pissing about and sending us into the arse end of nowhere) the car park was pretty quiet still so parking was no problem even for me.
Luckily it was fairly sunny so we didn't have loads to pack. We headed over to the entrance to show our tickets. there was a pretty small queue but it wasn't an issue and not a very long wait either.
There are lots of different entry options so make sure you have a look before you head over to make sure you're getting the best deal. As i mentioned earlier we got the toddler Tuesday deal which is only available online. I pre-booked the tickets that morning and it only cost £9 all i had to do was show them the email i got sent.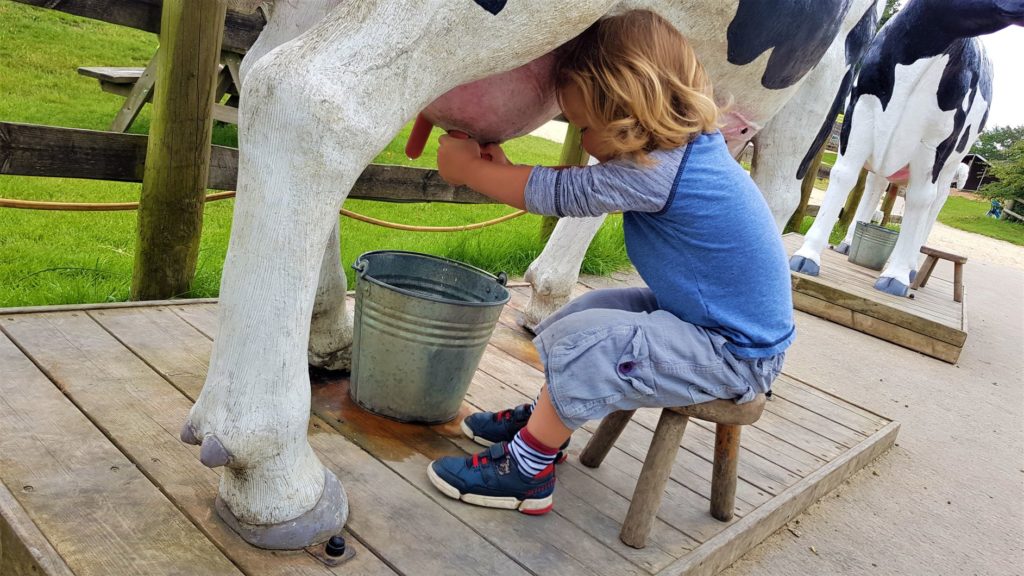 I do love that they have lots of different tickets available. It's one major thing that i would say the likes of Green Dragon Eco Farm are missing. Quite honestly after today I'd much rather drive the distance to Cotswold Farm Park anyway.
Make sure you grab a bag or two of animal feed while you're getting your tickets too. Only 60p and one bag lasted us fine. There's loads of animals too feed though so if you have more than one child I'd recommend a bag each for them.
We're In The Farm Park
First thing i saw when we got in was the huge tepee which i assume is for sheltered picnics. Just behind this were the main farm buildings. Before Elliot could leg it and wet himself because he cant be bothered to go to the toilet we had a loo stop. The only way i can get him to go to the toilet when we're out these days is by pretending that i need to go. Otherwise he hulks out. I mean i get it, going to the toilet is a huge inconvenience especially when you're having fun.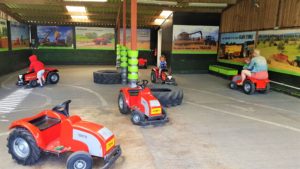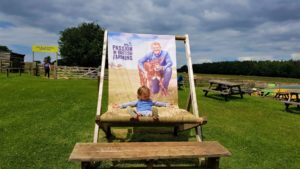 We kicked off the fun by milking the huge pretend cows before heading over the the ride on motorised tractors. These were awesome and thankfully Elliot was just the right height to be able to play on them. Unfortunately for him he's inherited his mothers lack of spacial awareness. Resulting in him running over my foot which bloody hurt! those tractors aren't light. Little tip. If the pedal doesn't make the tractors go there's a little silver button below the steering wheel. Click that and they should work again.
Cotswold Farm Park's Discovery Barn
After Elliot was done crashing into walls we decided to head into the barns. First up was the discovery barn. Be prepared for cuteness overload.
As soon as we headed in we noticed that there was a corner for holding chicks. Elliot was straight in there. He was so chuffed to be holding one and although he looks like hes go the chick in a choke hold he was in fact super gentle.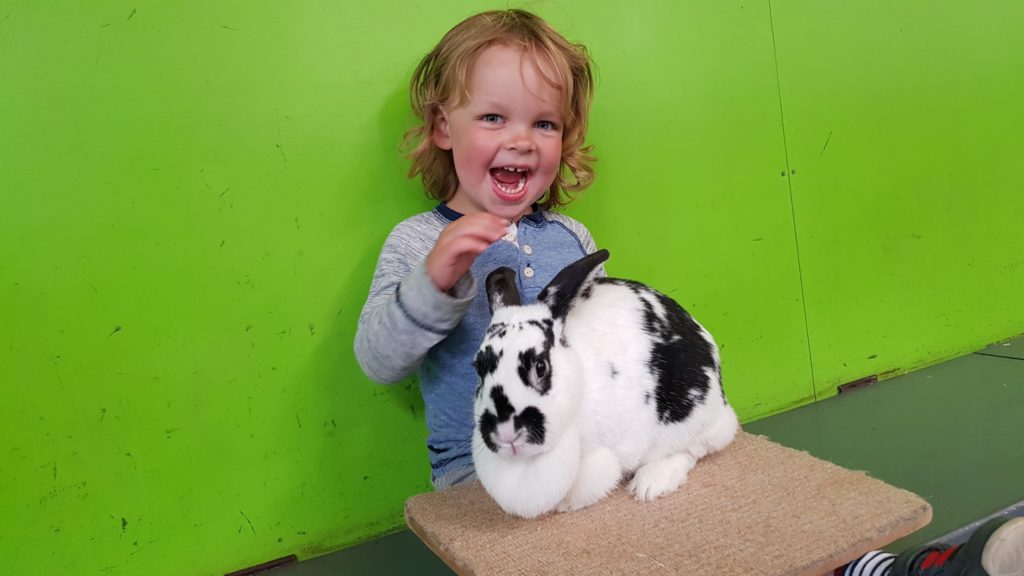 There were lots of animals in the discovery barn including gorgeous little piglets, goats, guinea pigs and Elliots favourites, Rabbits.
You cant feed any of the indoor animals but in the barn they say they always plan to have an animal available to hold and thankfully when we went back a little later Elliot got to cuddle a rabbit.
Adventure Barn
Next up was the Adventure barn with its indoor beach which Elliot again loved. (don't think there was anything he didn't love.) There was a school class in the sandpit when we arrived so i convinced Elliot to try out the other sections first.
There was a construction site which was an indoor pedal tractor course with hats to wear. Elliot hasn't mastered the art of peddling yet. He's getting there though but it meant he didn't last long on the tractors.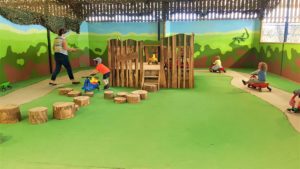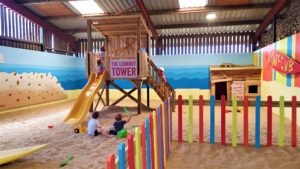 The Didicars in the next area would have been better suited to Elliot if it wasn't for the fact that he kept falling off them. He's about as agile as a brick that one unless he's climbing that is.
I sent him into the beach in the end anyway. The school kids didn't stay long anyway and he had a great time whizzing down the slide, digging and climbing the rock wall. Luckily there were tables for me to sit at and watch while i had a coffee from the kiosk in the corner.
Animal Barn
After a snack and a play we headed over to the Animal barn. This is where you can bottle feed and watch the animal shows. We didn't get to see any of that but we still go to see plenty more animals.
Even smaller Piglets. Seriously makes me want one of those micro pigs. Knowing me I'd be one of those people who ends up with a giant pig in their front room and the inability to no longer eat bacon.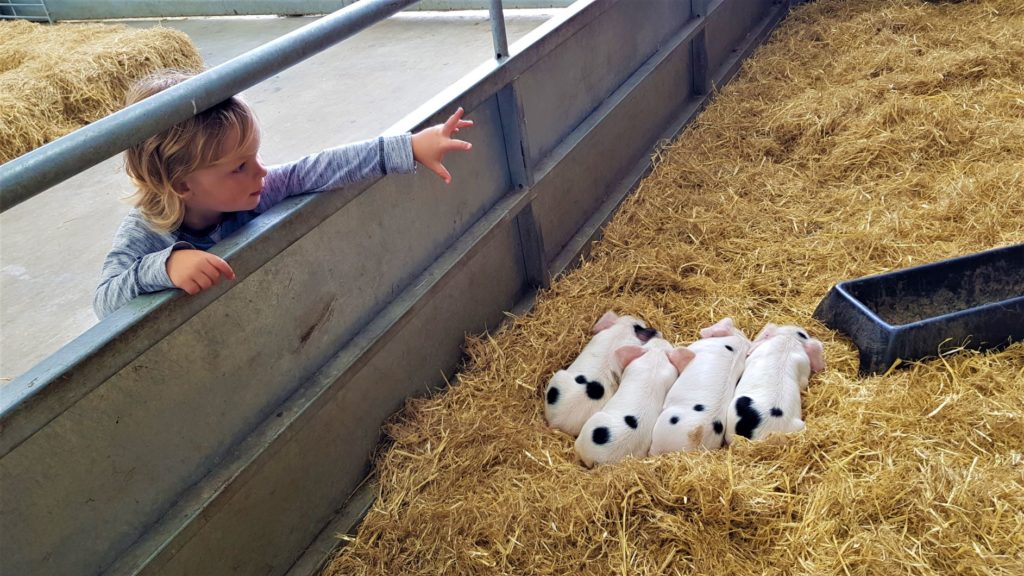 They do sheep shearing in the Animal too and then they sell off the wool in huge bags which you can see next to the stage which i thought was a great idea. Although i wouldn't have a clue what to do with it myself.
After a mooch around it was time for us to head outside for some more exploring.
Tractor Farm Safari
We headed out and i noticed that it was only 20 mins until the next tractor trailer ride. Time to pretend to Elliot that i needed another wee so he'd go. Knowing my luck he'd want a wee in the middle of the tractor ride otherwise.
Luckily we managed to get in the queue at the right time. They only allow 30 people on at once and we managed to sneak in before a school group.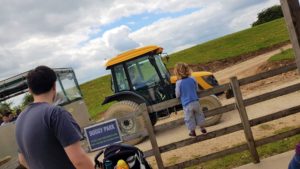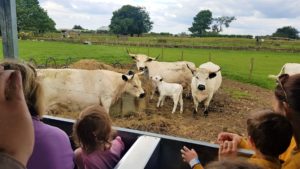 When you're choosing your seats make sure you try and grab a seat on the right hand side (facing forwards.) Otherwise like us who sat on the left you'll not get a great view of all the animals. The whole way round.
It was a nice tractor ride. Elliot's first to be precise although i cant say he was too impressed after the novelty wore off. I think it was going a tad too slow for him. You'd think he'd know how slow they go after the amount of times we get stuck behind the buggers.
Time For Some Outdoors Play
The play areas at Cotswold farm park are good. They aren't over the top but they do the job. I like that they don't take the attention away from the animals like they do at some other Farm Parks.
Be weary of the zip wire. It may look slow but fuck me it doesn't half jolt at the end. It was a huge arse clenching moment as the whether Elliot would be catapulted of not. Thankfully hes's a season zip wirer now.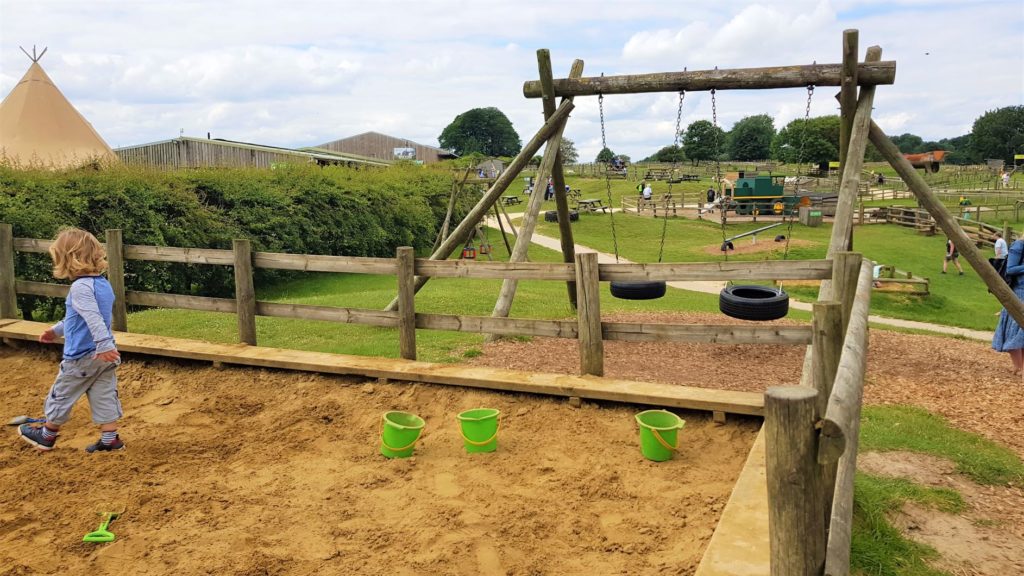 There's even more sand pits outside meaning loads of bum cracks filled with the stuff to try and bath out later.
Watch out for the slides they're faster than me running after the ice cream van before it leaves. There's also anther tractor ride on course outside too. Basically if your kids like ride on's and tractors they'd be in heaven at Cotswold Farm park.
Rare Breed Trail
The rare breed trail is where the feeding frenzy begins. Make sure you ration your food round this area the animals act like they've been starved. Bit like how the kids act after school too despite the hidden snack in their school bags.
Elliot's preferred method of feeding was to feed the animals one pellet at a time. Very diplomatic but fuck was i going to have the patience for that so while he wasn't looking i was feeding them behind his back.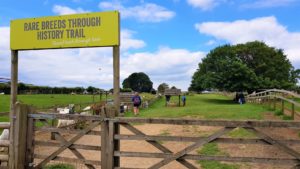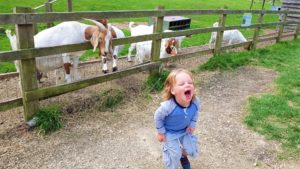 Now these animals are all rare breeds. They could have stuck a tortoise with some wool on its back and i wouldn't have noticed the difference. I did at one point hear a mother call over to her daughter "come and feed the sheep poppet". there was me thinking HA thick twat they're clearly goats. Turns out I'm the thick twat. They were indeed Sheep so make sure you read the descriptions first.
There are load of listening posts as you go round too. Or as Elliot thought, Loads of phones. He'd press the button and the recording would start by saying hello. So of coarse Elliot thought they were trying to talk to him. So there i am feeding the animals behind his back while he's shouting "Hello" at the top of his voice into a speaker.
Nearly Done I Promise
Now the jumping pillows were shut for maintenance when we visited but for once they were actually maintaining them. With the promise of an ice-cream for the nearby Kiosk Elliot soon forgot. There are 2 pillows though one for the 6yrs and over and one for the under 6's which i thought was a brilliant idea for when they are open.
After the ice- cream we did head into Dolly's playpen which is a small indoor soft play for preschoolers. Again another nice touch and great for real young ones while the older kids play on the pillows.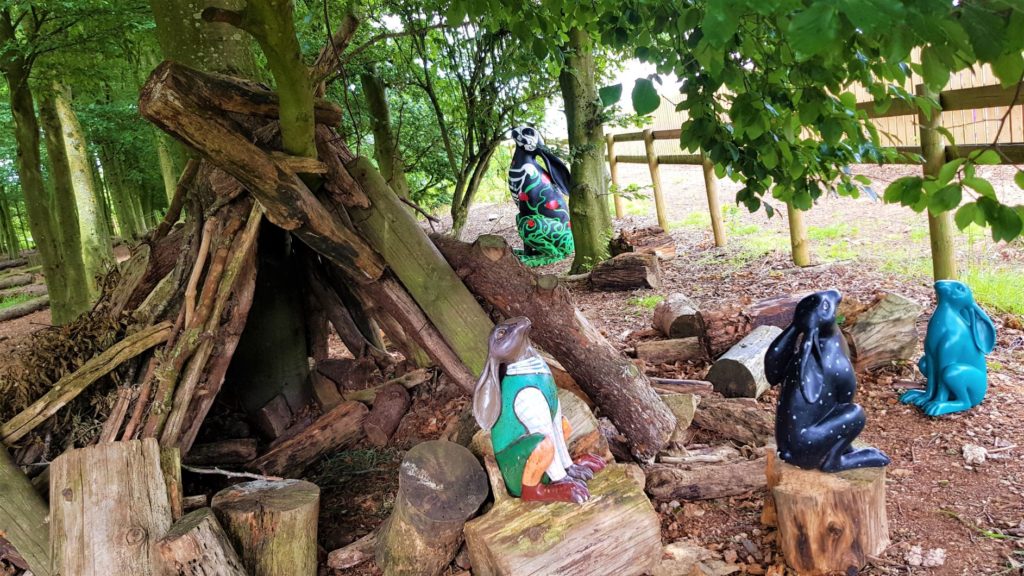 The woodland walk and conservation area is another lovely section. You can watch the birds feeding from behind the bird hide, bug spot in the pond and have a lovely run around.
The woodland area had lots of giant Hare's all dressed up. Not really sure what it was all about but Elliot approved and had fun spotting them. There's lots of woodland fun to be had in here from den building and balancing on the logs of play equipment. It looks like a great spot for forest school too.
Finishing Up
After lots more playing, exploring and animal feeding we did the rounds again on a few of Elliot's favourite bits. So the motorised tractors, The discovery barn and a quick go in the play park again.
Then i needed to start ushering him out (quick toilet stop). As he'd been such a good boy i bribed him out with a promise of something from the shop. Now the shop cant be avoided you have to go through it to get out. Suck it up and deal with it. Thankfully he picked some slime which didn't break the bank.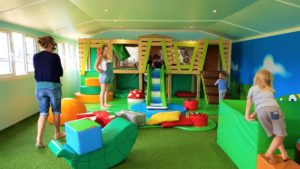 There is a new restaurant and bar called the Ox shed. I had a mooch around and it looked lovely and maybe one to try if you didn't bring a picnic. The bar and Restaurant i believe is open to the public too so you don't need to visit Cotswold farm park to use it. The views from the garden and veranda were lovely too. If only we lived a bit closer it'd be one to try out without the kids.
I've waffled on for way too long as it is and I've probably missed out loads of bits but I'm sure you'll all make your own way round and figure it out anyway.
Cotswold Farm Park Stats:
Distance from Bicester: 1hr 1 min
Sat nav: Guiting Power, Cheltenham GL54 5FL Click to load sat nav
Wheelchair friendly: Yes
Equipment upkeep: 10/10
Cleanliness: 10/10
Facilities: Everything you need
Age range: All ages
Safety: 8/10
Fun factor: 10/10
Dog friendly: No
Pushchair Friendly: Yes
Bikes and Scooters: No
Conclusion
We absolutely loved Cotswold farm park. Its not too commercialized or tacky. The animals all looked really healthy and well looked after. Every single member of staff was nice and helpful too.
I love how the farm animals are the main attraction here unlike some other farm parks where its ends up being more about the playing. It is 100% worth the drive out there too so if you're on the fence just do it.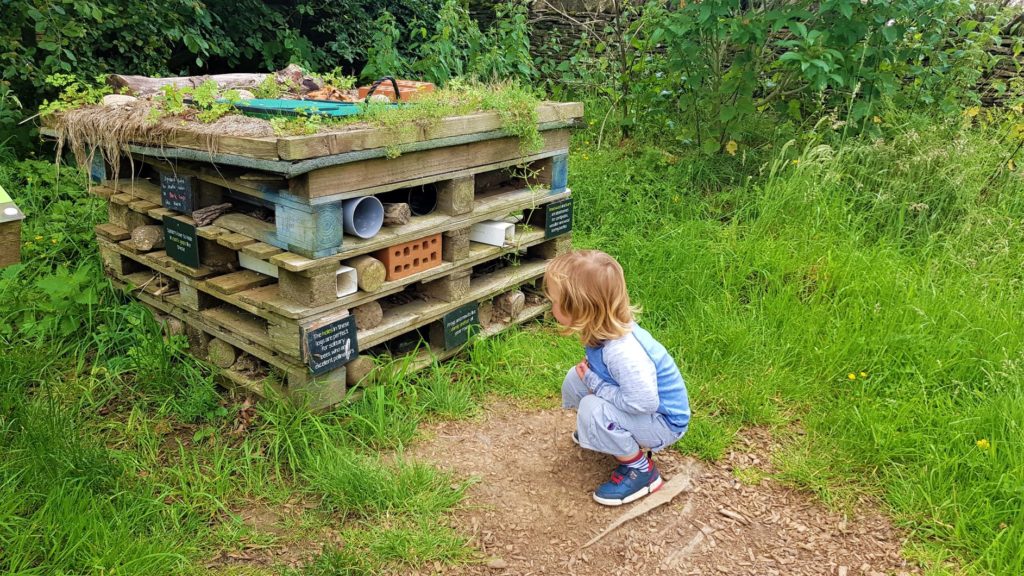 Once you're inside everything is free (apart from food and drinks) so you don't get stung by hidden costs. It really is a fantastic day out.
There are more things to come in the summer months too which they were working on while we visited. Including a Maize maze which we want to go back and try out. Its possibly on of the nicest, cleanest and well organised farm parks we've been to so far.
AOB
For more information and tickets prices then check their website HERE
For more farm parks and zoos then check out some of my other reviews HERE