We've not been to many farm parks recently especially because we live so close to green Dragon. I can safely say that after yesterdays visit to Rookery open Farm we will be visiting more often. We absolutely loved it!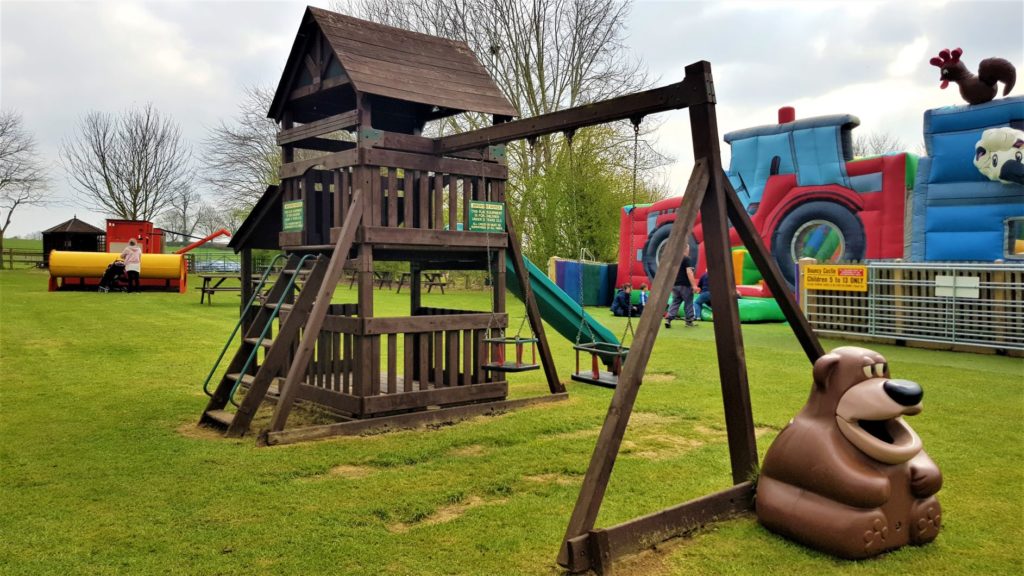 I'll probably be comparing Rookery Farm to Green dragon a bit throughout the review. I would however say that Rookery farm is more like a working farm than green dragon comes across. It felt a lot less commercial too.
Rookery Open Farm Cash only!!!!
Rookery Farm is under an hour away from Bicester and its a nice easy drive (if you don't miss your turning like our designated driver did.) We went on a weekday during term time with a friend and her little boy Roo Roo (Rupert).
Parking was easy although you need to keep your eyes peeled for the entrance because it isn't signposted very well. In fact there was no sign whatsoever. You will basically be parking in a farm yard. This car parks not that big but I'm pretty sure there is overflow parking further down the road.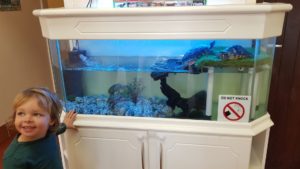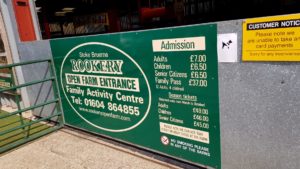 You must take cash with you. They don't accept card. Seems a bit weird but only annoying if you don't bring cash but you cant say i didn't warn you.
Its cheapish in my opinion and cheaper than green dragon. Although by the time you've driven there it'll be similar prices anyway. I think most farm parks can seem a bit pricey but when its ram packed with activities that'll keep you and the kids entertained all day its really a small price to pay.
Awesome Soft Play At Rookery Open Farm
After you pay be prepared for either a battle with your kids. Or as we did cave in because there was shit all chance we were getting past the massive soft play without the boys going on. Yep its a bit annoying but to get into the farm bit you have to go through the soft play. Its like waving a doughnut in front of a fat kid then telling them they can have it.
To be fair to them the soft play is pretty damn cool. Its all free, everything is once you've paid to get in (apart from food). There are plenty of tables to sit at outside the soft play but we couldn't leave our kids to play solo because they didn't want to go in the toddler soft play. Oh no they wanted to go on the older kids one. To be honest i don't blame them either.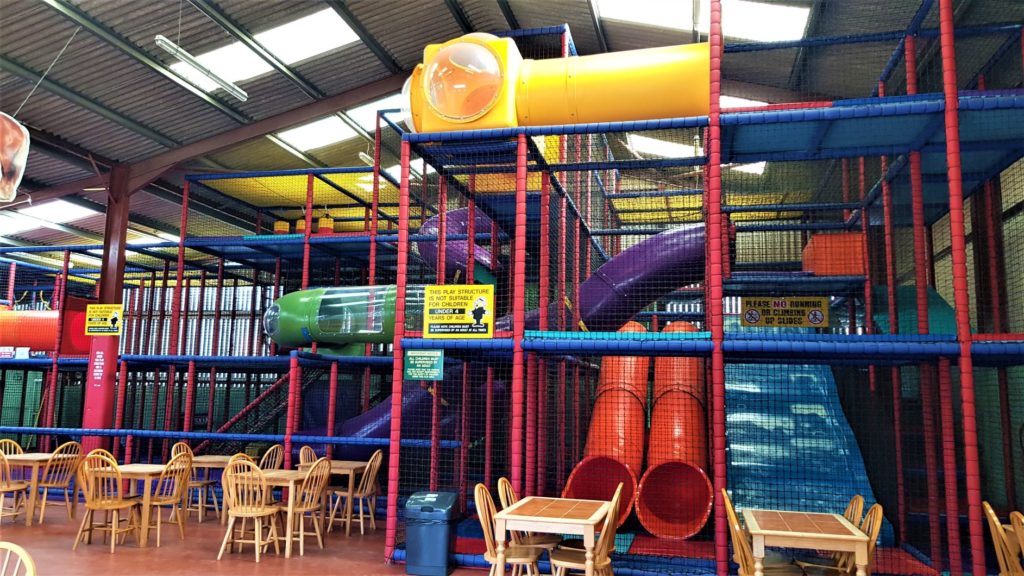 Be warned the slides in the bigger soft play are fucking fast. I shit you not they're scary. Make sure you wear your big pants because you don't want to leave a mark going down. The kids loved them. Another thing to note is the cargo net to get up. Shit me it hurts your feet. Thankfully we found a much nicer way to get up in the end.
The big soft play is awesome. The toddler one is still good but they have one of those air blowers and a ball pit……with no balls. Tell a lie Elliot found 1 ball. Not sure if they were being cleaned or if they'd just had enough of balls flying everywhere (hehe). Either way the soft play at Rookery Open Farm is a shit load better than the one at green dragon.
Pets Corner
Managed to get the kids out of the soft play. I don't think our adult nerves could take the big twisty purple slide so we ran before we had no choice.
Next stop was pets corner. Its a lovely area and its all under cover. It has a lovely little goats area in the middle that you can walk into and cuddle a goat or get nutted by one. The goats here were really friendly too so you wont need to bribe them over with food just to cop a feel.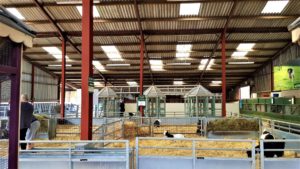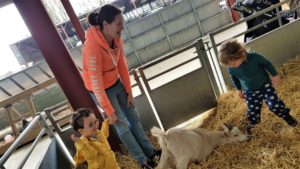 Pets corner also has other animal pens to walk in like the rabbits area. They have lots of open cages too so you can just stroke a rabbit and get up close. None of this was being supervised and at times i was tempted to shove the white fluffy one in my bag. It was a lovely relaxed natural feel in the barn. All of the animals we saw seemed well looked after and really happy. The only downside i would say way that there were no talks or feeding of the animals. Which we… i mean the kids would have enjoyed but maybe this is something they do on weekends?
As we're in full swing spring we had the pleasure of getting to see lots of little new born Lambs and kids (baby goats for the less academic). And while me and my friend loved watching the little babies the two boys looked like they couldn't give 2 shits. They just wanted to climb and act like nutters. Which brings us to the outside.
Bouncy Castles
The bouncy castles, Not just your ordinary run of the mill simple bouncy castle oh no these are fricking awesome (i know because i snuck on and had a go while pretending too look for my child) There are 2 large bouncy castles one for older kids and one for younger kids. Its a great idea for when its busy as it'll keep the smaller kids safer. All older kids go nuts on a bouncy castle. Because it was so quiet we ignored the signs and went on both (again not supervised) Your kids will love these bouncy castles and you if you managed to sneak on too.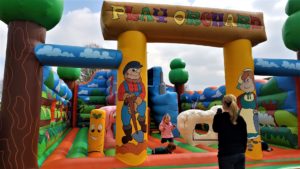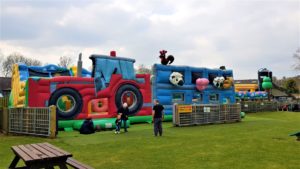 Not only do they have bouncy castles they have loads of play sections including 2 play areas, loads of climb on tractors, a really cool tunnel system and a pedalo which doesn't pedal and isn't on the water which weirdly was a massive hit with the kids.
There was a great little tractor ride on area for the little ones as well as some larger go karts. Now the go karts were awesome. They boys were too small to go on them so of course me and my friend had to drive them for the kids. Fuck the signs that said only 1 person per go kart we had a great time racing round and the kids loved it.
Schlong Donkey
Next it was time for a walk around the animals outside. The Donkeys are amazing! they were so friendly and came trotting (do donkeys trot?) over to us. We soon realised they wanted us to feed them the fresher grass on the other side of their fence. The boys were there for ages pulling up the grass to feed them i think we alone have saved Rookery Open farm a job of lawn mowing that area for a few more days.
I got a lovely photo of the boys feeding the donkeys or so i thought. When i got home i was scrolling through and realised they had been photo bombed by the third donkey and his massive cock! hahaha. Might have to get that one framed for the grandparents.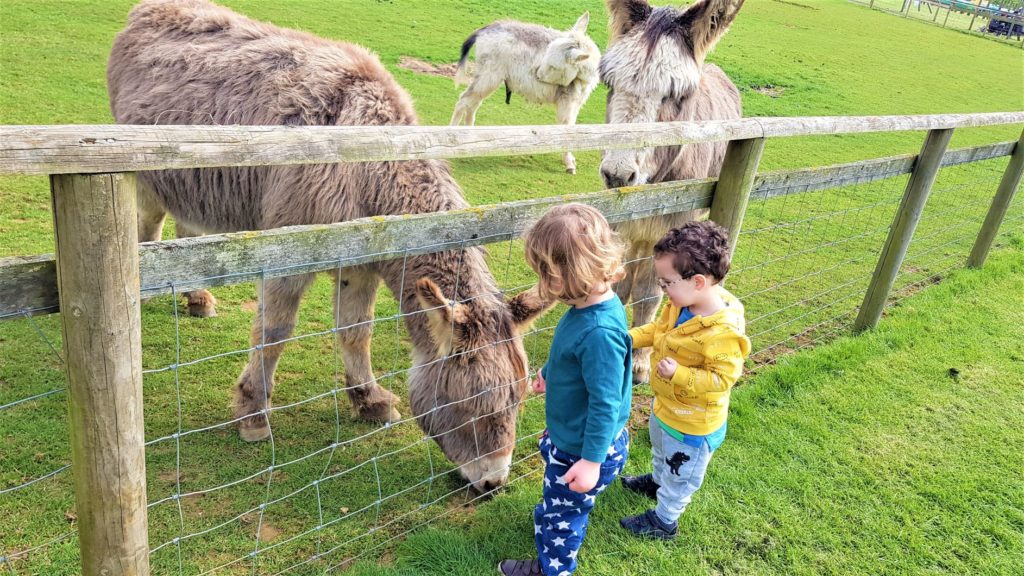 The boys had a great time looking at all the other animals and having a round round the fields and we had a great time enjoying the sun. Everything is always so much nicer in the sun isn't it.
As far as food goes we didn't eat at the Rookery open farm cafe it looked a bit shit if i'm being honest. It didn't look like they did hot food either. My friends one of those annoying people with allergies too and it didn't look like they served dust (pretty much the only thing she can eat without shitting herself) There's plenty of room for picnics though if you fancy it and while the weathers nice i think it'd be a better choice.
Rookery Open Farm Stats:
Distance from Bicester: 39 mins
Sat nav: Rookery Ln, Stoke Bruerne, Towcester NN12 7SJ Click for sat nav.
Wheelchair friendly: Yes
Equipment upkeep: 8/10
Cleanliness: 10/10 i mean its a farm so there is shit everywhere otherwise all good
Facilities: 10/10
Age range: all ages
Safety: 7/10 Its a farm kids will fall and get hurt
Fun factor: 10/10
Dog friendly: No
Conclusion
I absolutely loved Rookery open farm even the smell of farm shit was nice hahaha although I'm not sure Elliot was too keen on it.
We will be visiting again in the Easter with Clark and i think hes going to love it. I've no idea how chaotic it will be in the holidays or over the weekends but I'm fairly confident that's it big enough not to feel too overcrowded.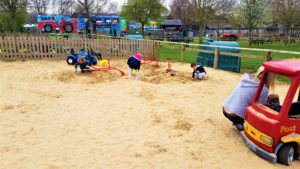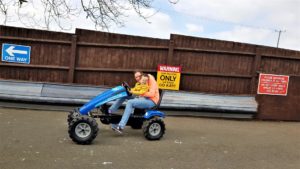 If you were to ask me if i prefer it to green dragon Eco farm i wouldn't be able to give you a definite answer. Even though they're both a farm park they both have different pro's and con's. As its a new place I'm more excited to go back here rather than Green Dragon but that's probably because we've done green dragon to death.
I'm confident enough to say if you like farm parks you'll love Rookery Open Farm as much as we did. Its worth the drive and you'll fill a whole day up if you want to. Just don't forget to take cash!!!
AOB
If you would like to have a look at their website (you can also play spot the spelling mistakes) you can do so HERE
If you'd like to see some of the other farm parks of zoos we have visited you can do so HERE