We visited Bucklebury farm park about a year ago pre The Family Ticket. This is why i haven't reviewed it yet. Up until around 7 months ago i wasn't as vocal with my cynical views on everything. Lucky for you i am now.
I will try and remember as much as possible from our visit but i will probably miss out loads. My memory is shot to shit thanks to my misspent youth.
I'll kick it off with the fact that we loved it and had a great day. We even saw some very amazingly special celebrities too.
What is Bucklebury Farm park?
Funnily enough its pretty much a farm park. However Bucklebury farm park has lots of things different that sets it apart from the others.
I would say that their main attraction would be their Deer safari. Its awesome, Now we didn't get to do the whole tractor ride with it because the fields were too muddy. However we still got to go into a trailer in the middle of the Deer paddocks and feed the deer and listen to a really informative talk about them.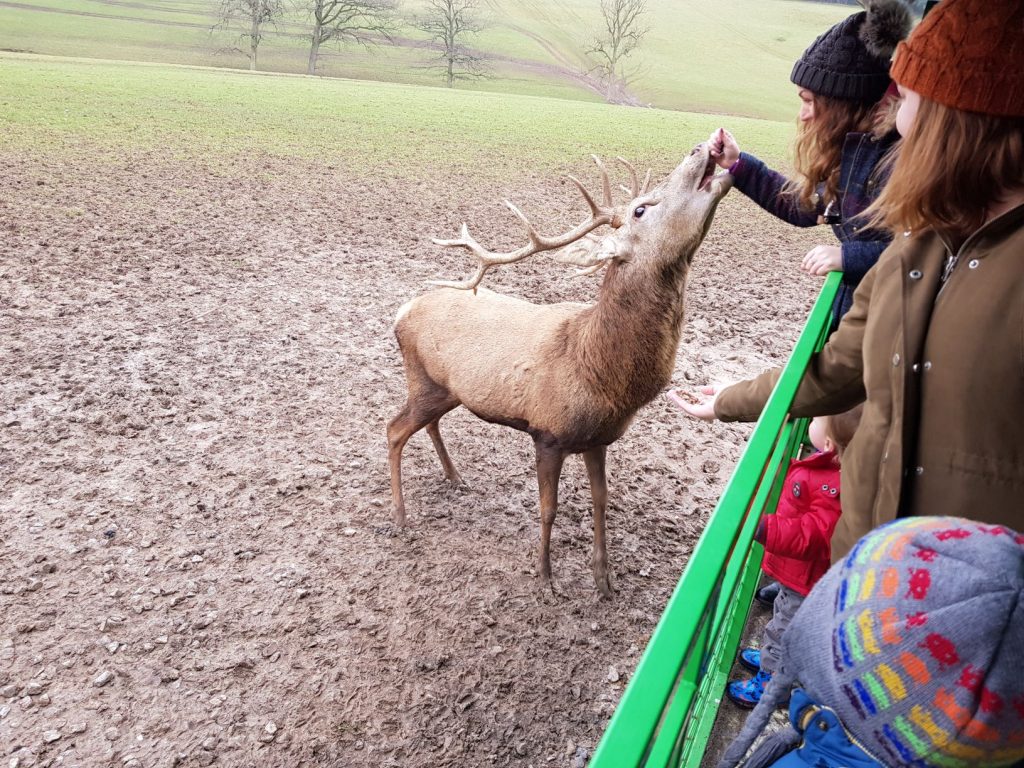 Kids loved it…maybe not as much as me and my friend Shelly. Deer swarm the Trailer and happily eat out of your hands. The feed is free too. I loved the stunning white stags the best.
We will be going again when its less wet so we can try out the tractor ride with it. Just want to add that these tractor trailer rides are free too.
Bertie The Play Bus
Clark is obsessed with busses so as soon as he clapped his eyes on the play bus we had it none stop "can i go on the bus" over and over again.
Bucklebury farm park was so quiet. It had started to rain so thought we'll just get this over and done with. Soft play on a bus (stationary) great cant bloody wait.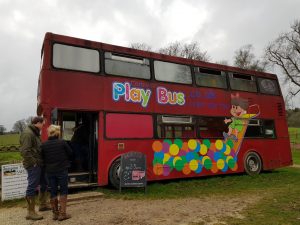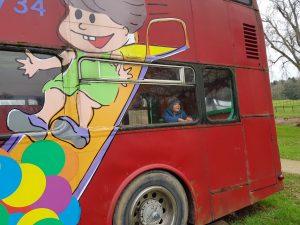 Off he went. He found some posh kids to play with. I'd popped outside because the parents of the other kids were in there and there wasn't much room.
As i stood peering through the window trying to keep an eye on Clark. Up popped this little girl. She banged on the window gave me a cheesy grin and waved. MY HEART SKIPPED A BEAT!!! i recognised the little girl.
Prince and Princess
Off i ran to get my friend Shelly. "That's princess Charlotte isn't it" i asked her. Fucking useless she didn't have a clue. At this point i was starting to doubt myself. Maybe it was just coincidence that her name was Charlotte.
I squeezed past the hoard of people to see where Clark was (aka going for a right nosey) then there in front of me stood prince bloody George. They were calling his name and telling him to play nicely.
SHIT THE BED!!! my biggest claim to fame ever. I backed out of the bus because i could feel my self staring and it wasn't very fair they were all playing nicely together like normal kids and they didn't need my mug bogging them out.
Came out of the bus and informed the husbeast that in fact that was 100% the prince and princess. He couldn't give 2 shits! off i ran on my phone messaging everyone i thought would actually give a shit.
Were not alone
Then i started to realise that we weren't alone. On the other side of the field stood some steely eyed, don't want to mess with him mother fucker was watching us like a hawk. Proper shit myself. OMG is he going to shoot us or tell us off did he think i was going to take a photo because i had my phone out?
I mean this was royalty of course they aren't going to turn up without any entourage. Bet he was packing too.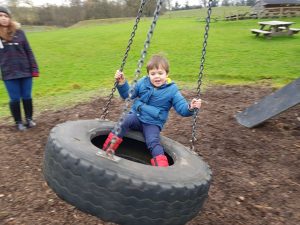 I popped back into the bus at this point to get Clark off. We needed to look around the rest of the place and Elliot was starting to become restless.
As i got on Clark was coming off and made some comment about wanting to drive the bus. It was then that this really posh lady turned to me and said something and laughed. Can't remember for the life of me what it was that she said. I was too busy acting awkward as fuck over the fact that Carole Middleton was talking to me. Yep they were there with their grandparents.
GO Karts
We managed to get Clark off the bus without a hiccup. So glad he didn't play up in front of royalty.
Off to the pedal kart track we went. These were great. The older kids had a go racing round the track too. I managed to get hold of a 2 seater one so Clark could pedal his brother round.
After a good ride round it was time for some lunch. Not before a good old bounce on the giant inflatable pillow (Same as the one at Green dragon Eco Farm).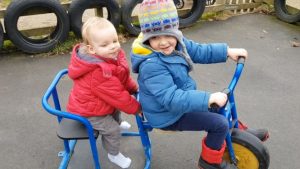 We went to the indoor area with the cafe. In here you'll find loads of picnic benches for you to eat at. Its not amazingly warm inside but does offer shelter. There is a proper cafe indoors but you cant take your own food in there.
Not only do they have the picnic are under the shelter they also have some huge slides. Including a couple of straight drop slides. Clark was up and down the wavy slide while i spent the time trying to convince my friend to do the drop slide because i was too scared to do it myself.
She did it and took a small child out in the process nice one Shellend (her names Shelly)
Farm Park
Lunch done and off we went to visit Bucklebury farm parks small farm area.
Its a really lovely little area. Nothing too fancy. It has the usual suspects. Pigs, goats, sheep, Alpaca, donkeys and cows.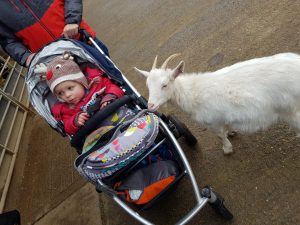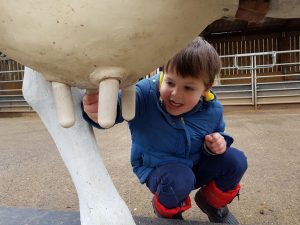 The boys had a great time feeding them. The goats and chickens roamed freely which Elliot loved.
Clark's favourite park was milking the fake cow. Its in the middle of the yard and is connected to a water supply so it actually gave him the impression he was milking the cow.
Obstacle course
After the zoo we went for a little walk and came across the huge assault course which they all had a go on while i looked after Elliot.
Clark loved it and so did the other 2 adults. Its better suited for the older kids with lots of balancing and climbing required.
we were coming to an end. The kids were tired and it was bloody freezing. We promised Clark that he could have a play on the castle before we went.
They have a big adventure playground there too which we didn't have a go of apart from the zip wire and tire swing.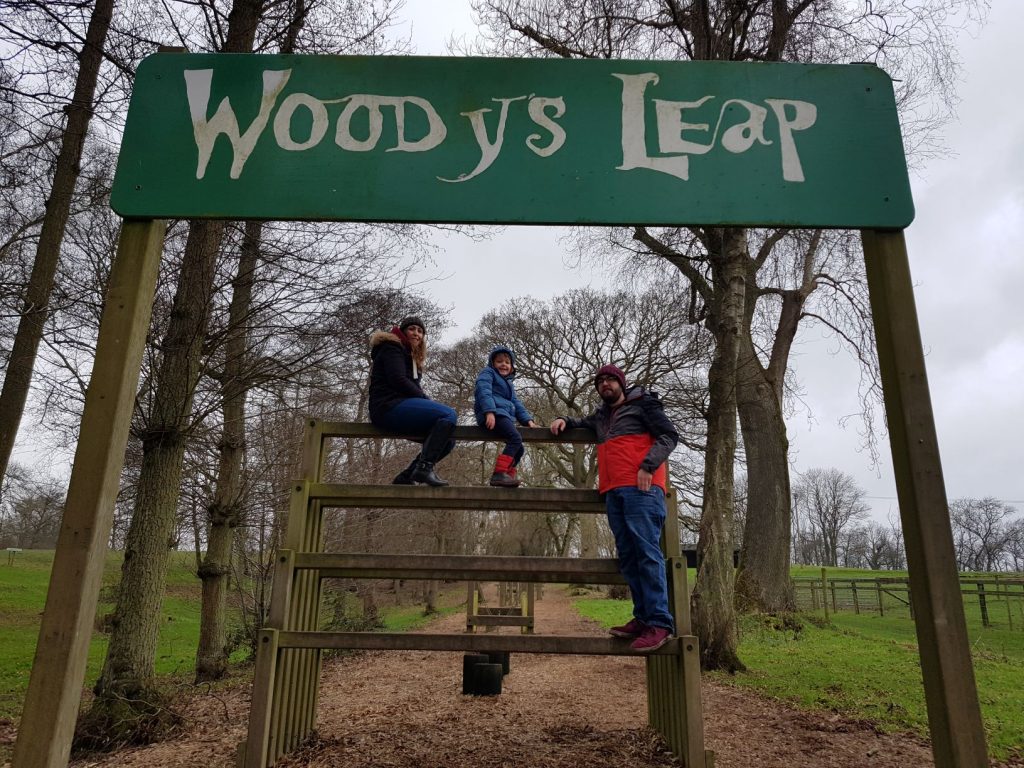 As we walked towards the Castle i saw Carol Middleton carrying Princess Charlotte in her arms. The little Princess was in a right strop about something. It was so cute to see.
As Clark was playing in the castle it wasn't long before he was joined by Prince George and his granddad. They had a little play again and I'm ashamed to say it I took a sneaky photo. Up until now i have hardly shown anyone. I felt bad because they were just trying to be normal and have some fun. However I couldn't resist the opportunity to show Clark when he was older that he had played with a prince and princess.
Please don't shoot me
I was so shit scared of being shot if i took the photo so its not great. If you look closely you can clearly see it is in fact him.
We later discovered that they've visited Bucklebury Farm Park a few times because their grandparents live in a village close by.
Clark found a Painted rock by Georges feet too. Ofc he ran off with it ecstatic that he had found a Bicester rock (Berkshire rock actually). We kept hold of that rock for a year and only recently re hid it. The rock was a lovely purple ladybird.
It was time to go home. By the looks of it the royalty had departed before us.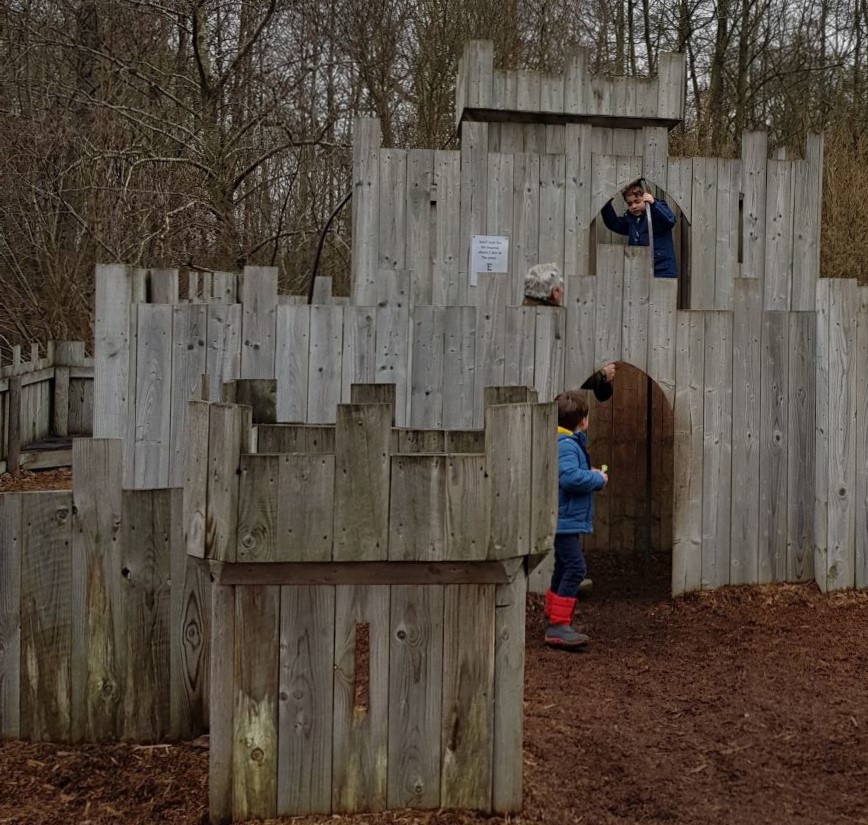 As we were walking out a good 15-20 mins later. 3 well dressed (tweed) men walked past us with huge bags.
Ahh maybe the press had caught on a little too late…….what i thought was camera equipment turned out to be bloody guns.
Creepy as bloody hell. They must have been in Bucklebury farm park watching undercover ready to shoot anyone that causes threat to the safety of the royals.
We watched them all pile into their unmarked blacked out land rovers and drive off. Its been a great story and i cant wait to tell the kids when they're old enough to give a shit.
Bucklebury Farm Park Stats:
Distance from Bicester: 1 hour
Sat nav: Bucklebury, Reading RG7 6RR Click for Directions
Wheelchair friendly: Yes could be tricky in places
Equipment upkeep: 7/10 few bits pretty dated now
Cleanliness: 7/10 it is a farm
Facilities: 10/10
Age range: All ages
Safety: 8/10
Fun factor: 10/10
Dog friendly: No
Prices: Children (two and over) & Seniors – £9.25, Adults – £9.95 and under 2's – Free
Family ticket: Family Tickets (2 Adults and 2 Children three and over) – £38
Conclusion
Even if all the drama of seeing a prince and princess hadn't of been going on we would still have had a great time. The Deer safari really is a great attraction and we would love to go again.
I would highly Recommend Bucklebury farm park to anyone based on our visit a year ago.
AOB
If you would like more information on Bucklebury farm park you can find their website HERE
Or if you would like to see more ideas for Farm parks you can see where else we have visited HERE