Sun was shining (Finally) and i had found out the night before that the kids in Warwickshire hadn't broke up for their Easter Holidays. Only one thing for it. Time to tackle Hatton Country World. A place that has been on my seemingly never ending list of places to review. I'm so glad we got to try out this bad boys. It's the donkeys bollocks!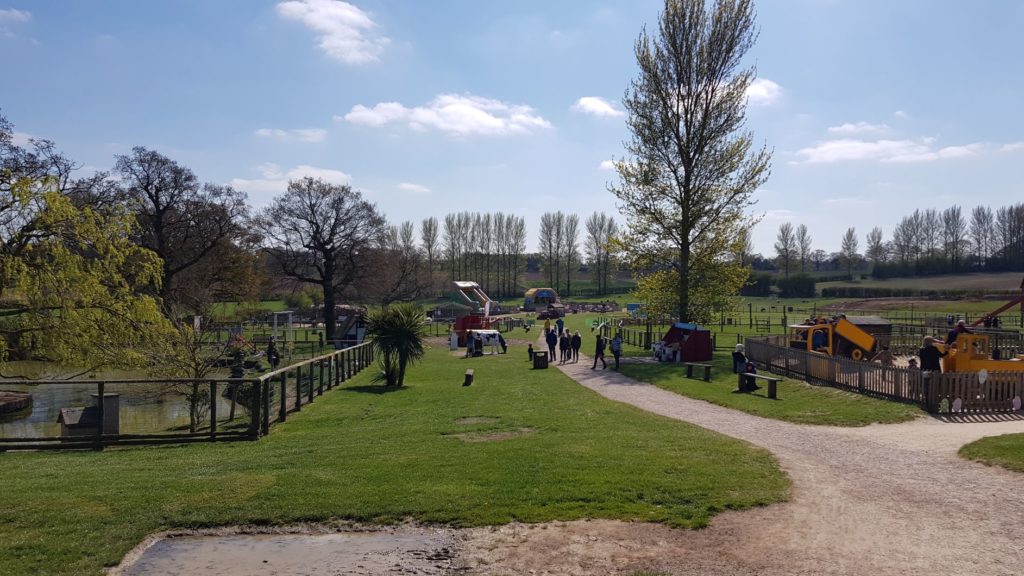 My in car sat nav was up to its usual twatty self and sent us on a magical mystery tour into the arse end of nowhere. Use google maps its a lot bloody safer.
Finally arrived and parked up in their mammoth car park. I'm guessing it gets busy during peak time. Thankfully it wasn't peak time when we visited. Me, my kids and crowds don't mix well.
Hatton Country World Is Not Just a Farm Park
So Hatton country world isn't just a farm park. Its like a bizarre village in the middle of the country but with no houses just shops, Cool shops oh and also a nursery, swimming pool , restaurants and a garden centre. Its very bizarre in a good way though. You'll know what i mean when you see it for yourself. (Check out the old fashion sweet shop btw!!)
When you get out of the shop area you will see the farm park before you. Its big and it looks amazing. The kids were super excited and raring to go.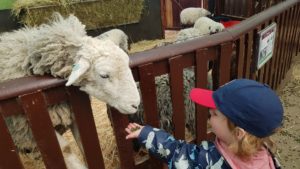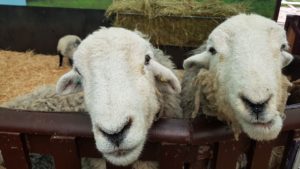 As we were out of season we paid less in fact it was pretty much half the price as what it would have cost us if we had gone a week later. What was even better is i bought the tickets online the morning we went and got a further £1 off. Every little helps.
We got our wristbands and bought a cup of animal feed too while we were at the ticket place. The food is only £1 extra and worth grabbing some. We were with a friend today and her 2 little boys which meant that Clark was even more excitable than usual.
Hatton Country World
Once we were in i had the job of trying to keep both boys from running off in opposite directions (Seemed to be the theme of the day) Clark wanted to go everywhere and as quick as possible. That child has no concept of taking his time to enjoy things. Hes 100 miles an hour or asleep. With a child like him i should be a shit load thinner. God damn you backwards metabolism!
Anyway we decided to head over to the Farm yard favourites barn. What a fantastic place this was. Much bigger than some of the animal barns we've been in at other farm parks. Not only bigger but a shit load better/cleaner too. It was amazing!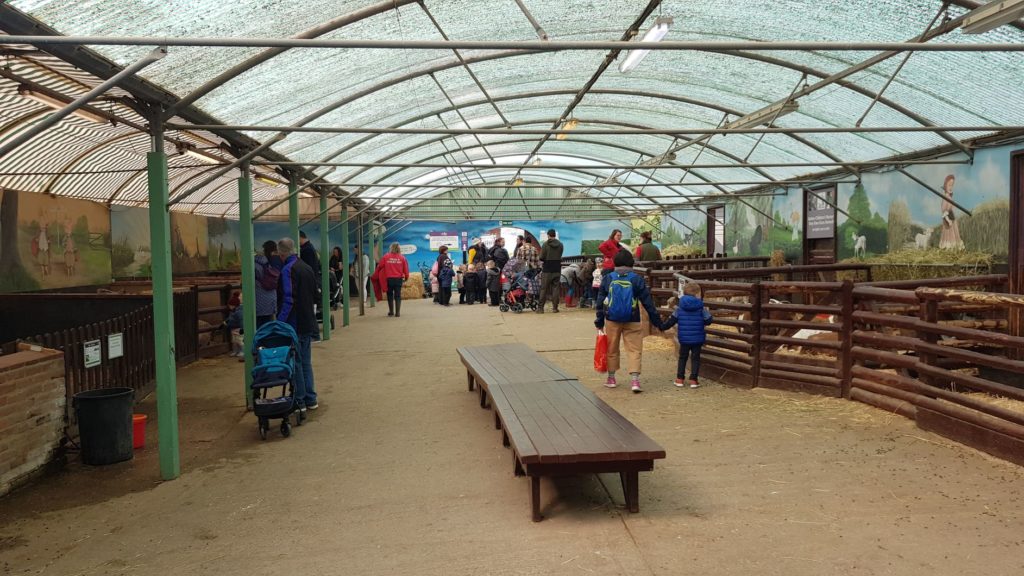 The kids were straight off to the sheep with their food to feed them. We also saw calves (Baby cows for the intellectually challenged) pigs, stupidly cute piglets, crazily fluffy chickens, lambs, chick and goats too. All under one roof it was brilliant. My favourite had to be the calves they were so nice i got to give one a cuddle (when it stuck its head over the bar) and gave me a lick. Almost made me feel bad about the steak i had in spoons on Tuesday night.
We spent a good deal of time in here looking at all the animals and it was only the first stop. Judging by the size of Hatton Country World i was doubting that we would have enough time to do it all in one day.
Guinea Pig Village At Hatton Country World
Next stop at the end of the barn through the arc was Guinea pig village. ITS AWESOME. By farm the best small furry village I've ever come across in any attraction. They even had their own canal lock with real water. The kids were in heaven. Now I'm not sure on the rules but i heard loads of other kids saying you could give them a stroke. I mean its really easy too if you wanted and who was i to call a random 7 year old that I've never seen before a liar? I went in for a stroke…..i didn't get mauled whoop.
After what seemed like another age looking at the hundreds of guinea pigs we headed through another door into the scales and tails section. Basically a huge room of reptiles and spiders and another section next to it filled with pet rats, rabbits and chinchillas etc. Personally this looked a lot like an all you can eat buffet for the snakes haha. Again the kids were amazed (as were us adults) at the sheer variety of animals. So again we took our sweet time looking around.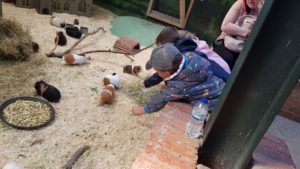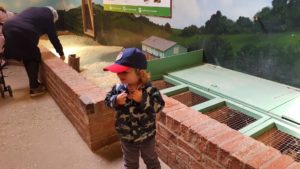 When we first arrived at Hatton Country world we were given an itinerary of the feeding times and animal encounters. We decided to head outside and have lunch (we packed a picnic) After lunch we planned to head into the guinea pig village for the kids to have a go at holding one.
Right lunch there seems to be a fair bit of choice if you don't bring a picnic but to be honest why waste the money the picnic was perfect and there is so much space to have them. We stupidly chose a picnic bench next to the JCB Track.
JCB Track
The JCB track is a huge track with loads of JCB ride on's Clark inhale his sandwich then said he was full (That child is never full!!) he just wanted to play. This meant that Elliot too wanted to follow big brother. Ah well fuck it Elliot was only eating the grated cheese of his sandwich anyway (Odd child doesn't eat sandwiches) Off they went to play on the tractors while the other kids sat nicely and finished their food.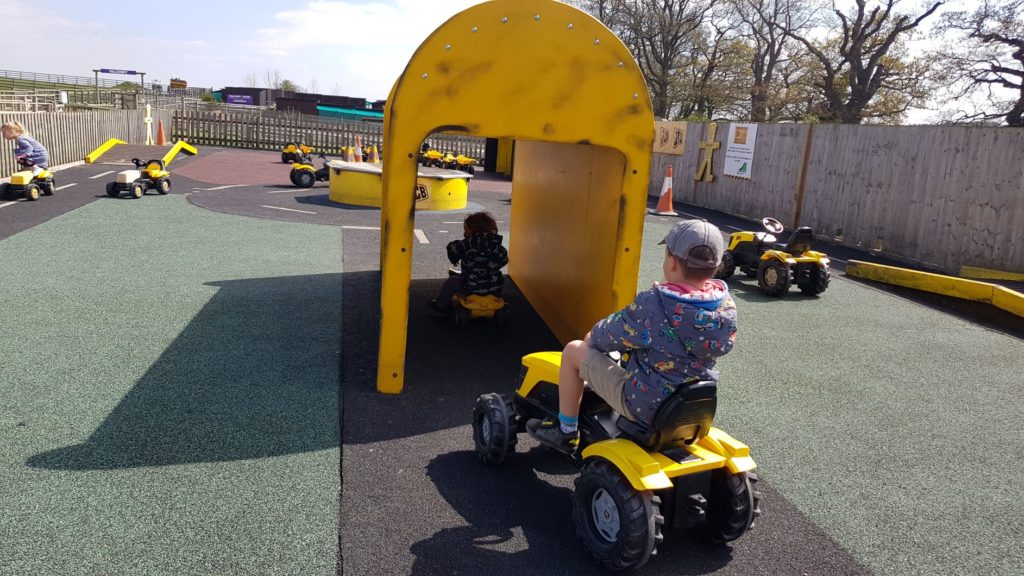 Clark had a bit of a run in with 2 older kids that decided to pick on him by crashing into him and cornering him. He's only 5 but looks a lot older. He asked them nicely to leave him alone and they ignored him. I could see he was starting to do a mummy and hulk out so i intervened and told the kids to back off. The whole time their mum sat pretty oblivious.
I left it at that but after a while it carried on and i was starting to get pissed off. I did all the usual hinting loudly next to their mum and she still did fuck all and Clark was at this point getting upset. So i went storming over and sternly asked/shouted at the little fuckers to back off. It worked and peace resumed in the JCB world again. Luckily it was time to stroke some furry critters anyway. Off we went back into the guinea pig village again.
Animal Handling
Now the guinea pig handling has left me wanting one of this amazing little buggers. If i didn't think our cat Panthro (Grey thunder cat awesome name very fitting) would rip their heads off we'd have pig napped a few. Never before in the entire lives of both my children ever seen them sit for so long, calmly and next to each other without trying to twat one another.
These guinea pigs are more calming than a horse tranquilizer (which I've been tempted to use on the kids before) They sat there for half an hour cuddling them it was bliss. The staff were absolutely amazing too and answered all of the kids questions. They even seemed like they were interested in what the kids had to say too. It was perfect.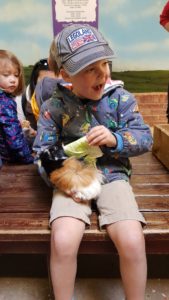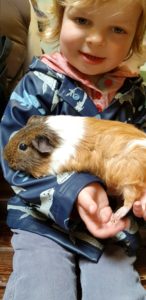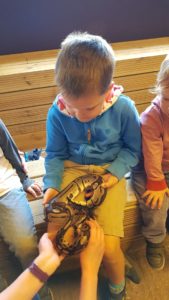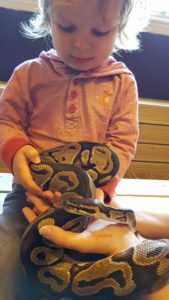 Luckily as we finished the guinea pig cuddles it was time for the reptile talk. Today's cuddle was with a snake. Now this was great and the kids enjoyed it but not as much as the guinea pigs. Maybe it was something to do with the lady in here. She didn't like the kids as much. Don't blame her really they were pissing around and being loud while they waited.
Now that we were all animal encountered out we decided to explore Hatton country world a bit more. Next we headed over the the sandpit.
Hatton Sandpit
Not just any old sandpit this was a beast with climb on diggers, tractors and even a slide. What was great was that there were loads of spades and sand toys to go around which is great for toddlers going through the not sharing stage. All of the boys had a great time playing in here. Elliot especially enjoyed flicking the sand into the eyes of other kids and his own.
Going to try and get a bit quicker now because I'm waffling. Next to the sandpit you'll find the fort/playground. Its ace huge fuck off slide the kind you let your younger child go alone onto but then stand at the bottom yelling at them to sit down while you shit yourself worrying that they're going to fall off the side and plummet to the floor below.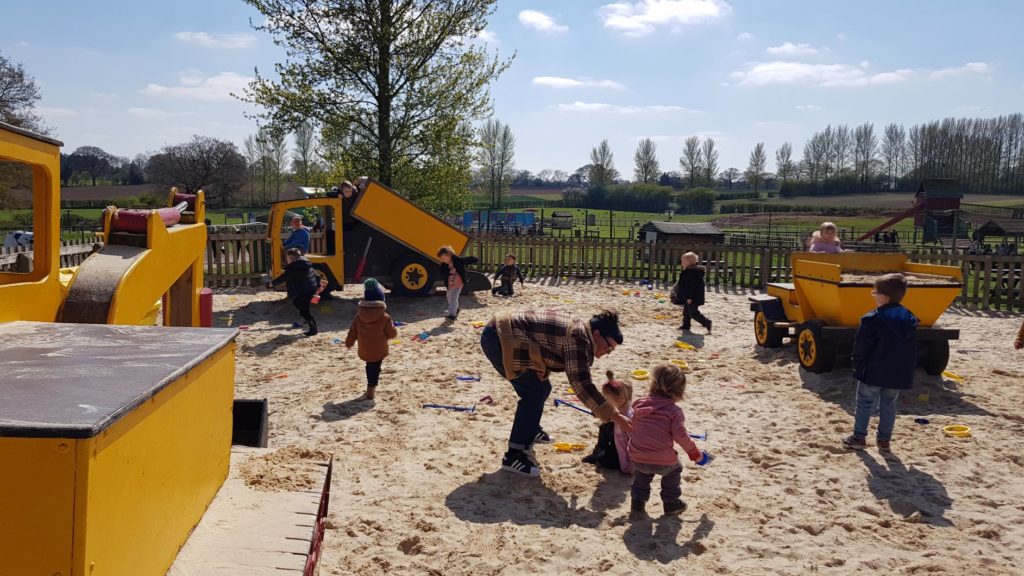 I like this play park because all the cargo netting has another barrier of safety netting round it. Hatton Country World know exactly what kids are like so they made it as safe as possible. My hats off you you Hatton. Brownie points earned.
Elliot had spotted the trampolines, Game over. I was trying to avoid them because i didn't want to pay any extra while we were there not when there was so much to do for free. I couldn't be arsed with the meltdown today though so i decided to let him go on.
Got over there and i couldn't see any staff with the usual bumbags full of change. Why? BECAUSE IT WAS FREE!!!! yep free what a bonus. As it was so quiet there was no queue either so all the kids could go on together. Could Hatton Country World get any better?
Giant Skid Maker Slide
YES it could. They had a huge panning for gold river which again was free (fuck all gold though) shed loads of fun, A dinosaur outdoor bowling alley (another huge hit), Giant outdoor games and there looming in the distance like a beacon of light was the biggest fuck offest spiral tunnel slide. Ergh someone had to go up with Elliot i couldn't let him go up alone.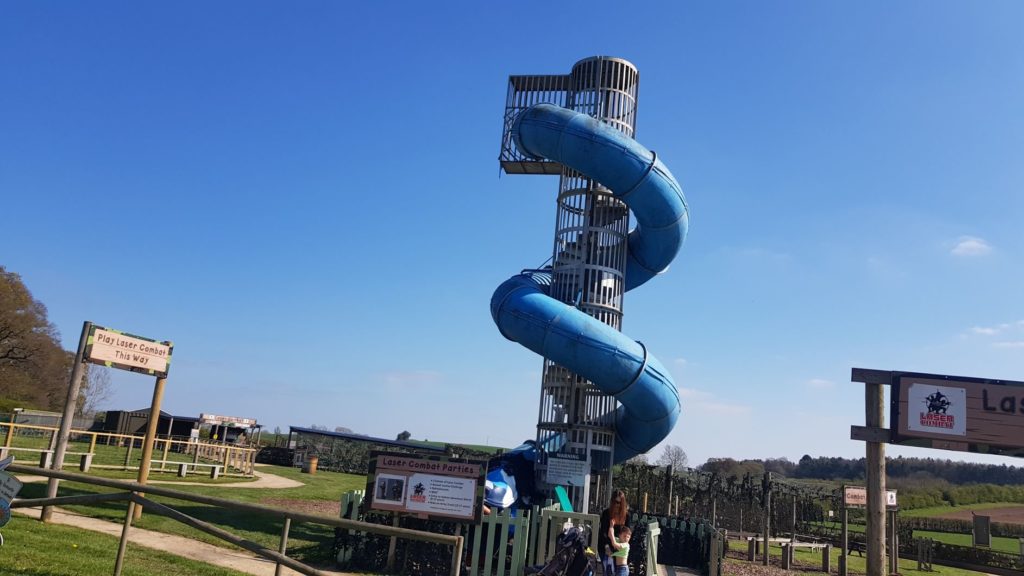 Nor could i let him go down it alone. I carried all the kids potato sacks up so they didn't trip over them climbing up the never ending spiral staircase to the top. Got to the top and i swear it was colder and the air definitely felt thinner. Do no go up here if you have a fear of heights. I don't but even i was touching cloth. Amazing views from the top though. The way down nearly left me with skidders it was fast and pitch black. Elliot on my knee had no fear and nor did Clark who was up and down god knows how many times. I think me and Elliot had 3 goes before the stitch kicked in i tapped out we were done. Time to move on.
Calm Time
I needed a bit of clam after all that climbing so we headed over to the outdoor paddocks to see more animals. I just want to add that the whole time we were here i saw nothing but happy animals in clean enclosures being well looked after. Possibly the best we've ever seen and even my friend said the same.
The outdoor enclosures were cool you could reach the animals to feed them instead they had little glory holes all along the paddocks with drainpipes acting like little chutes to pour the feed in their bowls. Its indigenous I've never seen anything like it before. The kids loved posting the food. Some of the food go stuck in the pipes though and we couldn't get it out.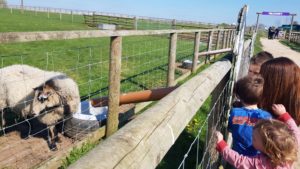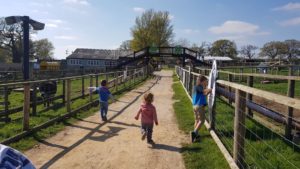 This seemed to piss off the goats and they started nutting the thing. I thought i got Hangry. Then i realised what the clever little buggers were doing. Every time they twatted the pipes with their horns they were dislodging the stuck food. Brilliant!
Homeward Bound
Alas it was now time to head off but not before one last go of the JCB track. The kids were gutted. I don't we got much more than half done. There was still the zip wires, tractor rides, inflatables, Teacups, Falconry, Laser combat (over 8's though) assault course, Pick your own (seasonal) and the indoor soft play and slides that we didn't get to do in the time we had.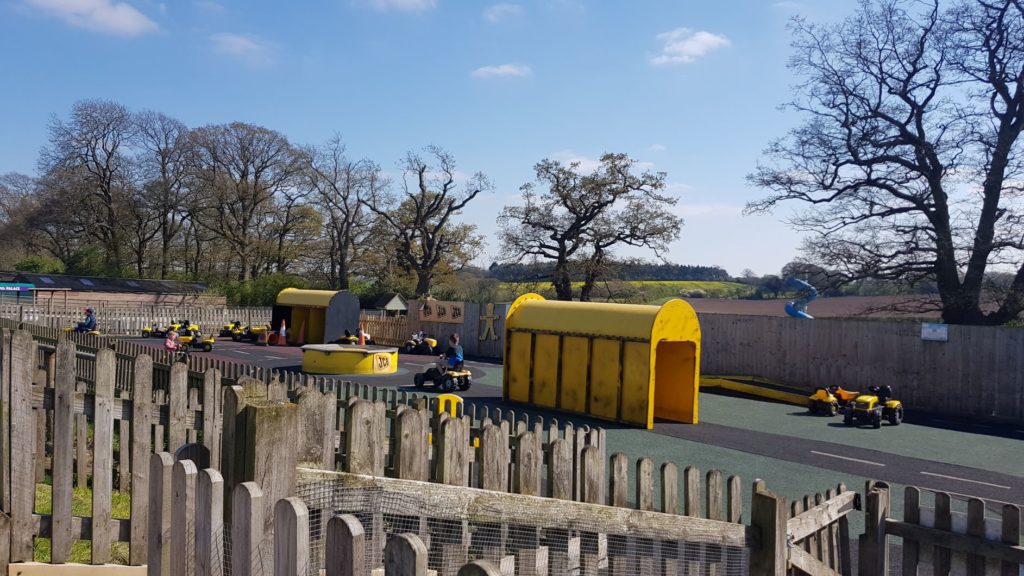 We headed back to the car we went out of the no exit gate because there was no way in hell i was taking the kids through the exit which was in the toy shop. Not that, that stop Elliot from having a shit fit. Nope he saw the swimming pool and decided he wanted to go swimming and when i explained we couldn't he wasn't having any of it. My reasoning wasn't goo enough today
Hatton Country World stats:
Distance from Bicester: 40 mins
Sat nav: Dark Ln, Hatton, Warwick CV35 8XA Click for sat nav.
Wheelchair friendly: Yes
Equipment upkeep: 9/10
Cleanliness: 10/10 as far as farms go
Facilities: 10/10
Age range: all ages
Safety: 7/10 Its a farm park kids will fall and get hurt
Fun factor: 10/10
Dog friendly: No
Conclusion
Hatton Country World has absolutely blown us all away its shit all over the other farm parks I've reviewed and its sitting near the top with the likes of wellington country park and All things wild.
Its the best farm park we have been too we loved every second of it. Value for money, size, variety, cleanliness and the overall helpfulness of the staff has well and truly won us over.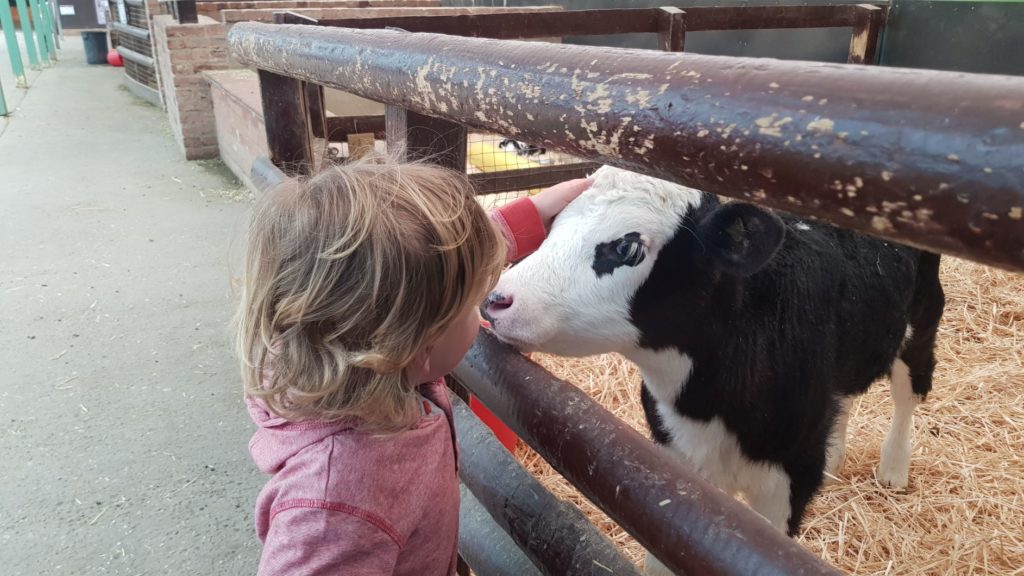 I have no idea what Hatton Country World will be like during the Warwickshire school holidays it could be hell on earth for all i know but luckily we didn't need to find out or pay double the price to find out either.
We will 100% be going back and you NEED to take your kids here they will without any doubt in my mind love it as much as my kids did.
AOB
Take a look at their website and if you can book tickets before you go for discount too HERE
If you would like to see what other farm parks we have reviewed you can do so HERE