Thanks to time hop showing me the same day two years ago i was reminded of how skinny i used to be (currently typing while demolishing a tub of Ben and Jerry's) along with the lovely Beale park.
What is Beale park?
Beale park is a wildlife park and gardens near Reading. They have a fairly large collection of animals from Lemurs to Meercats and Wallabies with the addition of a train, Small splash pool, Giant sandpit, Several play areas, A little Tikes village and to top it off some beautiful gardens and sculptures to explore.
I picked the day for us to revisit. Sunday of bank holiday weekend (For a person who's supposed to hate overcrowded places i sure make some daft decisions). The weather started out well with a few British spells of summer. i.e warmer rain but otherwise stayed cloudy which saved us a job of having to sun cream the slippery little eels.
Take a picnic to Beale park
We shoved a load of stuff in the car including a picnic so we wouldn't have to stand in the dreaded queues that always haunt family attractions. Isn't it funny how one minute the kids are playing happily in the park and within a spilt second they're so hangry you fear for your own safety. Elliot likes to stand and stare at other families while they eat. You can see these poor families start to twitch with discomfort not knowing where to look of what to do. If only they knew what we know, don't. make. eye. contact. Anyhow that's my long winded, dramatic reason as to why we chose to take a picnic.
We arrived around 11 am so the park had been open for around an hour. We like to coincide travelling with Elliot's nap time, therefore minimising the toddler terror rating by at least half.
Parking was surprisingly easy and we managed to park fairly close the entrance. There is also an overflow car park but we've yet to see it being used. We walked straight in and didn't have to queue.
Inexpensive day out at Beale park
Ticket prices were fairly reasonable. Elliot was free as he was under 2, Clark was £9 and me and Chris were £11 each. There are a few options for family tickets or advance bookings which can save you some money. We received some vouchers to return again which brings the cost per person down to £5 each, the vouchers are valid for the months of May, June and September.
Included in the ticket price is a ride on the train. Now Clark bases the quality of a day depending on whether a place has a train or not so Beale park just shot up the rankings. If trains were people Clark would have been hit a restraining order long ago. For now its cute. The train takes you in a fairly large loop of the park. Past a lot of the animals much to Elliot's delight as he screeches "cow" at the top of his voice while pointing his chubby little finger at the wallabies. (we're not holding out on this one becoming a neuroscientist) The train really is a highlight of the visit and there is the option to have extra rides at a £1 cost which tickets can be bought from the driver.
Beale park gardens
After the train we went for a walk around the gardens. They really are lovely but my advice. Don't wear open toed sandals you will have no choice but to stand in goose poo. (who knew goose poo was so big!) The geese made up for it by strutting around and showing us their beautiful goslings. The geese are understandably very protective over their babies so please don't pick them up just so you and your child can have a photo, then wonder why they try and attack you. The stupidity of some people never ceases to amaze me and always shines in places like these.
Play areas
We made our way over to the play area while taking in some of the lovely sculptures along the way. The variety of play area's are vast. We chose the kids favourite Little Tikes village which has been updated since we last went and i must say it really is amazing. Its gated so you can finally lock your kids up and not get frowned upon. It has benches along the outside (close enough to see them at all times) so you can kick back and down a hot drink in the nano second that your kids are entertained.
All of the play areas are in the same area so it doesn't really matter where you chose to sit. If the kids get bored you wont have to walk far to entertain them in another area. I would like to add that there is an indoor play area for the under 5's too which is well padded and well equip. We chose to picnic in the same spot so the kids could graze and play. T
here are so many options for picnic areas both inside and out so don't be put off if the weather takes a turn. Alternatively you could just eat in the large cafe which again is by the play area. We bought drinks and ice creams in there and the food looked pretty good and seemed reasonably priced.
Animals
Walking around the park really is lovely the animals really impressed me and Elliot. However me and Chris did notice that a lot of the enclosures and fencing around the park needed a fair bit of work. However the kids didn't seem to notice this. In fact i'm not sure they'd even notice if we moved house.
One thing they did notice however was the screams from the little girl in front by the owl enclosures "whats happened to the mouse mummy?! where's it's head??" right there in the, middle of the path lay a decapitated mouse, guts and all. Whether it had been dropped during feeding time or if it had been partly eaten by another animal not enclosed it didn't matter it was pretty funny (cruel i know) and Clark was intrigued. "can i stand on it mummy?" while stood in his Crocs. Obviously we didn't let him but we were proud he'd thought to ask us first rather than do first and ask the question later.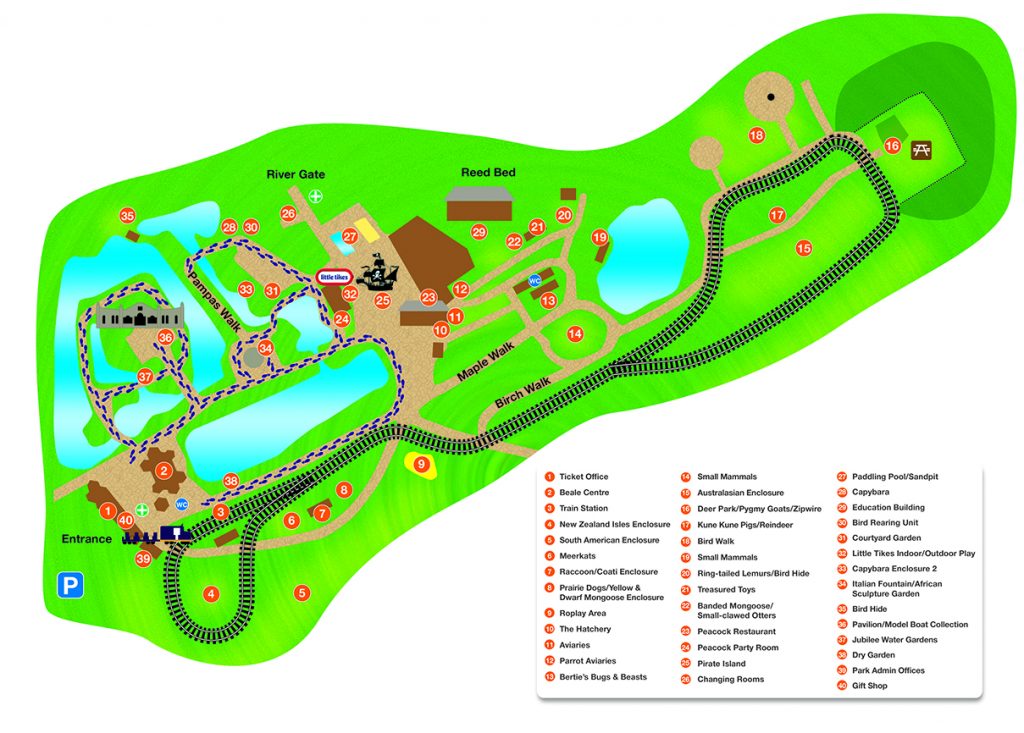 Make a full day of it
We spent a good 4-5 hours in the park and we didn't do everything i.e the pool and sandpit. You could quite easily spend the whole day here if you wanted to. We're just under an hour away and we will definitely be returning. Beale park reminds me of that kid at school that's really nice, has a great personality, huge potential but just needs a good wash but we play with them all the same because they're fun.
BEST BITS:
Train
Little Tikes village
Animals
Gardens
WORST BITS:
Goose poop
Lack of fencing around the water edges
Run down areas
Park rating: 8/10
Stress rating: 3/10
Tired rating: 7/10
Value for money: 9/10
overall rating: 8/10
AOB
Have a look at their website for more information about Beale park HERE
If you'd like to check out some of the other farm parks/zoo's that we've reviewed then you can do so HERE