We celebrated the last day of the summer holidays in style we went all out. Spanked the last of the money on a treat for the boys and went to West Midland Safari park.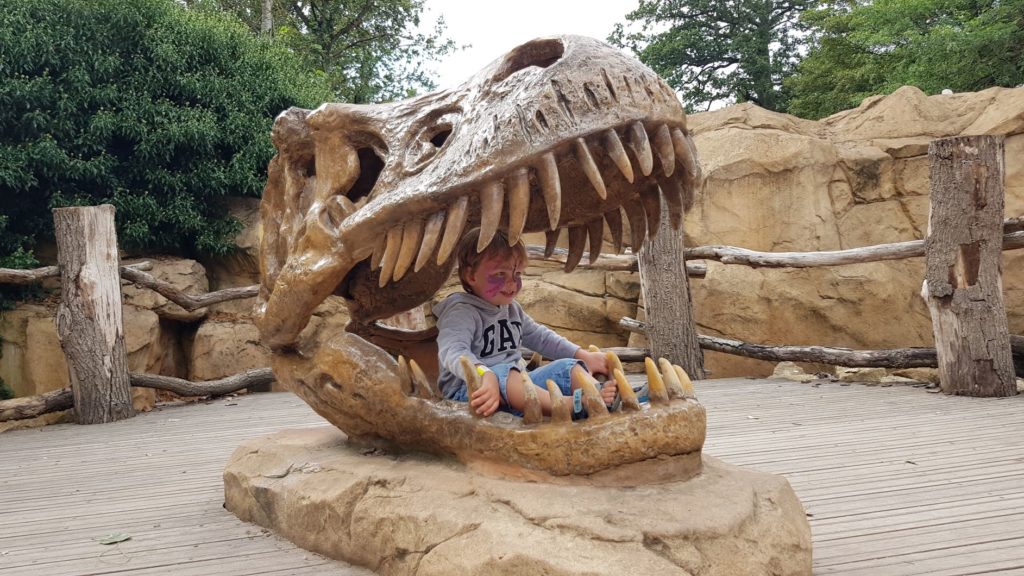 This will have been the 2nd time we've visited and yet again like the first time. We absolutely loved every minute of it. Even the boys were well behaved. Not once did I have to call them dicks (in my head)
West Midland Safari Park
I think most of us can agree that yes West midland safari park is bloody expensive. Not the kind of place you pop to for a couple of hours after school… not that i know of anyway. However there are several ways to save money. You can save up to 35% booking online (depending on which day). You can also use your Tesco club card vouchers too.
Again you may still think its a lot of money but this place is easily on par if not better than some theme parks. With the added bonus of a free return voucher. How amazing is that! so technically you get 2 days out for the price of one. Although half of me thinks why don't they just reduce the entry cost and do away with the return entry.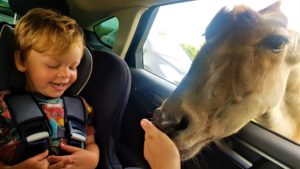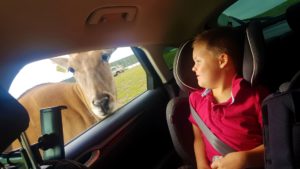 Some people moan that they don't see any animals or that they get stuck in the queue going round. I'm not a tit (well at least not when it comes to a day out here). We snack the fuck up and head to the gate before the place opens. We sit in the car, feed the kids while we wait and head in just as the safari park opens.
If you do this you will have an amazing day. We have done this twice now and neither time have we had issues feeding the animals, seeing the animals, getting stuck in traffic or having to queue for the rides (yes there are rides we will get to that later). It is the best way to explore….maybe you could do the safari near the end of the day too and it may be just as quiet.
Whats The Safari Part Like At West Midland Safari Park?
Please be prepared for morons. No matter where you go in a car. There will be others in a car too and they're probably going to piss you off. Don't beep your horn because some twat in a BMW still doesn't know how to drive. Being in a safari park will just highlight these twats and their driving ability or lack of it. Only now you're trying not to run over a fucking zebra as well (even if the twat did bite me).
You don't have to buy food but its a lot more fun if you do. We bought 3 packs and they lasted us the full way round. We could probably have bought 2 because it was only me and Elliot feeding the animals. Clark and daddy were cowering in the corner. Be prepared for a right bloody mess too. We had to have a valet after this trip. Food everywhere.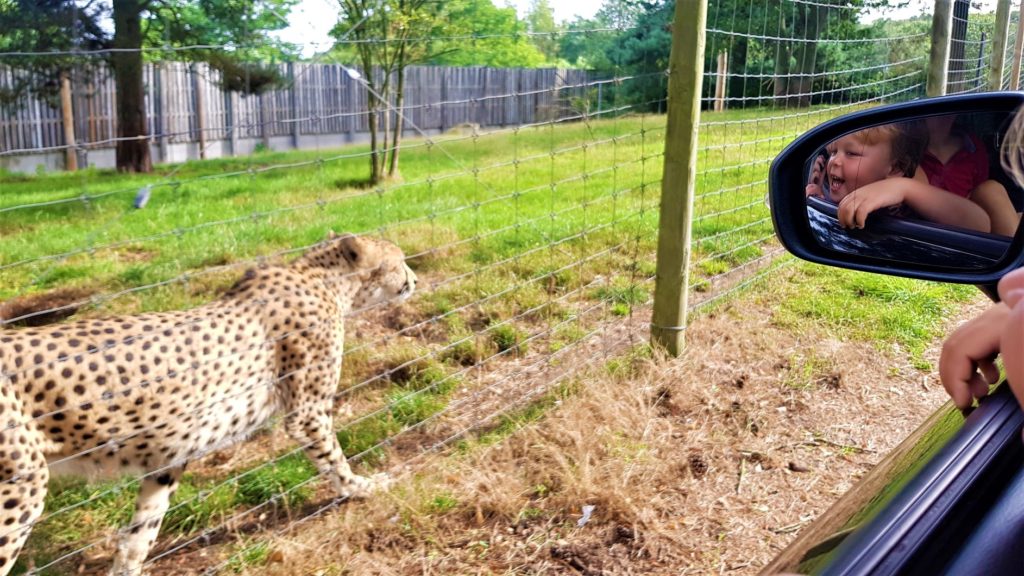 Also don't waste all your food on the first animals you come across. Be careful too those cheeky fuckers aren't shy and will try and steal the box of food right out of your lap. There heads really do come in that far.
If you've been sensible enough then just relax and enjoy the ride. We didn't make the kids strap in. They took it in turns to sit on my lap while old grumpy bollocks drove us round. Thankfully he did though because I'd have frozen in fear in case I ran over a giraffe…or worse. An elephant!
My Favourite Safari Animals
You'll notice that in certain areas you wont be allowed to have your windows open. For example in the painted dog enclosure. Please listen to the notices if you try to feed some of the animals they will likely rip your hand off. Its for your own safety.
We still got it see everything up close and personal. I loved the lions and both times there was a huge fucker sat on top of what can only be described as pride rock from the lion king. Didn't see any baboons lifting any cubs up and dangle them MJ style over the edge though. We did get to watch them feeding which was pretty awesome.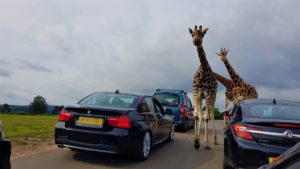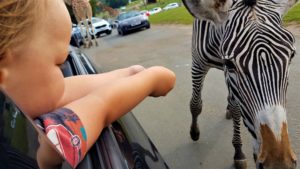 A camels breath smells like death and Jesus Christ they slobber worse than a dog. Take hand wipes or take gloves. Fuck it take both. Watch out for the zebra's though they nearly took my shitting fingers off. Thankfully I managed to pull Elliot's hand in on time before the zebra devoured it. He did want to bring his toy gun along but i didn't want him turning into one of those pricks that hunt big game In real life so we left that at home.
My absolute favourites though (both times) Had to be the giraffes. There's just something about those lanky bastards that I absolutely adore. Hands down one of the best experiences of my life was hearing my child squealing with glee as he fed them while in awe of their tongues. Amazing. One of them even licked Clark on his head haha.
Next Up…. West Midland Safari Park Rides
After the safari park and my near death experience with a zebra it was time to park up and head to the walking bit. The fun was no where near over yet either. Some people chose to skip the safari and head straight to the zoo. Maybe they do the safari later on when it quietens down.
As we were some of the first lot of cars through though the zoo was quiet. You don't need to do the rides if you don't want to but we did because we know how much the kids love them. We bought 4 wrist bands giving us all unlimited rides. Next time we wont bother with 4 just the 2 for the boys then me and the husbeast can buy tickets separately. I think for us it'll save us money. If you have older kids then they will be able to do most on their own so you wont need tickets at all if you don't want to.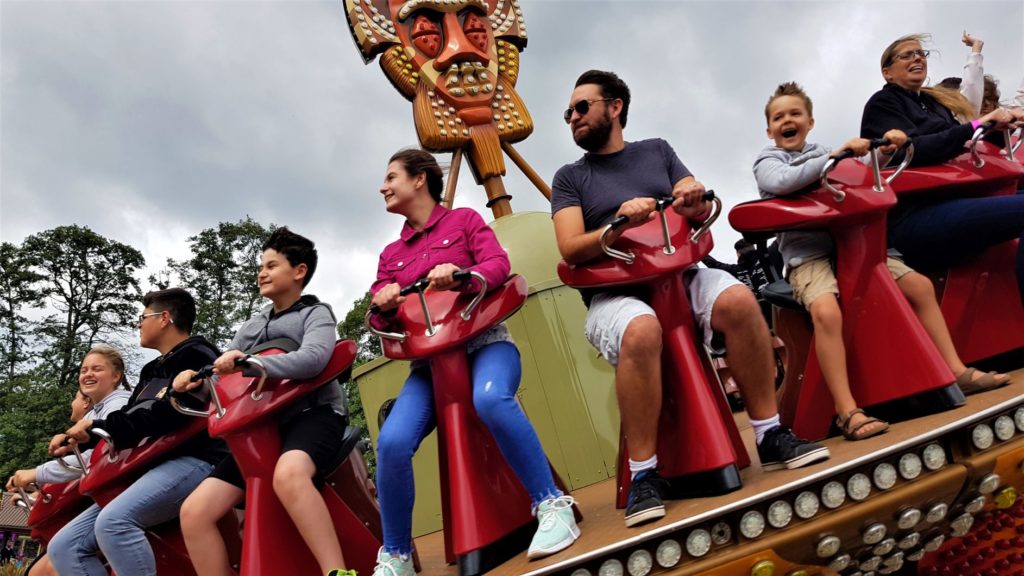 The rides are brilliant. There was plenty for both boys too. If there was something that Elliot was too small to go on then we just split up briefly to save the hassle. Thankfully Elliot had just reached the 1 meter point. If he hadn't I don't think we'd have bothered with a wristband for him. I stupidly went on the viking ship and nearly vommed. My stomach cant take anything other than cake these days.
Don't get me wrong the adventure theme park has nothing on the likes of Alton towers or Legoland but they don't try to be and its not the main attraction. It was perfect for what we were after and the queues were tiny too. There was even a wedding taking place in the house and the bride and groom came down for a ride on the carousel which i thought was lovely.
Spot Of Lunch
Even if you're not going to use the theme park you'll have to walk through it so good luck with that. Out the other side is the amazing free play area Boj Giggly park. I think its a cartoon character off tv but we don't watch kids tv because of fucking you tube.
The play park is great and we adults got to sit down and have a hot drink from the coffee van there while the kids played. As it was around lunch we decided to have our picnic here too. The kids gave most of there food to the ducks (then moaned they were still hungry afterwards ofc). There was also a moment when I wasn't looking that Elliot fed a whole sausage roll to a duck and I thought the poor bugger was choking to death. I was ready to pounce and give it cpr but after a lot of head jerking it managed to dislodge it and spit the roll back out.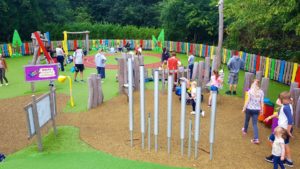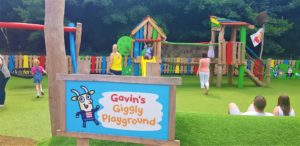 Now normally I'd be saying don't eat here its a total rip off blah blah blah. However on our way out I had a nosy at the menu in their Burger place because 1 it looked like a nice restaurant and 2 the food smelt amazing. So imagine my surprise at how reasonable/cheap it was. I think it was something like £7.50 for a burger. There are lots of other food choice options too.
Right next to the play park is where you will find the African village….not a real one. This is where you will find the meercats, goats and the lemur walk through. Its on a big shitting hill though and Clark whined constantly that his legs hurt. To be fair we had at this point done a shit load of walking though.
West Midland Safari Park Discovery Trail
After food, play and one more ride which was the up and down elephant one. The attendant was a total jobs worth. Took him ages to get us going and told me to put my phone away. I like a child hid my phone until he buggered off then got it back out again.
Anyway it was time to head to the zoo. Its brilliant there was so much more to see. From reptiles, to fish and even a free flying bat cave…not for Batman but real bats. There are loads of animal encounters and talks too so keep an eye out for the day program when you walk in which will have all the timings.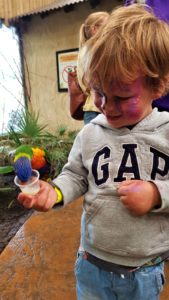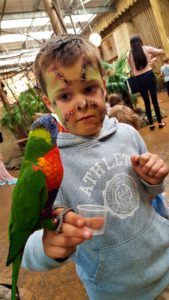 My absolute favourite part was the Lorikeet landing. OMG amazing if you haven't done one of these before do it. The £1.50 per pot of nectar was worth it. It was just me and Elliot the first time and within seconds of walking in we were swamped. Those Lorikeets gave no fucks they were all over us on our heads and our backs. Elliot was in stitches (they are a bit scratchy though so watch out for timid children) We had to go in again so Clark could have a go after realising it wasn't just boring birds. He loved it too.
Right next to Lorikeet landings is the sea lion show. I really want to do this but both times we got carried away having fun elsewhere that we've missed the show. The queue was massive though so I'm guessing its great. We'll hopefully be able to catch one when we go back with our free return ticket.
Land Of The Living Dinosaurs
As you can probably tell i'm trying not to go into too much detail otherwise I'll be here all day. I mean I've already gone on a lot and you can hopefully by now tell just how much there is to do here. However its not over yet. Oh no its time for the dinosaurs!
There's no two ways about it. The land of the living dinosaurs in west midland safari park is just bloody awesome. Even if you or your little one aren't into dinosaurs they will love this….or be scared shitless and have nightmares for the next week.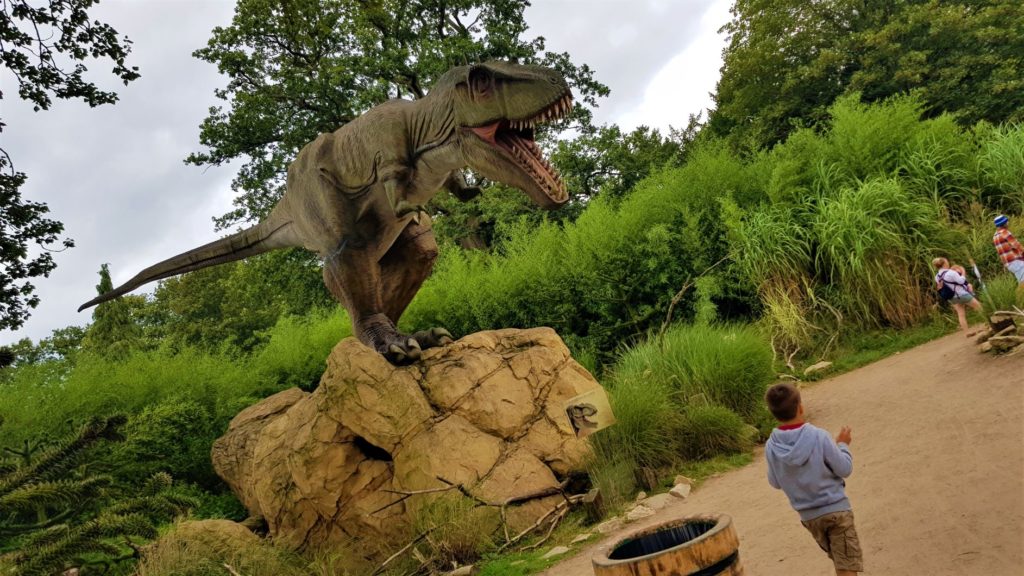 You will walk through all the ages and see all these realistic moving dinosaurs, mammoths and even a volcano. The kids loved it. The only down side was that some of the mammoths in the ice age area were a bit broken. I'm guessing that's from people climbing on them though.
The boys (and us) had a great time finding them all and then digging for fossils in the giant sandpit. Watch out for the T-rex I think its about once every 10min it'll do the Jurassic park roar and the first time I heard it i nearly shat myself. I've never been able to catch it on camera either.
Calling It A Day
After mooching round a bit more getting an ice cream and getting the boys faces painted. We headed over to the penguins. The first time we visited we caught them at feeding time so Clark got to feed them. They were giving out pots of fish for free. Not sure if this is something they still do or not but Clark remembered it none the less.
As the boys had been so good which in itself was a fucking miracle we promised them they could have something from the shop too. Yes I know it seems like they have been spoilt and yes they have but the last couple of weeks of the summer holidays had been shit through no fault of their own and they deserved it. Plus I love a good gift shop.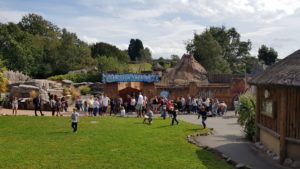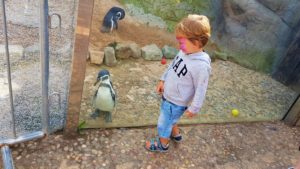 As you can imagine its full of awesome crap that you don't need but you want. Clark went straight for a soft teddy pink snake with an annoying rattle (Since regretted that one. The fucker keeps walking him up when he moves). Elliot on the other hand wanted nothing. Bless him if he'd seen a gun it would have been a different story. He just didn't want anything though. I did finally manage to convince him to take interest in a £1 bouncy ball.
Quick toilet stop then off we went home. The boys (and myself) were flat out which was no surprise after hours and hours of fun.
West Midland Safari Park Stats:
Distance from Bicester: 1hr 20mins
Sat nav: West Midland Safari Park, Spring Grove Rd, Bewdley DY12 1LF Click to load sat nav
Wheelchair friendly: Yes
Equipment upkeep: 9/10
Cleanliness: 9/10
Facilities: Everything you will need
Age range: All ages
Safety: 9/10
Fun factor: 10/10
Dog friendly: No but you can use their dog kennels for £5 deposit
Pushchair Friendly: Yes
Bikes and Scooters: No
Public transport: From Oxford HERE (about 2hrs15) From Birmingham Here (About 1hr20) although i doubt they'll let you walk round the safari haha.
Conclusion
Without a doubt West midland safari park was the best day out for us as a family this summer and we cant wait to go back again. There is so so much to do you cant possibly get bored.
You can save money and you can have a quiet time if you plan in advance. There are a few tips that I would say and thats 1. Get there before it opens so you get in first 2. Go to the toilet or take a portable potty for smaller children especially if potty training 3. Buy some animal food 4. Zebras bite be careful 5.check out the rides before you buy everyone a wristband. and 6. Check out west midlands safari park offers first.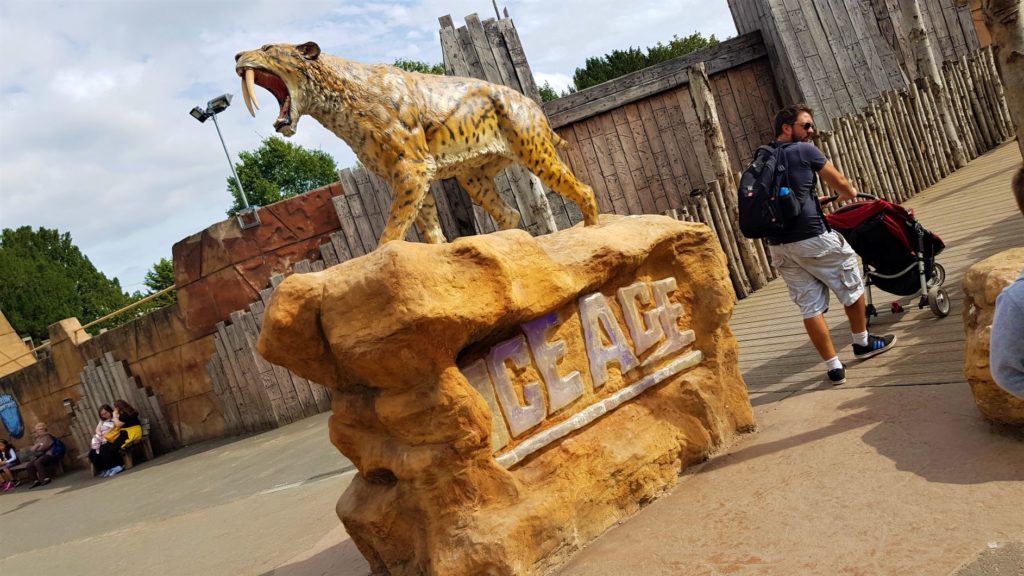 Both times we have visited West midland safari park its been amazing. I'm sure as usual there will be people that disagree but for me and my family Its one of our favourite days and we will keep going back time and time again.
I 100% recommend you try and visit here at least once. Its worth it. Even if you don't drive there is public transport though I'm not sure if the bus will take you round the safari. You can pay extra for a safari tour though
AOB
Check out their website HERE for tickets and more information
For more reviews on other zoos there check HERE