For Elliot's 5th Birthday we bunked the boys off school and booked us into Hobbledown. Ever since I saw this over on Instagram I've been looking for an excuse to visit. Needless to say it didn't disappoint.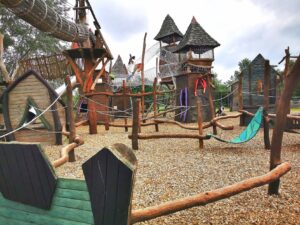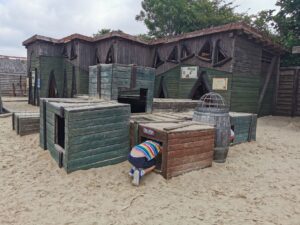 Hobbledown
Apart from the M shitting 25 being its usual cockheaded self the boy's had an absolute blast. This place is absolutely fecking epic (I should bloody hope so for the price too)
Main Points
Not the cheapest
a full day out
Take a towel for the water play
Gets busy on weekends and holidays
Lots of school groups during term time
Take a picnic the food is crap
Take a torch for the tunnel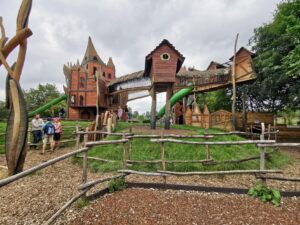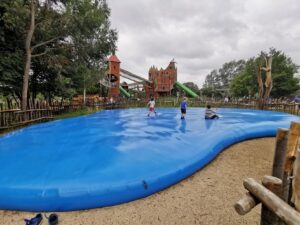 What is there to do at Hobbledown?
It has….. Are you ready? Animals (not just farm), soft play, hard play, café (shit choice of food though and that's being polite) take a picnic. Gem mining in the sand. Collect the green gems and swap for a lolly at the end which we thought was an amazing touch and the sand is all throughout Hobbledown.
Bouncy pillows, water pillow which is way better than a regular air pillow, Tunnels that'd put coal miners to shame. We saw a them hunting for a child that got lost down there I shit you not when I say take a torch and don't eat carbs for a month pre visit you need to go down there after them. Water play, amazingly amazing play areas, story time (we didn't bother), birds of prey, high ropes (extra charge we didn't bother), imaginary play with their little shops etc, huge zip wires and probably the biggest willow maze I've ever seen.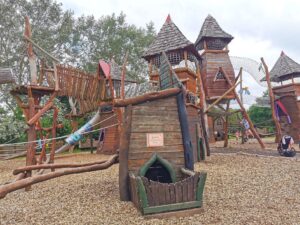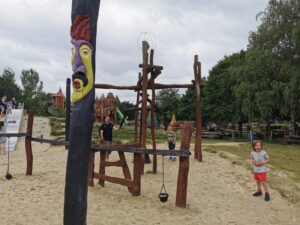 Time Restriction
When we arrived we were given a wristband which entitled us to 4.5hrs which I wasn't aware of when we turned up. This was probably my own fault for not checking although they probably wouldn't have booted us out because it was QUIET thank god. I was pretty pissed off at this time restriction especially after driving all that way paying all that money and having a few attractions still shut. Turns out we'd had enough by that time anyway.
I swear down it wasn't me that got pissed off having to sit at the top of the tower holding a button to make the water come out and it 100% wasn't me that fashioned a contraption out of 2 pieces of rope that pressed the button without human intervention so I could climb down and enjoy my tea in peace while the water area flooded!!! Honest. You need to do this for your own sanity and all the other parents.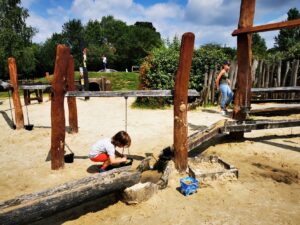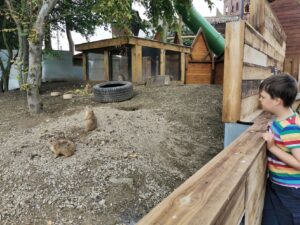 Hobbledown Stats:
Distance from Bicester:
1hr 26mins unless the m25 is being a dick
Sat nav: Horton Ln, Epsom KT19 8PT
Click to load sat nav
Wheelchair friendly:
Yes
Equipment upkeep:
9/10
Cleanliness:
10/10
Facilities:
Everything you need
Age range:
great for a variety of ages but I wouldn't take a group of teenagers
Safety:
Common sense needed
Fun factor:
10/10
Dog friendly:
No
Pushchair Friendly:
Yes
Bikes and Scooters:
No
Value for money :
£££ Bloody expensive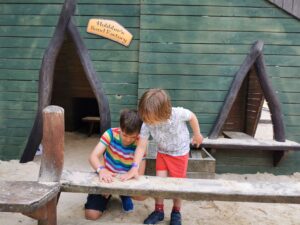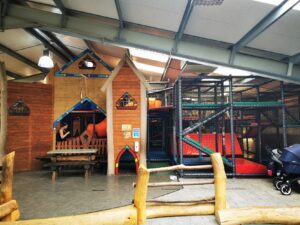 Apart from me being an overly picky parent (just trying to be honest so no one's surprised if they decide to go) not one thing I mentioned made our visit any less enjoyable. The place was AMAZING. If you fancy a treat then you simply must consider Hobbledown. If we lived closer I'd 100% be getting an annual pass. They were even building a whole new water play area while we visited too which I'm pretty sure is now open.