Off the back end of a crap visit to Farmer Gows the other day. A lot of you suggested that we head over to Roves Farm instead.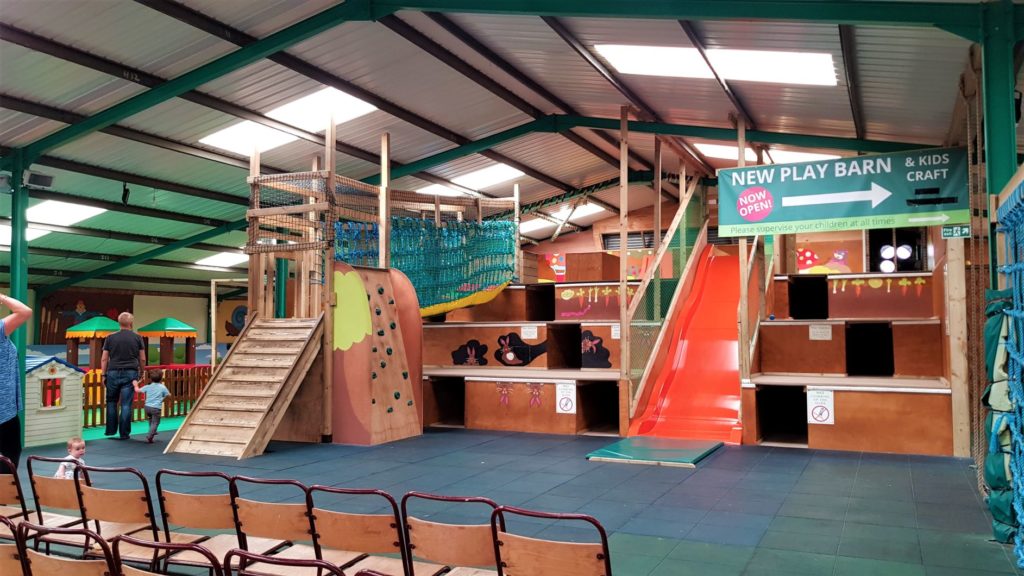 So last week we did just that. Me and Elliot packed up and buggered off on yet another farm park adventure. Its a good job this kid likes animals.
Roves Farm
We arrived at about 10.30am and the car park was fairly quiet. I'm glad we found the car park because for a moment i was worried my sat nav had struck again and taken us into the arse end of nowhere. So if you haven't been before just keep going even if it does look like you've taken a wrong turn somewhere.
Now Roves farm is a working farm with a really decent play theme attached. Its still no Cotswold farm park but i did like the authentic feel for the place and boy did Elliot love the play equipment.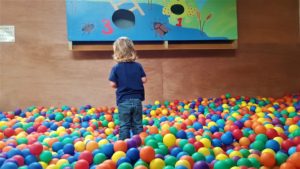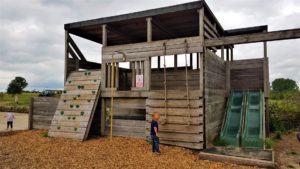 We had to queue for a little while to get in which was fine. When we rocked up they had a toddler time in full swing. So lots of singing and hand clapping. I made sure once we'd paid we avoided that like the plague. Worst nightmare is being in firing distance of unknown toddlers sneezing into my open yawing mouth before midday.
Elliot didn't seem to mind avoiding this anyway because once you're in you're IN. Absolutely no way of avoiding the play structure that's slap bang at the end of the huge room you're now stood in. Ah well fuck it. Play time first it is then.
Roves Farm Activity Barn
So were straight into the activity barn and Elliot is off. I had to waddle after him (not a pregnancy waddle I'm just fat). Finally catch up to him and manage to rip his shoes off before he fucks off again. Boom head first into one of their 2 ball pits.
Now ball pits are becoming a rarity at the moment its like no one can be fucked to clean them (cant say i blame them). This made Elliot super happy and me because i could sit next to him on one of the shit loads of tables and watch him try and throw the balls through the targets on the wall. Genius way to stop them throwing all the balls out.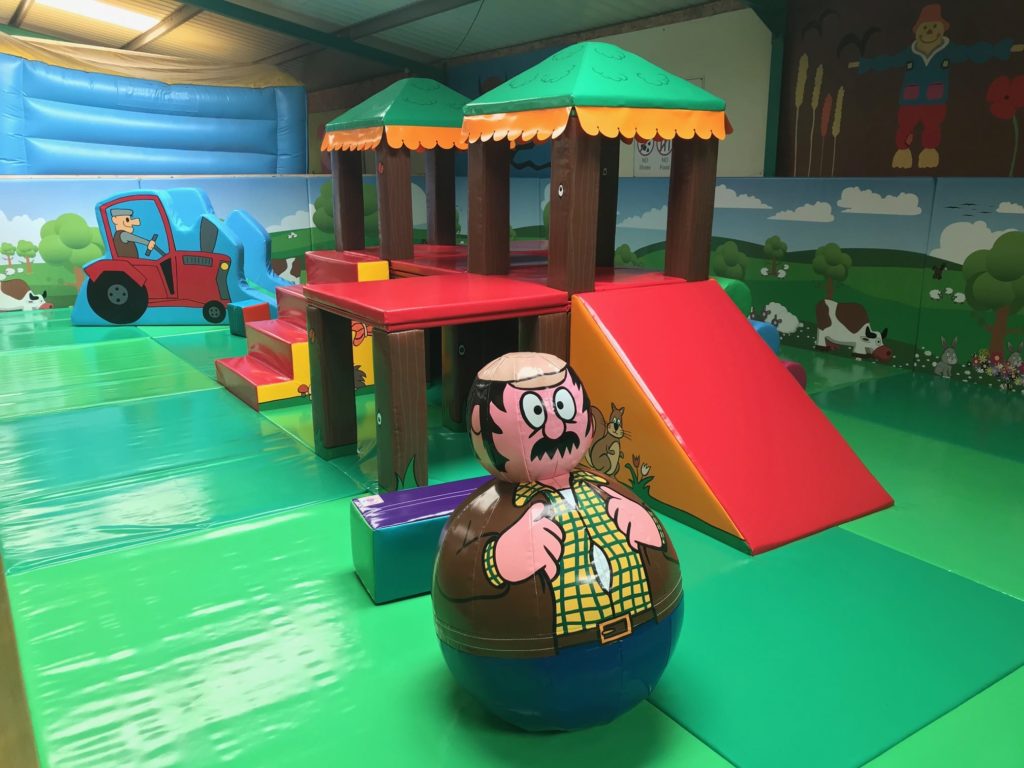 There's a little ones play area too which is more of a soft play. I believe it is for under 5's. Elliot wasn't really interest in it. apart from climbing to the highest point and jumping. i had to stop him before he snapped his legs.
Luckily the big arse orange slide called to him. Was wide enough for us both to go down at the same time. Beware its bloody fast. Just how we like our slides. Elliot ended up on the other side of the room haha.
Roves Farm Rabbit Warren
As i walked into Roves Farm after paying i kept seeing signs about buying glows sticks. Just printed on A4 . Bit random i thought, Maybe they turn into an illegal rave in the evenings who knows.
Not me that's for sure. Elliot had dragged his arse out of the ball pits long enough to venture over to the big orange slide bit. I must have been staring at the huge wall in some kind of trance because i tool me a while to finally realise what the hell i was looking at.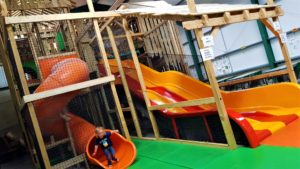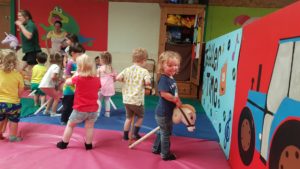 Big arse tunnels. Pitch black too. Dragged Elliot over and off he went. He soon backed up again once he realised that he could see fuck all. Ohhhhhh. Penny dropped. That's what the glow sticks were for. Still didn't buy any haha i sent him in sas style. He'd soon figure it out, which he did.
He flipping loved it. Its so bloody easy to lose them too (Bonus maybe) it must be huge in there. The good thing is if they do get stuck in there the tunnels looked wide enough for adults (even ones with my arse width) so you can just sit back and watch the fun.
New Play Barn
Bribed him out of the rabbit warrens and past the ball pits with a yoyo straight into their new play barn area. Now I've never been before so i don't know what used to be here or not.
There's a little ride on section in the middle which was nice and flat so the kids could pick up some speed before attempting to slice open your Achilles with a plastic tractor. Nice little area could maybe do with a few more tractors for when it gets busy.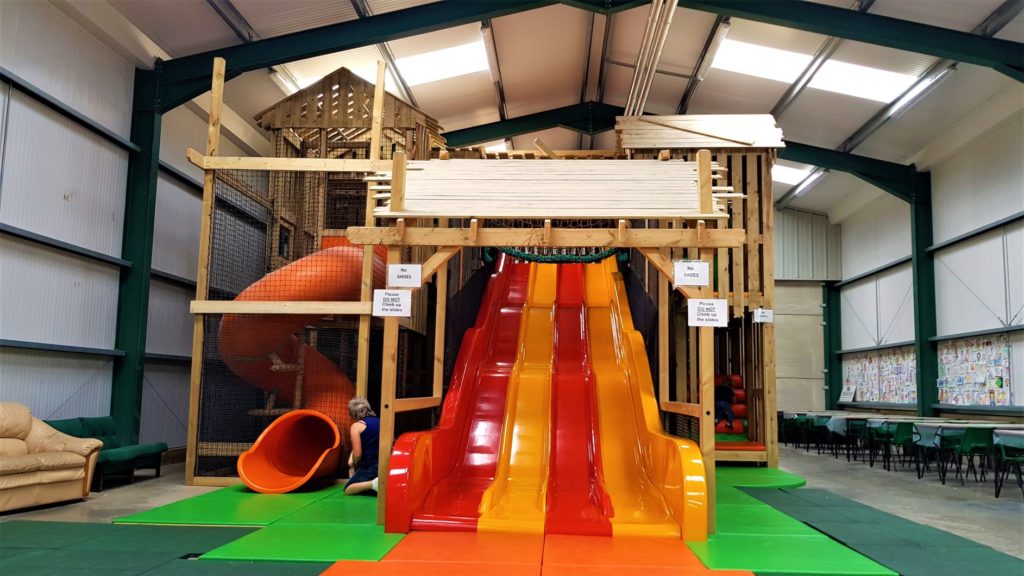 Down the side of the barn if their craft area. Basically some colouring sheets and pencils but i have the impression that they do more crafts during busier times. Elliot didn't even pause to look at this he was heading straight for the play frame.
4 wobbly slides and a spiral tunnel slide. How could he resist. I'm guessing that this is brand new. It certainly looks it anyway. Lovely large play frame with lots of climbing, bridges and various soft play parts to it too. I went in after him and couldn't keep up. Even twatted my head on a low bar in the process too.
Tractor Ride
Time was flying by and we needed to head towards the tractor area for our tractor ride. We go there about 10 mins early and a queue was starting to form. Normally i would avoid a queue like the plague. Elliot has the Attention span of a goldfish.
Luckily the queue was right next to some toilets, picnic benches and a great little play area with a really cool sheltered sand pit. Elliot happily play there until it was time to board the tractor.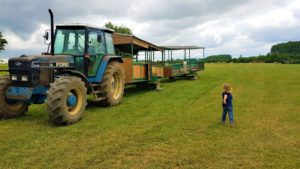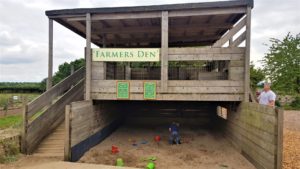 Now you all get a tractor ride ticket with your entry but just the one and i couldn't see anywhere to buy any more. Little tip when you're choosing a seat on the tractor sit on the left hand side.
The tractor ride was about 20 mins long. 20 long mins sat facing a fucking hedge going past with the occasional stray branch sweeping in to either slap me across my face or scratch my retina. We saw no animals on the right hand side which is a shame. because the left hand side got a cracking ride (still with the occasional stray branch)
Outdoor Playing
After the tractor ride i promised Elliot we could go back to the park. There are a fair few areas for the kids to play. Elliot absolutely loved all the areas with the sand pits. Each and every sand pit was also sheltered which was great.
Now the tree house play area is bloody amazing for the older kids. They will be in heaven if they like their climbing anyway. There is a lovely little area and slide for smaller ones with another sandpit under it too so you can stay close by while the older ones play. There's also more little tunnels for them to crawl trough.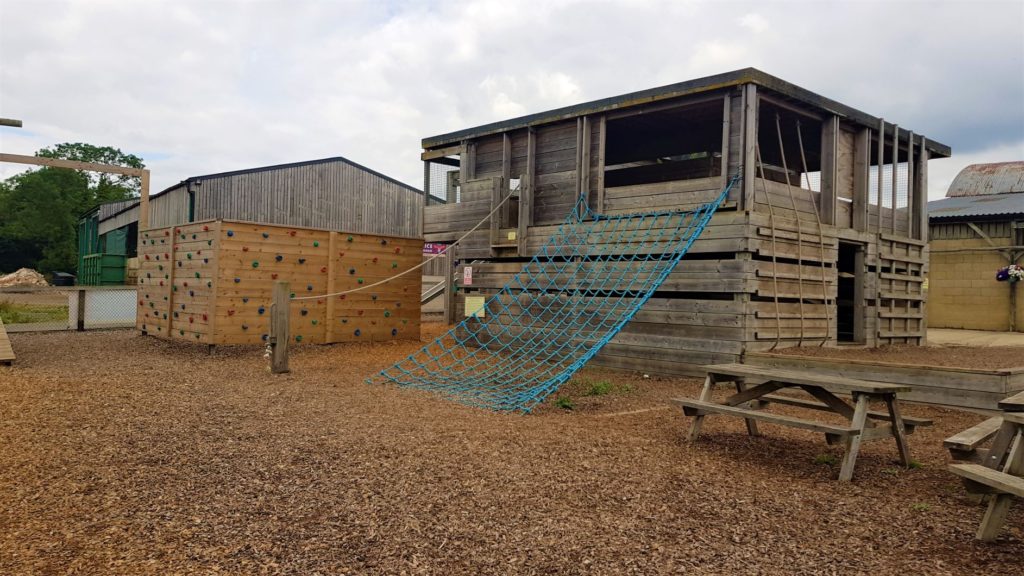 Now the tree house looks like something out of an army training camp with rope swings, Huge cargo nets and even a rope to shimmy up and down. It looks pretty scary and dangerous to me which is why the older kids will love it.
Now be warned that smaller kids can easily get up there so you will need to go up with them to keep an eye. I was happy to go up with Elliot for a nosey round and for him to use the bigger slide too. There's also a zip wire and a really impressive rock climbing wall too.
Feeding Time At The Farm
Elliot was starting to get a bit Hangry so we headed back into the activity barn for some lunch in their cafe. Well i was anyway I'd packed Elliot a lunch.
The cafe had a really good variety of food on offer so i ordered a pannini and chips for me and Elliot to share. My Pannini was £5.50 and a shit load nicer, tastier and bigger than the crappy ham roll i was served at Farmer gows.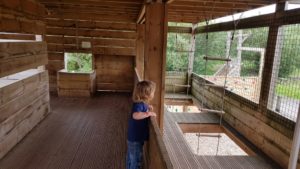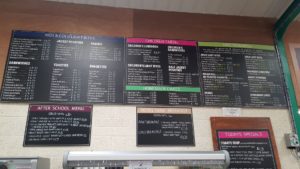 It was nice to go somewhere when i wasn't going to have to sell my kidney to eat for once too. Loads of space to sit and we could all picnic in the same place too.
After a little bit more playing while i finished my food we decided to head over to the animal barn for feeding time.
Animal Barn
We got there with 5 mins to spare and still managed to be one of the first to arrive. It was all very laid back and Elliot was handed a rug for his lap before a huge rabbit was plonked on his lap. Ahhh he was happy.
After trying to stroke the rabbits open eyeball i managed to convince him to let another child have a cuddle while we got some animal feed for the goats. Unlike other farm parks you cant buy feed here and just feed them when you like. So has its pros and cons i guess. Next up was the bottle feeding. Now this is what we came for.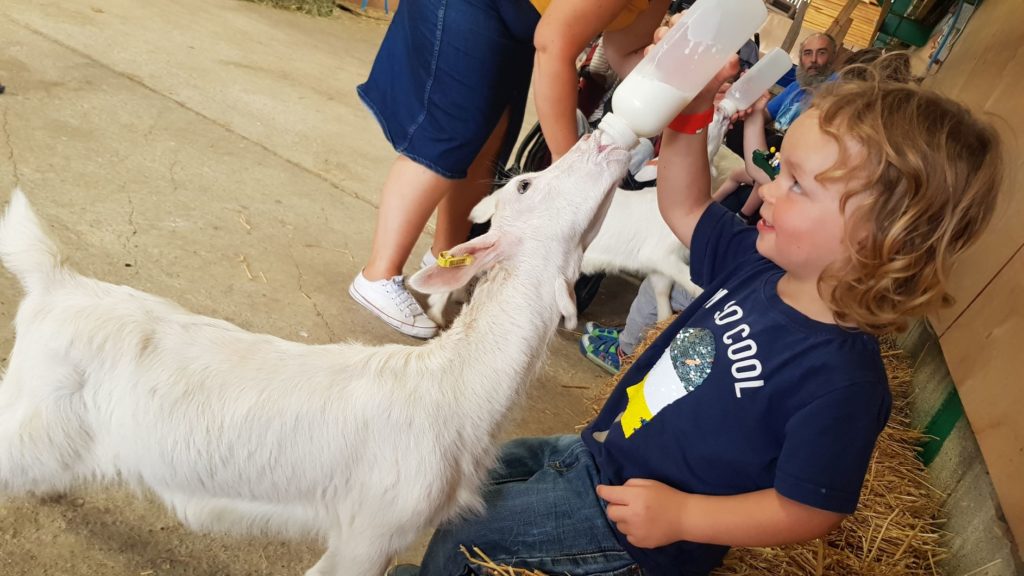 Thankfully Elliot got one of the only 4 bottles to feed the goats. Once they were let out and Elliot got the hang of it his little face lit up. Finally he bottle fed a goat. Fuck you farmer Gows.
Now the whole animal feeding experience did feel a lot more chilled out/basic/less informal which for us worked really well. i still however don't think it beat the animal experience at cotswold farm park. In some ways (dare i say it) the farmer gows animal experience would have been better if Elliot hadn't been forgotten about with the bottle feeding.
What Else Did We Get Up To?
We had another play on pretty much everything again before we headed outside to see if i could convince him to walk. I wanted to see the pigs that we'd missed on the tractor ride.
After a little look at the ponies and alpaca i tried to get him to walk but he was having none of it and we soon had to circle round and head back indoors. This time the toddler time was back up and running. Elliot ran over to join in which was really nice.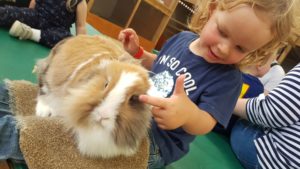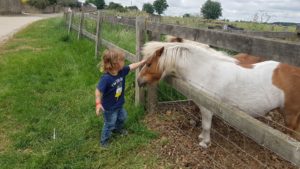 Outside the toddler times they also have a bouncy castle set up. There are lots more things to do while at Roves farm but unfortunately time was not on our side and we had to head off.
Some of the things we were sad to miss was the egg collecting, Goat milking demo and the sheep walking. I want to walk a sheep so bad. Alas it was time for us to bugger off home again.
Roves Farm Stats:
Distance from Bicester: 53 mins
Sat nav: Roves Farm, Sevenhampton, Swindon SN6 7QG Click to load sat nav
Wheelchair friendly: Yes
Equipment upkeep: 6/10
Cleanliness: 6/10 (it is a farm though)
Facilities: Everything you need
Age range: All ages
Safety: 6/10
Fun factor: 9/10
Dog friendly: No
Pushchair Friendly: Yes
Bikes and Scooters: No
Conclusion
Now we had a good time at Roves Farm but…….. For us it still hasn't beaten the likes of Green dragon or even come close to Cotswold farm park. So i doubt that we would go back again.
On the other hand i would say this beats farmer Gows hands down. I was a bit unsure at first but after a good walk round there is a load of things to keep the kids happy. Its also one of the best farm parks for the older kids too if you're looking for a compromise.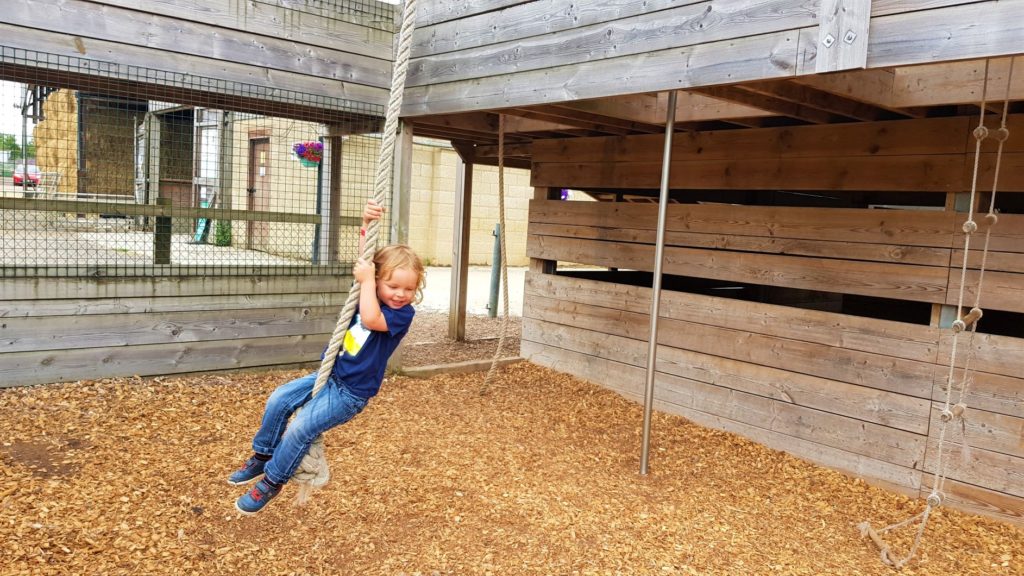 I would recommend Roves to anyone out that way but for me its just a tad too far when there are others i prefer a little closer. Overall a great day out and Elliot had a blast which is what matters really.
AOB
For more info and tickets check out roves website HERE
For more days out ideas check out the big map of everything HERE