Maybe visiting farmer Gow's the week after visiting Cotswold Farm Park wasn't such a good idea after all.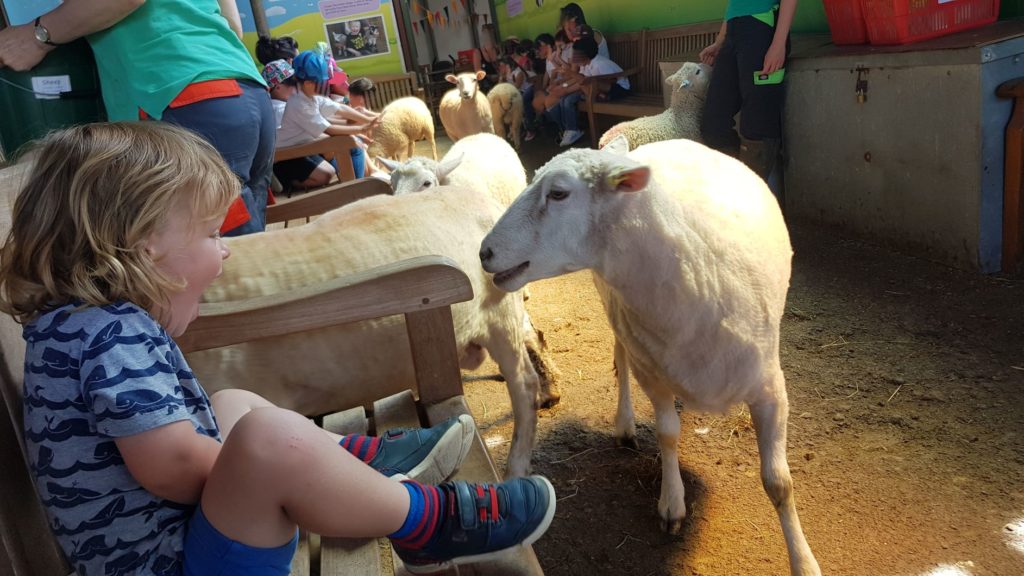 I purposefully left it a week before writing up this review. So i could try and reflect and have a proper think about if we actually disliked it as much as i first thought. I'm still on the fence if I'm being honest.
Farmer Gow's
If like me you're Bicester based then Farmer Gow's isn't a hard drive and its around 40 mins away. That is unless you have my sat nav which i have renamed crap nav and have resorted back to using my phones sat nav. The bugger took me to the middle of a field and in a smug bastard way told me that i had arrived at Farmer Gow's activity farm. Fucking liar, we were in fact still half hour away.
Rocked up and parking was fine. In fact apart from the coach in the car park it was pretty dead. I had started to wonder if they were even open. I worried even more when i walked into reception and it was pretty dark with no lights on but someone soon came to us so we paid and cracked on.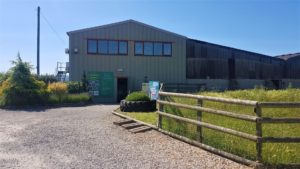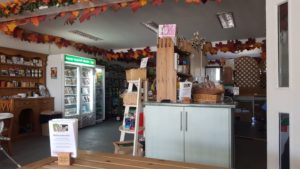 The lady was really helpful and kind she showed us round and pointed out where everything was and gave us a map.
The very first thing i noticed was that Farmer Gow's is firstly a farm and 2ndly or maybe even 3rdly an activity venue.
What We Did First At Farmer Gow's
After a quick stop in the toilets we headed out to the main outdoor play area. Hmmm now this is where i start to get more mixed feelings. There's a little play area (Not their main one) to the left. A metal farm nothing too fancy does the job and its fenced in. Just watch out for the broken uneven flooring.
Next Elliot spotted the ride on tractor area which just looked like a kids play room which hadn't been organised or tidied for days. Now we were the 1st people on them so there was no group of kids that left it in that mess before us. After we sifted through the mass of broken bits Elliot attempted to ride on the ride on's (as you do) but because the floor was in such shite shape with rocks, stones etc that just wasn't happening. Off we went to the hay bale barn.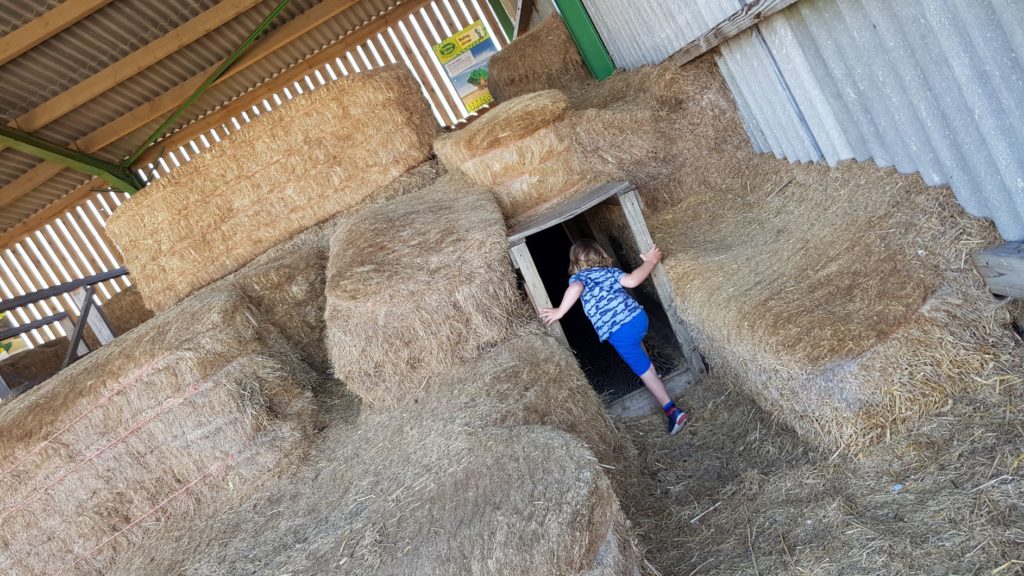 Now This is something done well hallelujah i was starting to fell a bit more hopeful for the rest of the day now. The hay bales are huge and absolutely brilliant. Elliot could have played in them all day climbing up and down. Jumping, running around and even going through the maze of tunnels built into the bales. ( keep an eye on smaller kids they could get lost haha)
After a play it was nearly time to head in to meet some of the animals. First up is the Chicks.
Meeting The Animal's At Farmer Gow's
We managed to fit into the room along with a school group. Still plenty of room and we took our seats. Elliot of course wanted to wander off and look at the animals. Its a fairly smallish room (not too small) With the chick, Goslings in the middle and some piglets along the side of the wall.
This is when i got my first glimpse of how the rest of the day would pan out. In a way it was really good and very informative which was perfect for primary aged kids (probably why the school was there). The lady talked about the chicks while i tried to pin Elliot down. Then the adults were asked to hold the chicks while the kids stroked them. Totally understand and respect that (in someways a lot safer too.) However this didn't sit well with Elliot who got to hold his very own smaller chick last week at Cotswold farm park.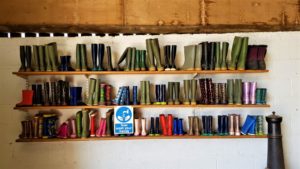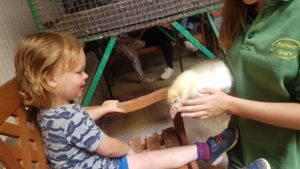 Finally got the ok from the lady for Elliot to have the chick on his lap and all was good again. Next up the big ass goslings. They weren't too happy to be out of their cage i can tell you that. The kids all squealed in delight at their panicked honks as they all got to have a feel.
After a good time spent with the chicks it was time to move onto the main event. This was probably the highlight of mine and Elliot's day too.
Let The Games Begin
It soon became apparent that we were now becoming swallowed up in the school group. Luckily they were only little ones themselves and they all behaved beautifully. However this did now mean we had to wait around for all of them to be ready, seated nicely and quiet before anything could start. As you can imagine this took some time.
Now this hand on animal experience is a lot different to any others we have done and its fantastic. You're in the Animal barn and bloody hell you can tell. It fucking stinks haha. Little tip don't sit on the bench near the pigs or you'll get attacked by flies.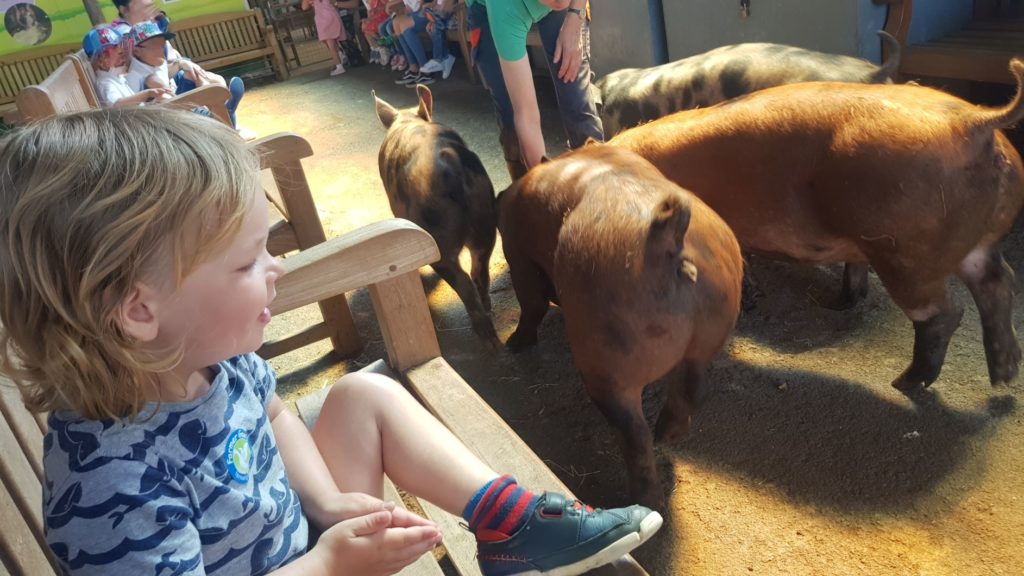 After a chat about how we must all stay seated and not to acre the animals by standing up i realised then that they're letting the animals out of their pens. First up the Pigs.
Now this was bloody funny. Have you ever seen a pig run? those fat little bacon butties are bloody fast. It was hilarious literally bolting up and down the full length of the barn after the food. no wonder we had to stay seated they'd have knocked you out cold if you got in the way of their food (bit like me). Elliot loved it and even got to stroke one too.
Lambs And Goats
Next up they explained about the bottle feeding for the goats they were all colour coordinated. They passed out the bottles and luckily there were enough to go round. Apart from a 2 other children that were there with their parents the rest were all school kids.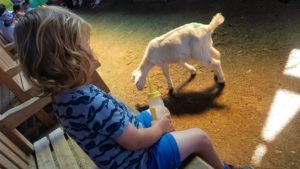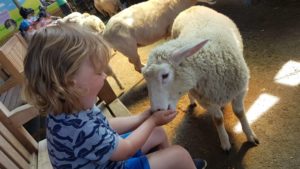 When they let the goats out the staff ushered the goats to the school kids meaning that by the time they got to us and the other people that weren't in the school group the goats were full. Now this pissed me off a bit. Poor Elliot really wanted to feed a goat. Its not the goats fault they were full but not for the first time today did i feel like we were less important which was a shame. Yes i get that the school need attention, they spent a lot of money (so did we its not cheap) and they pre-booked but i just felt like a less valued customer.
Elliot soon perked up again when he got to feed the sheep and lambs. Luckily those were greedy little buggers so had a lovely time with them and the whole goat feeding was forgotten about again.
Egg Collecting
Imagine my excitement when i realised that next up was egg collecting. Whoop this should be good… so i thought.
I think the staff may have detected the disappointment over the goat thing so ushered us and the other family to the front. (The other lady had given up and left at this point.) I was really looking forward for Elliot to collect some eggs.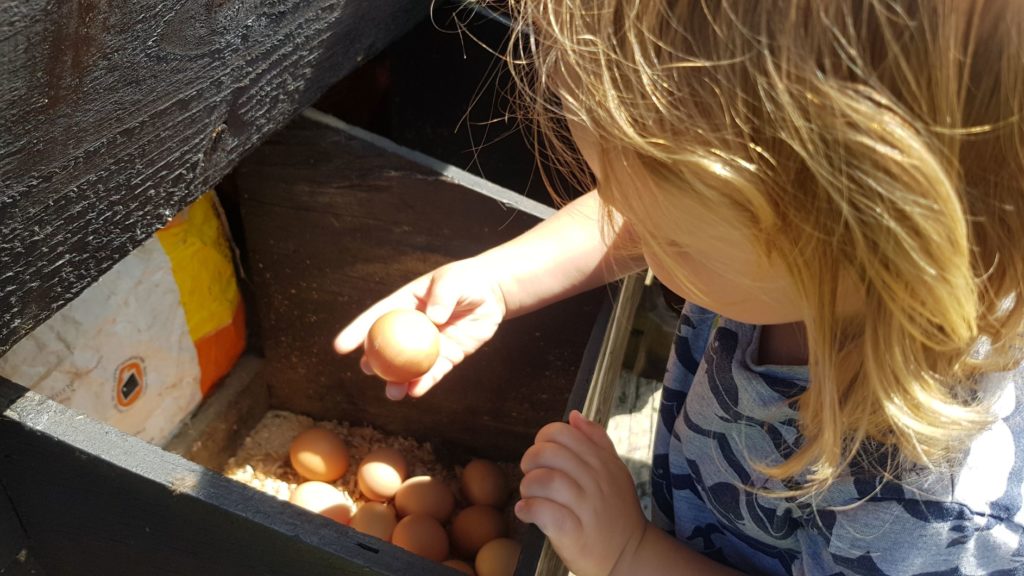 When we arrived at the coop we were ushered in and a hatch was opened and there lay a shit load of eggs. Elliot got to pick one up but was hurried to do so and pop it in the basket. The lady was quite abrupt when Elliot went for a second egg and told him only 1 allowed (which i understand but he doesn't)
The whole thing was a rushed conveyor belt of staged egg collecting. Elliot's no fool and didn't really fall for it especially after collecting nannys chickens eggs. Cute idea but too staged for us maybe it was because of the sheer amount of schools kids i dint know.
Exploring Farmer Gow's
Now that all the structured activities were over we were free to roam. Not before we had to wash our hands though. This was rightly so drummed into us from the start. Pretty ironic really considering half the taps in the toilets didn't fucking work.
We headed over to the "adventure" playground. Sounds great right. I personally wouldn't label it as an adventure playground its a bit deceptive. I mean they don't even have any swings. That's not to say it isn't a nice play area because it is.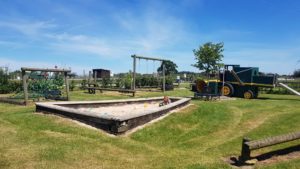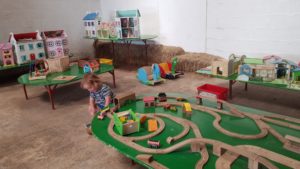 They have a combine harvester play frame some balance bits and a cool sandpit in the middle which Elliot managed to fill his crack with just in time for Bath night. Its lovely and peaceful and has some stunning views too.
There was an are inside with games like giant chess and even some dolls houses and train tables etc. Honestly Elliot didn't really care. At this point all he wanted was food.
Farmer Gow's Cafe
Plane and simple. Don't eat in the cafe. Take a picnic or just feed the kids. The children's picnic box was ok but my food was an absolute joke.
There's expensive and there's taking the piss. Farmer Gow's 100% took the piss today. I ordered off their limited menu a ham roll. Over £5 for a piss poor ham roll that they probably spent fuck all to buy in. It came with a piss poor salad and a shitty handful of crisps. I thought mine was bad until i saw someone's hot dog come out!!!!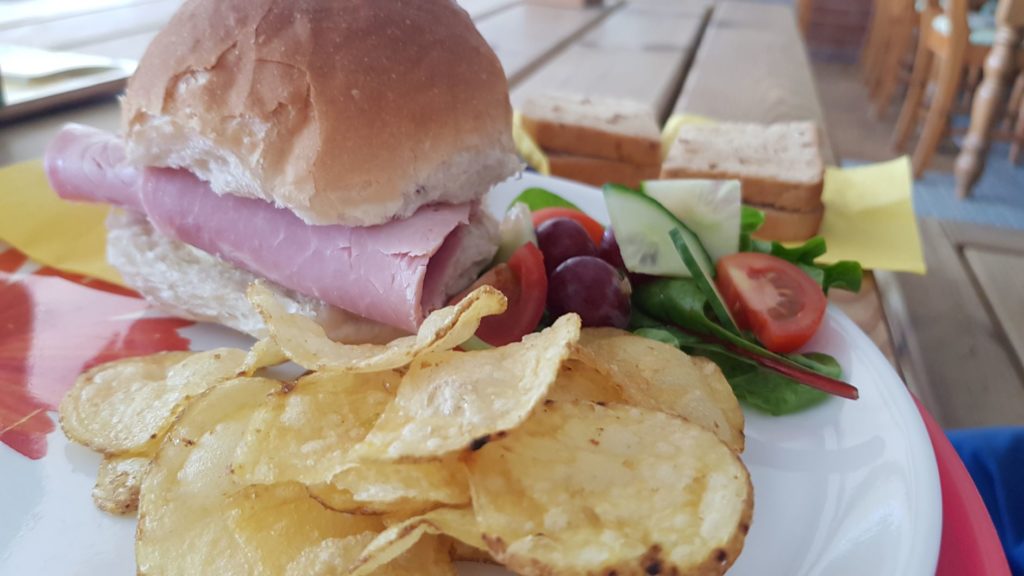 Now the kids box was inexpensive and did the job so no complaints there at all. However if a venue is going to offer food at least do it right. If not just don't bother. Personally i don't think they should bother. It would have given me something less to be disappointed about.
I was ready to go. Elliot wanted another play in the hay barn so he had a play while i got chatting to the other family that was with us for the Animal feeding. It soon became apparent that it wasn't just me that thought everything was just a bit shit. Shame really. After around 2 hours total we soon buggered off for a lovely walk round Faringdon Folly which redeemed our day a little.
Farmer Gow's Stats:
Distance from Bicester: 44 mins
Sat nav: Farmer Gow's, Fernham Rd, Longcot, Faringdon SN7 7PR Click to load sat nav
Wheelchair friendly: Yes
Equipment upkeep: 3/10
Cleanliness: 4/10 (it is a farm though)
Facilities: Everything you need
Age range: All ages but best from primary age
Safety: 6/10
Fun factor: 10/10 for Elliot for me 4/10
Dog friendly: No
Pushchair Friendly: Yes
Bikes and Scooters: No
Conclusion
Yes I've been a bit harsh on Farmer Gow's but lets remember this is just my opinion. Lots of people still love it here. Maybe i caught them on a bad day.
For us the place needs a huge face lift and some money spent which is catch 22 because the place was so quiet and i could see why.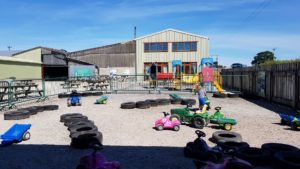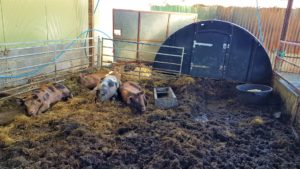 Its better suited for children that are ok with structure. You don't get the free flow feel here that you get at other farm park.
If you love the less commercial side of farm parks you will love it here. The animal experience was fantastic and the staff were informative and the majority of the time super helpful and friendly. I personally wouldn't put it at the top of farm park recommendations and we wont be going back again. For what you spend you can get a lot more in other farms.
AOB
For More information and ticket prices you can visit their website HERE
For other farm park reviews from the Family Ticket click HERE