So who decided to visit Rectory Farm PYO on the hottest day of the year? Oh yeah that'll be me. We visited in the morning and it was already hotter than Satan's ball sack!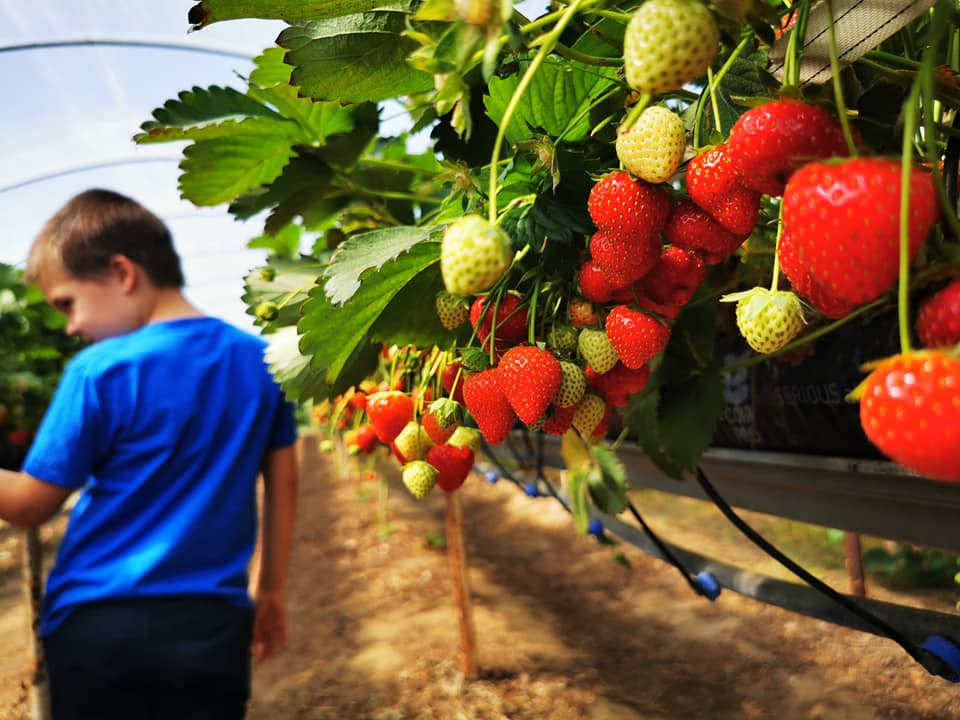 Rectory Farm PYO
I'm sure the majority of you will know about Rectory farm PYO but if you don't where have you been? It has to be our favourite PYO near us. Its not overly commercial, Its a real working farm and they seem to know their shit.
When I say they know their shit they really do. If you want to know where the best of the fruit is just ask them. The guy at the entrance gave us some tips on where to get the best strawberries and he wasn't wrong.
The only slight nark with rectory farm is their directional signage. Whoever puts them up is either pissed, blind or laughing while watching us all go round in circles trying to find a sodding raspberry.
Social distancing was never a problem here the first time we visited since Covid and it was just as safe the second time too. They have practices in place and for certain fruit you have o book online too. This in itself keeps the number down.
What We Did At Rectory Farm PYO
I'm not sure if this was a new thing they have just introduced or if we missed it the first time but we were told to grab a trolly. Not a shopping one nope theses are to carry the fruit you've picked. If you thought pushing a shopping trolly was hard then try navigating one of these wagons round a farm. Haha the kids found it hilarious and all took a turn. Must admit though they were bloody handy.
To pick the raspberries we had to book online, so we decided to head that way first. Listened to the directions and headed that way……we got lost. Starting to think I know who wrote those signs.
We finally found the place which we supposed to go and weirdly enough it was right where he told us. There's an assistant waiting for tickets. She was lovely and pointed us in the right direction for the better raspberries.
After we picked a couple of punnets full we decided to head for the strawberries. My kids are the total opposite. Clark hates strawberries and raspberries (but loves picking them and Elliot loves them. Clarks more of a cheap fruit lover.
Strawberries
Now as i said earlier I've been to rectory farm pyo a fair few times with the kids now but never did i know that they grew ground strawberries. These bad boys are sooooo much sweeter that their brothers and sisters that are in the troughs.
This style of strawberry picking was a first for the boys. It was ideal for Elliot that falls over every couple of meters. The straw softened his landing. In fact both boys just plonked themselves on the ground and picked away.
With Elliot i had to watch what he was doing, He would have eaten the fields dry if I'd have let him. I personally think they should weigh the kids before they go in to get a better idea of how much fruit was really picked. Sod that i'd be skint.
So although the ground strawberries were smaller they were a lot sweeter so give them a go too. They're right up the back. By this point we were all getting a sweat on so decided to head back.
Cafe And Farm Shop
On the way back to the cafe area (promised the kids and ice cream) I spotted the red currents. We've never picked them before and we wanted to give them a go. Clark camped out in the shade while me and Elliot cracked on. Clark did try one though. You should have seen his face. Get your kid to try once and film it.
Picking finished we headed over to the pay station where they weigh the punnets. Now I'm not a fruit picking connoisseur but I personally didn't think it was expensive. Considering it kept the kids entertained, healthy and outdoors. I've paid a lot more for a lot less too.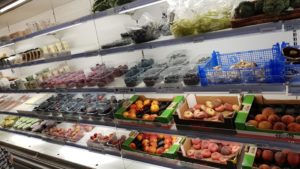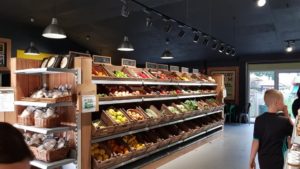 I sat the boys down on a shaded bench while i went in to get them an ice cream and a drink. They do milkshakes too which I've heard great things about but never tried. I grabbed myself a drink too. I was in a bit of a rush in case the kids decided to bolt for it. Got out took a sip and realised my fatal mistake….I'd bought sparkling water. I hate that stuff practically liquidised fart/ Totally pointless liquid.
Unfortunately I didn't get a chance to get my shop on in the farm shop. From past experience though this shop is amazing and full of the best, freshest produce. I'm pretty sure you can order online and pick up now too. In fact there was a separate queue for collections.
Rectory farm stats:
Distance from Bicester: 25mins
Sat nav: Stanton St John, Oxford OX33 1HF Click for sat nav
Wheelchair friendly: Yes
Equipment upkeep: N/A.
Cleanliness: 9/10
Facilities: 10/10 cafe, toilets, parking etc
Age range: All ages
Safety: 8/10
Fun factor: 10/10
Dog friendly: Yes on leads
Conclusion
We had a great time at Rectory Farm PYO as usual. Although they no longer have the bouncy castle and hay bales (guessing dues to covid) The sand pit is still open for little ones. The boys still had fun and now I have a fridge full of fruit.
Don't let the number of cars parked put you off it nearly did with us the first time we visited but honestly when we went in it seemed quiet and very easy to social distance. we always got our own isle.
The food coming out of the kitchen also looked amazing so you really can make a great half day of it picking fruit and having some lunch. Its really nice finding places with toilets too which seems to be a rarity these days.
The staff were really lovely and helpful. Please listen to them and stick the the areas you're told to. I'm no farmer but I'm sure they rotate the patches to give some a rest. We'd love to head back again and maybe do some vegetable picking…I'm sure they did Carrots last year.
AOB
For more farm park reviews click HERE
For Rectory farm website click HERE