What a lovely unexpected surprise The Story Museum Oxford was on our way back from Hinksy Park the other day.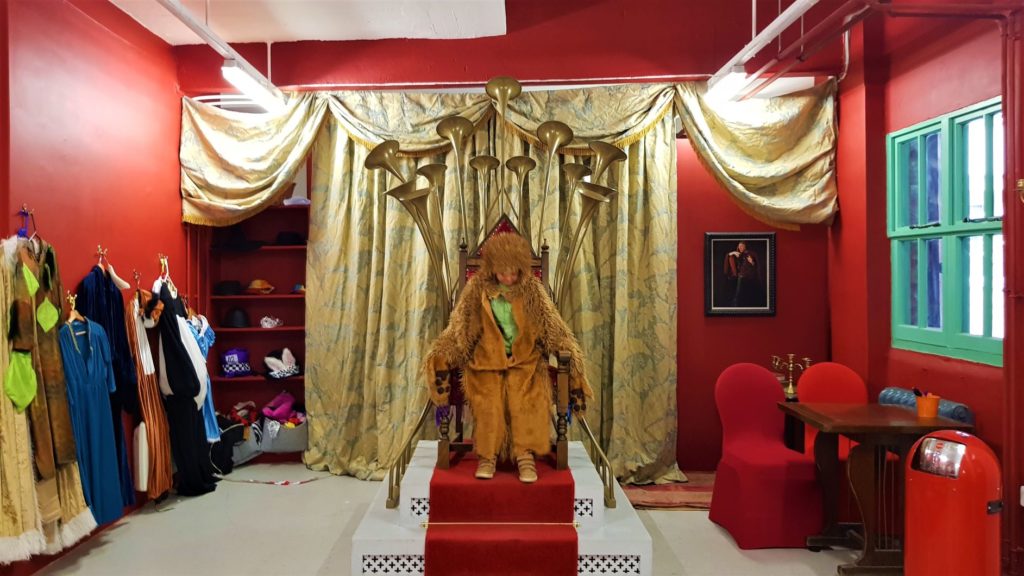 I know the majority of it is shut at the moment having a huge ass refurbishment. However what is still open is super cute and FREE. The kids loved it and the cafe is absolutely awesome too. Have we stumbled upon the most child friendly cafe in Oxford? Probably.
The Story Museum Oxford
Luckily the Story museum is another place that you can visit easily even if you don't dive. I'm starting to find my love for Oxford again recently so hopefully I'll find some more little gems soon.
As i mentioned above it was a totally unplanned visit. We we're actually on our way back to the station ready to head home when we walked past and Elliot stopped to look at something. As i got closer i realised it was a tiny little window with Sylvanian families toys in a room (I'm so shit at describing this just look at the photo). Out the corner of my eye i could see Clark trying to break into an old telephone box. It was full of fair lights and baubles. Very cute (cant go in though)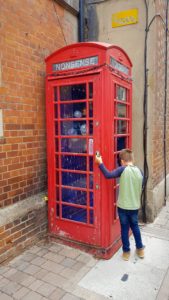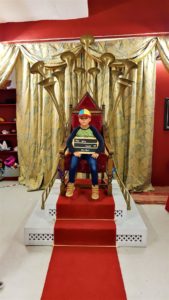 All these little things caught our eyes and we weren't even inside yet so we decided to go and grab a leaflet and have a little nosey.
As we rounded the corner we headed into their changing room. We sneaked in as quietly as possible which for my kids is still pretty bloody loud. Thankfully it didn't look like we had disturbed the story time too much anyway as it was wrapping up.
What Can You Do In The Story Museum Oxford?
Funnily enough you can read/listen to stories in the story museum and even in the one room that has been left open i could tell that imagination plays a mahoosive part. The kids eyes lit up when they saw the Throne.
I wasn't aware that any of this was free so i was half looking around to see what the cost was or for someone to come and kick us out for not paying. Being a cheeky shit i pushed our luck for a bit until we realised i wasn't breaking the law in a kids museum.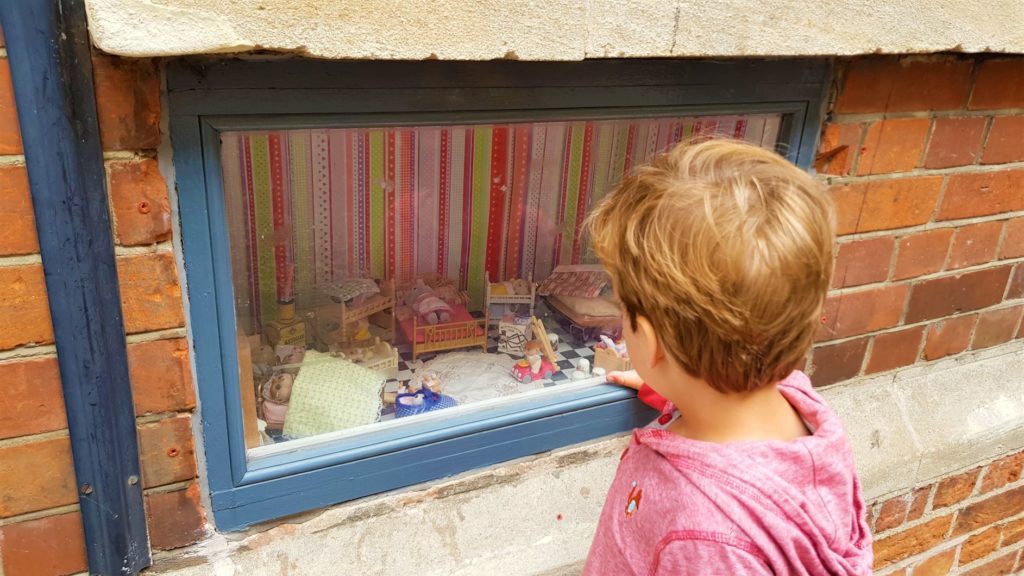 Now the Thrones is an impressive looking beast. Think game of thrones but instead of swords sticking out there's a shit load of trumpets ( I think they're trumpets/horns). Elliot was straight on there. That child would love his own throne at home.
The idea is to make a short story. Don't panic nothing taxing at all because if it was Clark wouldn't have been interested. There are 3 coloured sections and the child picks a word from each of the sections and slots it into their storyboard. They then walk onto the throne and sit down.
Imagine my surprise as Clark sat down with his storyboard that the throne read out his story loudly. I nearly shit myself. What was this witchcraft, thankfully i wasn't finally cracking. The lovely lady in there told me this was indeed normal and just a really really cool trick. Your kids will love it.
Dressing Up
As the boys got playing i got chatting to the lady who was working there. She was so lovely and informative and told me when they're open and when they plan to reopen fully again.
The staff were really good with the kids too. The boys don't normally play dress up but when she handed Elliot the duck costume he was practically stripping off to get it on. If your kids like dress up they will love it here.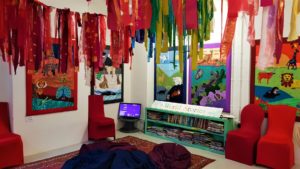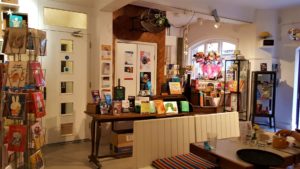 Dressing up as anything their imagination lets them. all shapes and sizes, adult costumes too (no gimp suits though calm your tits) Elliot loved dressing up as the police driver (underground drivers hat) and i was pretty shocked at how well Clark played too. We're heading back soon for a proper play and investigation.
There's a lovely cosy corner for reading and i spotted some crafty bits there too. Oh and a great little mirror so the kids can get a good look at themselves.
The Story Museum Cafe
So not only does the Story museum have a great free, interactive, educational, fun and cosy space to get the kids imaginations going. It also has maybe one of the best child friendly cafes I've seen to date.
Its small and quirky (bit like me….well I'm short maybe not small horizontally) Its full of nooks and crannies with books and gifts everywhere. Fret not though the kids probably wont (not definitely) break anything…. Because there's a play room! (and a kids books case full of kids books)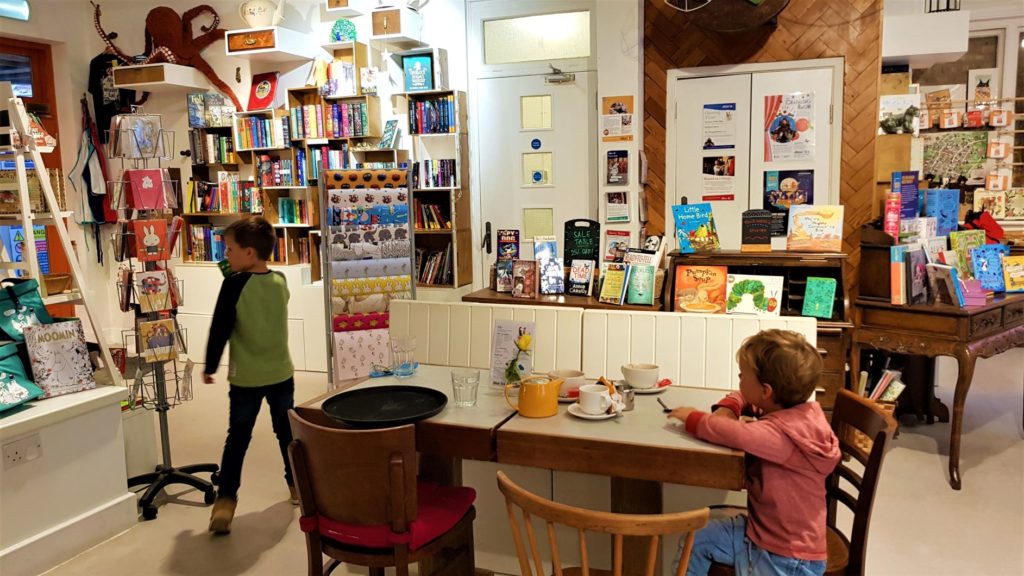 Oh yeah a room with toys and a play space and a couple of tables in there. We didn't stay long but i bought the boys a couple of drinks because they desperately wanted to have a play. There's a really cool giant cake in the corner too behind glass that Clark wanted. He asked me to bake him one. Oh how i laughed. I kid you not i cant bake for shit… i mean i can bake shit pretty easy but it really is just that, Shit. Poor kids will have to stick to Colin the caterpillar haha.
I did have a little look around and took a few sneaky photos and the hot drinks looked great and the cakes looked amazing. In fact i saw lots of different kinds of cakes. Some that will please even the twatiest of eaters (*cough* vegans *cough*) All jokes aside i have friends with allergies (not those made up ones that people pretend to have to make them seem less dull but actual life threatening and anal prolapsing ones) so if you're one of them and you have kids TAKE THEM HERE!!
The Story Museum Stats:

Distance from Bicester: 23 mins
Sat nav: Rochester House, 42 Pembroke St, Oxford OX1 1BP Click to load sat nav
Wheelchair friendly: Yes
Equipment upkeep: 10/10
Cleanliness: 10/10
Facilities: Toilets and a cafe
Age range: All ages
Safety: 10/10
Fun factor: 10/10
Dog friendly: No
Pushchair Friendly: Yes but is small in the cafe so could be a tight squeeze.
Bikes and Scooters: Nope
Public transport: Train from Bicester village to Oxford (or just jump on the S5 from outside sainsbury's) then walk. Maybe even park and ride would be a good shout too.
Conclusion
I'm so happy we came across this little gem of a place in the middle of Oxford. The Story Museum is a great place and will really get the kids imaginations going…adults too. The staff were lovely and seemed to genuinely care about their job.
The cafe is my idea of heaven and we will be heading back to try out their food and drinks.
I love how its free over the holidays and if I'm this impressed with one room I'm super excited for when it fully reopens again.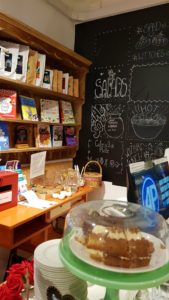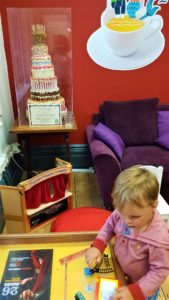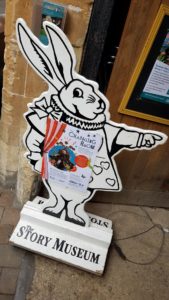 Its brilliant for all ages i can even imagine teenagers loving it too. There was a graffiti workshop going on in the upstairs while we were there too.
The museum is open Tuesday – Saturday 10am until 5pm but on Tuesdays and Fridays it doesn't open until 11.30am because there's a preschool craft/story session on (totally want to try this out too. Booking required)
AOB
No doubt got I've some information wrong so before you set off just check their website HERE
For more ideas for a day out near you check out the Family Ticket Map HERE