So it's been bloody hot for February. Only one thing for it then. The Flight Deck Cafe in Brackley.
The Flight Deck Cafe was recommended to me by one of my followers a while ago and we finally managed to get round to going. I'm so glad we did. Thanks to Global warming the weathers been bloody lovely too.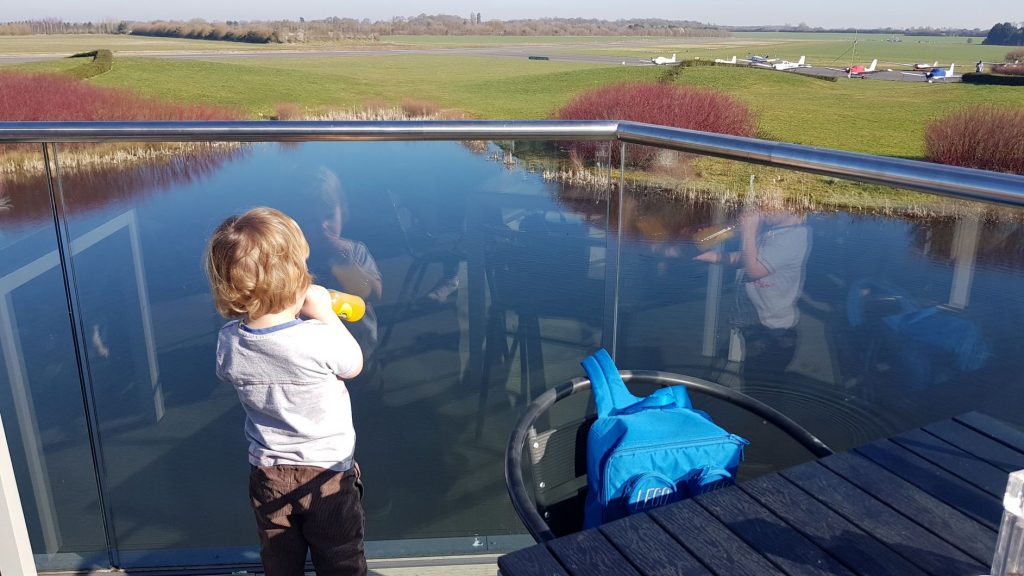 Crap Nav
Popped the postcode into my crap nav and when i got nearer i thought the bastard had struck again and sent me into a fucking farm.
Not one for giving up easily i carried on. Then i ended up on what looked like a bloody race track. I could see the planes and buildings on the other side. I then started to touch cloth a little. Had this fucker directed me onto the shitting runway?!?!?
Don't stress like i did you'll be fine. Its a bit of a bumpy ride but it'll get you there all the same. Nice big free car park.
Elliot was flat out in the back at this point. We'd been to Ready 2 Tumble baby group in the morning so he was shattered. Thought i'd get out and stretch my legs and have a nosey.
Parking
Didn't realise i'd parked right next to the runway. First thing i saw was a helicopter landing. I had no idea how often aircraft would be landing/take off so i just woke him so he didn't miss out. I'm one of those parents that gets super excited when they're driving along and see a train so start screaming TRAIN…..then i realise the kids are at school and i just look like a twat to anyone that can see me.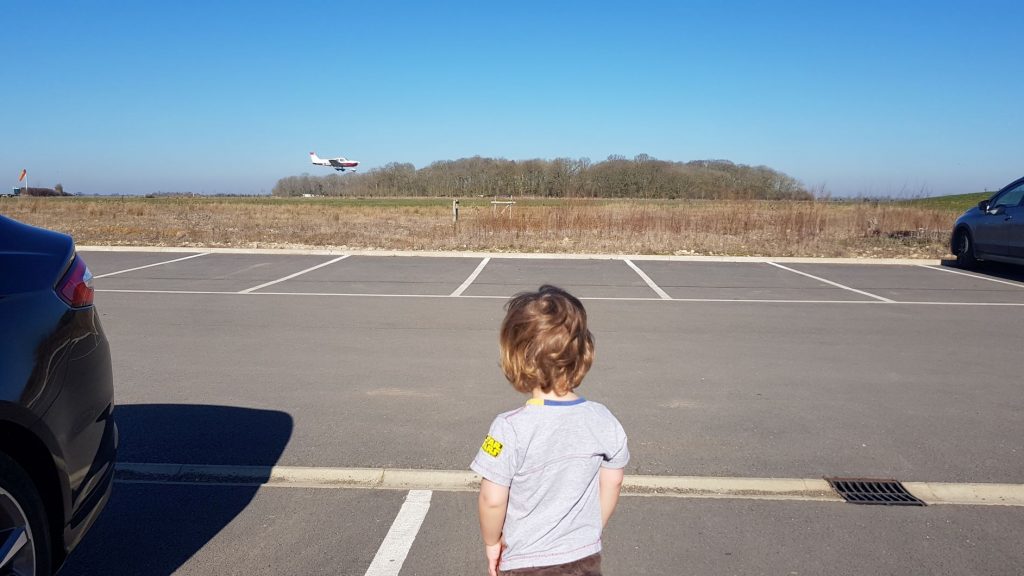 Within a few mins of the helicopter landing we then saw a plane landing. Even in his half asleep state he was super excited. Not sure who was more excited him or me?
Turweston tower
The Flight Deck Cafe is on the 1st floor of the Turweston tower. The tower in itself is a lovely looking building and fairly new by the looks of it.
You go through the main doors in to a nice lobby. You'll see a cute basket of blankets at the porch to wipe dogs feet. A good sign for all you dog owners out there.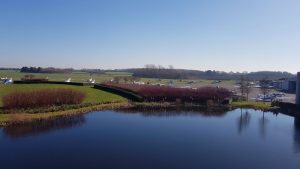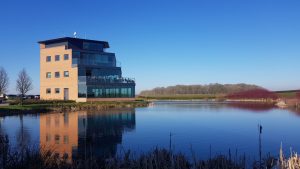 There's a lift too making The Flight Deck Cafe easily accessible for people with disabilities too.
Got up top and there was a bit of a queue so i jumped in it straight away. It wasn't overly busy so i wasn't worried about a table. I planned to sit on their balcony and make the most of the views and global warming. I couldn't leave Elliot out their on his own he'd have taken a swan dive over the top.
Menu
There's a pretty good range of food for adults. I didn't see that there was and specific food for kids though. I ordered a paninni and some chips that we could both share anyway. The cold drinks selection was a bit shit too but i got the impression they had run out of a lot after half term maybe.
The foods not overly pricey but i wouldn't say it was cheap either. The bowl of chips however was daylight robbery. £4!!! i could get a bloody kids meal deal for that in loads of other cafe's.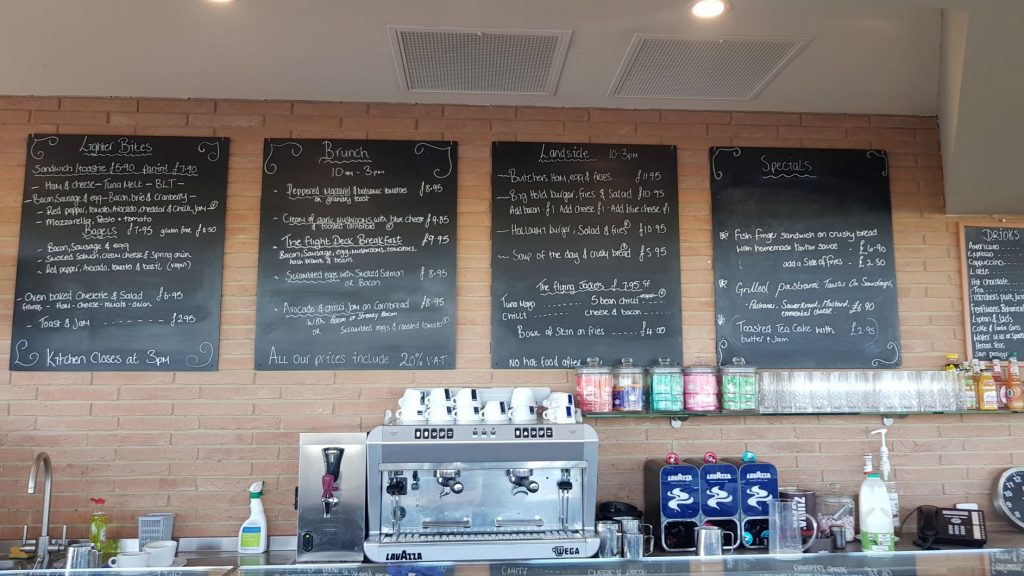 I think its clear they price to their pilots affordability after all i did park near to a Rolls Royce and an Aston Martin in the car park. (Thank fuck the car had a recent valet)
The lady who served us was really lovely and chatty. The Flight Deck Cafe was really clean modern and generally nice looking. The huge windows all the way round along with the balcony make it one of the better looking cafes I've been in for a while.
Balcony with a view
We got a cracking table on the balcony so we could see the planes take off and land. I'm not sure if we picked a good day or not but we saw loads.
Elliot absolutely loved it and in between the take off and landings he was having a whale of a time watching the moorhens in the big pond directly below.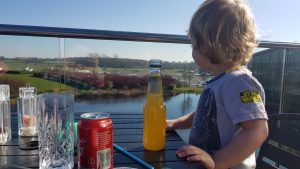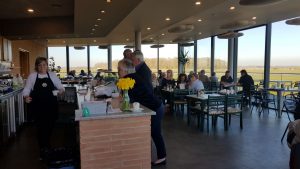 Thankfully there was so much going on because if I'm going to be honest (which i normally am) the wait for food was a bit long. Not somewhere i would suggest going on a lunch break. However if you have the kids and they're not getting hangry you'll be fine like we were.
Food
The food arrived (little tip grab your own cutlery its at the end of the balcony by the doorway, Ketchup sachets are on the inside) hmmmm the food now it most definitely wasn't a pannini. It was a toasted baguette and again if I'm going to be honest an over toasted baguette at that. The chips although were fries weren't skin on fries like advertised. Although it was a big bowl there was a mix of overcooked and cooked chips (very greasy too).
Despite all of that the food was nice/ok certainly nothing to complain about but I've had much better elsewhere.
If you have a dog they even sell doggy breakfasts which i thought was super cute! the only rules they have are that your dog is clean, Well behaved and kept on a lead which is pretty reasonable if you ask me.
We stayed at the flight deck cafe for a good hour to an hour and a half. Elliot eats like a sloth moves. I managed to convince him to box up his chips in a takeaway container so we could go for a walk. This is where the fun gets better.
Walkies
We walked down the side of the pond past the other building towards the area where all the planes were parked. We got up pretty close but you can only go so far. There is a barrier telling you where to stop. Elliot got to see the strange looking helicopter and the cool plane.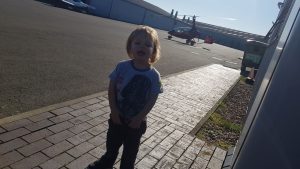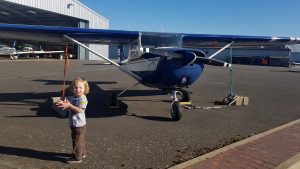 We turned back round and went the other way around the building to the quieter side. This is where you can get up close to the planes. It was super cool Elliot got to pose with a couple of his favorites. Now I'm not sure if you're allowed to do that but i didn't let him touch anything and nor did i see any signs telling me otherwise.
After a mooch around i saw that there was an area at the end of the runway that we could go and explore. So glad we did!!
Runway
We got there and sat on some of the old tyres waiting for the planes to land. I didn't have the balls to sit directly under their path but we got super close anyway. It was amazing. We must have sat there for at least an hour watching the aircraft.
At one point 3 planes took off at the same time and they were doing arial acrobatics. It was like having our own private air show. The lady in the cafe had told me earlier that the disabled air acrobatics team (or similar wording) were there but on a lunch break. I'm assuming this was them.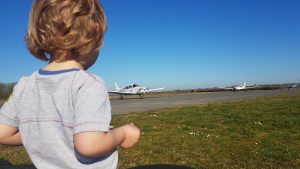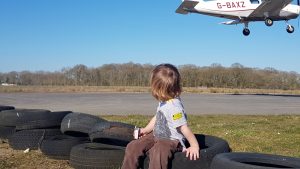 Elliot was running round pretending to be a plane and when there was no aircraft activities he was throwing stones into the tyres and polishing off his chips.
I also noticed that there was a rally driving school at the bottom of the runway too, right next to the solar panel farm.
The Flight Deck Cafe Stats:
Distance from Bicester: 21 mins
Sat nav: Turweston Aerodrome, Brackley NN13 5YD Click to load sat nav
Food quality: 7/10
Value: 6/10
Venue: 10/10
Cleanliness: 10/10
Service: 8/10
Overall experience: 9/10
Food hygiene rating : 5 highest score!
Child Friendly: No children's menu but PLANES!!!
Dog Friendly: Yes!!! Great for Dogs
Conclusion
The whole day turned out to be amazing. Now i know the food wasn't the best but i'd still recommend visiting the cafe even if its for a coffee at least.
I will definitely be going back with the older one and the husbeast.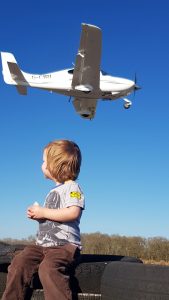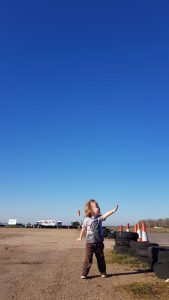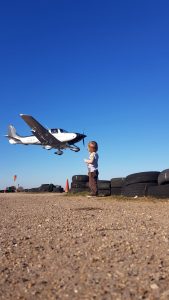 As the parking is free at the flight deck cafe and there are no restrictions. we would happily go back with even with a picnic too. You don't even need the cafe if you're saving money. Just park up find a pitch and enjoy the show. Just bear in mind that there might not always be that much going on and it might not be a nice if its pissing it down with rain.
AOB
If you would like to check out their website you can do so HERE
For more idea of places to eat check out my review HERE. I will be adding more child friendly cafes soon.