Bit of a last min change of plans thanks to the storm. One of my readers on Facebook told me about this one because she lives close by. So thought we'd try out The Farm Stratford Upon – Avon for a spot of lunch with the boys.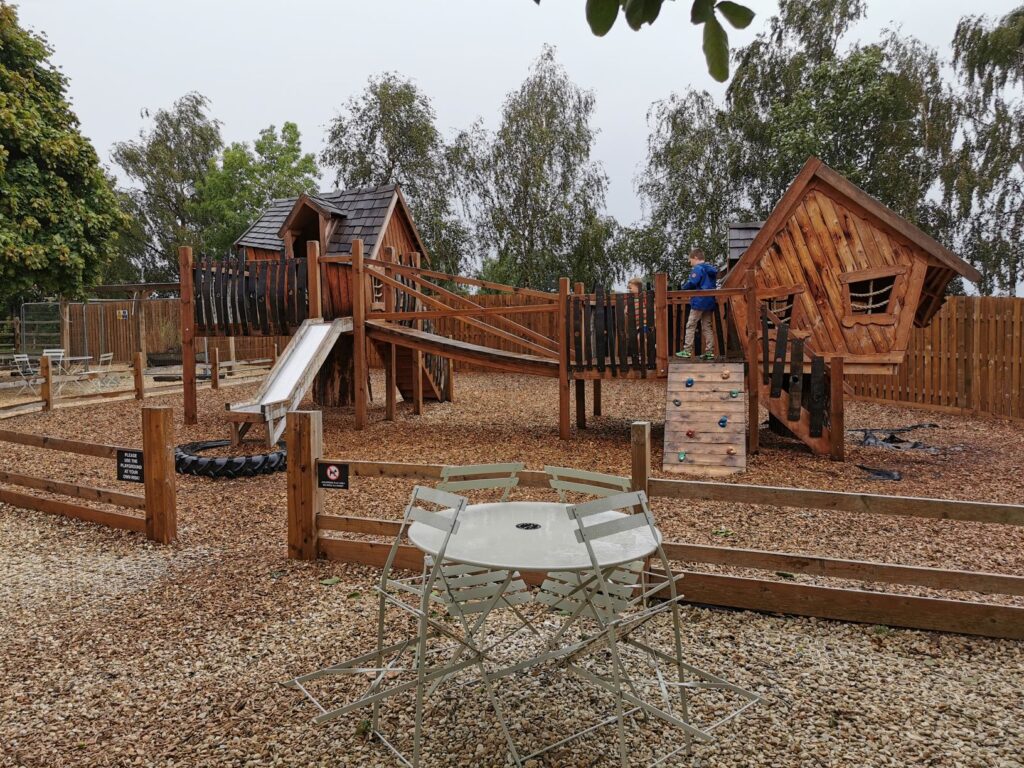 The Farm Stratford Upon – Avon
Now I'm more of a picnic kinda mum. That's not to say I don't like cafe's, more that I don't like being in them with my kids. However after a quick bit of research I thought it looked like a good spot for the kids. I didn't mind the 40 min journey because it gives the husbeast time to get some work done while were out.
When we arrived the car park was already busy. We had no problem finding a spot in the overflow. In fact we ended up parking opposite the goats. The kids love goats, they keep asking for a pet goat. Not going to lie I've been tempted.
We headed over to the building and ended up in their farm shop. There is no access to the cafe at the moment as they're running a one way system. There very well could have been a sign directing people to the cafe but I couldn't see one. Clark ended up pointing out how to get there…..Basically walk past the shop and its the next entrance.
Again there was a one way system in place that kinda worked but then again didn't. Soooo many signs but nothing that really told you what the fuck to do. We found a table (it was 11.40 am) then I looked for a menu…….there weren't any.
Food At The Farm Stratford Upon – Avon
I had to walk to the counter and grab their menu which was also their takeaway menu. The member of staff said something about breakfast and not serving food until midday. To be honest I'm deaf as shit and this whole mask thing isn't helping. I feel sorry for the staff too it must be so hard.
Anyway I went up to have a look at the sandwiches because they don't have a menu. A lovely man (possibly the manager) asked if he could help. I was starting to think i wasnt supposed to be there. He was really lovely and helpful well as much as he could but basically there's fuck all for kids. That's unless you can get your kids to eat what i call faffy sandwiches. Unfortunately my 2 like cheese, ham, jam or tuna. He did offer to go and look to see if they had some though which was really lovely.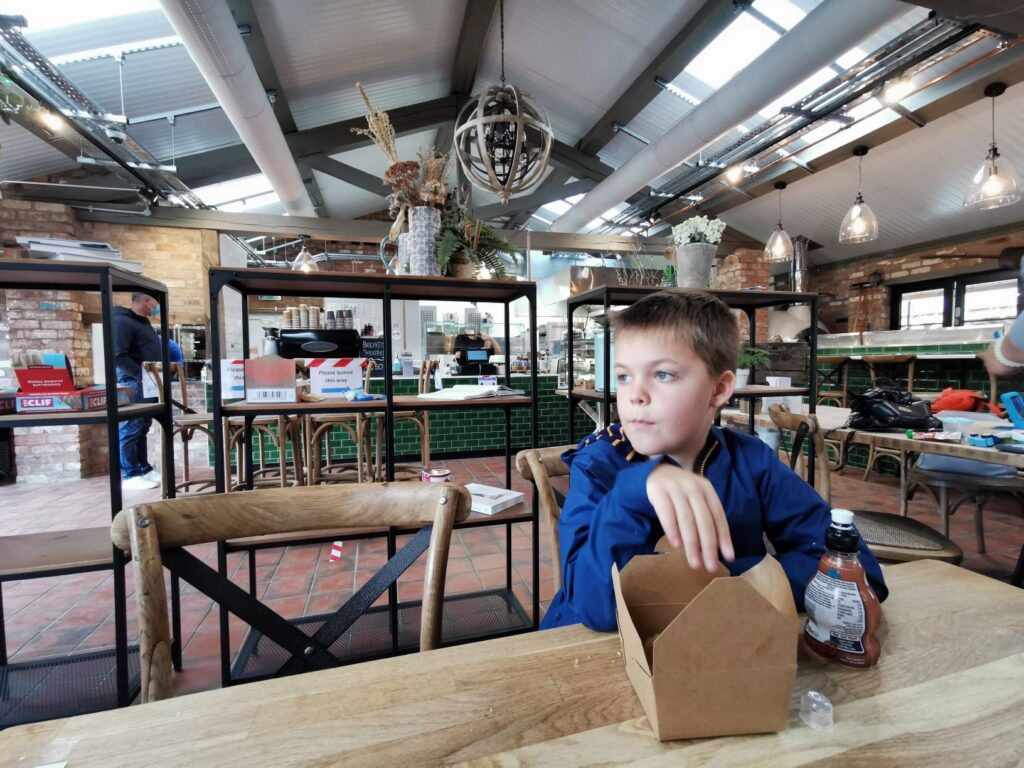 Anyway in the end I spotted some sausage rolls and some posh crisps I ordered a cup of tea and job done. By this point it was absolutely pissing it down and there was a queue of people waiting for a table. In normal circumstances I'd have taken the boys outside but not even i fancied that weather.
The sausage rolls got the thumbs up from the boys well apart from the ends because they were "burnt". Their idea of burnt is anything darker than beige. The rain had calmed a bit and we decided to head outside so someone else could have lunch.
Exploring The Farm Stratford Upon – Avon
After lunch things started to get a little bit better for us. Out the back they have a really well build play area which thankfully was empty apart from one other little boy that ended up playing with my 2 anyway. The was also a lovely sheltered area for the parent to sit under and watch the kids play it was really lovely.
After a lengthy play in the play park we went for a walk around their farm garden. It was actually really lovely. Nice to see where they grow some of their ingredients for their kitchen. They boys loved guessing the veg too.
Right next to the veg patch were the pigs. Oh yes they have animals too. They were all taking shelter from the shit weather (cant say we blamed them) but they were easily seen. You will also find chickens, sheep and goats too which was a lovely touch and perfect for kids.
Next up was the farm shop. As you can guess like all other farm shops its bloody expensive. We went in and bought a few bits for baking. The shop is genuinely stunning though and the produce looks amazing. There was one rule which as bad as I felt for ignoring it, I did anyway because I felt it was an unreasonable request. A maximum of 2 people per family allowed in at a time. Hugely unfair for anyone with more than one child. I went in made sure the boys behaved and we never got kicked out. It wasn't busy at all. If it was then I honestly wouldn't have taken them in anyway.
The Farm Startford Upon – Avon Stats:
Distance from Bicester: 40 mins
Sat nav: King's Ln, Snitterfield, Stratford-upon-Avon CV37 0QA Click to load sat nav
Wheelchair friendly: Yes
Equipment upkeep: 10/10
Cleanliness: 10/10
Facilities: All you need
Age range: All ages
Safety: 9/10
Fun factor: 8/10
Dog friendly: Yes but not in the shop or the cafe
Pushchair Friendly: Yes
Bikes and Scooters: No
Conclusion
I know it sounds like I've done nothing but moan but there was nothing that I thought was awful. In fact we had a lovely couple of hours and the boys had fun. I was more the things that they could have done to make it better. The fact they they seem so child friendly on one hand but couldn't provide a children's menu somewhat irked me.
The Farm Stratford Upon – Avon is without a shadow of a doubt stunning and packed to the brim with potential. The grounds are really nice and the play area is fantastic. If we lived closer I can imagine we would visit a lot more for coffee and cake.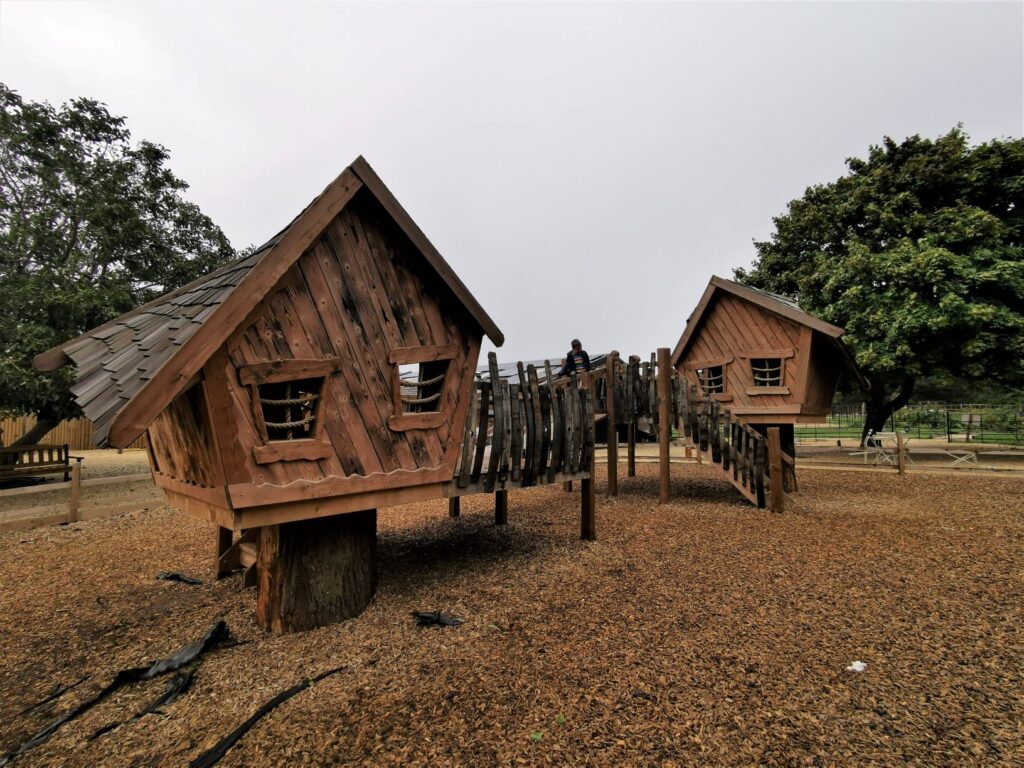 However because of the lack of a children's menu I doubt we would visit again unless we were in the area. It looks like a great place for lunch if your kids aren't on solids yet so you can eat the nice food and still get away with taking your own food for the kids.
If I'm going to compare it to places that I've been before then It was better than limes farm for animals and play area but not food. The farm shop was very Millets but not as big. Yet overall I would still pick The Old Shed over them all.
AOB
Check out their website HERE for more information
For more places to eat out with the kids check HERE