Today was the hottest day of the year so far so of course this meant the first day of the holidays being a bit shit. I did however manage to muster up the energy to get the kids out the house early to avoid the midday sun and wander over to the brand new Warborough Play Park.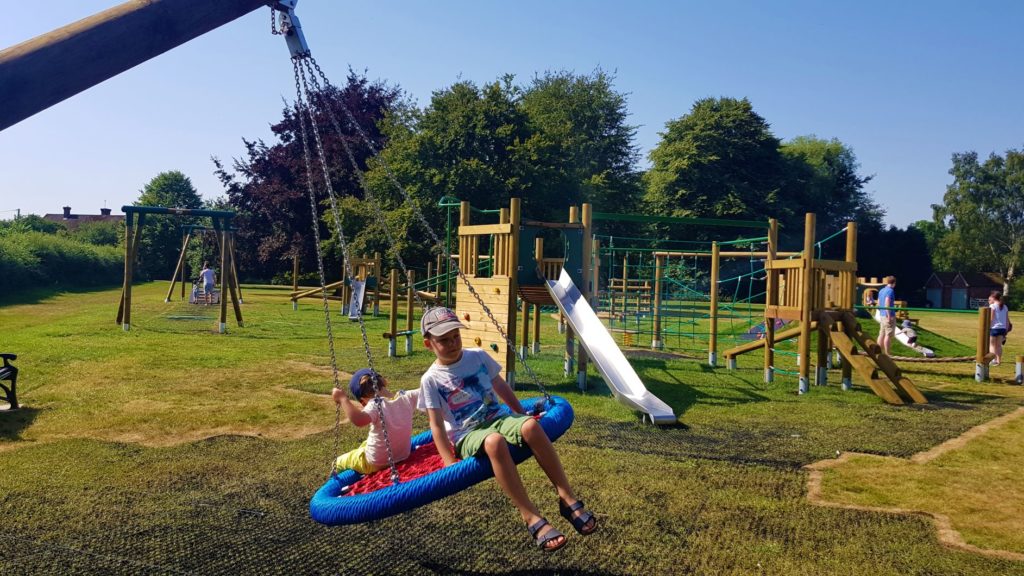 If it wasn't so bloody hot at 9.30 am i reckon we could have spent ages there. Its a lovely park and in a stunning village too.
Warborough Play Park
So this play park is a bit of a drive for anyone in the Bicester area like me. However if you're a south Oxford dweller then you're in luck because its a corker. Well worth a visit….if it isn't hotter than hell that is.
The sat nav will take you directly there. Once you get to the lovely looking pub keep going. Follow the signs they'll lead you right to the car park. Small but does the job. Looks like you can park on the green as a last resort too.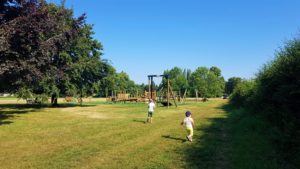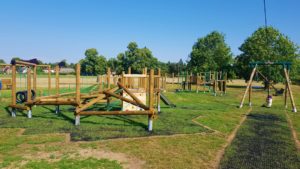 You'll catch a glimpse of the play park as you drive past all the mansions on the way to the car park. The play park is almost as impressive as the houses too. With the added bonus of shelter from a few trees around the park.
I really wish this park was a little closer because we would definitely be visiting more. Its perfect for all ages.
What Equipment Is At Warborough Play Park?
The play park is a huge wooden structure. So new you can still smell the wood. Maybe it was the melting rubber matting below but either way it was a nice smell haha.
There's so much to describe and in this heat as I'm typing I'm losing the will so i'll probably try and keep it short and let the photos do the talking.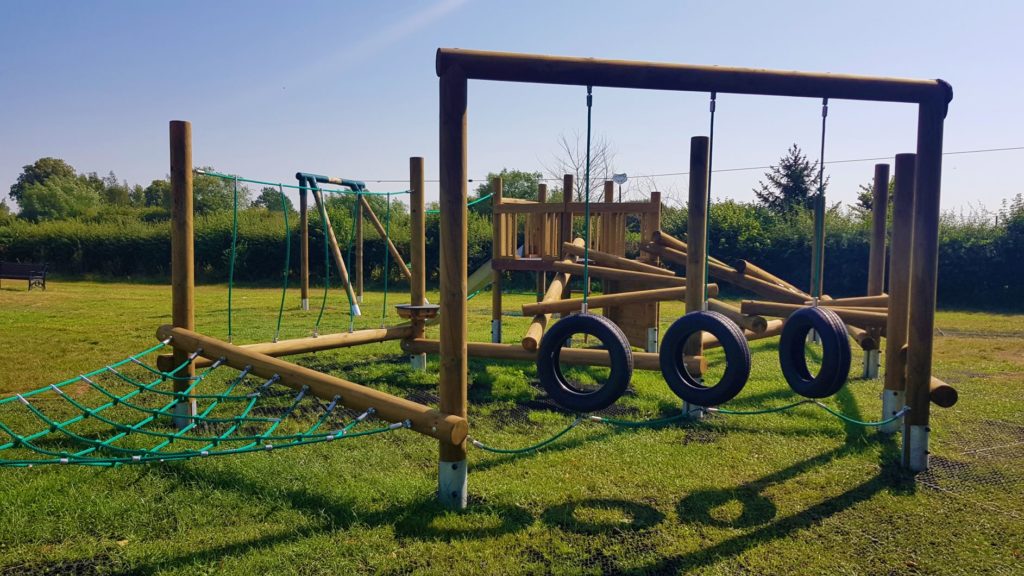 The main area is a huge frame/balancing course hybrid and the kids absolutely loved it. Especially the balancing course. It was just the right amount of difficult to keep Clark entertained and had the right amount of smaller bits that Elliot could also have a go too.
There's a really cute little toddler hill fort with lots of different aspects to it. While my 2 didn't use it much there were some really sweet little kids playing in there that looked around 1-2 yrs old.
What Else Is There At Warborough Play Park?
There's lots of swing for all ages including a cool cargo pendulum one which the boys lay on for ages demanding me spin them and swing them quicker. All good and well until Clark somehow managed to fall of, hurt his finger and get twatted in the head as Elliot swung back at him again while still on the swing.
A zip wire that if I'm being honest was pretty shit. Its crazily slow but on the plus side it should be a good starter zip wire for little kids. There's a huge field for ball games with football goals and even a rugby goal which you don't see a lot of. Clark at this point was disappointed that we didn't bring his rugby ball.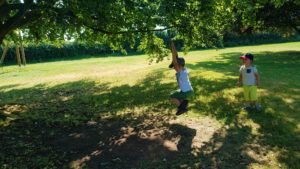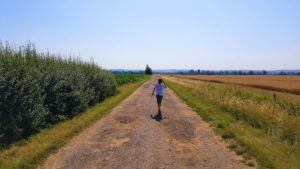 Back in the car park there are also another set of equipment. I'm not entirely sure if these are more play equipment or if it was more of an outdoor gym kind of thing. Kids had fun with them anyway.
After we had a play with everything we all decided it was too hot and we needed the air con of the car again. Just before we left though they boys (Ok maybe more me) wanted to check out what was down the road. Well its a nice little walk to some lovely farmers fields. The boys had a careful walk through the corn and then we headed back while counting all the butterflies. It would be a lovely little bike ride or scooter ride for anyone wanting to explore some more.
Warborough Play Park Stats:
Distance from Bicester: 34 mins
Sat nav: Warborough Green Park, Warborough, Wallingford OX10 7DN Click to load sat nav
Wheelchair friendly: yes
Equipment upkeep: 10/10
Cleanliness: 10/10
Facilities: No Cafe or toilets but pub very close by.
Age range: All ages
Safety: 9/10
Fun factor: 10/10
Dog friendly: yes
Pushchair Friendly: Yes
Bikes and Scooters: yes if going for a little ride afterwards
Public transport:
From Wallingford: Market place stop A jump on the X40 River rapids to Oxford Then jump off at the Kingfisher Pub and about 10 min walk to the park from there. In total around 25 mins.
Conclusion
Despite it being hotter than Satan's ball bag today we could all tell Warborough play park was great. We had planned to go and visit the Donkey sanctuary while we visited too but it didn't open until 11am and it was just way too hot for us.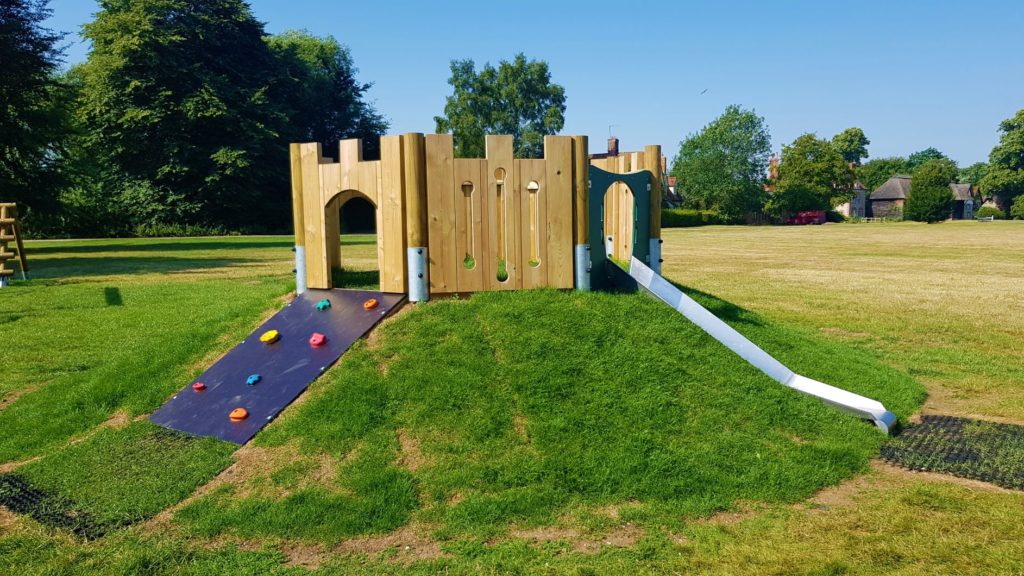 We'll be going back so we can look at the donkeys have another play and also take Clark to the lakes close by so we can have a go of the huge inflatables without Elliot they looked awesome. We popped in for an ice cream on the way home and the cafe seemed really nice too.
If you do like close by i would highly recommend you pay Warborough play park a visit. Its a great all rounder and again its another free day out for you.
AOB

For more play parks in your area check out the play park map >>HERE<<
If you know of any places that we should pay a visit then I'm always grateful of the recommendation so please do drop me a message on the FB page >>HERE<<