Making the most of the sun before it fucked off for the rest of the year. So on Friday i took advice from a lovely lady who emailed me a list of parks i should try out. Cumnor play park was the top of the list Aka Glebe Play Park.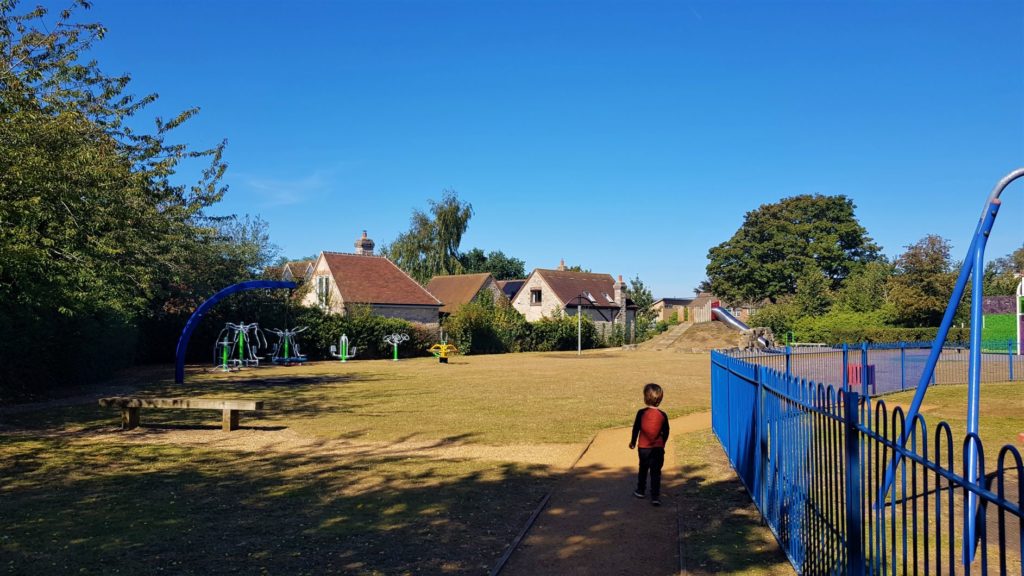 Cumnor Play Park
Picked the small up from nursery. Got told off for not having his name in his wellies. I apologised while thinking i have no fucking idea who's wellies he wore because i didn't bring any in. Bad mum moment made worse by hearing we were supposed to bring a treasure chest of baby things from when they were little. Hes the 2nd born ffs who keeps things for the 2nd! not me that's for sure.
Anyway off we went in search of this play park. Fairly easy journey or at least it would have been if I'd checked the status of the A34 first. The A in A34 stands for arsehole. Should have gone the back roads. Ah well he was napping anyway and the sun was shining.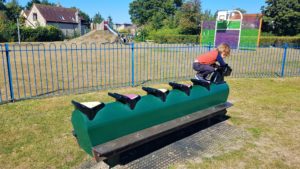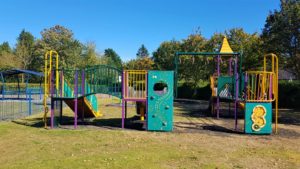 When we found it there was plenty of roadside parking. We managed to bag a spot right next to the gate. The play park is behind a big wall so its not easily seen from the road.
Once we got in you could see the park spread over a huge space with a field in the middle. Lots of different areas for different ages, On the plus side it was all fenced/gated and walled in so its really pretty safe. In fact the main play area for the younger ones is fenced in again so separate from the other areas which I liked.
Whats In Cumnor Play Park?
I'll start off with the fenced in area which i would say is for the smaller kids. When we arrived it was just us and one other mother and child. This play area is mostly metal framed which to be honest Isn't normally my favourite kind but it looked jazzy and Elliot was happy enough.
The first thing he went for was the vintage rocking horse. I would have had a go myself if there wasn't anyone else in the park. However I know for a fact that I look like I'm trying to hump the fucking thing!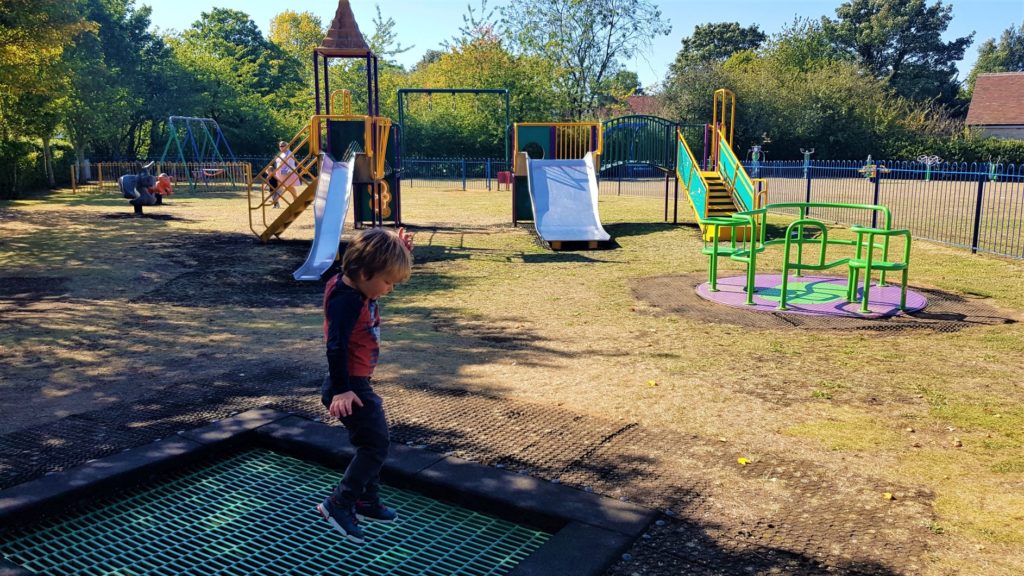 There a lovely little climbing frame with a "rubbish tunnel" as Elliot called it. Along with a really cool trampoline, Swings, a roundabout and then possibly the coolest springy face twatter I've ever seen. It was a donkey Elliot loved it!
Now I'm not entirely sure when i say this but i think that most of the equipment in this mark has been made accessible for wheelchairs and children with disabilities. I cant seem to find out if this is the case but I'm just going off what I could see.
What Else Is there To Do?
At this point Elliot had made friends with the other little boy in the play park so they were both off on their way. Straight out the gate and over to the Mound as i will call it.
Now the mound is pretty cool and although Elliot and his new best friend were more than capable of climbing this area I'd say this is a nice area for the older kids too. It had the Tunnel slide. Brace yourselves too Elliot came shooting out of that bastard faster than an Alco poo (poo the morning after a night out)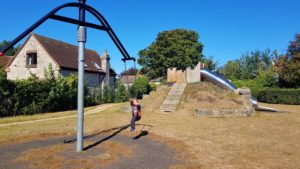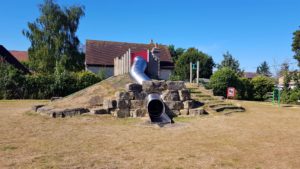 The mound is pretty high up and there are a few ways to climb up. Some easier than others. There are steps, A rope slope (totally made that up but you'll know what I mean) and then on another side they had a cool vertical rope climber.
At this point i got chatting to the other mum and turns out we had friends in common and she runs a nanny business called lemon jelly childcare solutions. So if you're reading this hiya Jo and Nate.
A Musical Maze
Right next to the mound is where you'll find a totally unique area. I had no idea it was there until Elliot and Nate had fucked off in there. Its was a bloody maze!!!! I mean don't get me wrong it's No Blenheim maze but for a play park how fricking awesome is that.
Not only is it a super cute maze perfect for toddlers by the way. There are sensory areas dotted around and musical stations throughout. I LOVE IT!!! So did Elliot. He especially loved the rain maker. Hundreds of teeny balls (about the size of my husbands) in a spinning panel. To be fair to him it was pretty cool.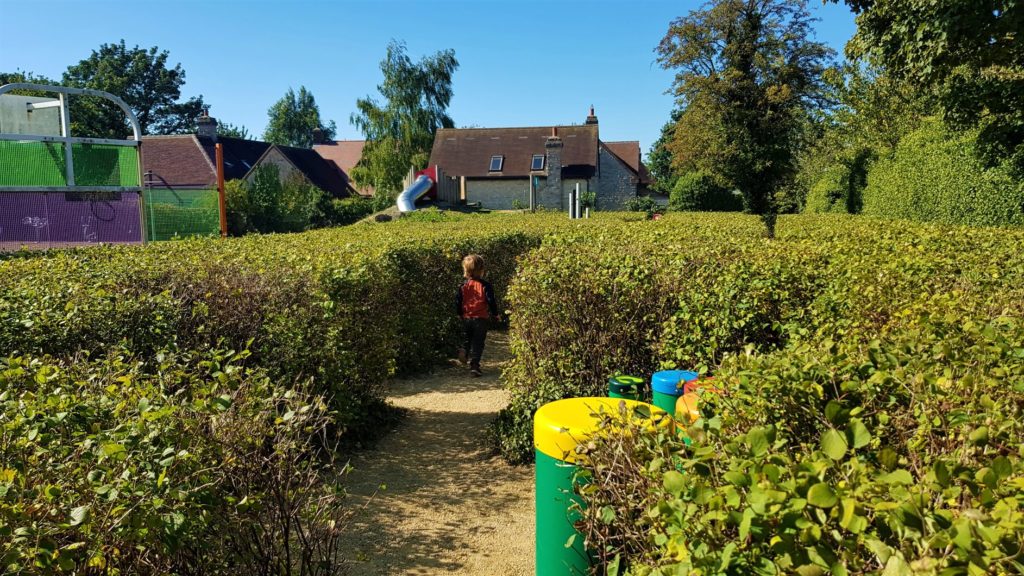 It was really nice that Elliot had found a little friend to play with. It was also nice to have adult conversation for a change too. Parks are always more bearable when your toddler isn't trying to get you to play monsters with him the whole time.
By this point the boys were doing there own thing and playing on everything. Mostly in this area though. Elliot was starting to lose energy at this point too. Didn't stop them from having a mini workout on the Gym equipment on our way out though.
Cumnor Play Park stats:
Distance from Bicester: 20 mins
Sat nav: 2 Glebe Rd, Cumnor, Oxford OX2 9QJ Click to load sat nav
Wheelchair friendly: Yes
Equipment upkeep: 10/10
Cleanliness: 10/10
Facilities: No facilities but there is a pub a stones throw away
Age range: all ages
Safety: 8/10
Fun factor: 10/10
Dog friendly: No
Pushchair Friendly: Yes
Bikes and Scooters: Not really anywhere for them
Public transport: From Oxford jump on the S9 to Wantage and get off at Glebe rd takes about 15 mins. From Bicester just get on the train from BV to Oxford then on the S9 takes about 35 mins
Conclusion
I really liked Cumnor play park it was a brilliant afternoon filler after nursery and I know Clark would love it too. I'd highly recommend this park to anyone especially because of how unique it is.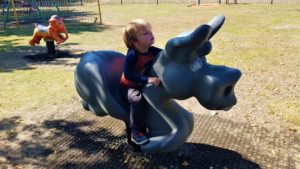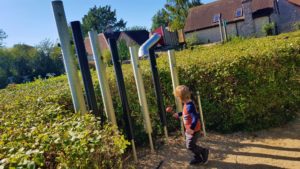 There are is more equipment that I didn't mention but I'm sure you can figure out whats there just from the photos alone. Bottom line. Its a cracking park. If its sunny get your arse's down there.
AOB
I'm always on the lookout for new play parks to review so if you know of any good ones please do message me. Its easier to message me on the Facebook page HERE
If you'd like to check out more play parks near you then have a look at the Play Parks map HERE