So it would seem that Aylesbury are dishing out the decent parks at the moment. Gateway play park being no exception. Its just round the corner from Buckingham park Playground. So why not crack on with a mini park crawl if the weathers good.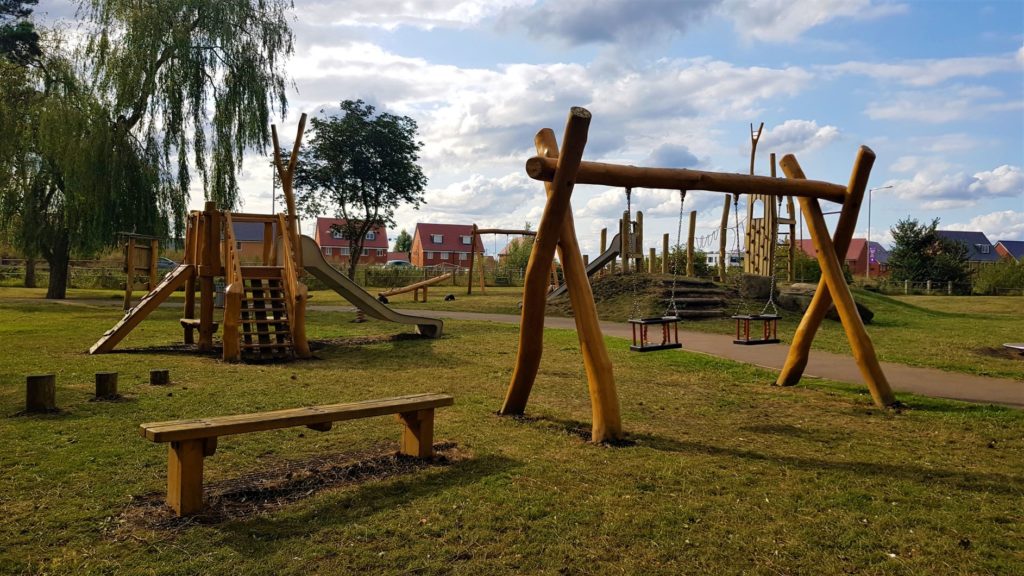 Gateway Play Park
We've driven past this park so many times and we've never been in. The husbeast can never be arsed. Today it was just me and the older one and we tend to do what the fuck we like. So although you can see it from the road you have to head into the housing estate to get to it. Parking isn't the easiest either but I'm sure you'll find somewhere like we did.
The play park may not look large but it is rammed with really cool equipment. If parks were on tinder I'd be swiping right and sending this pocket rocket some cheesy one liners.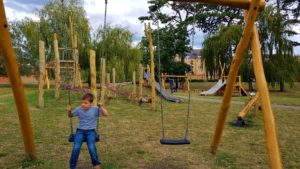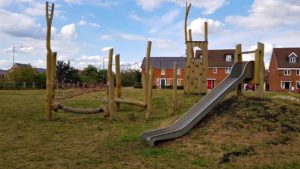 Gateway play park is a lovely timber park and although its not technically fenced in it is on its own little green surrounded by houses. It is right next to a main road but that side is fenced in. For this reason I'd say its not the best play park for ball games….at least if your kids have the sporting ability that mine do.
There is plenty of room for picnics and a run about though. Whenever we've driven past before its always been empty. When we visited there was a family in there for a short time other that it was empty.
Equipment In Gateway Play Park
Its a great little park for all ages. There's a path dividing the park and on one side you have a younger kids area and on the other you have the older kids area. Really great way to separate the younger from the older without being too far away from either.
The older kids side has a great natural play frame which almost makes a balance course to get round it ending on a mound with the older kids slide. Which is actually easily accessible for younger kids too because we all know kids always want bigger.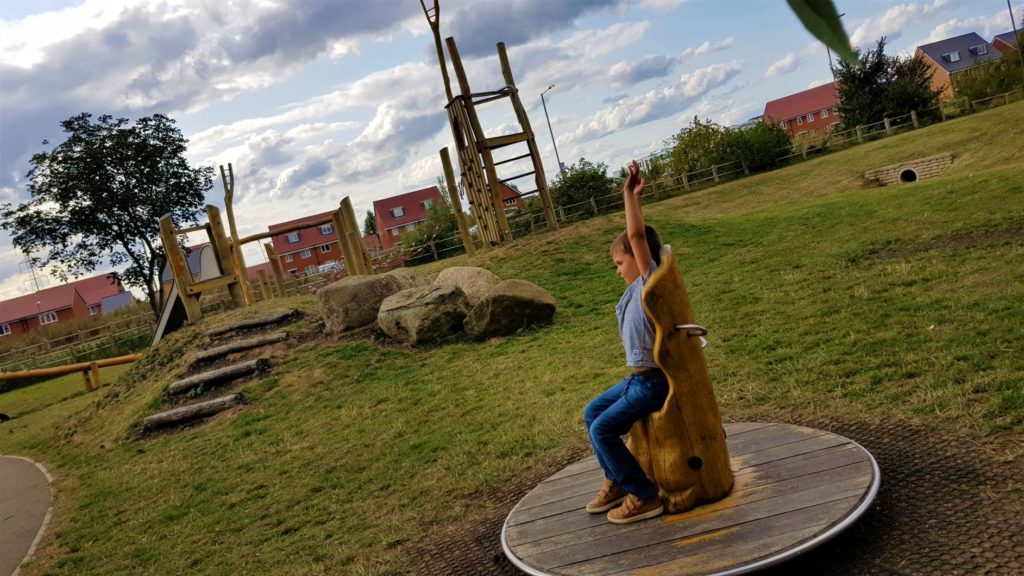 There are a few boulders that make for good natural play i.e climbing or jumping. Depending on what type of parent you are these could also be seen as face smashers. I can imagine a fair few skulls have been cracked open on them in their time.
There are a few cool unique pieces of equipment in the park. One of mine and Clark's favourites was the roundabout.Its basically a throne on a turntable with 2 handle's for someone to push your royal highness around for bloody ages.
For The Smalls
As i mentioned earlier there is a small persons area. Although its small its equally as pretty as the older kids area so it should keep their attention for all of 5 seconds.
Its a small frame but not too small with a few different ways of getting to the top to whizz down the slide. Right next to the toddler frame are the infamous springy face twatters, 2 of the buggers. Ones clearly a lady bird the other. Not a bloody clue what it was haha.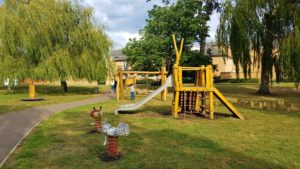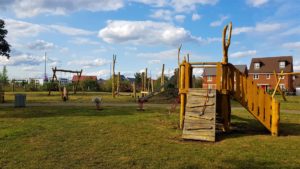 In the park there's plenty of swings. 2 baby swings on the toddler side. Then on the other side you'll find the older kids swings and a cargo net or in this case a cargo chain swing.
There's a double seesaw which i swear was 2 giraffes Clark however disagrees and said they were cows. Not sure it really bloody matters to be honest. You'll also find a load of stumps for balancing on the toddler side too.
Gateway Play Park Stats:
Distance from Bicester: 26 mins
Sat nav: 39 Barland Way, Aylesbury HP18 0UZ Click to load sat nav
Wheelchair friendly: Yes
Equipment upkeep: 10/10
Cleanliness: 10/10
Facilities: Just a park. No toilets or cafe that I could see
Age range: All ages
Safety: 7/10
Fun factor: 10/10
Dog friendly: No
Pushchair Friendly: Yes
Bikes and Scooters: Not allowed which is a shame
Public transport: From Aylesbury jump on the number 4 towards Berryfields get off at link road west and walk the rest. Will take about 20 mins in total.
Conclusion
We really enjoyed Gateway play park and its brilliant for all ages. I know it doesn't have any other facilities but if you take a travel potty and a picnic you're set for the morning or afternoon.
I like that its close to other parks too. In fact there's one directly over the road which looks great for older kids too but i haven't tried that one out yet so will have to keep you posted. If you want to see the other park which is just up the road (along a cycle path too) then check the review out HERE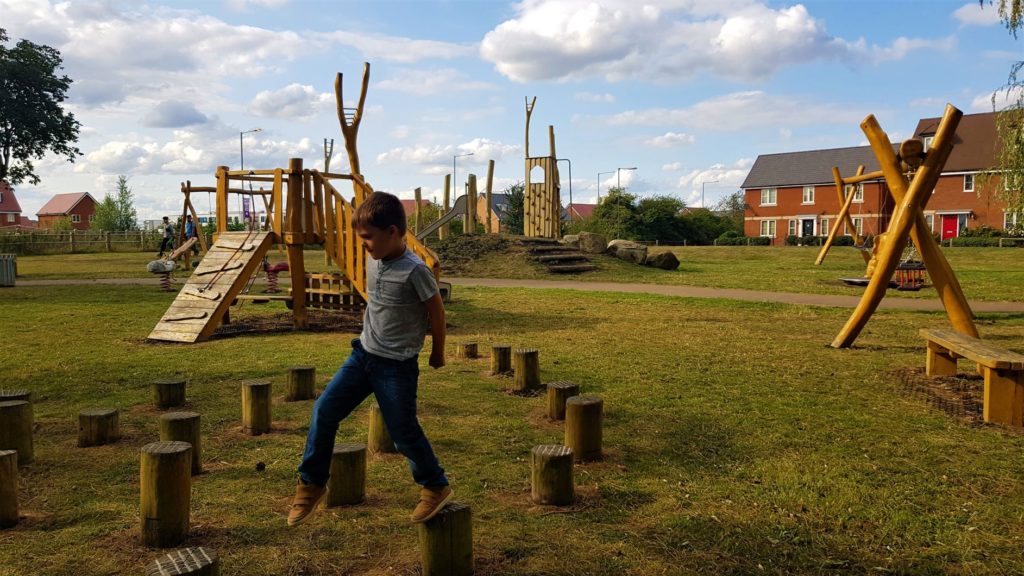 If You are able to get there then i would recommend anyone with a spare couple of hours to give this one a try.
We will be using this one a bit more now that I know how good it is. Brilliant little stop off on the way home if we've been out that way.
AOB
I'm always on the lookout for new play parks to review so if you know of any good ones please do message me. Its easier to message me on the Facebook page HERE
If you'd like to check out more play parks near you then have a look at the Play Parks map HERE