Another little after school trip the other day. The Oxford road play park in Eynsham was the 2nd park we visited. What a lovely space it was too.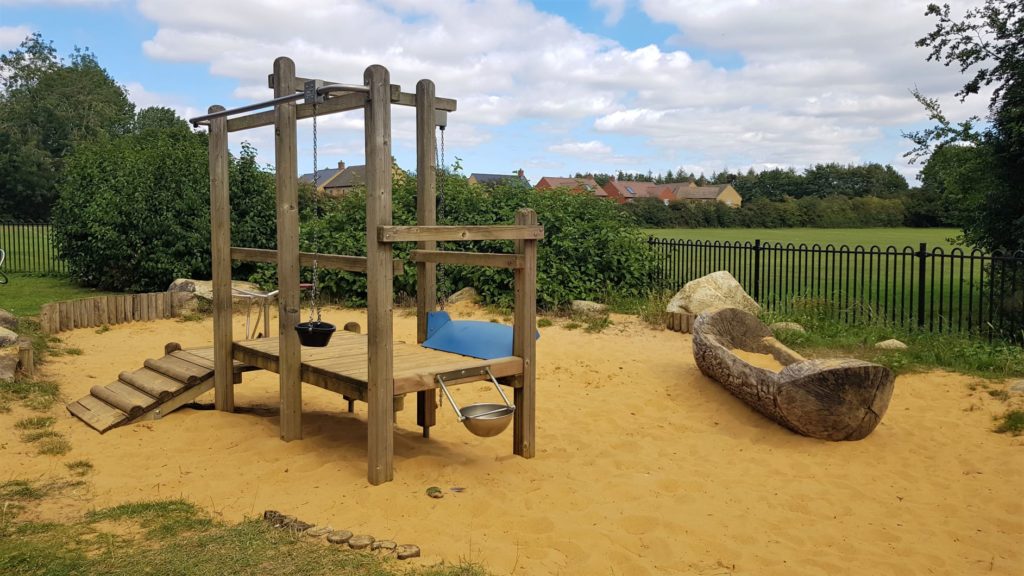 Oxford Road Play Park
This play park has been on my list for a while after I caught a brief look driving past one time. It's really easy to get to and there's even free parking too… At least I think it was free. I'll let you know if a tickets turns up in the post or not.
If you have older kids this will be a cracking park for them too. There's a shit load of space for ball games, Gang meetings, basketball courts and even a skate park. They really are spoilt for choice here.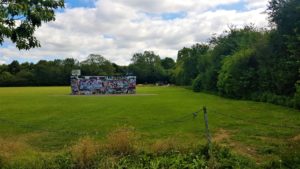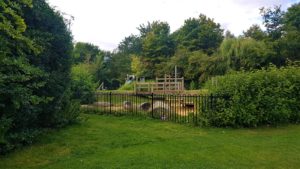 The skate park is on the opposite side to the play area too which I like the idea of because if its anything like the one in Garth Park it'll just stink of weed anyway….although Elliot worryingly likes the smell every time we walk past.
Another little good point is that the zip wire is outside of the play park too. Keeps the kids from running into flying feet. Though saying that this zip wire is so high up I reckon they'd zip right over most toddlers heads anyway.
Whats Oxford Road Play Park Like?
The play park is fenced in and nestled in the corner of the field out of the way. You wont have to walk far if you're driving though as its right next to the car park anyway. First impressions were pretty good.
The first thing Elliot noticed was the trampoline. Clark would love this. Apparently a sign of a good play park these days is a decent trampoline. This one is by no means a small one either.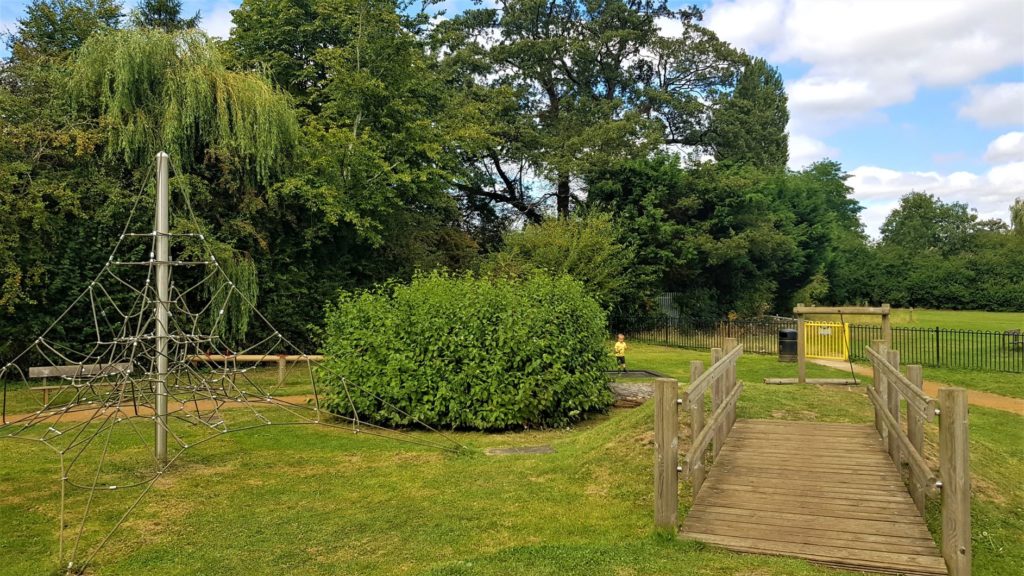 The first thing I noticed (Elliot wasn't far behind) was the really cool looking sandpit with pulleys and even a mini digger. Now I'm not sure what the average height of toddlers in Eynsham is but Elliot was way too short for that thing. Shame really it does seem strangely high from the ground (I know my sand diggers well).
Elliot wanted his shoes off and in a polite way I told him to shit off. The car had just been cleaned. A clean car normally last about a week max for us and I wasn't about to let sand fuck that up. Another downside was that the chain was knotted up so the pulley system wasn't working. I tried to untangle it and I was about as shit at that as I am when my necklace gets tangled. Why I thought it would be easier on a giant version I don't know.
What Other Equipment Is The In The Park?
The play park is still pretty good for a range of ages. The main play frame I would say is better suited for older kids. That's not to say Elliot didn't still try it and make me nearly shit myself in fear. It does have the cool slides though so I cant blame him for wanting to have a go.
Its high up and has lots of space for toddlers to plummet to their death below (slight exaggeration? I don't know). I think Elliot could smell my fear which just spurred him up higher until he was out of reach and I was below waiting to catch him like a rugby ball (I'm shit at catching anything other that Illnesses btw)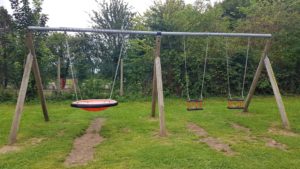 There are plenty of other things in the park for them to climb. Including the big spider web as Elliot likes to refer to it as. Clark wont go on these now after he broke his collarbone falling/being throw off one by his dad. (Combe park one. Still a lovely park though)
You'll find plenty of swingage, A slide for the smaller ones on the hill, a seesaw and a lovely bridge too which another mum was pretending to be a troll. I should have offered my services in the troll department. I feel like I fit the role better.
Oh I almost forgot the 2 metal springy face twatters. I reckon they'd give out a lovely kettle drum sound every time a toddler twats their face into them.
Oxford Road Play Park Stats:
Distance from Bicester: 24 mins
Sat nav: Oxford Road play area, Eynsham, Witney OX29 4JL Click to load sat nav
Wheelchair friendly: Yes
Equipment upkeep: 7/10
Cleanliness: 8/10 bin was overflowing but at least it was all in the area of the bin.
Facilities: No toilets or cafe that I could see.
Age range: All ages
Safety: 7/10
Fun factor: 8/10
Dog friendly: Not in the play park
Pushchair Friendly: Yes
Bikes and Scooters: Yes!
Public transport: Yes. Train to Oxford then jump on the S1 gold to Witney at the friar Square stop and jump off at Eynsham church and its about 2 mins away. Take about 35/40mins
Conclusion
We really liked the Oxford road play park. The only downside were the couple of issues in the sand pit. Hopefully they pulley will get fixed soon because I reckon we could get a good couple of hours out of this park with both boys.
Its a great place for a variety of ages because of all the different equipment on offer. If this place had a cafe and a toilets it would be up their with my favourite's.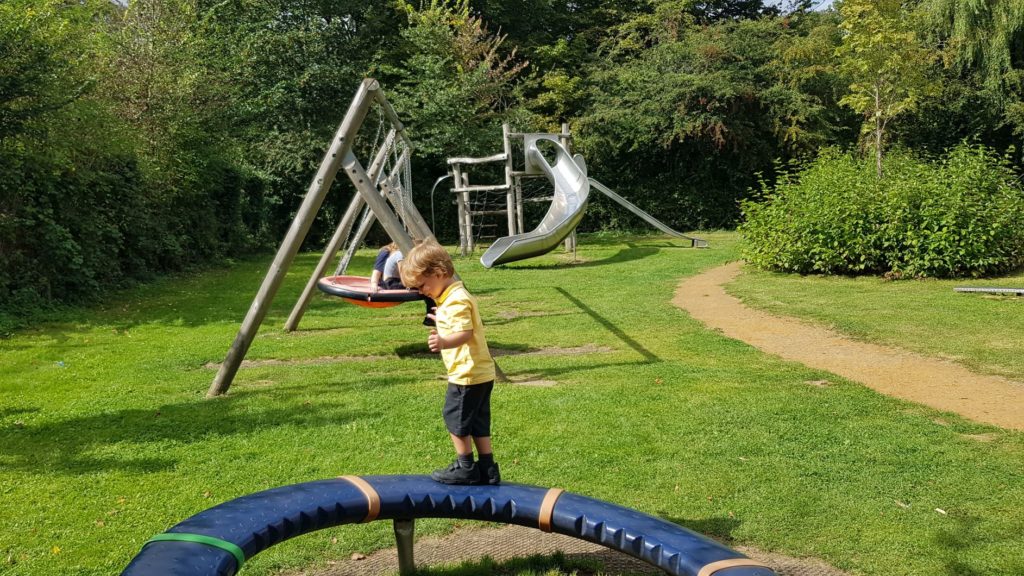 It was super quiet when we went and that was still during the school holidays and it was sunny. I do love a quiet play park.
I would recommend this park for anyone looking for something new. It looks pretty easy to get to even if you don't drive. I'm fairly certain there's another park in Eynsham too along with a village centre which i'm sure has cafes and maybe more importantly pubs 😉
AOB
I'm always on the lookout for new play parks to review so if you know of any good ones please do message me. Its easier to message me on the Facebook page HERE
If you'd like to check out more play parks near you then have a look at the Play Parks map HERE