So with Elliot off school with chicken pox. All of us going a bit stir crazy we just had to get outside. Only one thing for it. Like the old days a park crawl. First stop? Jubilee Play Park Appleton.
Jubilee Play Park Appleton
We havent really tested the parks out Abingdon way yet really so i thought we'd head over to the villages that way and see what we could find. Elliot specifically (I shit you not) asked for play parks "with no people". He really is my son. Well i'm not one to let my children down.
So we found Jubilee play park Appleton pretty easily. There's no car park so you will have to park roadside. Just be thoughtful of the residents as its at the end of a quiet road too.
I'll be honest we didn't stay long because it was bloody freezing. The parks pretty open and the wind was a bitch. However in the Summer i can imagine it'll be a good one. Loads of space and plenty to do.
The first thing Elliot spotted was the table tennis table. He was straight over there and much to my surprise there were even table tennis bats and a ball. It was too windy to play and Elliot's crap at table tennis but we know for next time.
Whats in Jubilee Play Park Appleton?
There's a fair bit to do in this park for a variety of ages. Bearing in mind we visited at the beginning of February so i will assume it will have a little spruce up. There were a few broken planters knocking about. Nothing a couple of nails wont sort though.
In the park you'll find a couple of bits of Gym equipment for the kids to piss about on. A swing for every age. So you have a baby swing, normal swing and one of those big disc style swings too.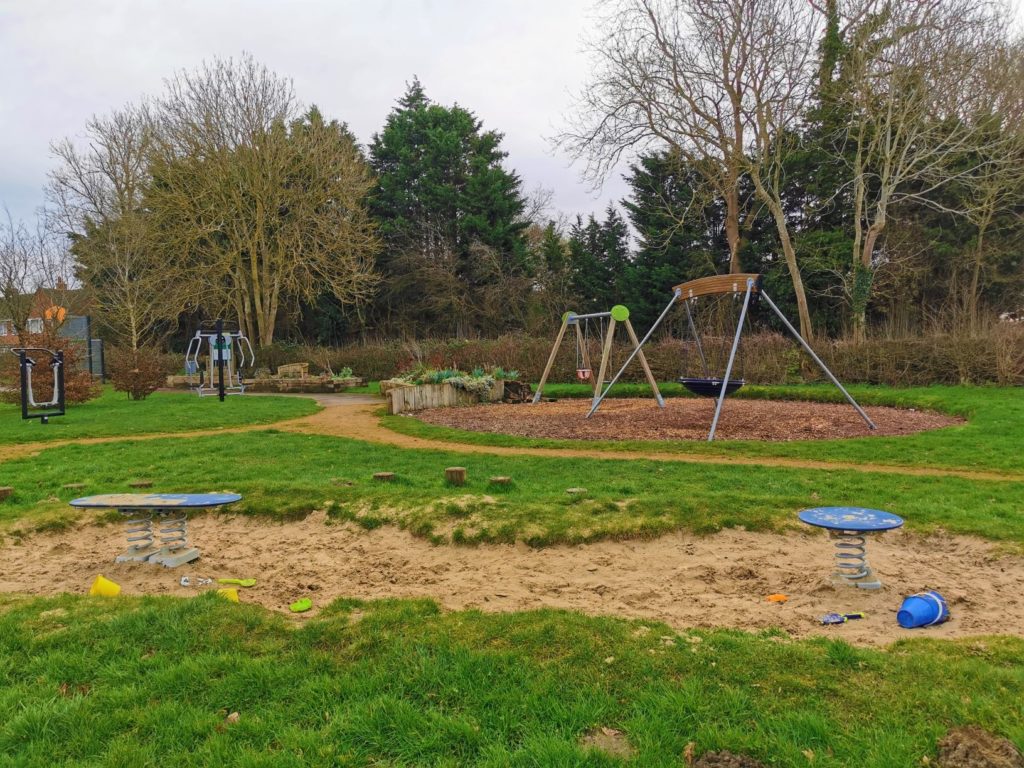 Now the next piece of equipment I couldn't get a decent photo of but its pretty awesome especially for the older kids. Its a climbers heaven. Thankfully Elliot didn't bother with it because i think i'd have probably soiled myself if he'd climbed the top. Its fricking high up.Looks like something you'd find in the monkey enclosure at the zoo.
There's a pretty fast zip wire which Elliot loved but its not bloody easy to get up to. Which could be a good thing if you're trying to keep the smalls off it. There's a pretty good tunnel slide, a balance beam style thing, a basket ball court area and even a little sandpit in the middle equip with toys (Probably left behind by the locals)
Jubilee Play Park Appleton Stats:
Distance from Bicester: 27 mins
Sat nav: Jubilee Park Appleton, Appleton, Abingdon OX13 5JW Click for sat nav
Wheelchair friendly: Yes
Equipment upkeep: 8/10
Cleanliness: 8/10
Facilities: Roadside parking. No toilets or cafe
Age range: all ages
Safety: 7/10
Fun factor: 9/10
Dog friendly: No dogs
Pushchair Friendly: yes
Bikes and Scooters: No
Conclusion
Jubilee play park Appleton is a cracking little park. Super quiet and has a lot of areas surrounding to go for walks afterwards too. I think it needs to be explored a bit more but overall it looks good.
I'm not sure I loved it enough to head back myself but if we were in the area anyway then I'd definitely head back. If you're close by and you haven't been then you should go for sure.
AOB
If you'd like to suggest another play park for us to visit and review then please send me a message over on Facebook HERE
If you'd like to have a look and see what play parks are near you then have a look at the map HERE