By total fluke myself and Elliot happened upon the greatest of all parks to date…..Finstock play park aka golden Juibilee playground.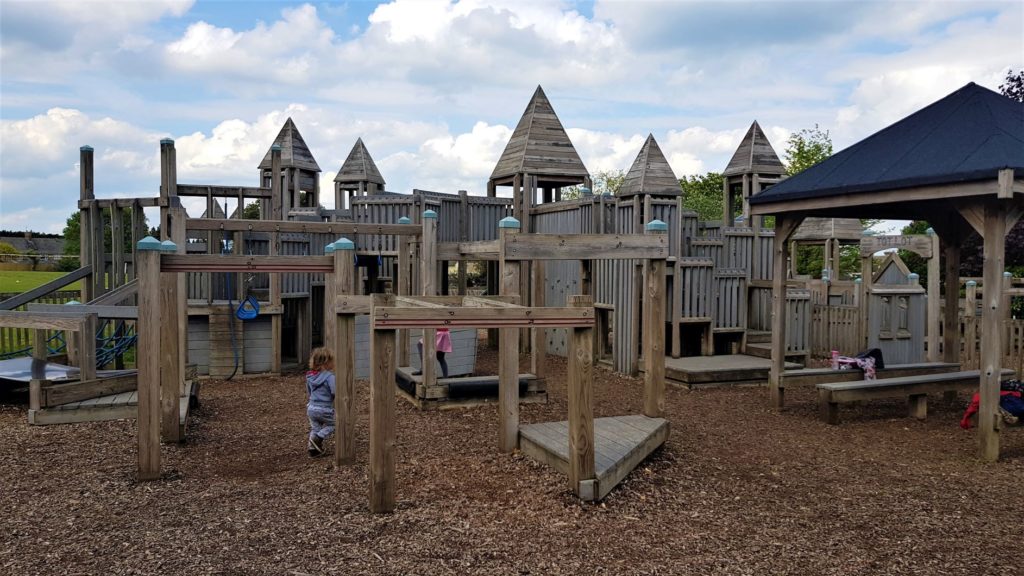 I shit you not when i say that this bad boy puts helms deep to shame. In fact if this fort was built in place of castle black then the white walkers and the night king wouldn't have stood a chance. Theon Greyjoy and Jorah Mormont would still be alive. (100% geek referencing there)
How far is Finstock play park?
Anyway moving swiftly on and in case you hadn't figured it out yet. Finstock play park is absofuckinglutely amazing. It's not one of the closest parks I've reviewed but if you're in Bicester it just breaks the half hour barrier.
If you're wondering whether its worth the drive just for the play park then worry not. You may have seen my review on The Old Shed in Charlbury and its a 5/10 min drive from there so you really could have a full day out in the area.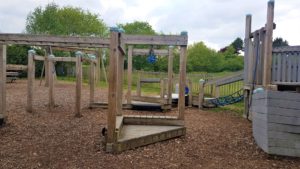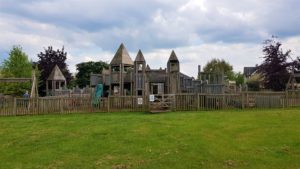 Finstock play park is behind/next to the school. In fact we walked over the school fields to get to it. Parking was a bit of a bitch as there is no designated parking. We parked in a residential area and just made sure we weren't in the way. Which is more that came be said for half of the tits parking around Bicester.
What is Finstock play park like?
Finstock play park is basically a huge fort in fact there are 2 one for older kids and a smaller one for the younger kids. Elliot (2) was totally fine navigating around them both without any help. Finstock play park is a park you can relax in. Sod it take the prosecco and make an afternoon of it (with friends and a designated driver though)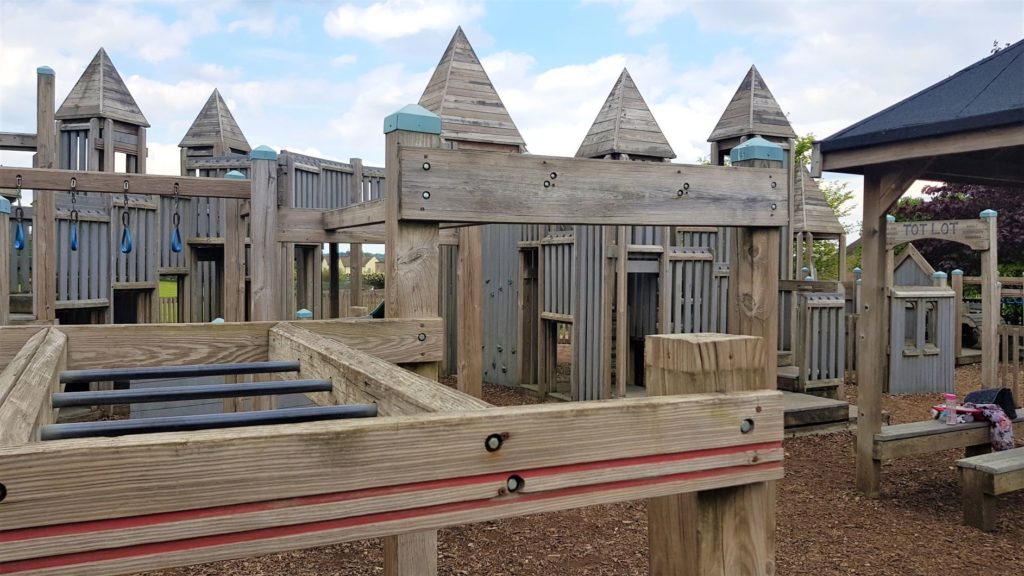 You can just about make it out from across the fields then like a mirage in the dessert the closer you get the more impressive it becomes. Only Finstock play park is real and wont shit off when you touch it and touch it you will want to do. Its more solid that Channing Tatums 6 pack (I'm borderline getting creepy now my bad)
So yes its bloody huge, its made of solid wood and its a castle. Elliot saw it and even he was impressed and its normally only guns that'll excite him these days.
What Equipment does Finstock play park have?
In my opinion i would say that Finstock play park has everything you need in a play park and then some. You'll be happy to know that it's set back from any main roads and it fenced in. This play park is just how i like them safe for the disappearing toddler.
The main castle has 2 slides, a tunnel slide and a wavy slide. Now when i first saw them i noticed how high off the ground the end of the slides were. So i had to stand at the bottom to make sure Elliot didn't come flying out at high speeds and making air. Luckily he didn't. If there is such a thing as a perfect transition speed for a slide then Finstock play park have nailed it.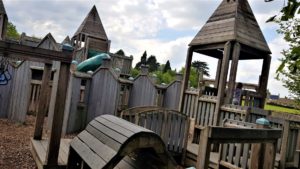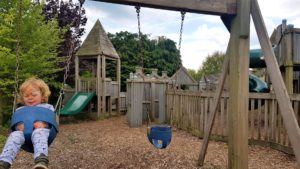 The only slight down side which turned into a game anyway was the static shock i got every time i picked Elliot up after the slide. He took great pleasure in thinking he had somehow developed super powers and could cause slight pain from his slightest touch.
The main frame/castle is one huge maze of climbing, balancing and crawling fun but safely. Even their wobbly bridge is safe from the sides so no risk of falling out.
What else is there?
The smaller fort is aimed at 2-5 year old's. Even though Elliot did have a little explore it couldn't keep him away from the big boy. I thought it was really cute it still has a slide, tunnel, bridge and climbing appeal. There is also a set of baby swings and even a cool little row of houses for them to play in.
Behind or in front depending on which way you're looking at the bigger fort there are a set of swings. A really cool tire swing that spins and goes in every direction as well as 2 normal swings.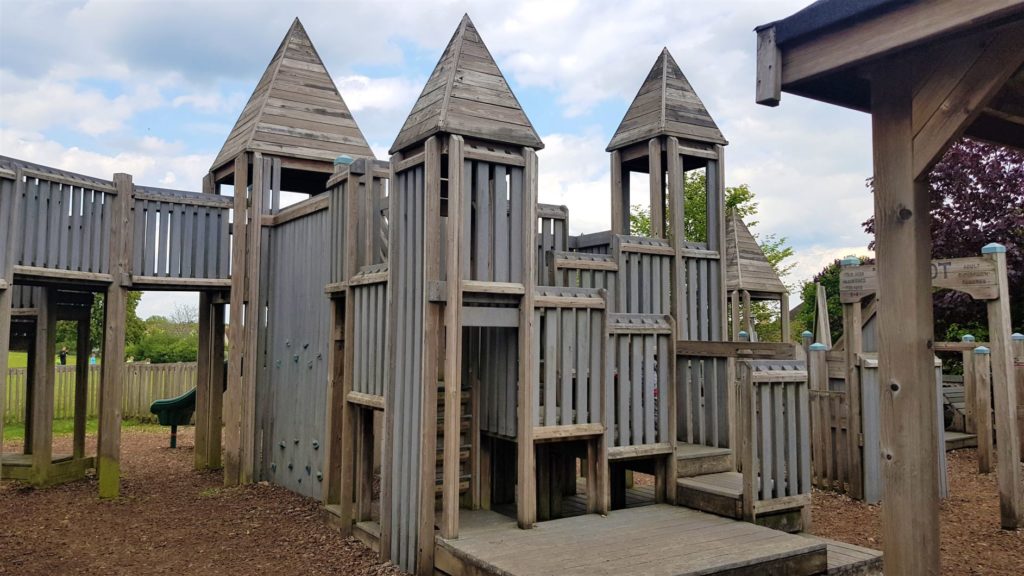 There are a fair few sets of monkey bars too all set at different heights some as bars some with handles. There's also a rubber bridge or as Elliot preferred to use it, A trampoline. There's even a boat and a tractor to steer which is next to the cargo net side. I'm going to miss something without a doubt but I'm sure you're getting the jist of it. Finstock play park has it all (or near enough).
Facilities at Finstock play park
I'd recommend taking provisions with you because basically your kids wont want to leave. There are no toilets that i could see and no cafes next door. However there are pubs and shops in the village if you fancied a walk.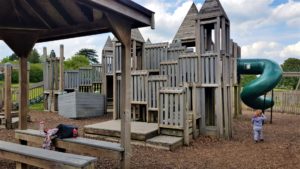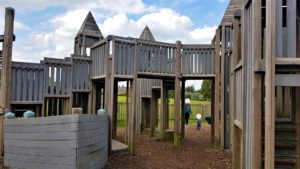 I think next time we go i'll take Clark, pack a picnic and a travel potty. Make a full day of it. It wont even matter too much if we have a few showers. There is a fairly large shelter with benches underneath to hide in until the rain passes.
I'm not sure on what the rules are with ball games on the fields. When me and Elliot were there it was after the school had finished for the day and there were a fair few after school clubs going on in the fields.
Finstock Play Park stats:
Distance from Bicester: 34mins
Sat nav: Finstock, Chipping Norton OX7 3BN Click to load sat nav
Wheelchair friendly: Not easily. The whole flooring is woodchip
Equipment upkeep: 10/10
Cleanliness: 9/10
Facilities: No Facilities so take provisions. Pubs and shops in the village though
Age range: All ages
Safety: 9/10
Fun factor: 10/10
Dog friendly: No
Pushchair Friendly: Might be hard to push the pram over the wood chip
Bikes and Scooters: No
Relaxability: Sit down relax and watch the kids have the best time.
Conclusion
We LOVE Finstock play park and i cant wait to go back again with Clark. Its without a doubt my favourite park to date. In my opinion well worth the drive.
The park has obliviously been made thanks to the locals. All of whom have their names engraved onto the fence panels including a name which made me giggle. Mr T. Osser. I'm not sure if it was a joke or not . If not thank you Mr Osser for contributing in some way.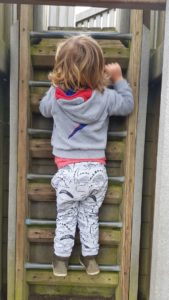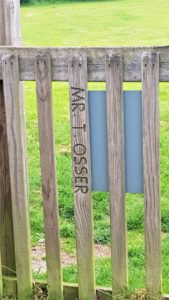 You should all make sure that this play park is on your list. You owe it to you offspring to show them how good a play park really can be.
I'm so jealous of all these play parks we keep visiting. It really put the crappy ones near where i live to shame.
AOB
As always pleas do let me know of any where you think i should review. You can do this by contacting me on the family tickets face book page HERE
If you would like to see some of the other play parks we have reviewed check out the map HERE