I've not been to Willen Lake in the winter. This place for us a definite summer destination with all the stuff they have going on.
That's not to say i wouldn't go in winter. I just haven't gotten round to going.
One things for sure though. I has my favourite splash park me and the kids loved it in the summer. Let me tell you why….
Splash Park
Ill let you down gently first. It's not free. Calm your tits though oddly that's one of the reasons that its my favourite.
They have control over the numbers. Its brilliant, I've been to a lot of free splash parks and if the British sun decides to rear its ugly head they become swamped. A busy splash park is my idea of summer hell. Kind of like a soft play in the middle of winter. Just don't bother.
Now don't get me wrong its still busy but this place is clean. Spotless or at least it was last time we visited. Its fenced all the way round and you'll find seating (If you're lucky).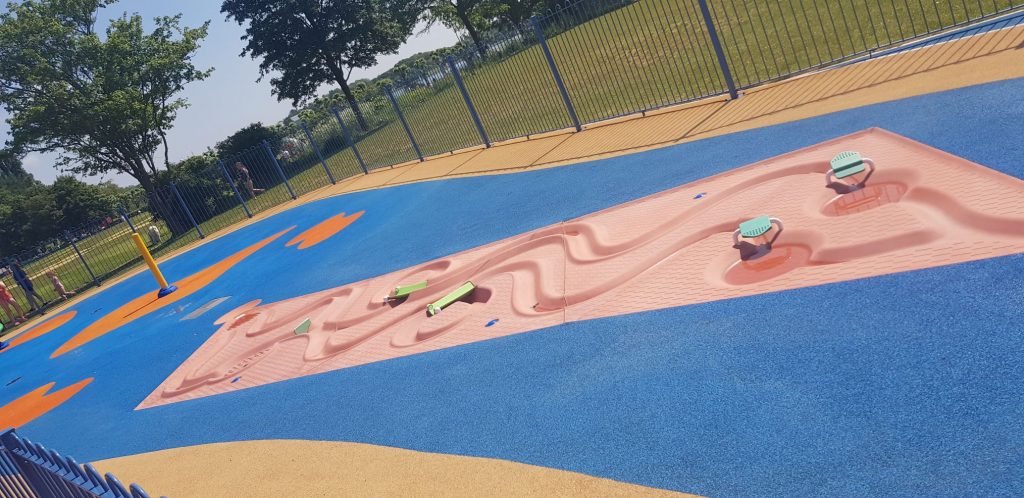 They have 2 zones 1 for the younger kids which i loved with its little river with damns. Little tip take some boats in case they don't have enough toys to go round. Keep an eye on them though all the kids love watching them go along the river and it tends to end up in a small scale toddler brawl.
The larger area is a mosh pit of bigger kids trying to soak each other with the water cannons on the pirate ship. With the adults circling the outside trying not to get wet. With the occasional adult running in the middle after a stray toddler that's heading straight for the bucket soaker which is about to blow.
Cost
Earlier i mentioned you have to pay. its £2 for off peak and £3 for Peak with guardians going for free. Its not exactly going to break the bank . Best bit? You can book online in advance. Fantastic i do love planning a day out well.
Now the sessions are only 30mins but for us that was long enough anyway. You can book multiple sessions though so chill. The only thing is once a 30 min session is over they turn off the water until everyone is out. AMAZING!!!! its near on impossible to drag a kid out of a splash park. They just made it a shit load easier by giving them nothing to splash with. Thankyou!!!!
What else is there to do for free?
There is so much to do at Willen Lake and depending on your budget it can be a free day out right up to an expensive day out the choice is yours which i love.
I'll kick it off with all the things you can do for free at Willen Lakes:
Play areas

There is a huge play area here and its a pretty decent one too. Really is something for all ages. They have a few sections which is a great way to separate the big kids and the toddlers. Although this could be a pain in the arse if you have one of each and you're going alone.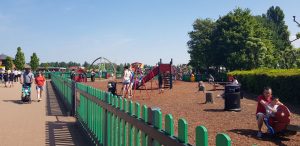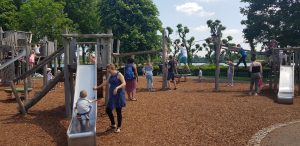 Elliot was doing really well until he decided to face plant the only small section of concrete in the whole of the play area and busted his lip!
Feeding the birds
Take some bread of bloody hippy duck food whatever makes you happy. We're a take bread type of family #SaveTheSwans. There is lots of opportunity to feed the birds. Watch out for the geese though they're evil fuckers at Willen Lakes.
It looked like the best area was the jetty opposite the pub. Yes theres a pub and it seems like even the birds know where the best place to hang out is.
Bike rides and scooters
Probably one of the most family friendly places to ride your bike and scooter. My husbands one of those loser with an adult scooter. I chose not to acknowledge him when hes pissing about on it.
The paths are mostly in good nick and flat too. Just make sure your kids don't fall off and roll into the lake.
Walkies
The place is pretty pretty so its also good for just a walk. You're also in luck if you have a dog. This place is perfect for them. They can pretty much go everywhere that you can minus inside the play areas.
Take the routes round the lakes and the kids will find some play equipment scattered around too.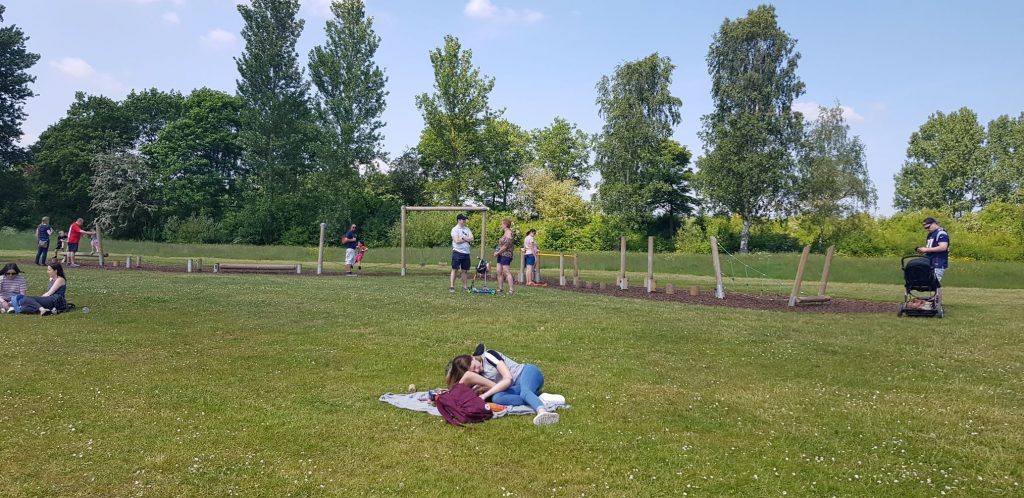 The boys love watching the water skiers too. I'd never seen anything like it until we visited Willen lake. I must admit i loved watching them too especially when they stacked it over the jumps.
Now i shall move onto the paid for Activities you can also take part in.
Extra Activities At Cost
As mentioned earlier you have the splash play but there are lots of other options as added extras too. In all fairness there weren't many of them that we did other than the splash area and the Miniature railway.
Miniature Railway
If we go somewhere an there's a miniature railway there is no chance in hell that we could avoid it. Clark is still massively into his trains.
Although its not one of the best we've been on its still a pretty lengthy ride and the kids loved it. Especially the part under the bridge.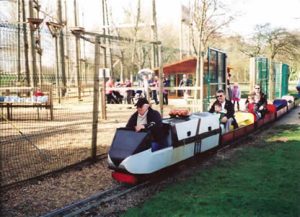 I cant remember how much it was i've done a little looking and i cant seem to find any up to date info. Most of them say £1.50 per person which isn't too bad.
Water sports
If you're into water sports (not the kinky kind you dirty gits) then this is the place for you if you don't want to travel too far. As mentioned earlier they have the proper stuff like water skiing and all that bollocks which you will need to pre book and have a proper look into.
They also have the pedalos which to be fair looked pretty epic. I wanted to have a go but my miserable shit of a husbeast doesn't like anything involving effort. Not only that there was a strong possibility that Elliot would have taken a nose dive over the edge titanic style.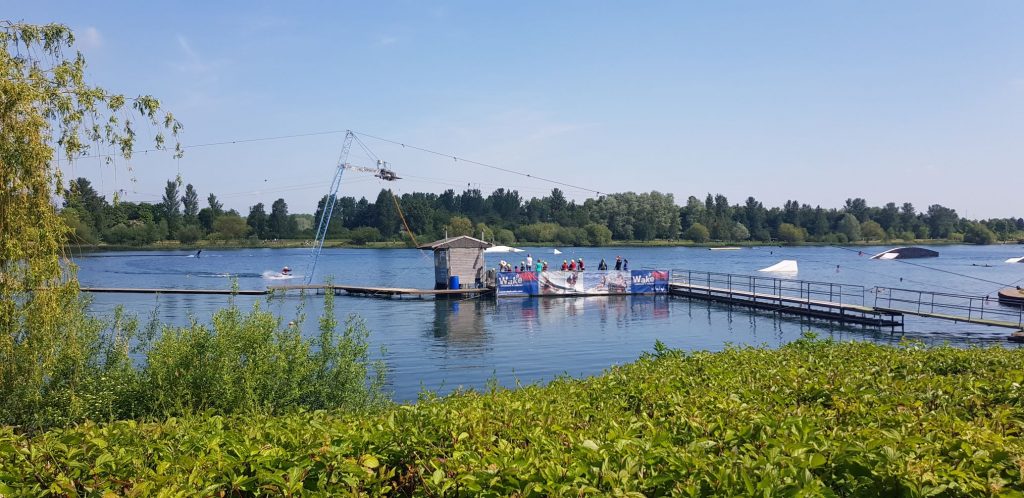 Worried about your dog? I shit you not you can take the fluffy little bugger on them with you hahaha. Brilliant made me want to get a dog just to take them on one.
There are lots of other activities including an aqua park (total wipe out style) that they sometimes have running. I've attached some photos of the costs and whats on in the gallery so have a gander if you want.
Places To Eat At Willen Lake
First off you have you have a couple of options there were little food trucks when we went round as well as ice cream vans.
There is also a cafe if you fancied trying it out i cant comment on what its like as we took a picnic.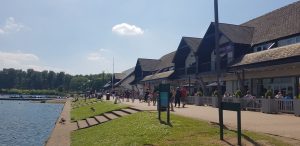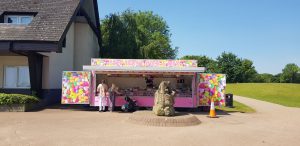 Then there's the pub at Willen Lake called The Lakeside and its Greene Kings. We steered clear it looked like pure hell and lets be honest it was more than likely going to be shit too. After coming home and reading trip adviser it looks like we dodged a bullet. Again i could be wrong and it might be awesome.
Treetop Extreme
Its like Willen Lakes keeps on giving! That's right they have a go ape style thing there too. Now I'm no expert but in my opinion from seeing a lot of these style things wherever we go this is ok but i've seen better.
That being said it looked like everyone taking part was having loads of fun. You can get a good view of them too and the miniature railway runs past it.
Willen Lake Stats:
Distance from Bicester: 45 Mins
Sat nav: Willen Lake, V10 Brickhill St, Milton Keynes MK15 0DS Click to load navigation
Wheelchair friendly: Yes
Equipment upkeep: 8/10
Cleanliness: 6/10 was really busy.
Facilities: 10/10
Age range: All ages
Safety: 7/10 (common sense needed in places)
Fun factor: 10/10
Dog friendly: Your dogs will love it!
Conclusion
Ok I'm getting a wee bit bored waffling on about Willen Lake now. Bottom line is we really enjoyed our day out there. Maybe its because the sun makes everything look pretty i don't know. We will be heading back again this summer armed with scooters and bikes.
Next time i will be dragging the husbeast onto the pedalos too. Might even kidnap a dog just for the photos. We will also be heading back to their splash park.
What i will say is if its sunny get there early we did and this is what might have made the day so good. When we left people were fighting for parking spaces, the pedalos were rammed and you couldn't get into the pub at all.
I have seen lots of people moaning about the car parking costs and Willen Lakes in general but for me I've been to a lot worse places and also had to pay for the privileged. If you're sensible and plan the day out then i wouldn't doubt that you could also have a great time like we did.
p.s they hair little fair ground rides when we went too.
AOB
For all the bits that i know I've missed out but couldn't be bother to carry on typing (Totally ill Right now) Then check out The Willen Lake website HERE
For more Lakes and free parks check out some of the country parks we have visited HERE