Moulsford play park was the 2nd park out of the 4 we visited on Sunday. Not too far from Ewelme village play park and equally as pretty.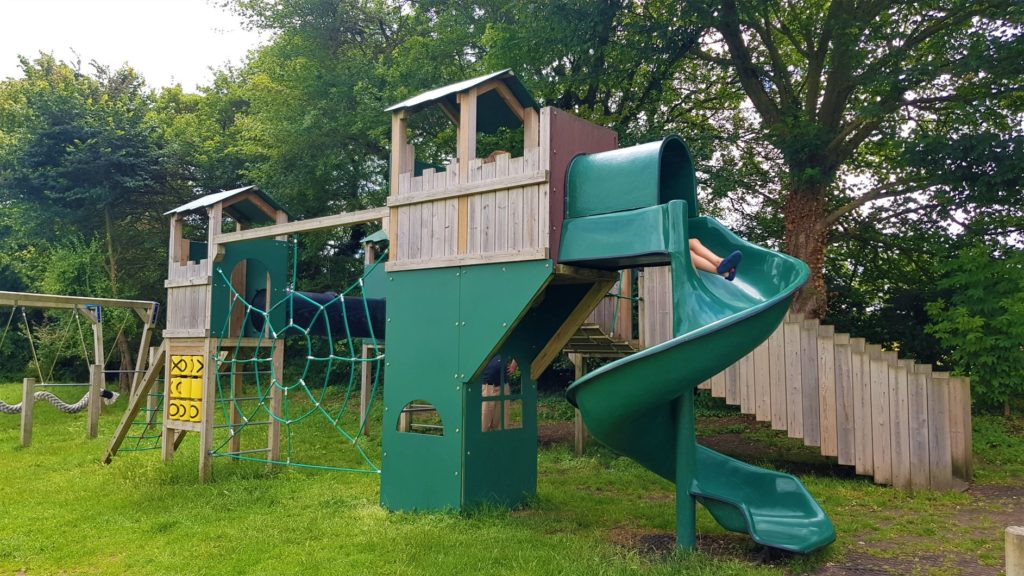 I got Excited and thought that there were two play areas in Moulsford until i realised that the first park i saw was actually the playground for Moulsford Prep school. Shame because it looks good.
Moulsford Play Park
You'll need to keep an eye out for the car park (at least there is one). You wont be able to see the play park form the road because its hidden behind a big fuck off wall.
Once you get parked up its down a small path and then you'll see a huge playing field and its on the far side along the back. Looks pretty decent from afar.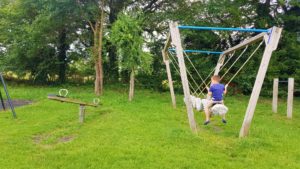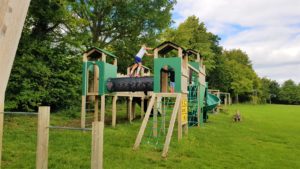 The kids spotted it and were off funny how they can move quickly for a play park but i ask them to get ready for school and they're slower than a fucking sloth!
As we got closer we realised we weren't the only ones in the park either. Nice but slightly disappointed. I do love it when we get the whole park to ourselves. (selfish)
What Can You Find At Moulsford Play Park
As we got closer it became apparent that some of the equipment was out of use. The warning tape was plastered over a few pieces of the balance equipment. We couldn't see what was wrong and the sign had faded. Although it looked fine we steered clear especially with our kids track record for breaking bones.
There were couple of benches to sit round which the mum was doing while her 4 kids played around. 4 kids!! fuck that i struggle with 2. I don't know how you parents with more than 2 do it.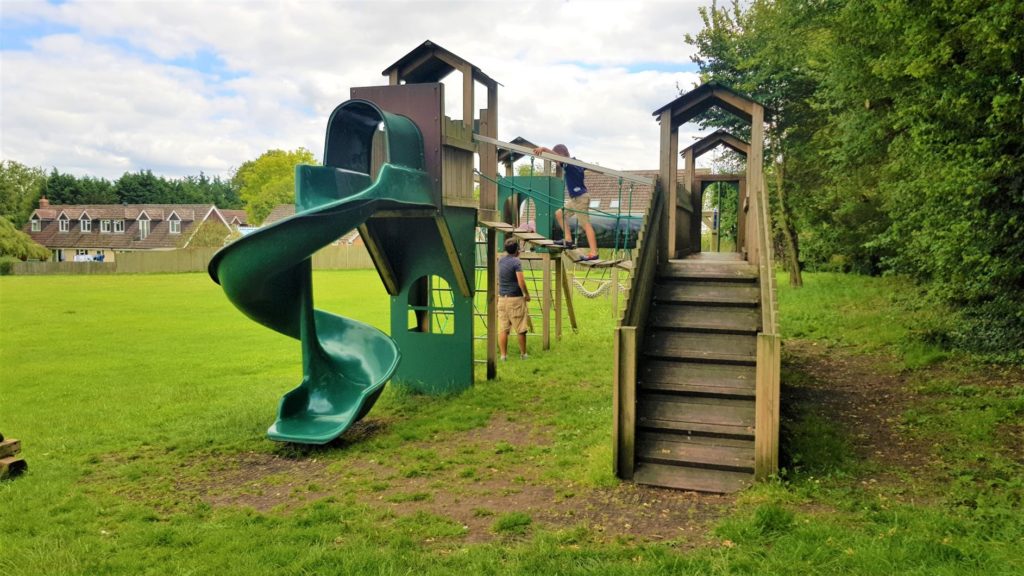 I'm guessing that the park is fairly old or at least mix of old and some newer. The swings in the park were pretty old but still perfectly usable and the boys headed straight for them anyway. I dont think kids really give a shit if somethings old or new as long as they can have fun doing it.
Next to the swings was a seesaw which poor Clark knocked his nuts on. he soon shook it off though… the pain not his balls.
Park Equipment
Next we come to one of my favourite pieces of play park equipment. The giant rope swing snake. I can 100% guarantee its not called that but then when do i ever use the correct terms. I love it because 1 it can hold my weight so i can have a go and 2 its fun to stand on and see how high you can get it without the kids falling off. Maybe that's why the kids are never as keen to go on it as me.
Next up is the main climbing frame. Its a castle style frame but by no means does it have shit on the likes of Finstock's play park. It still did the job and all the kids were using it and climbing all over it.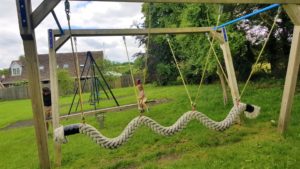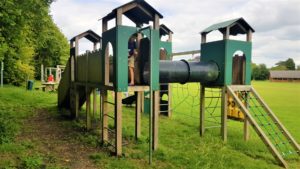 The boys had brought a car each so they raced their cars down the spiral slide which entertained them for a while at least. The frames fairly easily accessible for all ages but there are plenty of chances for younger ones to fall out and face plant the floor below.
Its probably not the most toddler friendly park I've been to and you'll certainly have to keep and eye on the not so confident walkers/climbers . I just don't think that the wooden train will be enough to capture their attention.
Moulsford Play Park Stats:
Distance from Bicester: 47 mins
Sat nav: Recreation Ground, The St, Moulsford OX10 9JD Click to load sat nav
Wheelchair friendly: Not easily but doable
Equipment upkeep: 5/10
Cleanliness: 9/10
Facilities: No Facilities unless the cricket pavilion is open
Age range: I'd say from ages 2.5 plus
Safety: 6/10
Fun factor: 7/10
Dog friendly: I think so
Pushchair Friendly: Be a bit tough but not too bad
Bikes and Scooters: No
Conclusion
Moulsford play park was ok not the best but definitely not the worst either. I personally wouldn't travel their again for the play park. I don't think that it help that some of the equipment was out of order but on the other hand it shows that people are looking after children's welfare.
If i lived closer it would be a nice change and the village itself is lovely and you could see lots of walkers about. The river isn't too far at all in fact its on the opposite side of the road if you fancied a walk yourself with the kids.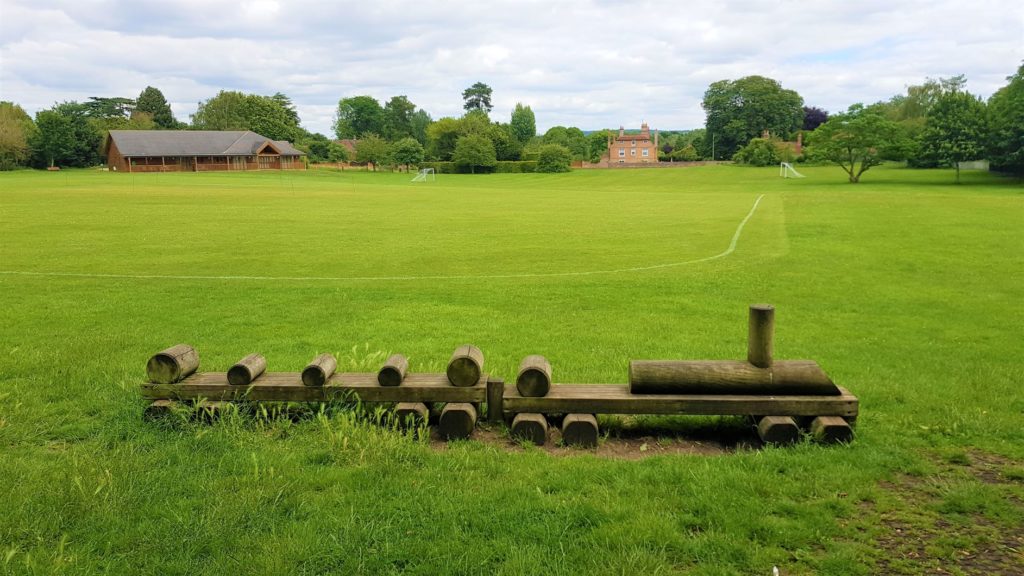 Our park crawl around the Wallingford area so far wasn't going too well. Good parks but nothing had wowed us yet. Stress not though i think the next one will impress a fair few of you.
I wouldn't recommend anyone traveling any distance to this play park I'd maybe travel no more than 15-20 mins if you find yourself wanting to kill an hour or so. You could drag it out with ball games and a picnic though. Lets not forget its still a free day out with the kids though.
AOB
As always pleas do let me know of any where you think i should review. You can do this by contacting me on the family tickets face book page HERE
If you would like to see some of the other play parks we have reviewed check out the map HERE