After our Visit to Rectory farm PYO i decided to take Clark on a park Crawl. Stadhampton play park was our 2nd stop after Forest Hill Village play park. Luckily we had the football in the boot of the car for this one too.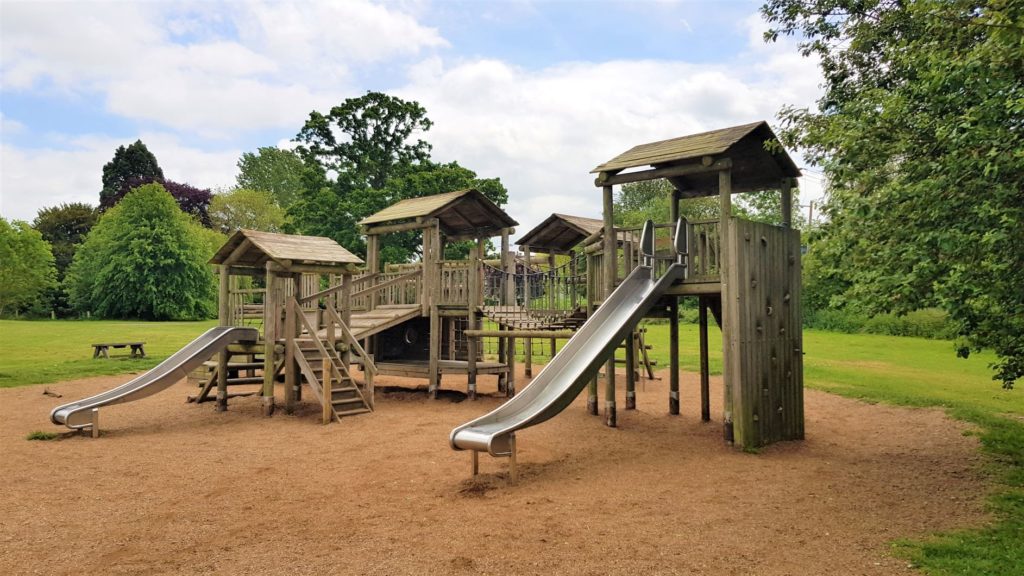 Where is Stadhampton play park?
Funnily enough Stadhampton play park is in the middle of the lovely village of Stadhampton in Oxfordshire. If like me you're in the Bicester area you'll be happy to know that its only around 25 mins away and if you're looking for a new play park with shit loads of space then Stadhampton play park could be the one for you.
Now its all pretty open around the play park but not really near the busy road. Which is just as well because its not fenced in.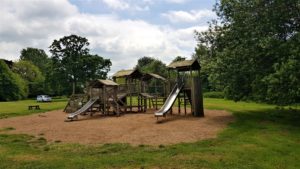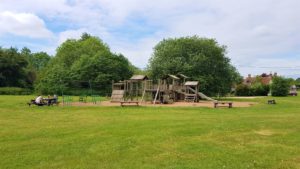 As far as parking goes i just copied what someone else had done and parked on the grass. No idea if that's the correct thing to do or not but no one told me otherwise.
It was also lovely and quiet when we turned up too. One other family there which were having a picnic on the benches.
What's Stadhampton play park like?
The play park is another of my favourite type of park. A wooden frame one. I always think they look more impressive when they're made from wood. Plus they don't look too garish either.
Clark was off straight away. I tried to chase after him but then i realised i was carrying way to much cake weight to keep up.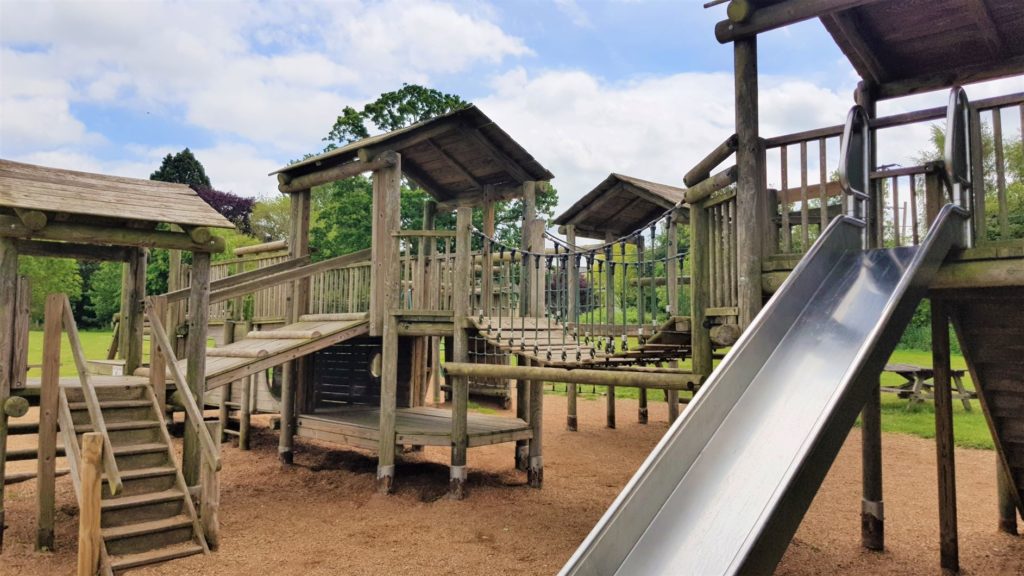 The setting for the play park is really lovely and i felt like the kids were safe playing here too. Stadhampton play park isn't the biggest park with the most equipment but its nice and we like a change every now and then. Plus they had huge fields to play football in.
What equipment is there?
The park is basically one big frame with lots of little bits included. You wont find any springy face twatters in this play park. In fact you wont find hardly any baby/toddler equipment at this park. I'd say it's more of confident climbers plus so maybe 2+yrs old?
There are 2 slides one being aimed at the younger kids and a bigger one next to it that you access via a wobbly bridge, Rock climbing wall or steps at the back.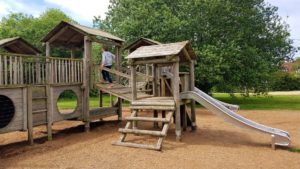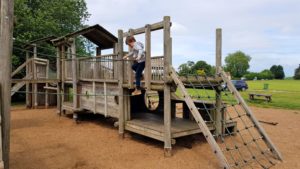 This play park is a climbing park. It seems in really good nick from what i can see too. Pretty safe as well. I mean Clark didn't twat his head or trip up on anything anyway. He could have just been having a good day though.
There is a swing frame with 1 baby swing and one older swing. Again not great if you're going with friends but this park doesn't seem to get overly busy so i guess it does the job for the village kids.
What else can you do around Stadhampton play park?
As i mentioned earlier there is a huge field and goal posts so me and Clark managed to have a game of football. I use the term game loosely it was more bot of us toe poking a football in a random direction.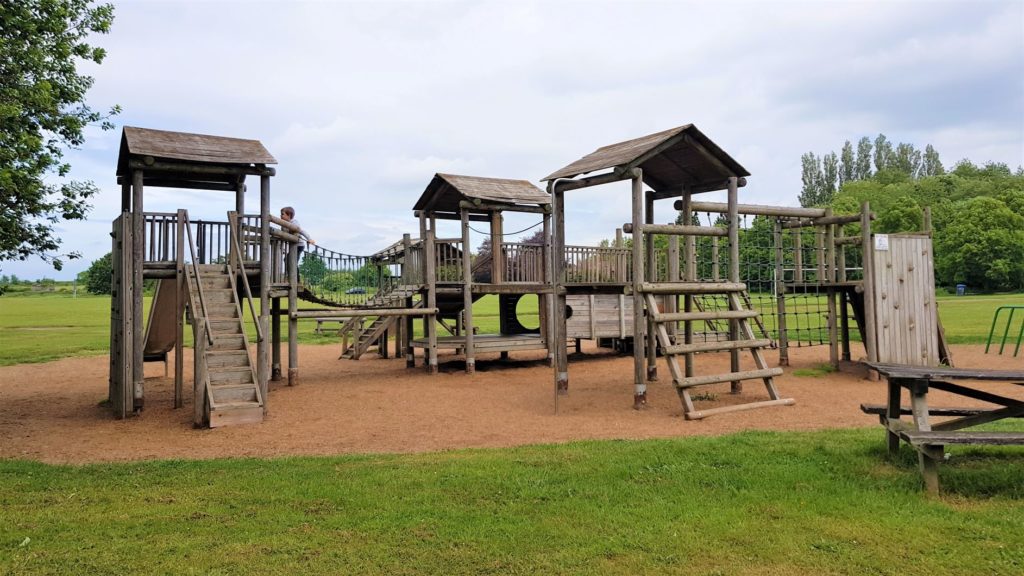 There was a pond close by too. At the time we didn't see any ducks but i did see a baby moorhen scooting about so it might be an idea to take some food for the ducks too.
Stadhampton play park stats:
Distance from Bicester: 28 mins
Sat nav: Stadhampton Recreation Ground, Stadhampton, Oxford Click to load sat nav
Wheelchair friendly: Yes but will have uneven surfaces
Equipment upkeep: 9/10
Cleanliness: 10/10
Facilities: None
Age range: ages 2 plus or confident climbers
Safety: 8/10
Fun factor: 8/10
Dog friendly: I didnt see any signs and theres nothing to keep dogs out but i'd keep them away from the actual park at least.
Pushchair Friendly: yes but bumpy over the grass
Bikes and Scooters: Not really mostly grass
Conclusion
I quiet liked Stadhampton play park. Ok so its not one of my favourites but it ticks all the boxes for my kids. I would go recommending it to a family of toddlers either.
Clark said it was one of his favourite out of the 5 we did that day (Yep 5 parks!!). I think a lot of that came down to the game of football we had.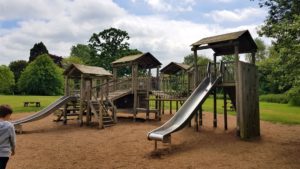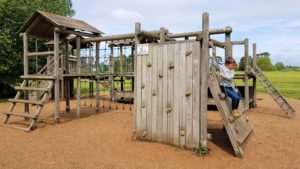 If We'd have taken Elliot too i reckon they could have had a cracking game of hide and seek too with all the hidey holes in the frame.
I'd recommend a picnic too its a perfect spot for it and very pretty. Although there are no toilets if your kids get desperate and you don't have a travel potty there are plenty of bushes around. Some person got shitty about me saying that last time. Lets not pretend we haven't let our kids pee behind a bush instead of in their pants!
AOB
Please give me a like on Facebook if you haven't already. I'm so close to 5000 HERE
If you'd like to see more play park reviews check the map out HERE