Last minute change of mind and we packed the car and off to Stanwick lakes we went. Big mistake. I should have stayed at home it would have been safer.
That opening paragraph may have been a bit misleading so let me lead you in the right direction. This is 100% the best free park i have ever been too. No bullshit no one has asked me to write this review. If Carlsberg made parks they'd have made Stanwick.
Every time we've been here seems to be in the winter and its bloody cold. I need to get the kids here in the middle of a heat wave. Not only do they have and awesome play park they have one of the best water areas i've seen. Really put Garth park piss poor excuse to shame.
Water zone
The water area is like your typical splash zone. Nope its a network of little rivers with pulleys and pumps. its really lovely. They keep it going all year too (Apart from maintenance) if you do go take the kids wellies, wrap them in their waterproofs or if its hot take their swimming costumes. Being the tit that i am, i forgot to pick up Clark's wellies on the last day of school.
It was so quiet when we went. We had no issues with parking and then didn't have to queue for long in the cafe for my takeaway Latte.
The cafe itself is really lovely. The views out over the lakes make for a really nice setting. The have an upstairs and a downstairs and even have outdoor seating if you fancy freezing your tits off.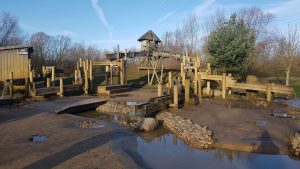 Facilities
Not only will you find the cafe in this building but you'll find toilets, a really nice gift shop, Information and a soft play!! Its called the hideaway. Now we didn't go in, in fact i blocked the kids line of sight every time they looked in that direction. However what i saw of it was nice simple and exactly what you need if you're having a bite to eat and the kids are doing your head in.
Play area
Back onto the park, Its a huge wooden structure. Every time i see it, it reminds me of the tree houses in Robin hood (Prince of thieves) not the shit remake with Russel Crow. The only slight downside was the place was practically underwater. This didn't bother us too much apart from the guilt of not having Clark's wellies. Do prepare when you go. That being said there is still so much fun to be had. Even i had a go. I climbed up the net tunnel after Elliot. Bad idea i got my fat arse stuck and had to be dragged out by the husbeast. Not before he took a video though!
The kids and me had a good run round on the park. Just be careful as I'm sure you're not all totally brain dead. When wood gets wet it can get slippy. Stanwick lakes gets wet, A lot.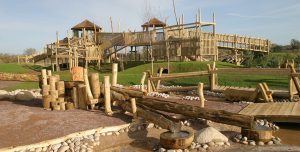 Assault course
After the park we decided to head over to the Assault course. This is an area we haven't been to before and i wanted to see what it was like.
There are lots of walks to do all ranging in sizes the adventure walk is always good for the kids. There are other bits of equipment they can do on the way around too. This keeps them going and not just whinging because they're on another walk. There are also bird huts for them to do a bit of bird spotting too. Maybe take a set of binoculars with you too.
Although normally muddy and wet. The paths are pretty decent. In the past we've navigated a pram around with no problems. Its also great for the kids bikes (not scooters though).
Anyway we'd made the walk over to the assault course. Little tip watch out for bike wankers. The kids nearly got taken out by a bunch of moose knuckles who thought the were on Tour de France.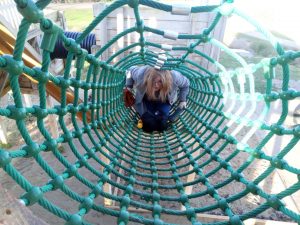 MAN DOWN
Got my camera out, started recording, off the kids ran to attempt the assault course. Then at the moment when i was filming them going through the tunnel……
My body went into panic mode, fight or flight. It took one look at the assault course and thought that i was going to attempt it myself so decided to try and sacrifice 1 body part in exchange to preserve the rest of me.
It was at that point that my skinny little Ankle (literally the only skinny thing on my body) decided it could no longer bear the wight of my arse and my forever expanding cake shelf. I got caught off guard too one step wrong and it crumpled under the pressure. Down i went like a sack of shit screaming into the mud pit below. Glad i was wearing my light grey fluffy coat.
I was stuck i couldn't move thought it was broken. I heard the snap and it was agony. Husbeast didn't know whether to laugh at first but soon realised i wasn't taking the piss for once. He then had to try and round up the kids, keep them in place and attempt to get me back to the car (miles away) No easy job for anyone.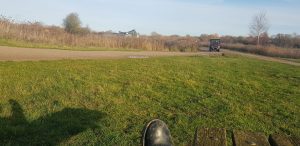 Bike wankers
The moose knuckle bike wankers i spoke about earlier were right next to me when this happened and you know what. Not once did the bell ends ask if i was ok. Ask my husband if he needed any help. Nope instead their little shits (teenageers) were riding round on their bikes. At one point i had to tell one of them off for nearly running over my hand while i lay there in the mud. I may have a potty mouth but if i'd have witnessed this myself i'd have been offering help. They had bikes ffs they could have rode to the centre and got help. Nope instead they just stood there doing fuck all. So if by some small chance you're reading this. I hope Santa bring you Herpes, you selfish shits!
Managed to get up and hobble off to a bench at this point the pain had gotten so bad id started to cry. Now I'm not a crier in fact i cry so little i was surprised my tear ducts hadn't healed over.
Caring kids
It was at this point i realised that Elliot wasn't as dead inside like his mother than i first thought. He'd never seen me cry before and kept asking me if i was ok and giving me a cuddle. Thank the lord we'ce done something right. Clark on the other hand, The one with the golden heart was clearly torn between caring and being pissed off that this now meant we weren't going for a hot chocolate in the cafe like we'd promised.
This kid thinks with his stomach, this all happened around lunch and kept asking what was going to happen with lunch now. we had taken lots of snacks btw but this wasn't enough for him. Nope he then suggested we stuff me in the car and head to McDonalds before we went to the hospital lol. Then when he realised McDonalds was out of the question he wanted to know how long the hospital would take and whether it was ok to just leave me there. He did offer for dad to drive to the entrance so i wouldn't have to walk far though haha. I did get a hug but he made me laugh haha.
I couldn't go any further the pain was too much. I'd gotten to the point of nearly throwing up with each hop. Elliot thought this was a great game of jumping and kept shouting jump mummy while imitating my hobble. he looked like a crazed Gollum. Then i realised thats what i must have looked like.
There was no chance i could make it to the car and no chance the car could make it to me. I swallowed my pride and agreed to let the husbeat take the kids, Abandon me in a field and go and fetch help.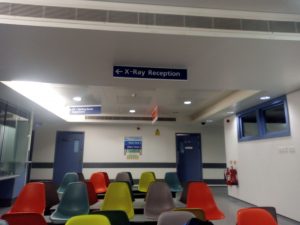 Not all hero's wear capes
Help came……In a fucking buggy. Hahaha i was in so much pain but realised how funny this whole situation was. Why does all this shit happen to me? at least i had something funny to write up about.
A lovely lady called Stephanie came to my rescue. i was so glad she had a sense of humor so i could laugh at the while situation. Plus i've never been on one of those buggy things before. If you're reading this Stephanie. THANKYOU!!! you're awesome and do a great job of picking up bloggers who've eaten too much cake and fucked their cankle up.
I said no to an ambulance as it was my own stupid fault and i didn't want to waste their precious time. Steph dropped me off at the car and off we headed to the JR instead of the local hospital incase they had to leave me there.
Turns out I'm just a wimp no breaks or fractures just a badly sprained ankle thats now twice the size. Someone was obviously looking down on me though as we were in and out of A&E in about half hour and that was with and x-ray. So quiet!
This whole bloody day had ruined my plans. I had to cancel birthday drinks with friend, Had to cancel the Ready 2 tumble Christmas party and now I'm not sure if ill be able to take up running quickly as i wanted too (I'm a part of the new year, New me twat brigade) Instead ill have to sit at home and eat all of the Christmas food.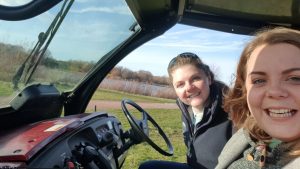 Stanwick lake stats:
Distance from Bicester: 1 Hour
Sat nav: Stanwick, Wellingborough NN9 6GY CLick adress to load navigation.
Wheelchair friendly: Yes bud might get muddy
Equipment upkeep: 10/10
Cleanliness: 8/10
Facilities: 10/10
Age range: All ages
Safety: 2/10 haha kidding but its as safe as a huge mud pit can be
Fun factor: 10/10
Dog friendly: yes
Conclusion
Despite my fuck up of the ankle kind this place is hands down the best play area that we've ever been to. Its absolutely brilliant for anyone who loves the outdoors/i know my review isn't very informative like normal. so just follow the link below to their website. Oh parking is £2.60ish for the day. Do go here you wont regret it just take spare clothes for when the kids get muddy.
Links:
Stankwick Lakes link HERE
I did make a video and right at the end you can see the exact moment that my cankle gave up haha. I muted the sound so you couldn't hear my language. you can see the video here: https://youtu.be/C-O0DNYFZ84