Elliot's first day at Nursery yesterday and no more child care costs for us whoop. Now to try and for some kind of routine. Just because Elliot is now at Nursery every morning I didn't want him to think that we couldn't still have fun. What better way to show him than a Family Ticket tradition to the park. Today's park of choice. Stonesfield Play Park.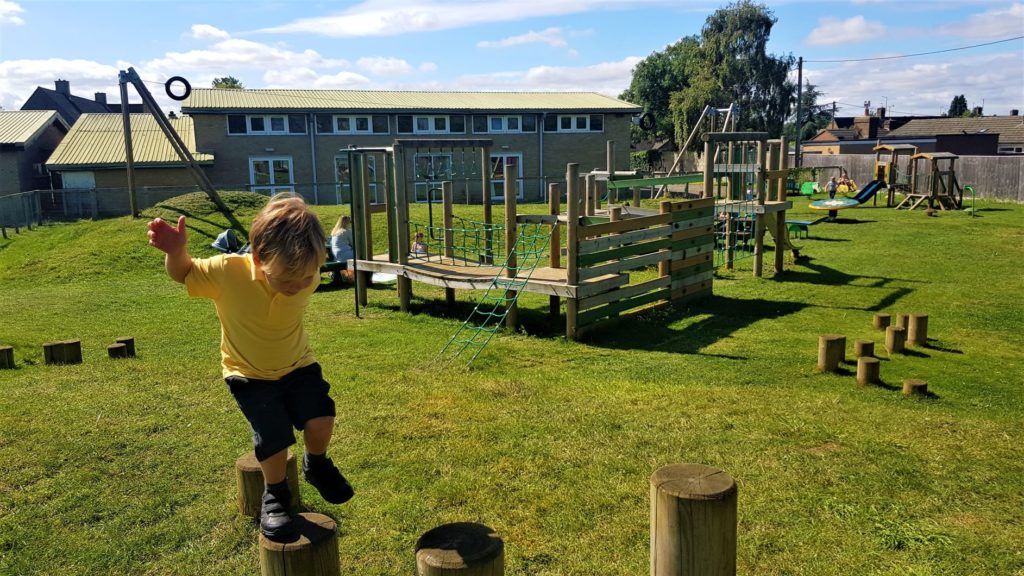 Stonesfield Play Park
I've been meaning to head to Stonefield play park for ages but something always comes up. Not today though. Off we fucked in the search of a new park. Not new, new but new for us if you get what i mean.
When we arrived Elliot was still flat out so i sat in the car park playing on my phone for a while before i got bored and woke him up. Waking a sleeping Elliot up is normally like diffusing a bomb. Where I always fucking fail and the kid goes off on one (cant say i blame him).I Then have to throw snacks at him from a distance until i appease him and he calms the fuck down. However distract him quick enough by telling him the parks outside and its normally Ok. Today we were Ok! Phew.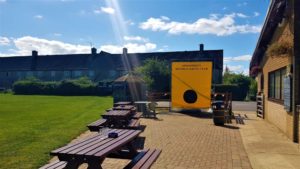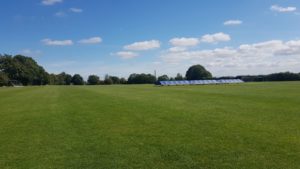 The park is by the village hall/sports ground/cricket pitch and there's plenty of parking although if you head over when there's a match on this could be a different story. On the other hand if you manage to go on a match day and the hall is open then you will have a toilet.
Stonesfield play park is a lovely park fully fenced in with loads of green space around for ball games too. I thought we'd have had the park to ourselves until I realised that not all schools were back yet. It was fairly busy when we arrived so the photos might be a bit crap I didn't want to get punched for taking photos of other peoples kids.
Whats In Stonesfield Play Park?
Stonesfield play park is a cracking all rounder. Great for a variety of ages because there really is something for everyone (including benches for my fat arse). Whats also great is that the park isn't that big so if you're with a younger child you don't have to peg it as far if your older child needs you.
The older kids play frame i would say is maybe for ages 4+. I mean Elliot gave it a really good go and did a really good job but hes a good climber and I didn't feel like i could leave him to do it solo quite yet. Then all kids are different and your 2 year old might find it a piece of piss.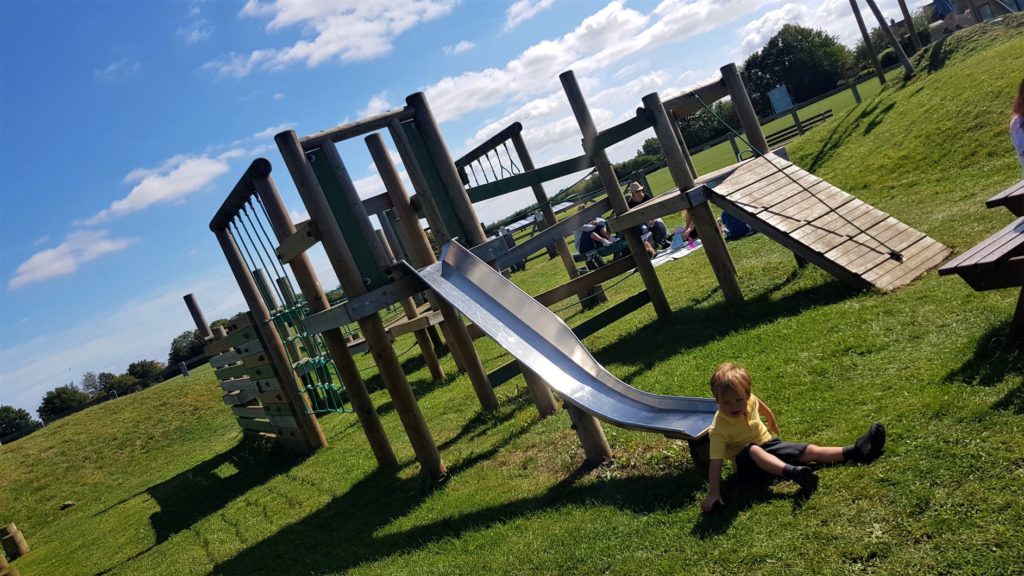 There is a smaller play frame which is prefect for smaller ones. Unfortunately i would say that Elliot was between frames. I think he was a little old for the smaller one and a little young for the bigger one. I've based this on slide size. The small one just didn't cut it for him.
Not to worry though because there was a 3rd slide. There was a bit of a stand off between a princess at the bottom of the slide and Elliot at the top. To be fair to Elliot he did ask the little girls loaddddds and i mean loads of time to "Excuse me please" and i even did the awkwardly loud "don't worry I'm sure she'll move soon" in the hope that her parent or carer would come over. The didn't and Elliot lost his patience and though "fuck it" and went down anyway before i could stop him. Thankfully the slide was slow and the impact didn't cause any damage.
What Else Is There In The Park
Right time to plough through all the other bits in the park. In front of the hill slide you have a spinny seesaw bouncer (so not called that but meh it is now). I tried to have a go too but i'm too heavy (Diet Starts Monday). They do have another spinny thing in the park. Its a wobble roundabout. Elliot wasn't keen on it though.
They have the usual swings but all in a row so there's the cargo net swing, 2 older kids swings and 2 baby swings.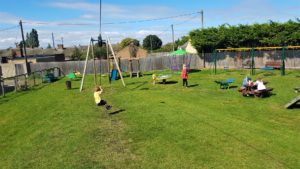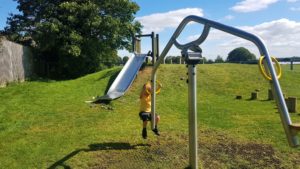 There's the usual springy face twatters which we never really bother with any more. They have some of those flowers that you talk into too. We could only find one of them though haha. Realised as we left that we didn't look behind us.
Elliot's absolute favourite thing in Stonesfield play park though had to be the zip wire. It was brilliant. Probably the best zip wire we've come across for his age. He could move it all by himself back to the start and get on and off all by himself too. Which he did Over and over and over again. Was just the right amount of fast too without the added whiplash at the end.
Stonesfield Play Park Stats:
Distance from Bicester: 25 mins
Sat nav: 1 Field Cl, Stonesfield, Witney OX29 8HA Click to load sat nav
Wheelchair friendly: Yes
Equipment upkeep: 10/10
Cleanliness: 7/10 could have been because of how busy it was.
Facilities: No toilets or cafe that I could see. Maybe when the village hall is open though.
Age range: All ages
Safety: 8/10
Fun factor: 8/10
Dog friendly: No
Pushchair Friendly: Yes
Bikes and Scooters: I wouldn't bother.
Public transport: If you jump on the S3 gold to Charlbury and get off at green (about 8 stops) then walk the rest of the way. Coming from Oxford it'll take you about 50 mins.
Conclusion
It may seem a bit far to go for just 1 play park but if you fancy a change then Stonesfield play park could be a good shout.
If you fancy making a day of it then why not pop to the Evenlode river for a paddle and a bit of fishing too which is also in Stonesfield.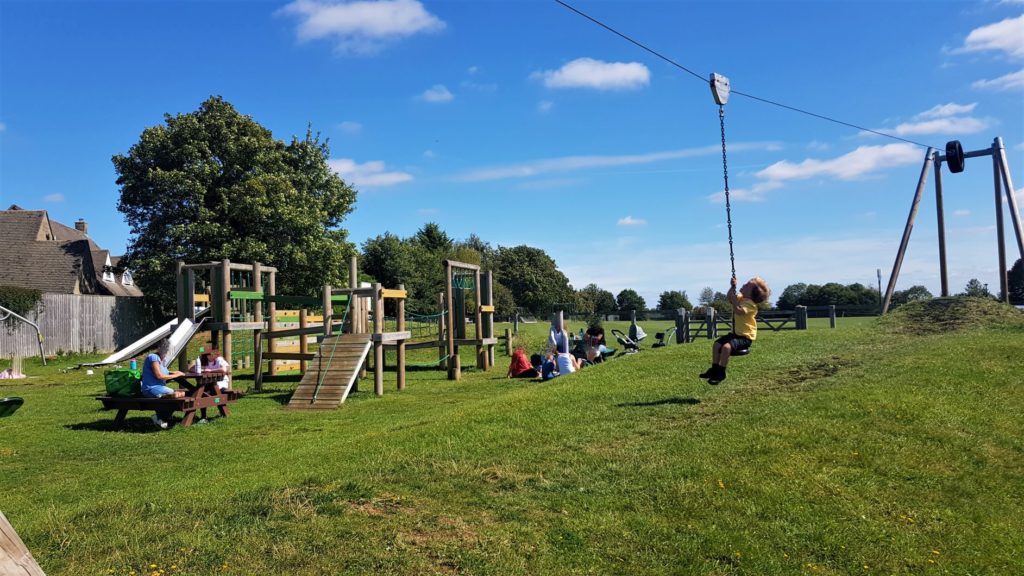 Another idea is popping to the play park in Charlbury (great park) or maybe even for a spot of lunch at the Old Shed
AOB
I'm always on the lookout for new play parks to review so if you know of any good ones please do message me. Its easier to message me on the Facebook page HERE
If you'd like to check out more play parks near you then have a look at the Play Parks map HERE