Free parks
SOAP (South Oxfordshire Adventure Playground)
Free Day Out In Oxford
Our visit to SOAP wasnt our first plan when we visited it was because our original plan didn't go to plan after 3 places we wanted to visit were shut on Mondays (ffs). I'd have moaned about this more If we didn't have the best day ever. For the grand total of shit all. Well £4 parking but there are free spots of you can find them.
We parked in Hinksey Park which was super cheap (Ringo or cash) and walked over to SOAP. It took about 5 mins If that.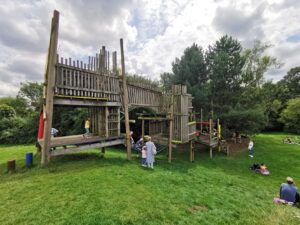 SOAP
Main Points
Free parking/or cheap parking at Hinksey park
Take a change of clothes in case
Check their page for suitable days as not always open
Take a picnic
Its free
I have no idea why we haven't visited SOAP before but I'm so glad we went today and I can tell you now it wont be our last visit. When you arrive head down the dirt track (It'll make sense when you see it)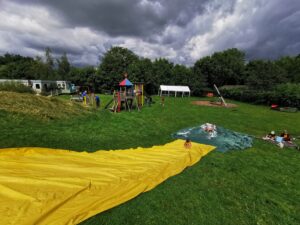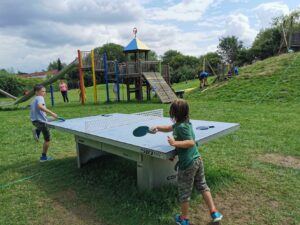 What can you find at SOAP?
the first thing we saw was the giant slip and slid they had out. At first I said the boys couldn't go on it because we had no towels or Change of clothes but after 5 mins I thought fuck it. It looked way too much fun and just told them they can just go commando afterwards.
I'd like to announce I am now "the best mum ever" sorry to all of you other mums that tried for this prestigious accolade but I beat you
….according to the boys after I let them have a go.
The staff, the place and the atmosphere was amazing. Nor was it pissing it down whoop. In parts its a wee bit run down but it didn't matter to us in the slightest I also think they're a charity so good on them.
The play area is epic and then the boys had a go at table tennis, basketball, football and hockey as all the equipment is there. Lots of room for picnics, toilet's and even some free drinking water. We stayed for ages until the call of the trains was too much for Clark so we had to head to Hinksey for a closer look.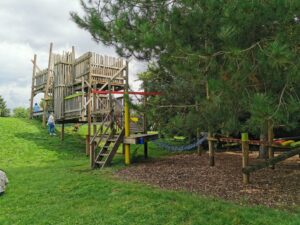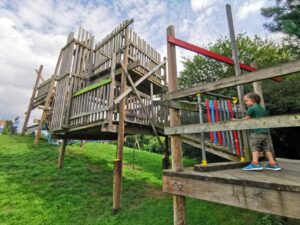 More Fun Close By
Hinksey train Bridge is probably the best train spotting spot in Oxford (maybe Oxfordshire. As we haven't found a better on yet). We sat on the bridge and Clark was in heaven the boys managed to get every train driver to toot their horn
got a lovely photo of Clark then when I got home realised there was a giant cock in the background
We were going to head to Hinksey Park playground before heading home but they couldn't resist a completely empty splash park all to themselves. They got soaked fully clothed and there was shit all chance was going to throw them into the sand pit after that.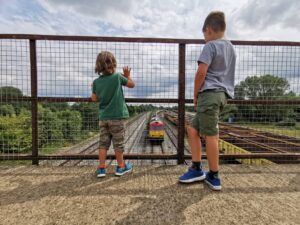 SOAP Stats:
Distance from Bicester:
26mins
Sat nav: Whitehouse Rd, Oxford OX1 4QH
Click to load sat nav
Wheelchair friendly:
Accessible but not too much to do.
Equipment upkeep:
7/10
Cleanliness:
9/10
Facilities:
Toilets and water available
Age range:
Confident walkers plus
Safety:
Common sense needed
Fun factor:
10/10
Dog friendly: No
Pushchair Friendly:
Capable If you have a younger child you need to take with you
Bikes and Scooters:
No but can store them while you play
Value for money :
£ FREE
Conclusion
No two ways about SOAP is a cracking play space. If you get a chance to visit SOAP then you 100% should. You really can make a full free day out if you combine it with some of the other activities in the local area too. I.E Hinksey park.