Hook Norton play park was number 3 on our park crawl the other day. It was the final one before we had to go and pick the bigger one up from school.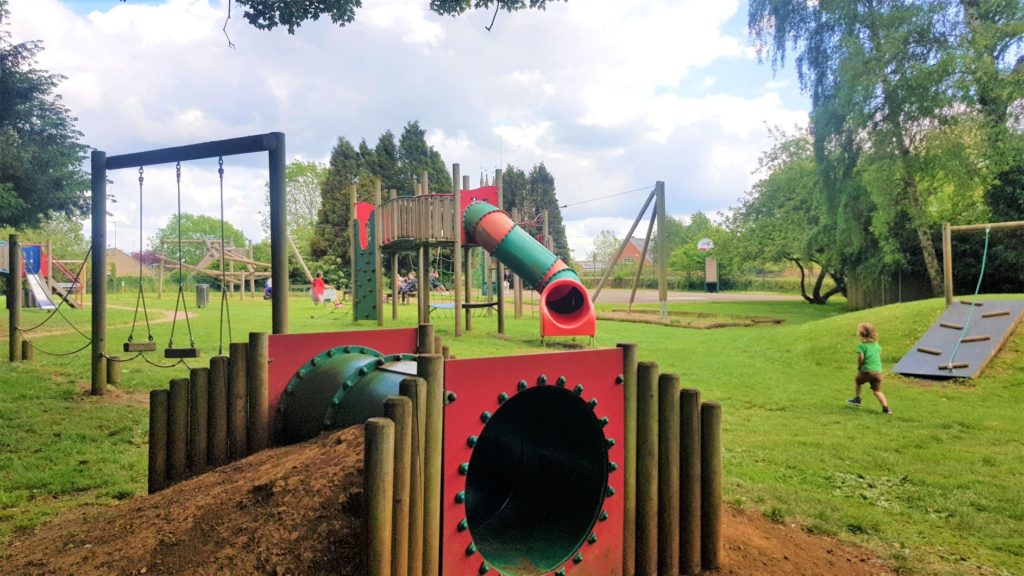 The only downside was that we went on the Monday and for lots of kids it was an inset day. This meant there were some older kids in the park when we visited and honestly they were complete dick heads. We didn't stay long which is a shame because Hook Norton Play park is a decent playground.
Where Is Hook Norton Play Park?
Its pretty easy to drive to but a bit of a bugger to find. We were lucky enough to hear people playing so we just followed the noise. I'm sure there's an easier way to get to the park but we ended up parking on the roadside in the residential area and walking down the single track road.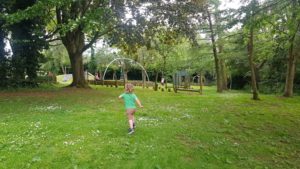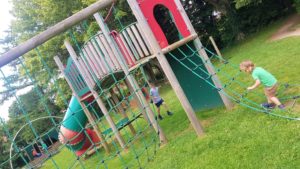 Keep an eye out for the 2nd opening on the wall with steps up to a gate. That's the way we went in anyway. Though i did see 2 more entrances while we were in there so I'm sure you'll be fine if you visit.
Hook Norton Play Park
The play park itself is a pretty big park and set back from the road. There's lots to do and its a pretty good one for all ages.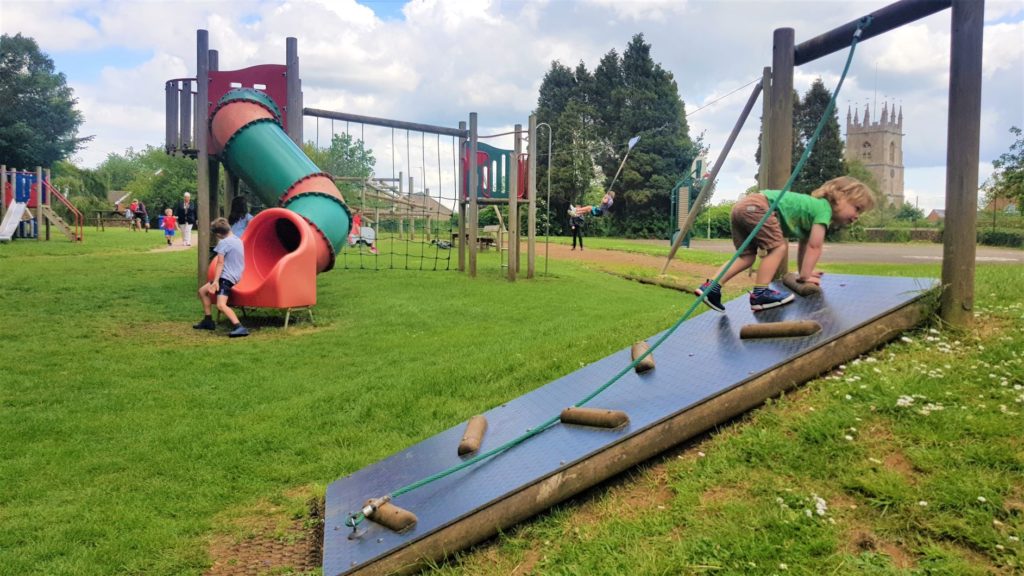 As i mentioned earlier it did have some older kids there at the time that were just pissing about and not in a nice way. I can imagine some people might be intimidated by this. Not me though haha and not through their lack of trying either. #offyoufuck
Lets get down to what you can actually play on in this park.
What equipment can you find at Hook Norton Play Park?
The first thing that Elliot noticed when he got to the park was the large green and red tunnel slide. Not sure why kids love a small compact area like a tunnel but if i try and shut the door while they're having a crap they go nuts?.
The slide itself isn't the easiest to get up to unless your kids are good at cargo nets which luckily Elliot was. Be warned its bloody fast Elliot came flying out on his back and head first… bit like his birth.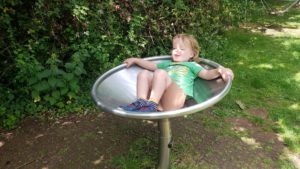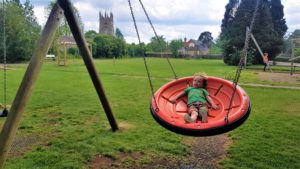 There is another couple of slides in the park too though. One which is attached to the toddler frame and another stand alone metal one that goes down a hill. The metal one ended up being his favourite in the end.
If your kids like the swings then they're in luck if you bring them here. There is a big disc swing, Baby swings, older kids swings and best of all a big pendulum swing which Elliot loved. You could see that this one gets well used too.
More Equipment
Hidden in the corner at the back you'll find a cool piece of equipment which I have no idea what the fuck its called. So I shall name it the double horse swinging seesaw. I've seen them a few times and they're great. Unfortunately for Elliot his mummy has had 1 too may pies so it was harder for us to use it. You need kids of similar weight to really get it going.
Next to that you will see a spinning top and the beginning of the balance trail which is pretty cool too with a tunnel in the middle of it.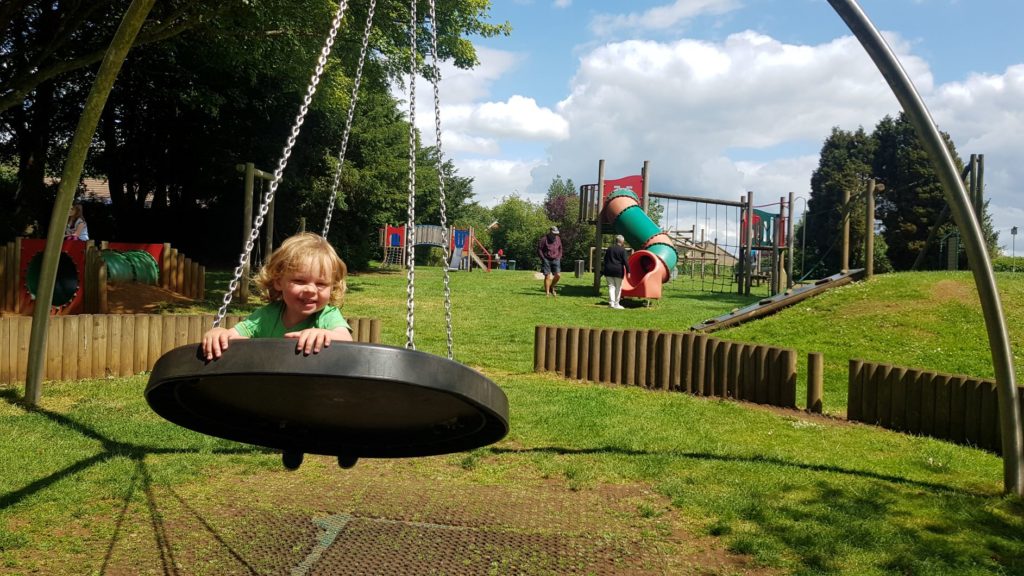 Other things you'll find are a zip wire, a netted timber climbing frame, a basketball court and space for football and picnics.
Its a really good space with plenty to keep the kids going for a few hours if needed.
Hook Norton Play Park Stats:
Distance from Bicester: 37 mins
Sat nav: Watery Ln, Hook Norton, Banbury Click to load sat nav
Wheelchair friendly: Not from the watery Ln access
Equipment upkeep: 8/10
Cleanliness: 10/10
Facilities: None that i saw
Age range:all ages
Safety: 7/10
Fun factor: 9/10
Dog friendly: Yes
Pushchair Friendly: Yes mostly Grass
Bikes and Scooters: Yes a few kids were riding round and there's a few paths for scooters.
Conclusion
Hook Norton play park is a good park and a decent size. I cant imagine many kids turning up and grumbling about having nothing to do.
That being said. I personally would make the journey from Bicester just for the park. Not because it isn't good because it really is. Its just not special enough to out shine some of the other parks closer to me.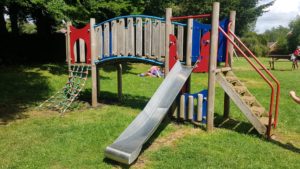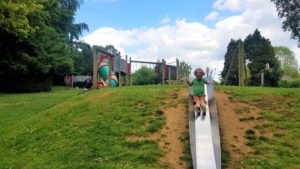 If you and your kids live closer though then you're in luck because it's great. Minus the little shits that were pissing about when we were there.
AOB
If you know of any play parks you think I should review then pop me a message on the Facebook page HERE
For a list of all the other play parks I've reviewed then check them out HERE